Breakfast Tacos
Delicious Breakfast Tacos are perfect to get you going in the morning!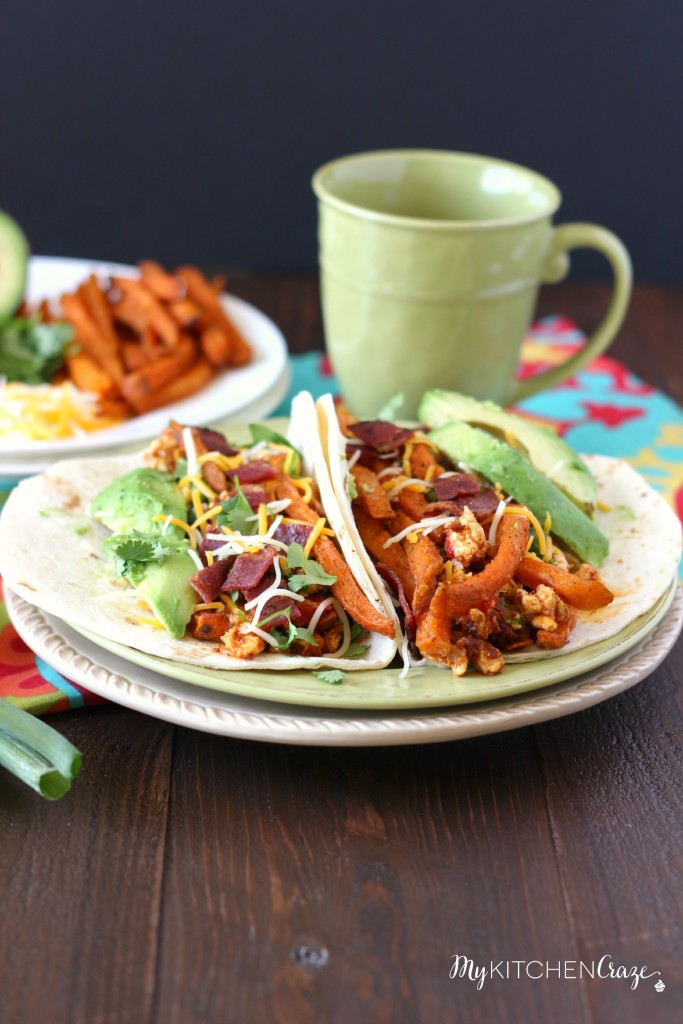 It's Breakfast Week at My Kitchen Craze and today I'm bringing you a delicious and amazing Breakfast Tacos. These tacos are tasty and perfect for a weekend morning with the family.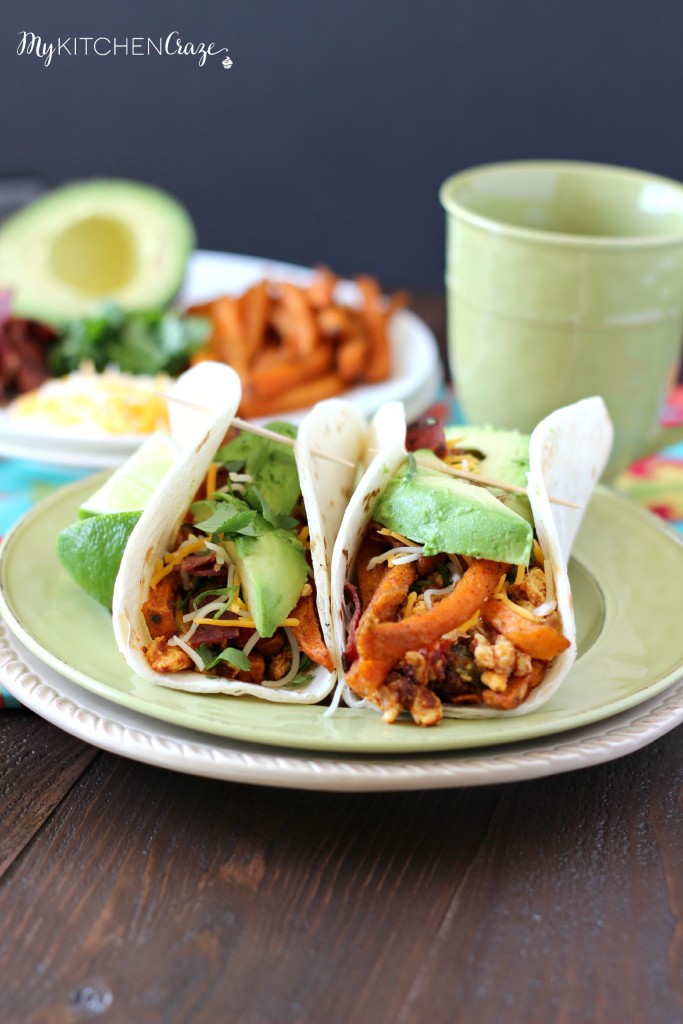 When I was growing up my mom would always make breakfast for us on Sunday mornings. It was always know that dad would turn on what ever sports was going on at the time and mom would be in the kitchen making scrambled eggs, bacon and hash browns. I would wake up to my dad screaming at the tv, Go Chiefs, go" and to the smell of bacon. Those are my memories of a typical Sunday morning.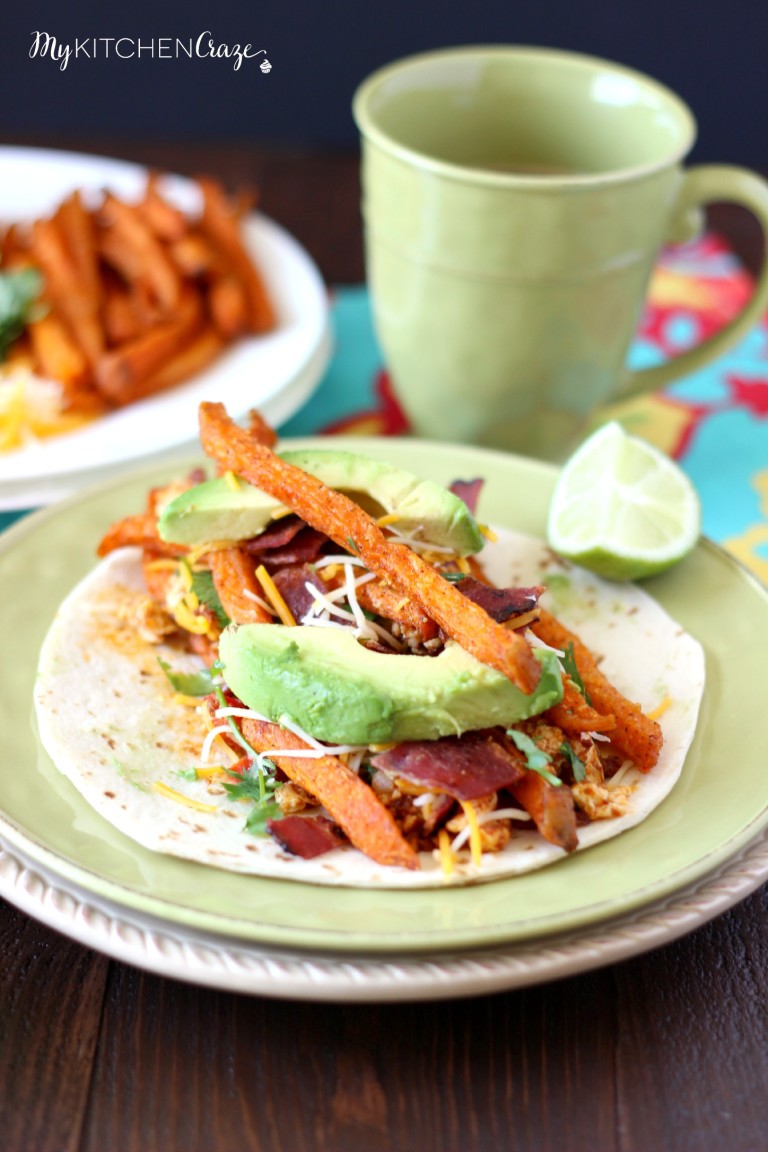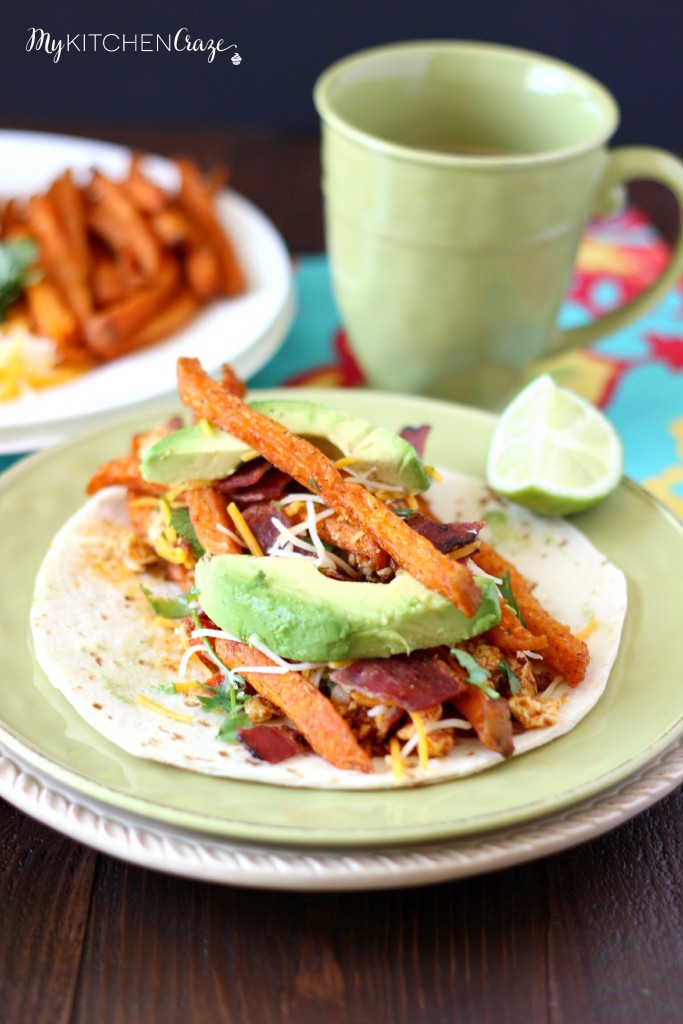 When my hubby and I met, we started the same traditions. One day is an eggs, bacon and potatoes, and the second day is pancake, waffles or french toast. While I was shopping at Wal-Mart last week I was looking around the frozen potato aisle for breakfast ideas and saw these Alexia Spicy Sweet Potatoes Fries. It reminded me of a breakfast burrito I had awhile back at one of our favorite Mexican restaurants.
What's great about Alexia Sweet Potato Fries and Onion Rings is there ready with in 30 minutes, are GMO free and made with natural ingredients. You can look at Alexia's site to see all of their other delicious products. I instantly wanted to use them in some sort of breakfast idea. So I grabbed a few packages.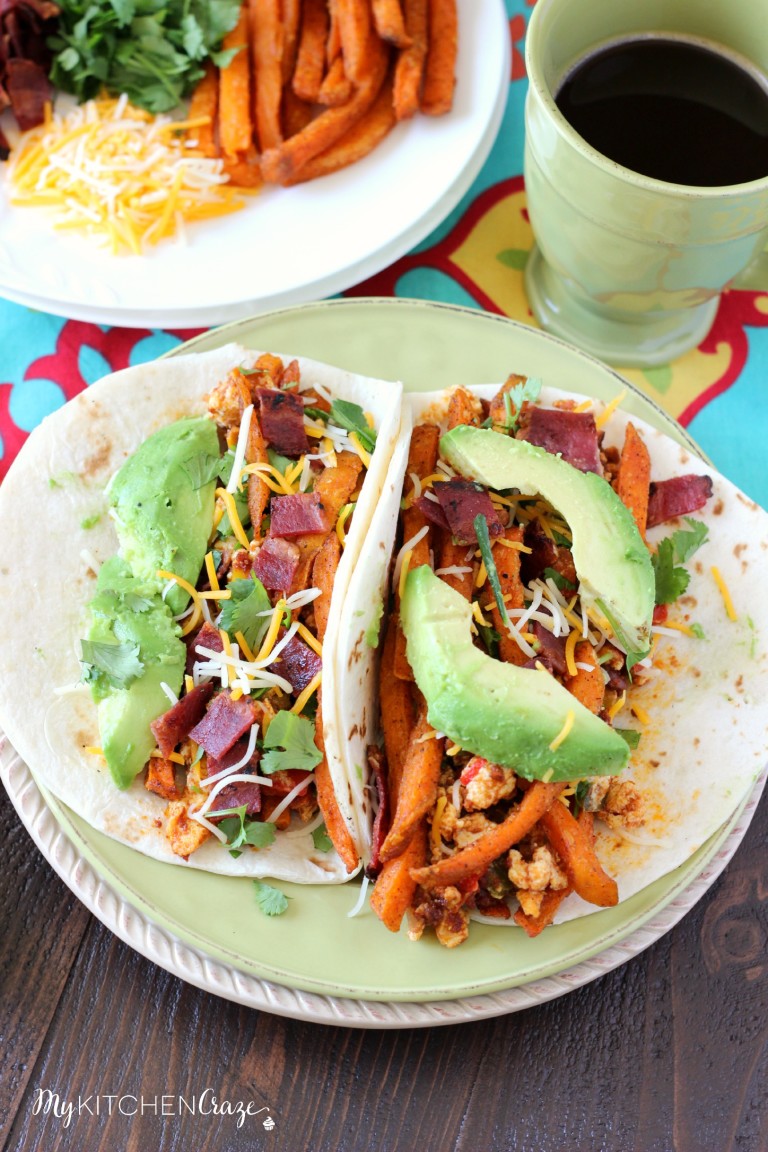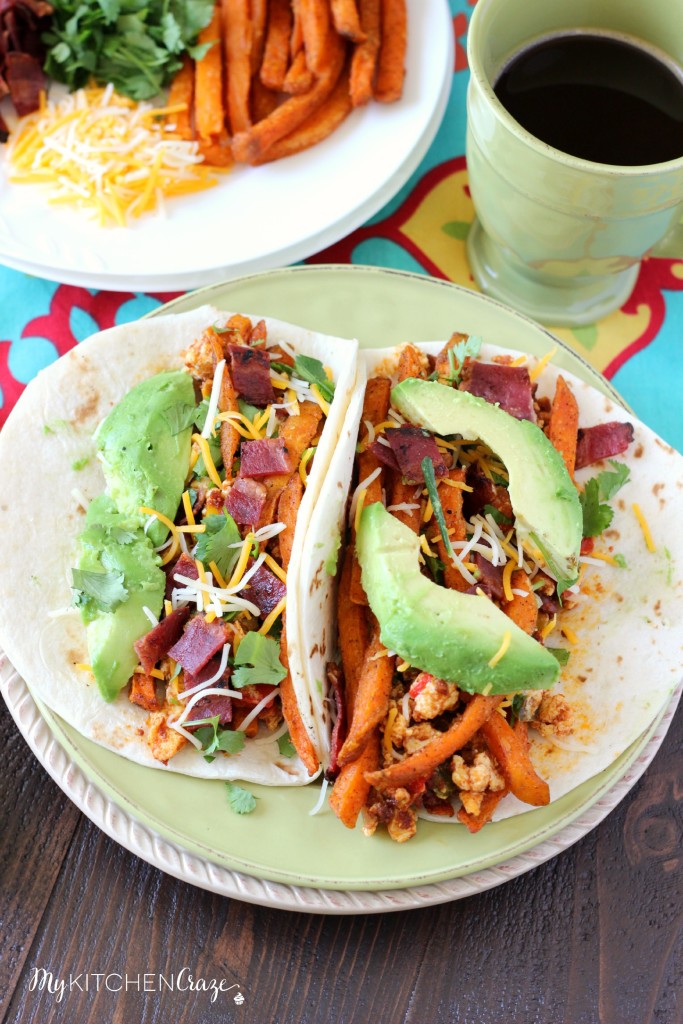 I knew I wanted to use these sweet potato fries in some sort of egg dish. At first I was thinking an egg and sweet potato scramble, but then I  had a brilliant idea. Well I think it's pretty brilliant, hehe. I came up with these Breakfast Tacos.
I used Alexia's Sweet Potato and Spicy Sweet Potato fries instead of regular potatoes. Then added some chorizo to give these tacos a nice flavor. I then topped them off with some bacon bits, cheese and avocados. These Breakfast Tacos are perfect for your Sunday morning breakfast with the family and they are sure to fuel you up for you fulfilled day.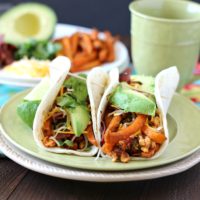 Get the Recipe:
Breakfast Tacos
Ingredients
1

12 ounce package beef chorizo

1

package Alexia frozen spicy sweet potatoes

2

tablespoon

canola oil

1/2

medium onion

,

chopped

1/2

green bell pepper

,

chopped

1/2

red bell pepper

,

chopped

1/2

yellow bell pepper

,

chopped

7

eggs

3

tablespoons

milk

salt and pepper

,

to taste

5

slices

turkey bacon

,

cooked and chopped

1/4

cup

cilantro

,

chopped

7-10

soft taco tortillas

garnish: avocados

,

shredded cheese, salsa and line
Instructions
Preheat oven to 350 degrees F. Lay out spicy sweet potatoes fries on a baking sheet in a single layer. Bake for 25-30 minutes, or until crispy. Set aside once cooked.

In a large skillet add chorizo and cook until crumbly and cooked, about 6 minutes. Place in a bowl and set aside.

Wipe skillet with a paper towel. Add oil and heat to medium high heat. Once oil is hot, add onion and cook for 3 minutes, until onions start to become translucent. Then add bell peppers and sauté for 3 more minutes. Add tomato and cook for another 3 minutes.

While the vegetable are cooking, whisk eggs and milk together in a medium bowl. Add salt and pepper to taste. Add eggs to skillet with cooked vegetables and scramble over medium heat, until cooked though. Scoop half of the cooked chorizo meat into the scrambled eggs. If it looks like you need to add more chorizo, then add now. [i](I didn't use all of my cooked chorizo)[/i] Keep eggs on low heat to keep warm.

Cook bacon and dice into pieces.

Assemble your tacos by warming the tortillas, add 4-5 spicy sweet potato fries, scoopful of scrambled egg chorizo mixture, then top with 4-5 more spicy sweet potato fries, cilantro, bacon pieces, cheese, avocado and salsa.

Eat and enjoy!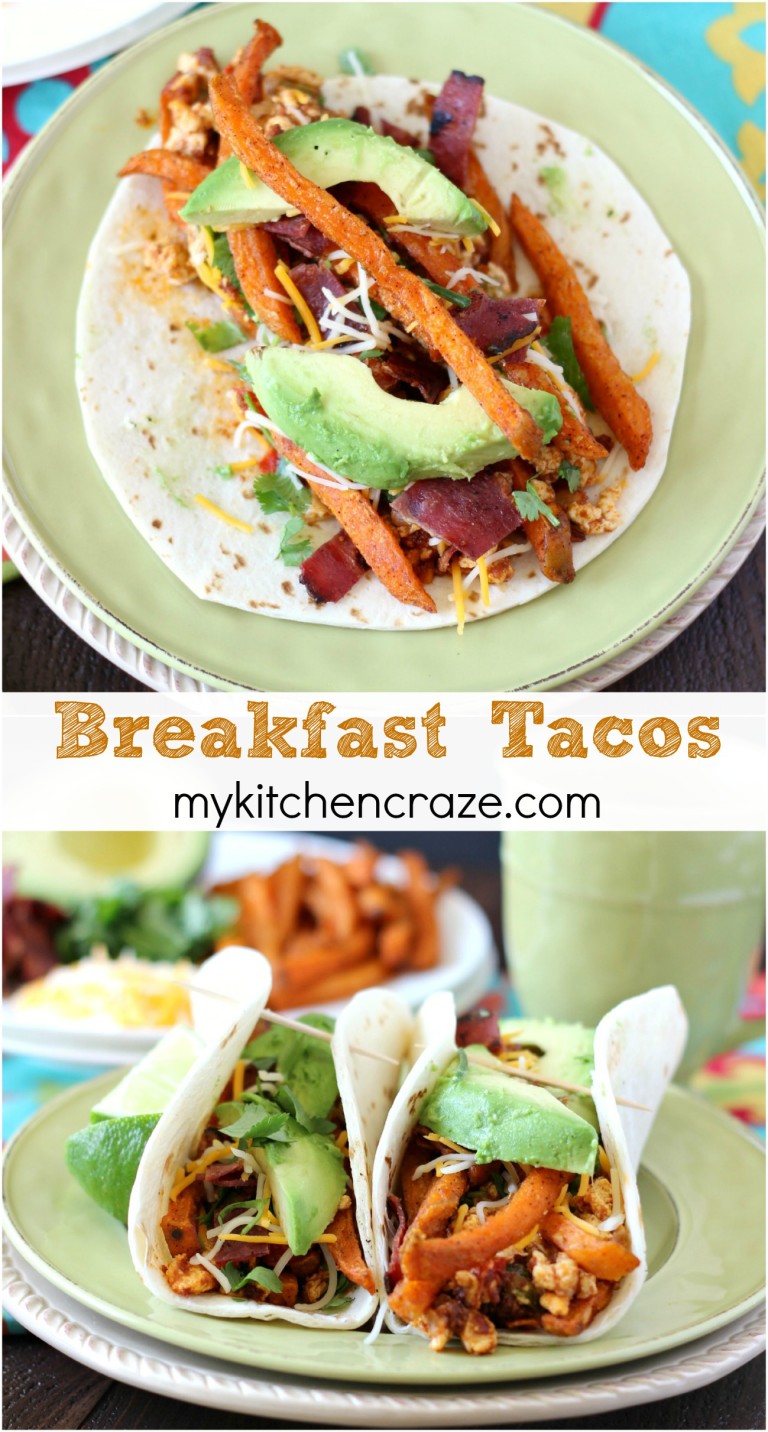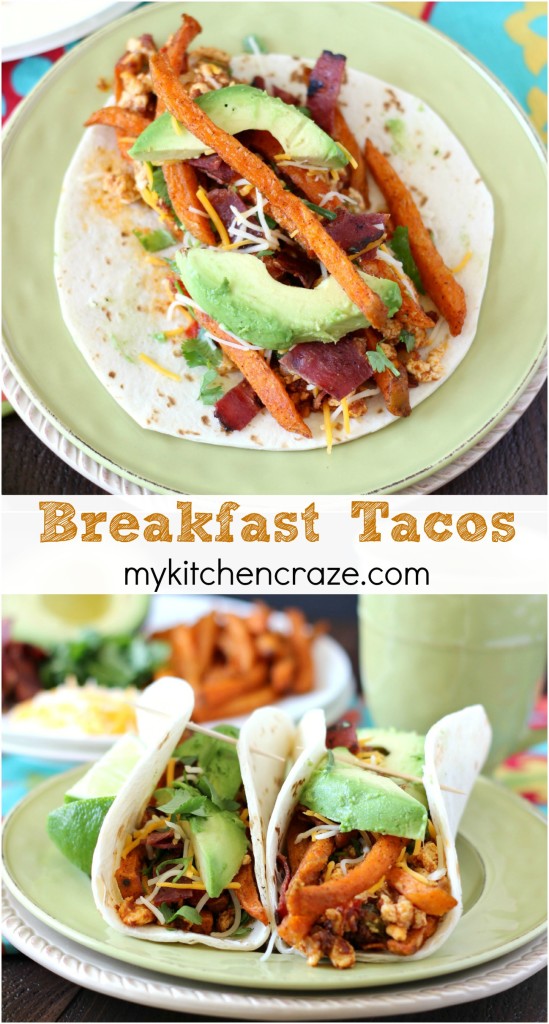 SaveSave