Do you love fish tacos, but have to go out to enjoy them? Well not anymore. These Beer Battered Fish Tacos are not only delicious, but easy to make in the comfort of your own home. Let me show you!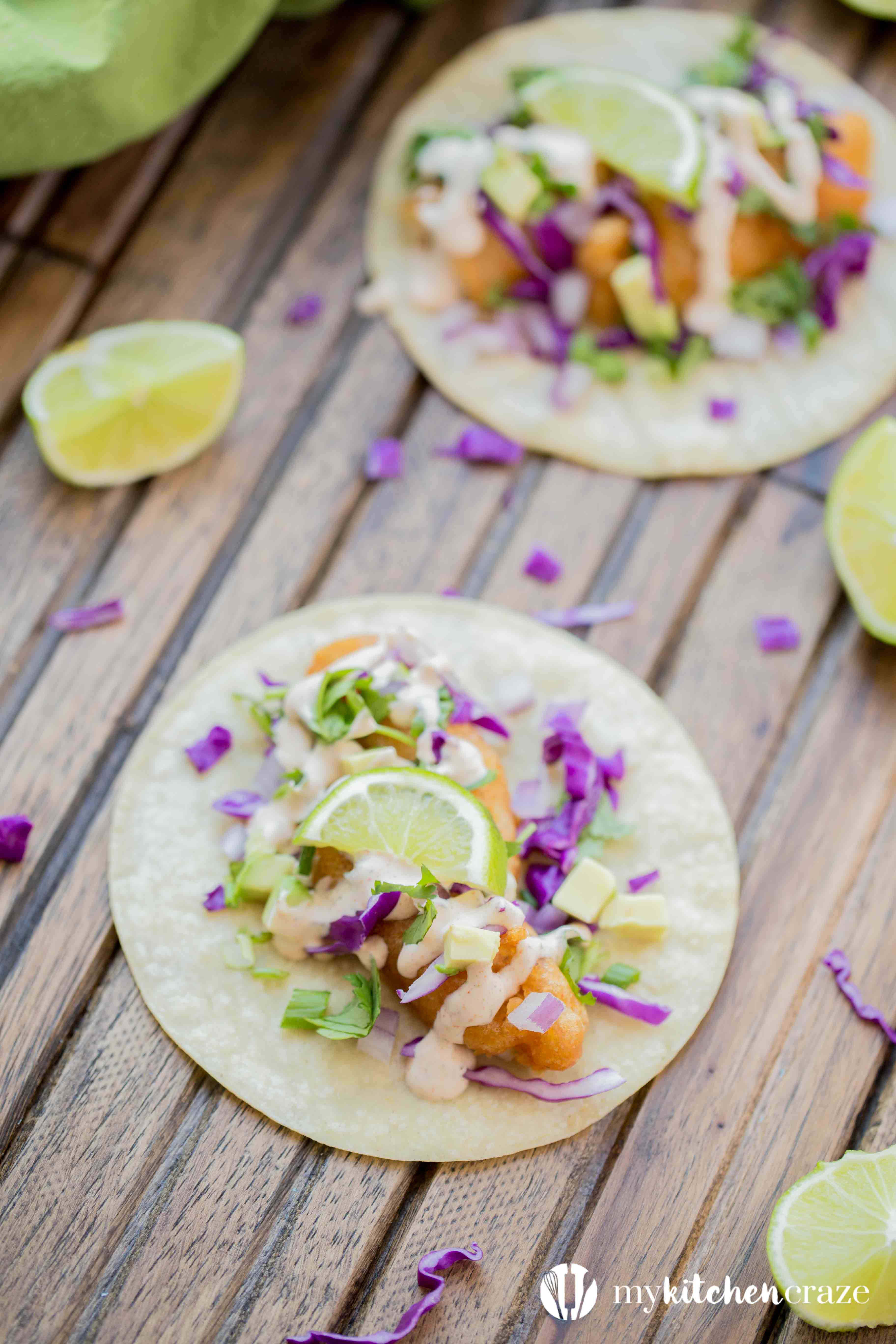 It's no secret that I wasn't a fish lover a few years ago, but I'm guessing my tastes buds have changed over the years and I'm now obsessed with any and all sorts of fish. Now a few years back I would never know the difference between fish and where it comes from, but now a days I can totally taste a difference.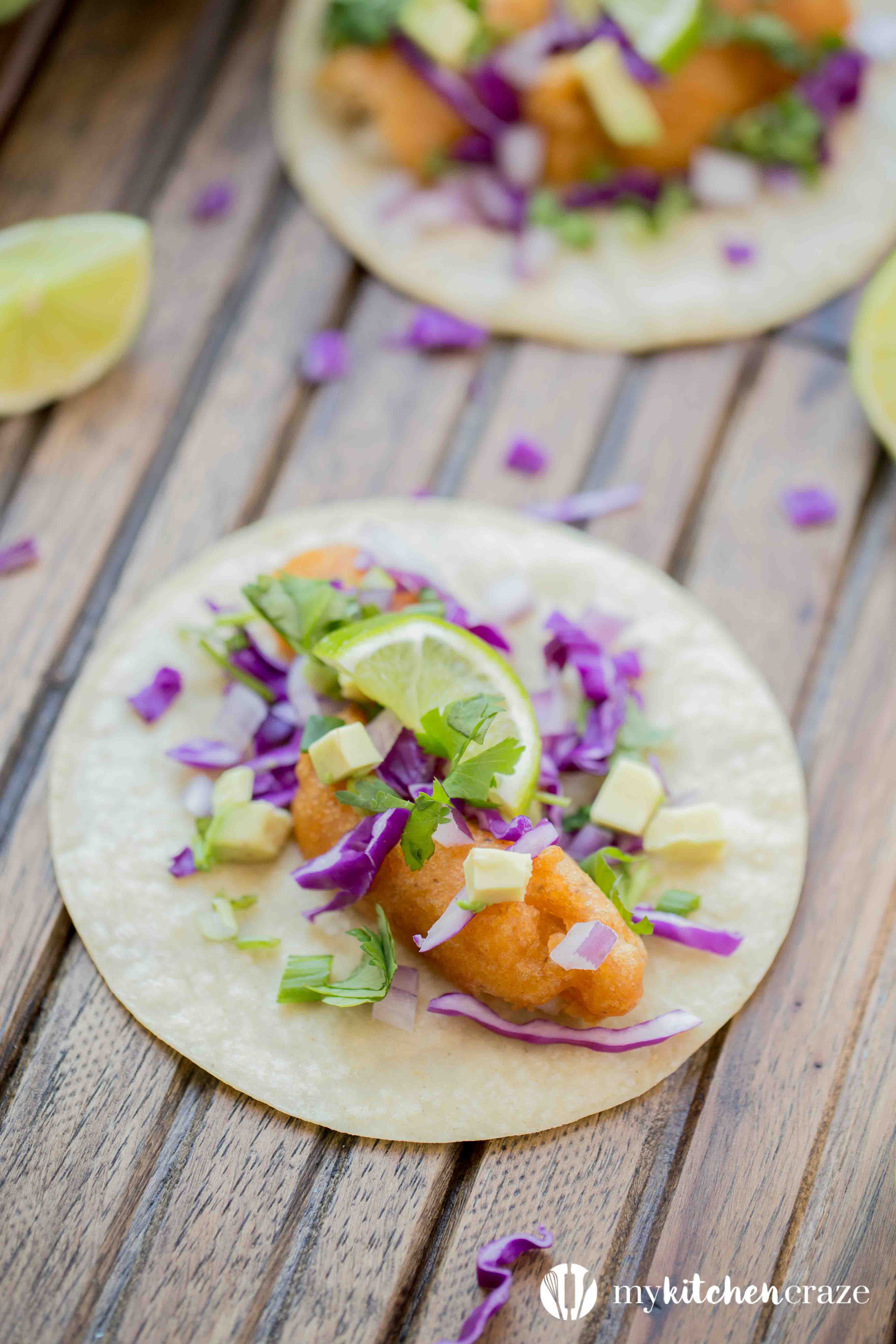 I love when my fish comes from Alaska. Alaska Seafood is not only the best tasting, but all their fish is wild caught and sold year round. You can either find it fresh or in the freezer section of your grocery store. I got my Alaska Cod from Sprouts grocery store this time, but I can find it any where normally.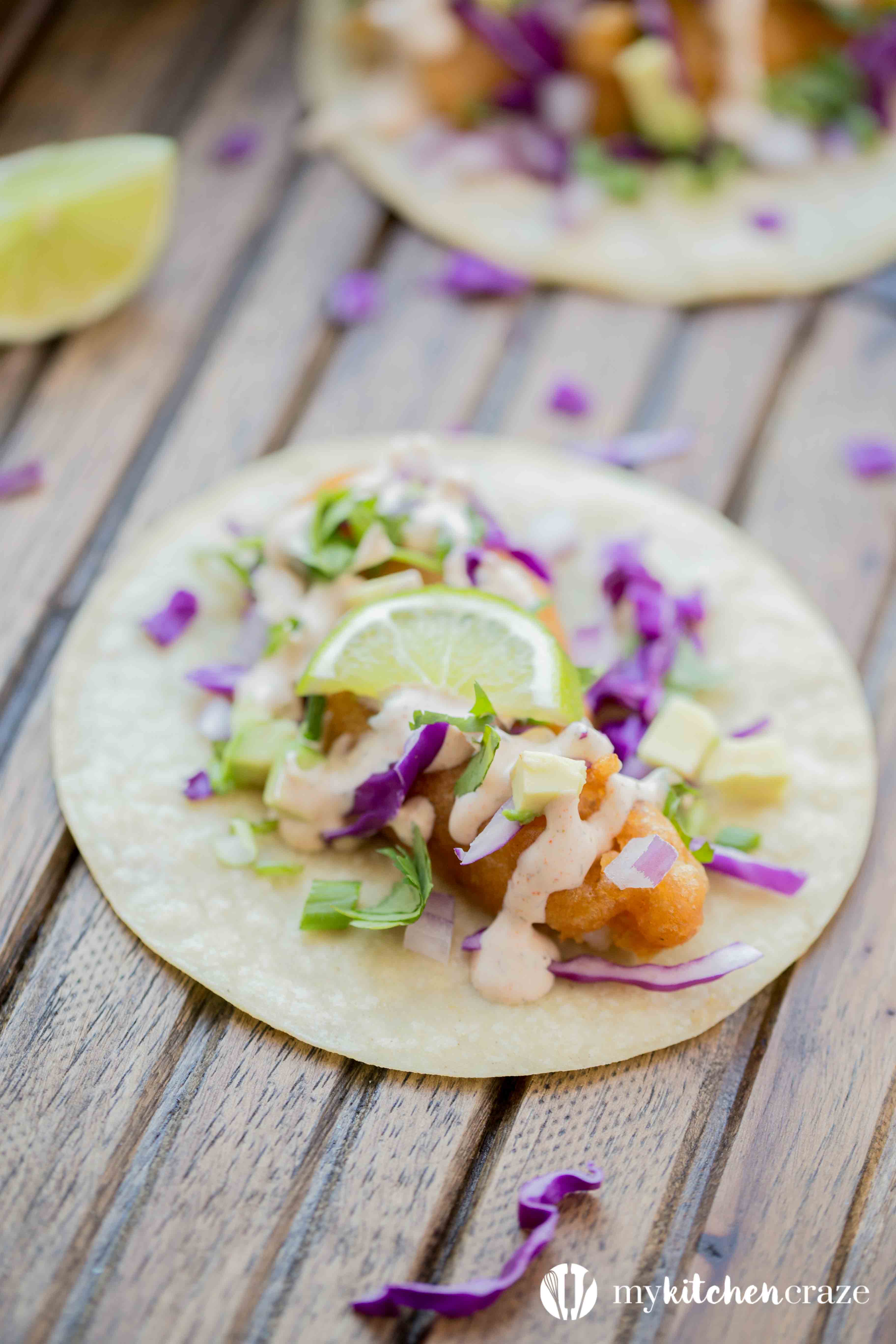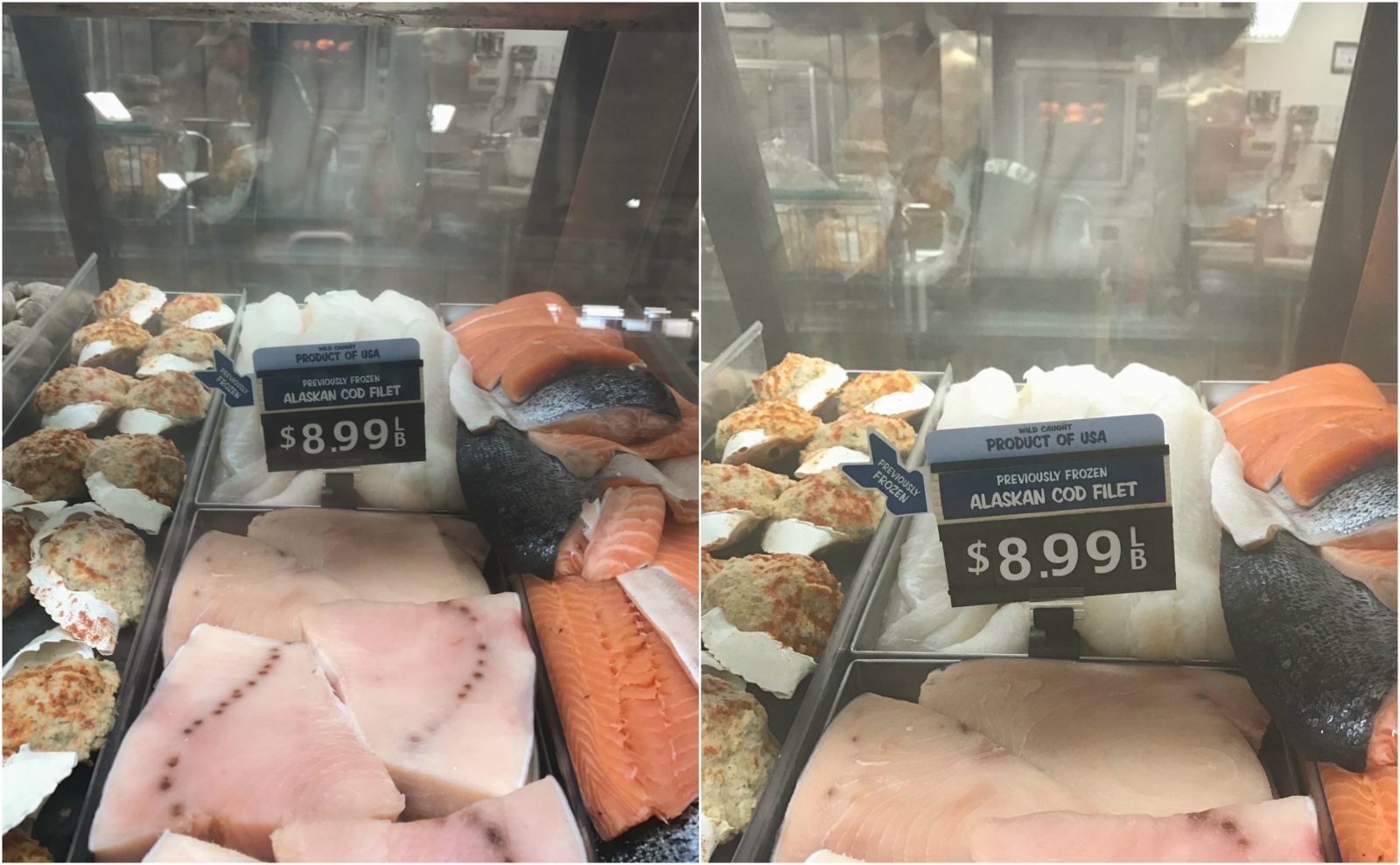 Did you know that Alaska's waters are home to some of the world's best seafood, including nearly 60% of the wild seafood and more than 90% of the wild halibut and salmon harvested in the U.S. When you cook with Alaska seafood in recipes, you know you're getting the best quality and taste. Make sure to head over to Alaska Seafood website for some yummy recipes.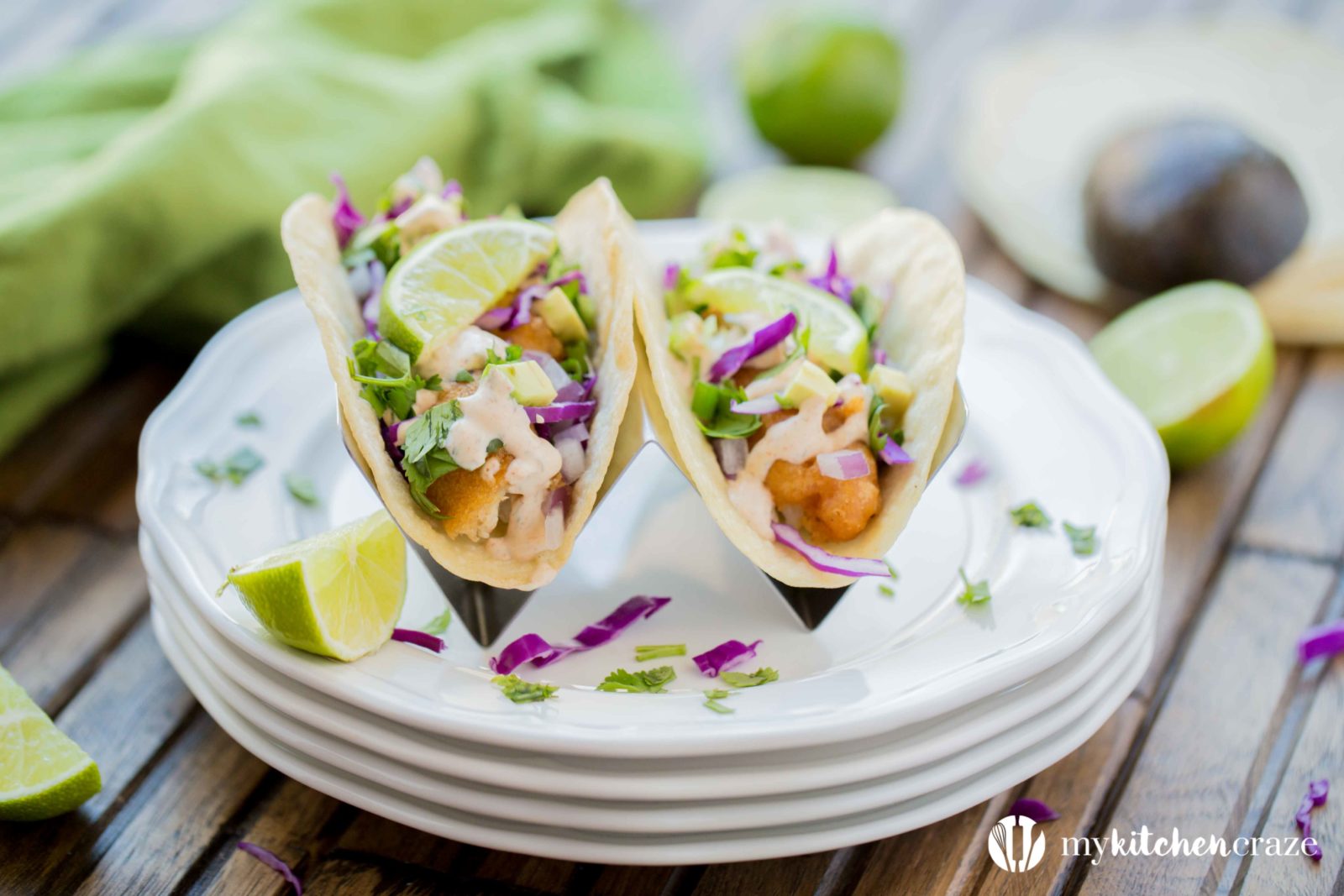 Ever since I started liking fish, fish tacos were one of my all time favs. The bad part was I couldn't re-create the recipe at home, but you know what they say about practice. Just keep trying and trying and sooner or later you'll get it right. Well that is totally me with these Beer Battered Fish Tacos. The first time I tried to make them, they came out horrible. Not sure what I did wrong, but yuck they weren't tasty.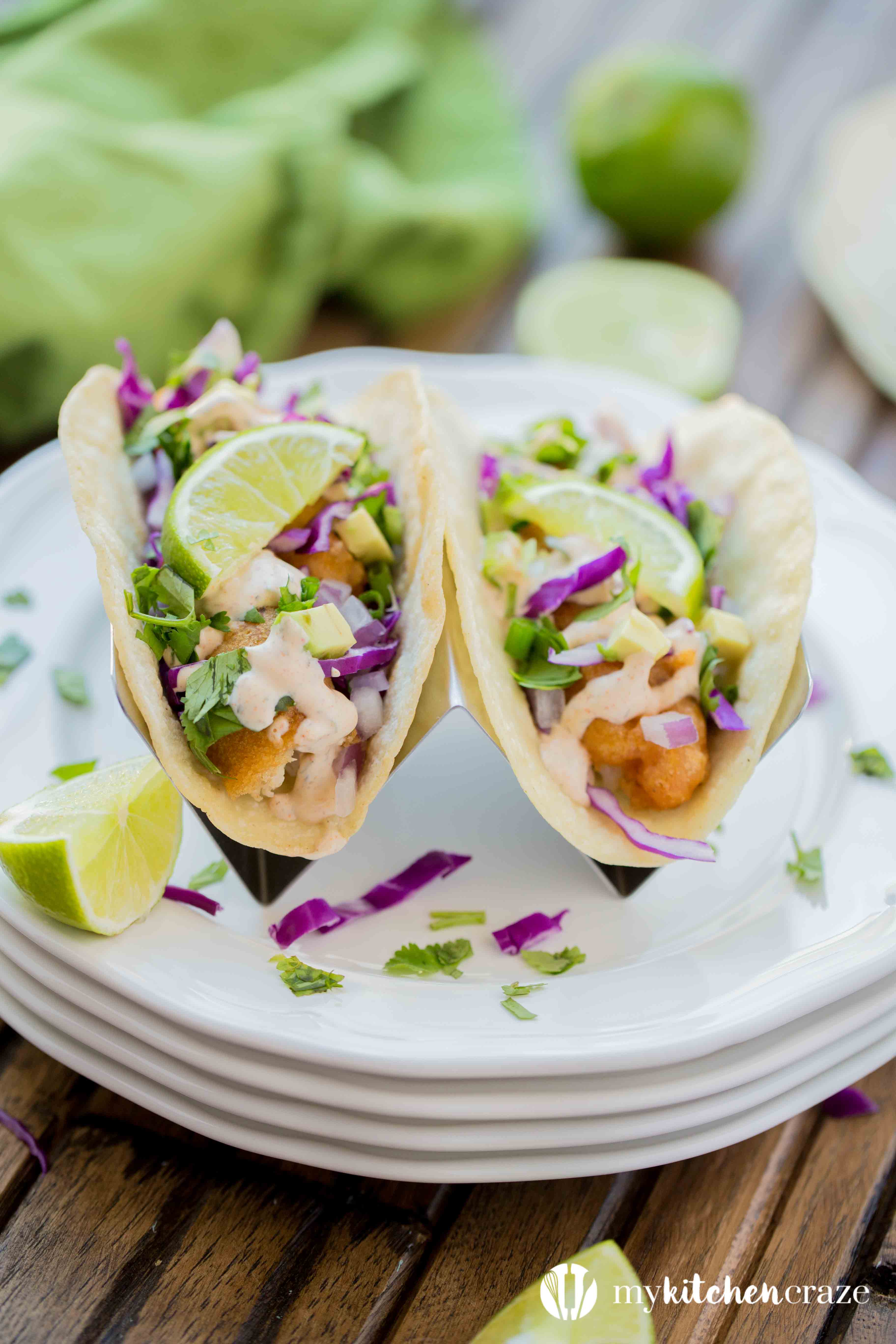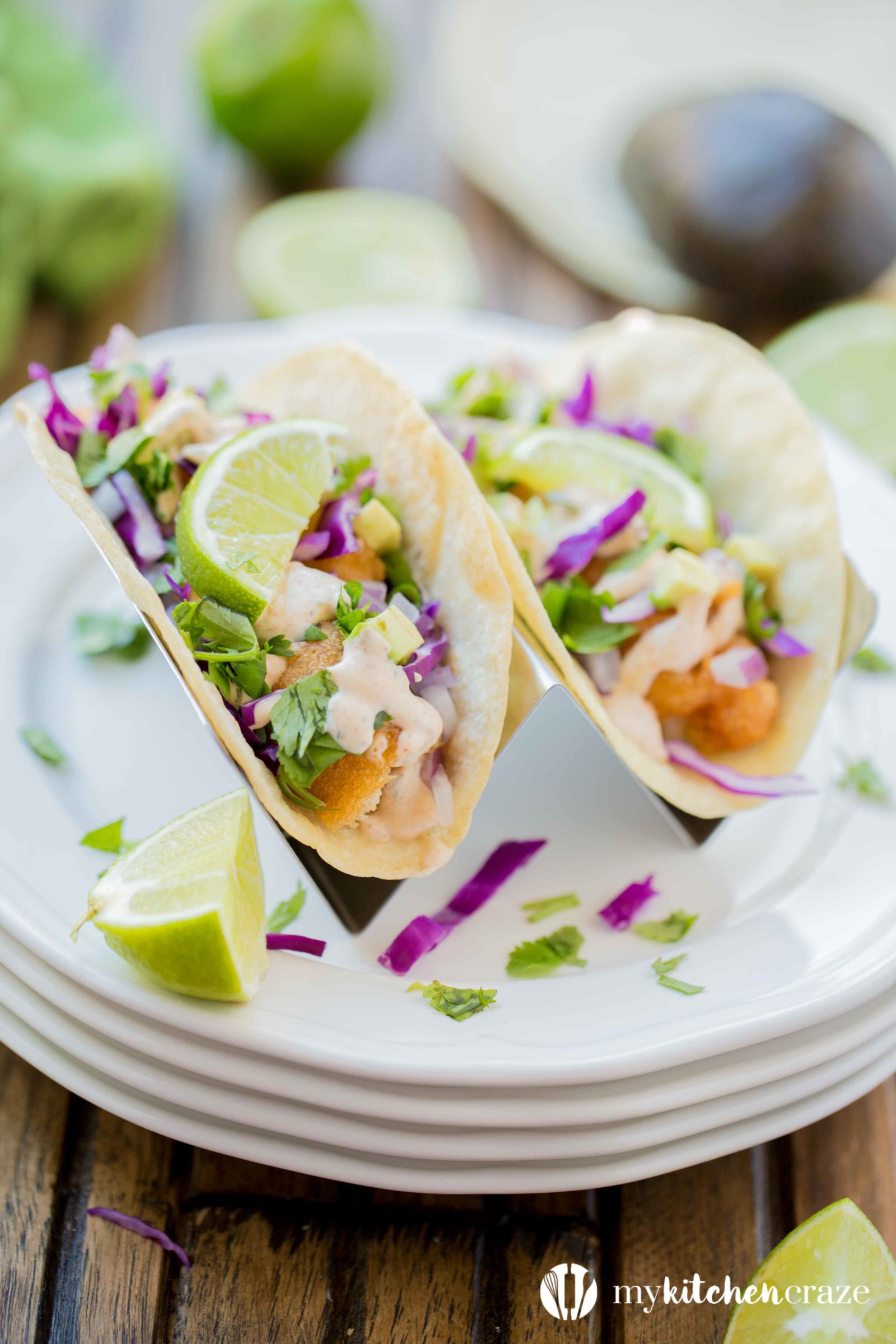 After the first time, I decided to give up for a while. I told myself that maybe fish tacos were better eaten out of the house. But when I went to a restaurant and ordered them again, I knew I could re-create them. I just needed to one, be patient and two keep trying over and over.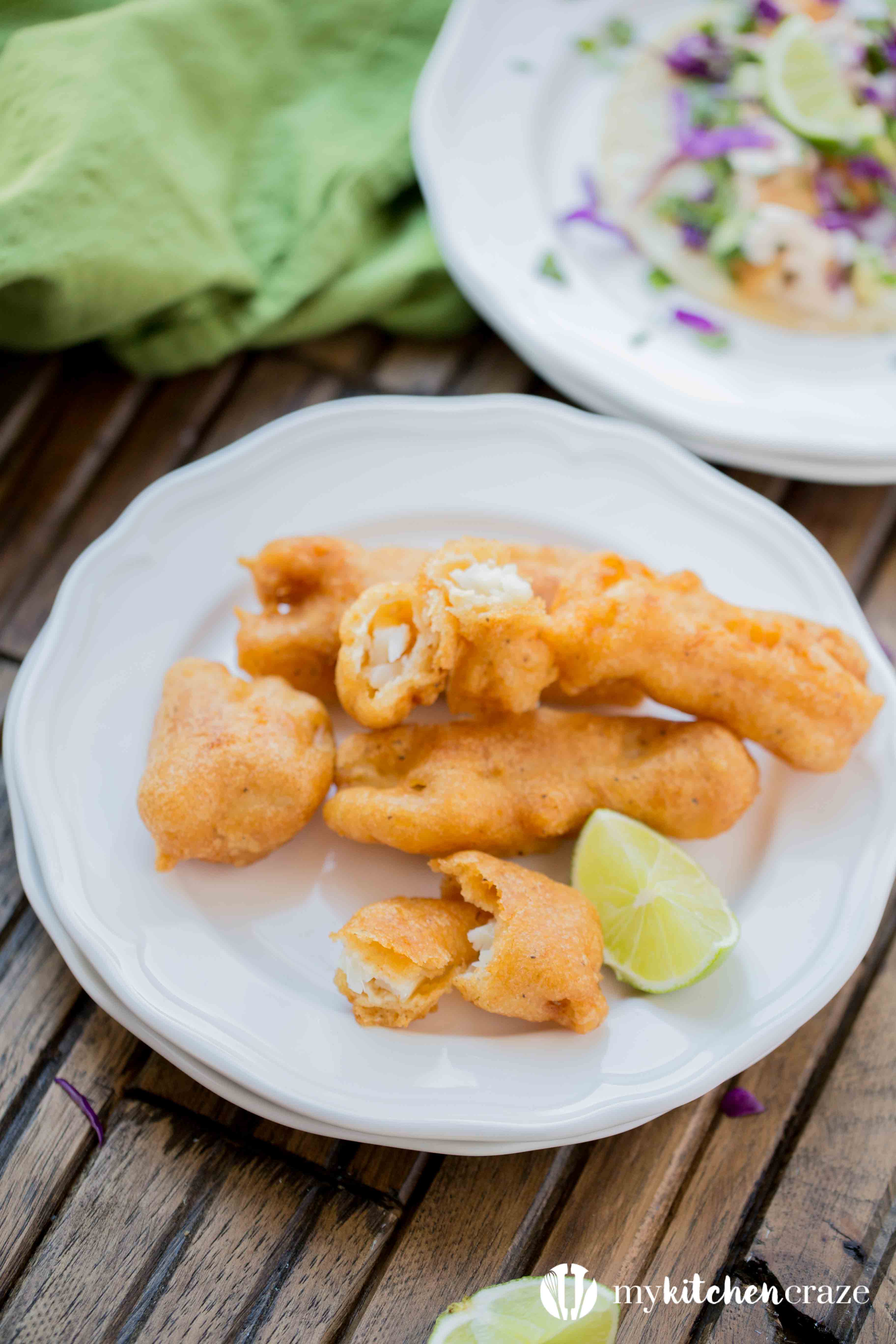 My hubby Sean totally helped me make these and boy oh boy am I glad he did. He ended up adding a little bit of this and that and they turned out amazing. Alaska Cod is so versatile and perfect for frying up. It's moist and firm with a distinctive large flake and slightly sweet flavor.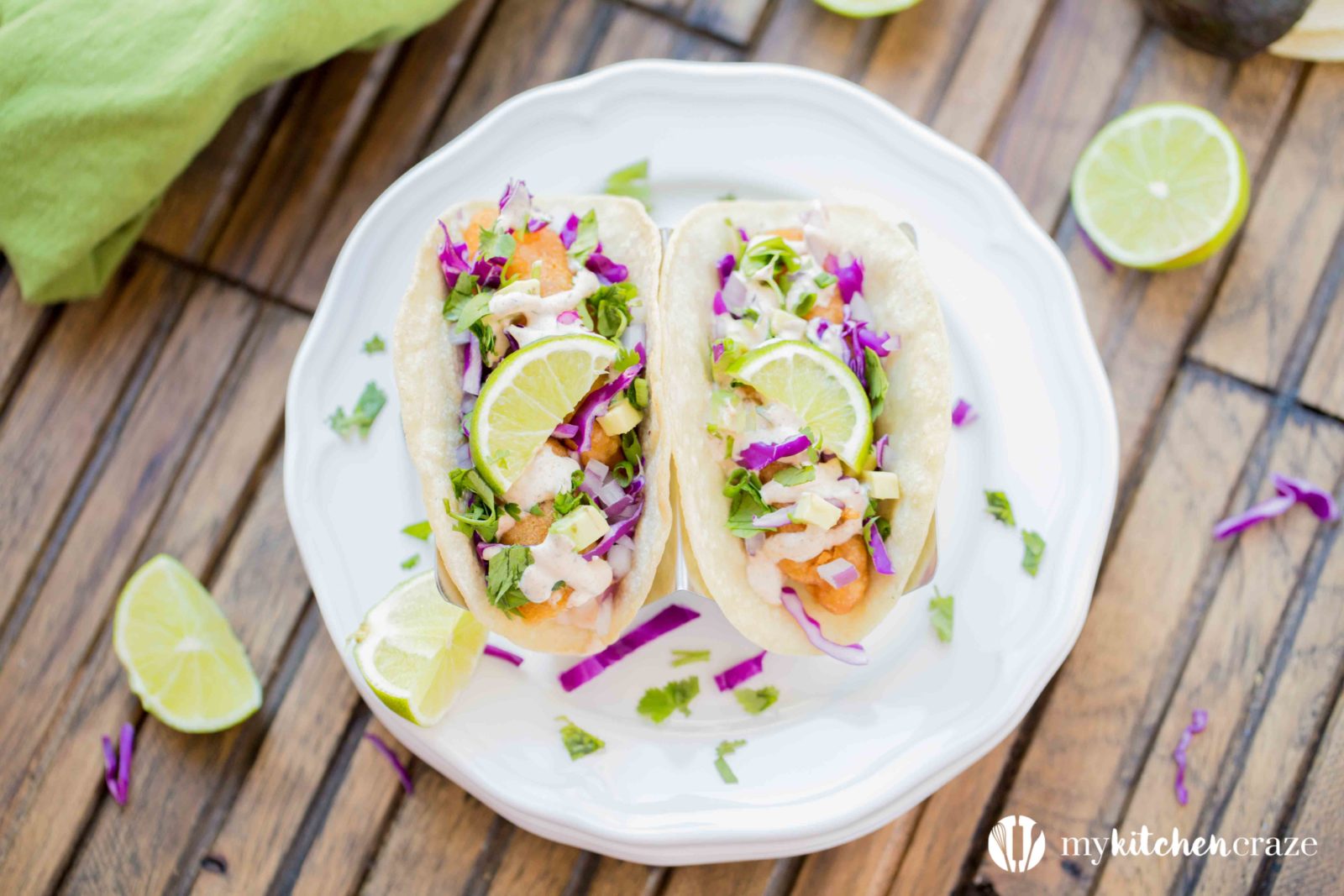 I also created a sauce to go with the tacos because you know no taco is complete without a sauce. The sauce turned out so good and adds the finishing touch on there Beer Battered Fish Taco. The next time your craving some Fish Tacos, don't go out to eat that day, just head to your local grocery store, pick up some Alaska Cod and get home cooking. You'll be happy you did. Enjoy!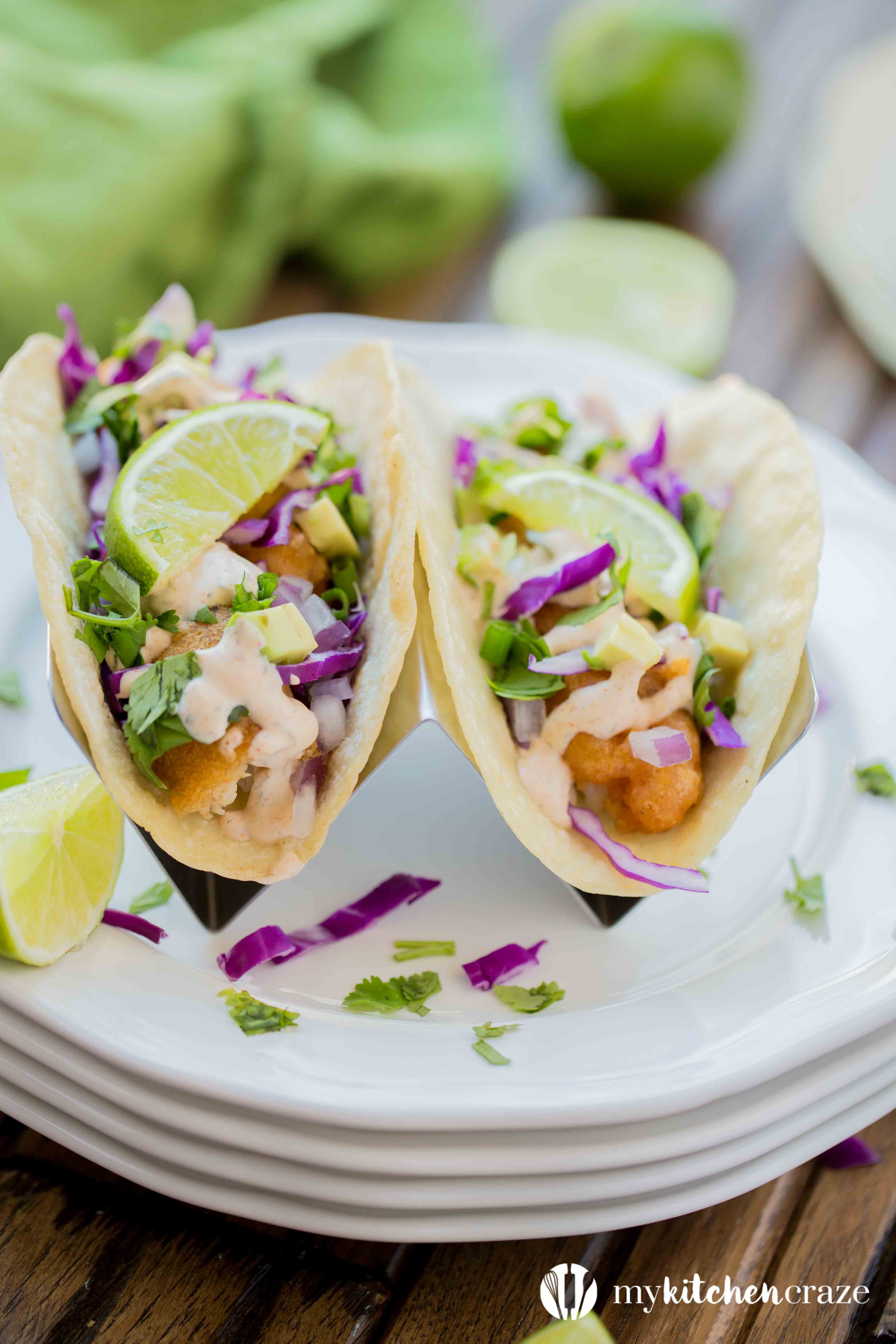 Servings: 6 -8
Beer Battered Fish Tacos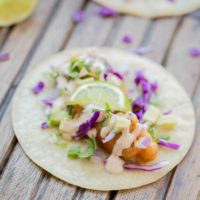 Print
Ingredients
Beer Batter:
1 cup all-purpose flour
2 tablespoons cornstarch
1 teaspoon baking powder
2 teaspoon Old Bay Seasoning
1 teaspoon salt
1/2 tsp pepper
1 egg
1 cup beer
Sauce:
1/2 cup sour cream or crema mexicana
1/2 cup mayonnaise
1 lime,  juiced
1/2 teaspoon cumin
1/2 teaspoon ground coriander
1/2 teaspoon dried dill weed
1/2 teaspoon dried oregano
1/4 teaspoon ground chili powder
1/2 teaspoon capers, minced
1 jalapeño, seeded and minced
1 tablespoon fresh cilantro, chopped
Tacos:
1 quart oil for frying
1 pound cod fillets, cut into 2 to 3 ounce portions
1 package corn tortillas
1/4 cup cilantro, chopped
1/4 cup red onions,  finely chopped
1/4 cup green onions, chopped
1/2 medium head cabbage, finely shredded
1 avocado, pitted and diced
Instructions
To make beer batter: In a large bowl, combine flour, cornstarch, baking powder, Old Bay seasoning, salt and pepper.

Blend egg and beer, then quickly stir into the flour mixture. Let sit while you prepare the sauce and oil for frying.

To make sauce: In a large bowl stir together the sour cream and mayonnaise until creamy and blended.

Add in half of the lime juice (you want a consistency of salad dressing. If you need to add more you can or if its to thin, add in more sour cream).

Add in spices, capers, jalapeno, and cilantro. Cover with foil and refrigerate until fish and condiments are ready.

To make the tacos: Pour oil into a large dutch oven and heat to 375 degrees F. Once your oil is hot, dust fish pieces light with flour, then dip into beer batter.

Fry until crisp and golden brown, about 2-3 mins on each side, a total of 6 mins.

Drain on paper towels and lay on a wire rack until all fish is done.

Warm up your tortillas in the microwave or on stove.

Place a piece of fish in a tortilla and top with condiments and sauce.

Serve immediately and enjoy!