Beef Kielbasa and Potato Skillet
Beef Kielbasa and Potato Skillet is a hearty delicious meal. On your table within 30 minutes and cooks in one skillet. This dish makes cooking and cleaning a breeze. Perfect for those busy hectic nights when all you want to do is sit and relax with the family.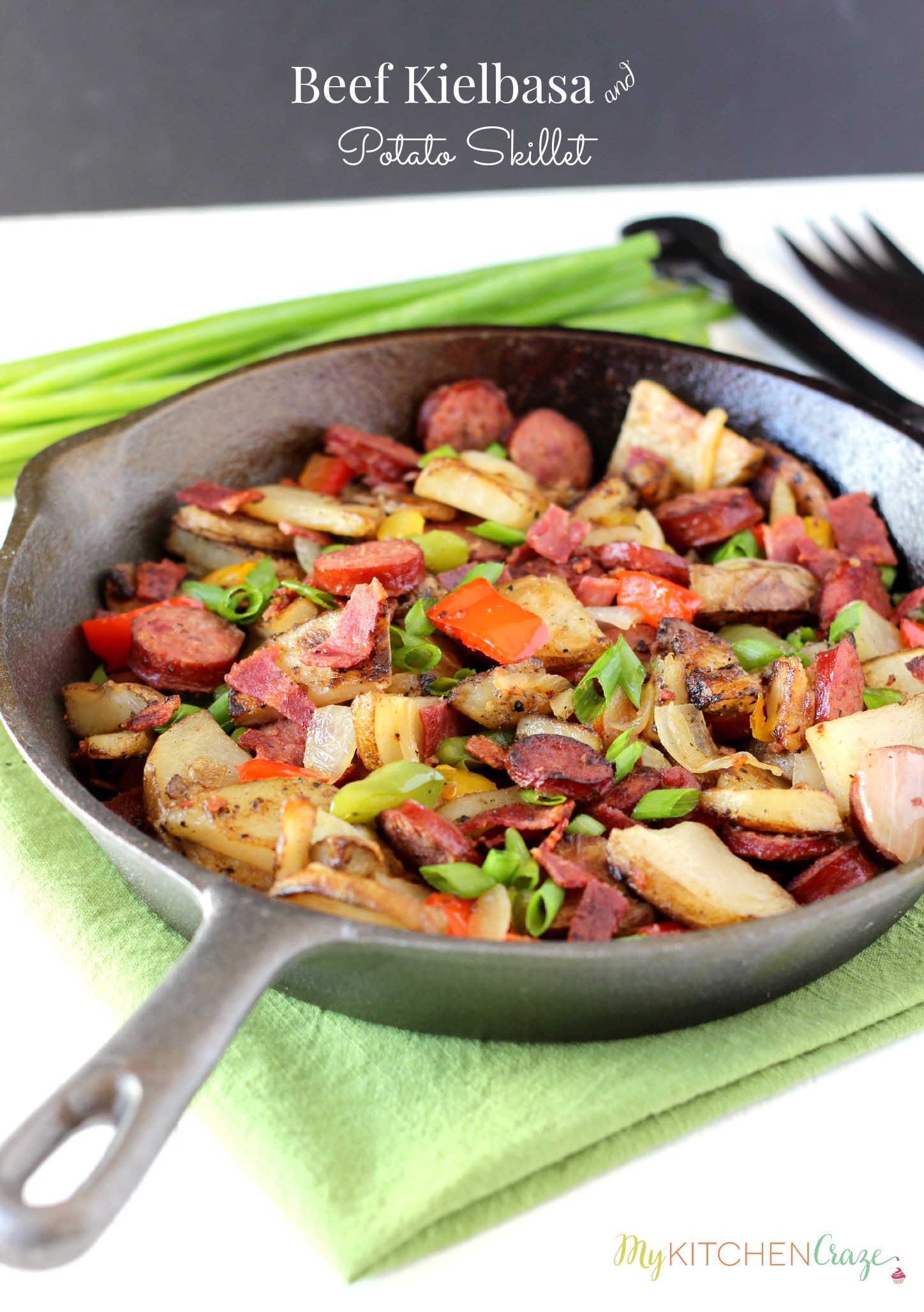 Beef Kielbasa and Potato Skillet which is called Fried Potatoes and Sausage in my parents house, is an oldie but goodie. My mom always made dinner during the week when I was younger, but there were times where she had to stay at work late or was just plain exhausted. She's a paralegal and works full-time, still till this day. Bless her heart!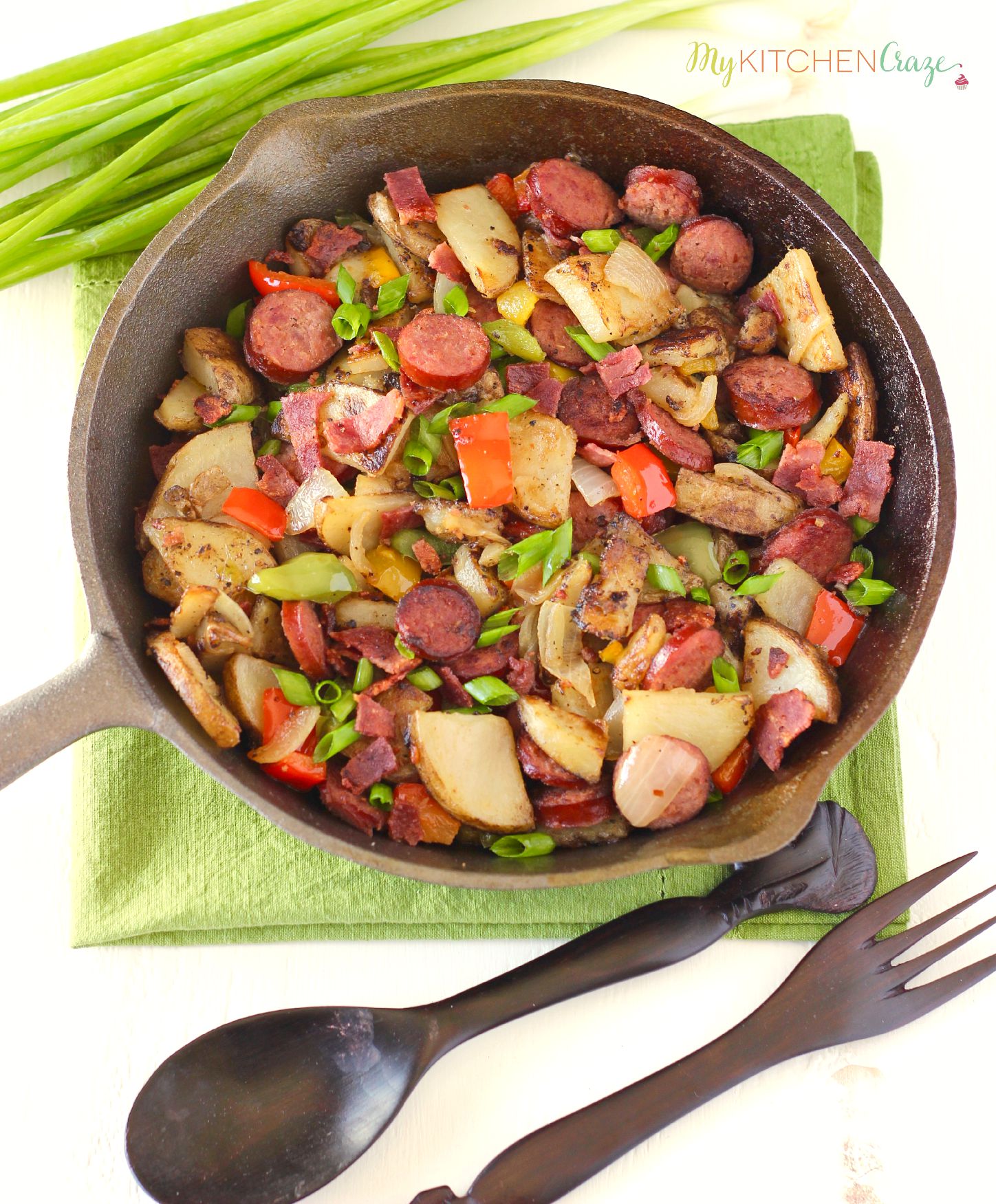 There were days when she came home and just didn't want to deal with food. Me being an adult now, I totally don't blame her. There are plenty of days that I just want to sit my booty on that couch and not move for the next 5 hours. So on days like these, my dad would whip up his delicious Fried Potatoes and Sausage dinner.
It was my favorite meal that he would cook. He also makes a mean homemade gravy too. When dad would cook us fried potatoes and sausage, I always ate my entire helping. It was just so darn good. I loved it so much, that when I got married I was so excited to share this yummy recipe with my hubby. The problem was this dish was a little too plain for my curry eating hubster.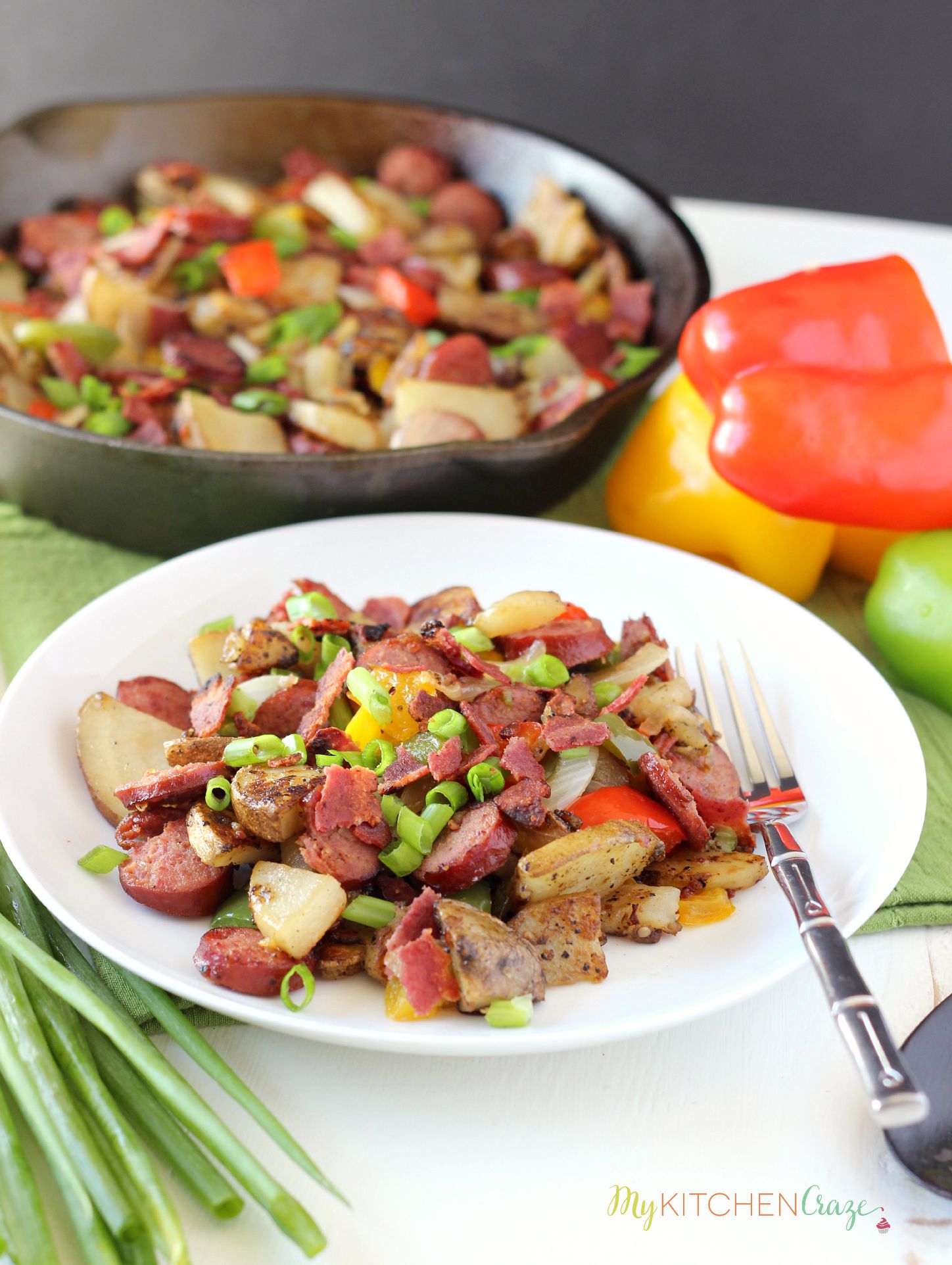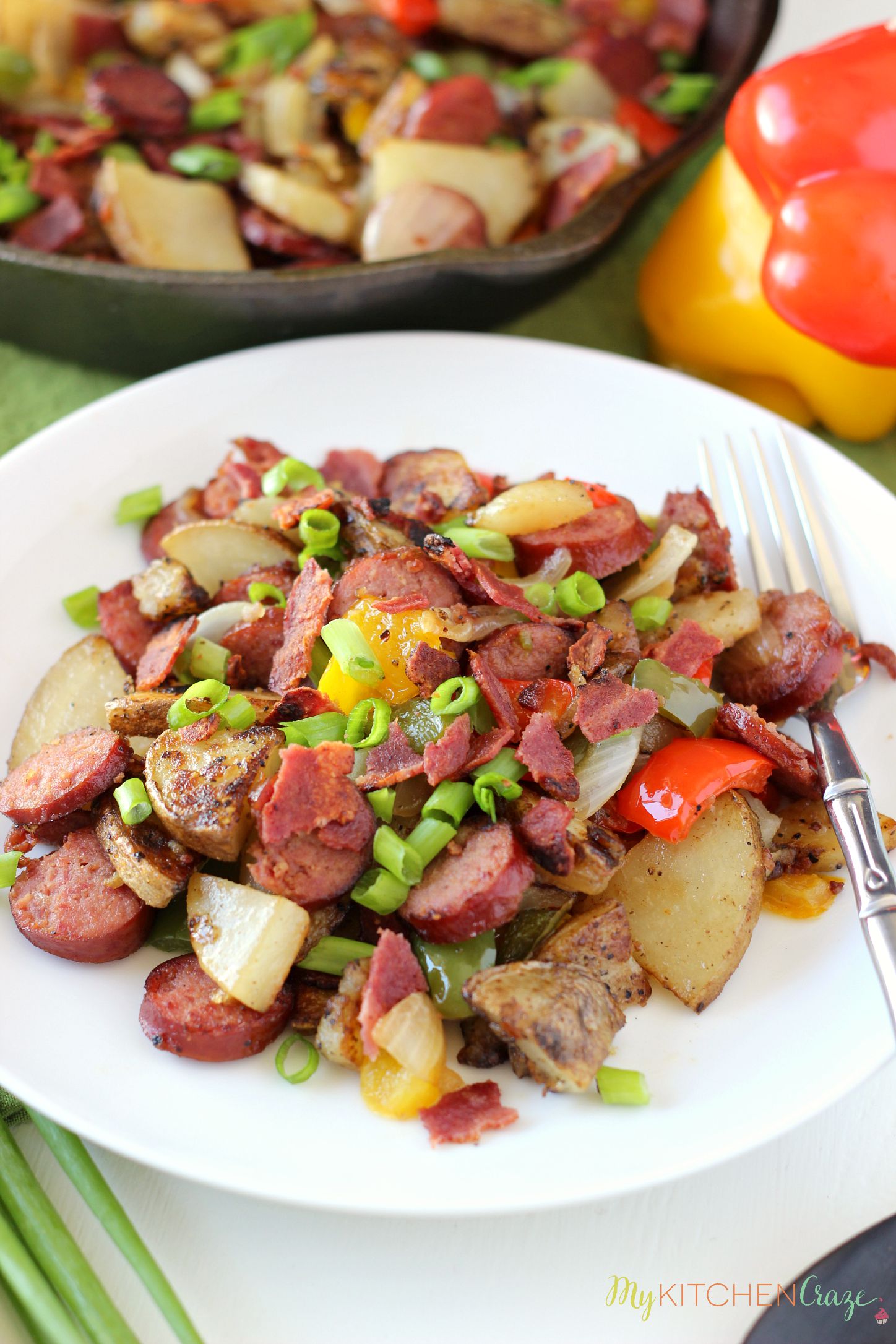 Enter 2015 and 15 years later, I reintroduce to you our Beef Kielbasa and Potato Skillet. This skillet is cooked in one pan and made within 30 minutes. Not only does it have crispy golden potatoes and kielbasa, but I've added a colorful array of bell peppers and some bacon. Mmmm everything is better with bacon, right?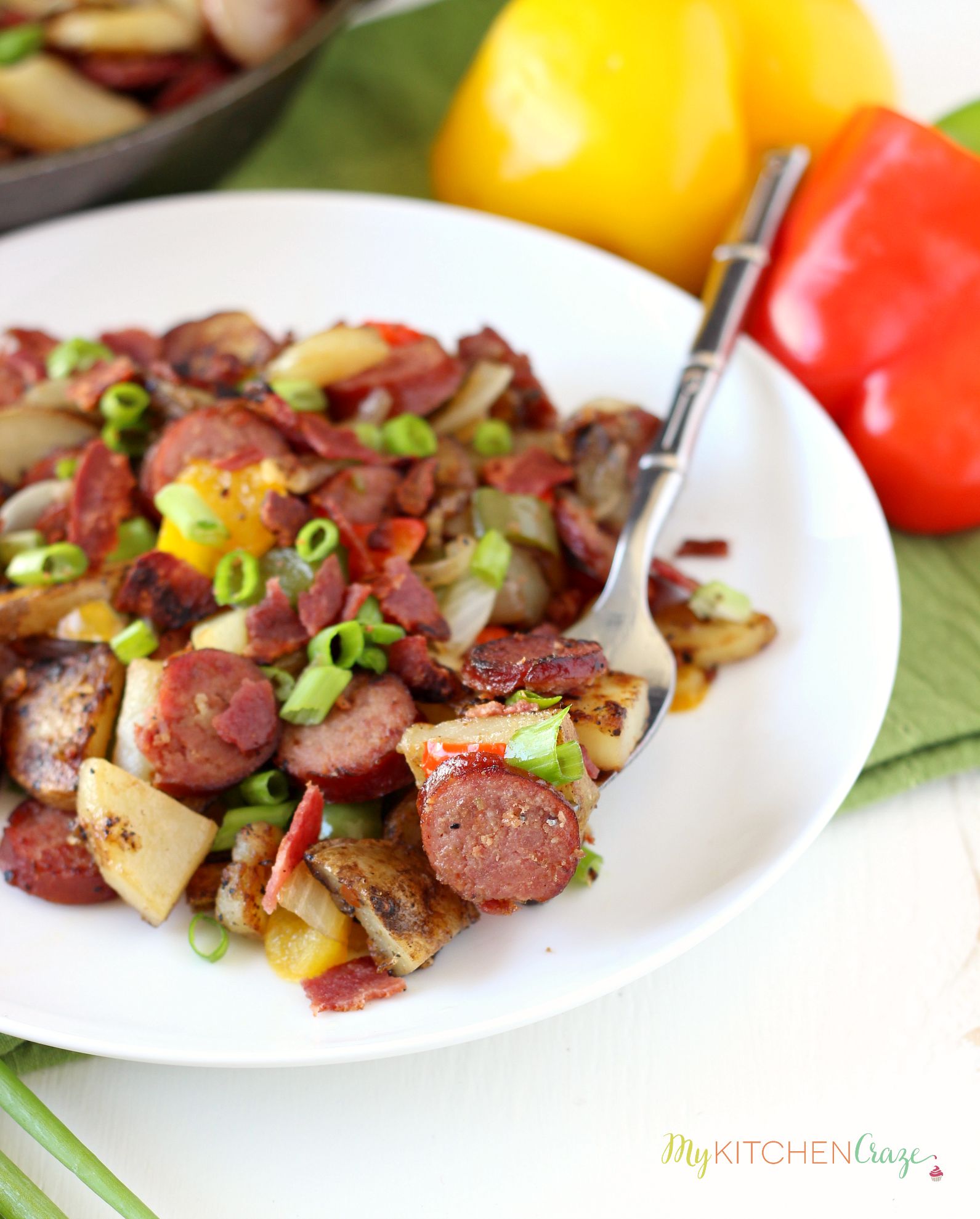 With school quickly approaching, I wanted to share this tasty meal with you all. I haven't changed a classic family recipe, but enhanced it. I've add some yummy ingredients and some delicious seasoning to take this meal to the next level. My hubby now loves this dish and has been eating it continually for 15 years. What a great guy!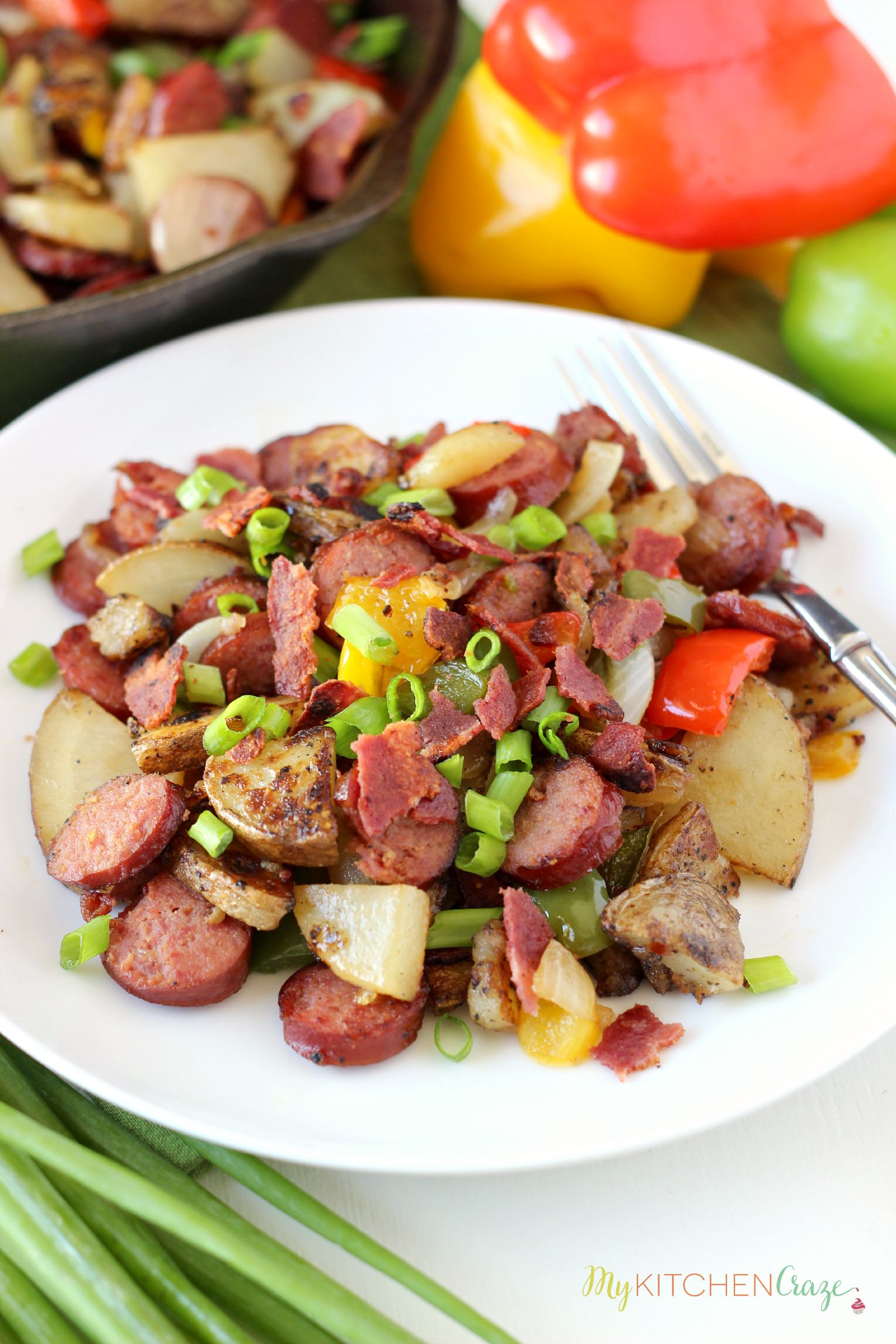 As summer comes to an end and life becomes more hectic, remember this one pan skillet meal. It's a breeze to whip together and has amazing flavor. It'll become a favorite in your house just as it is in mine. Enjoy!
PS ~ Hope you all have a wonderful weekend. I know I will. Sunday is my birthday. Yay!! 🙂
Beef Kielbasa and Potato Skillet
Author:
Prep time:
Cook time:
Total time:
Ingredients
2 tablespoon canola oil
5 pieces turkey bacon
1-2 large russet potatoes, cut into small size pieces
1/2 tablespoon seasoning such as Mrs. Dash
1 (16 ounce) package beef kielbasa
1/2 onion, thinly sliced
1/2 green bell pepper, chopped
1/2 red bell pepper, chopped
1/2 yellow bell pepper, chopped
salt and pepper to taste
2 springs green onions, chopped
Instructions
In a large skillet (I use our large cast iron skillet) cook bacon until crispy; set aside on a paper towel lined plate. Leave any grease from the bacon in the skillet.
Add 1 tablespoon oil to the skillet. With the heat on medium-high heat, add the potatoes and seasoning. Don't move or touch the potatoes once you place them in the skillet. Stir the potatoes after they have cooked for 3 minutes. This will allow them to get those crispy edges. Keep stirring the potatoes every 3-4 minutes for approximately 10-12 minutes. Once they reach the crispy and soft stage, scoop them out using a slotted spoon onto a plate; set aside.
Add the kielbasa and cook for 3-4 minutes on each side, until light browned.
If the skillet is looking dry, you can add the last tablespoon of oil.
Add the onions and bell peppers, cooking until the onions become translucent and peppers become tender. If your meat mixture is to oily from the kielbasa, you can scoop out some of the oil now.
Add the potatoes back to the skillet and let flavors combine and cook for another 2-3 minutes. Crumble the bacon on top and sprinkle with the green onions.
Serve and Enjoy!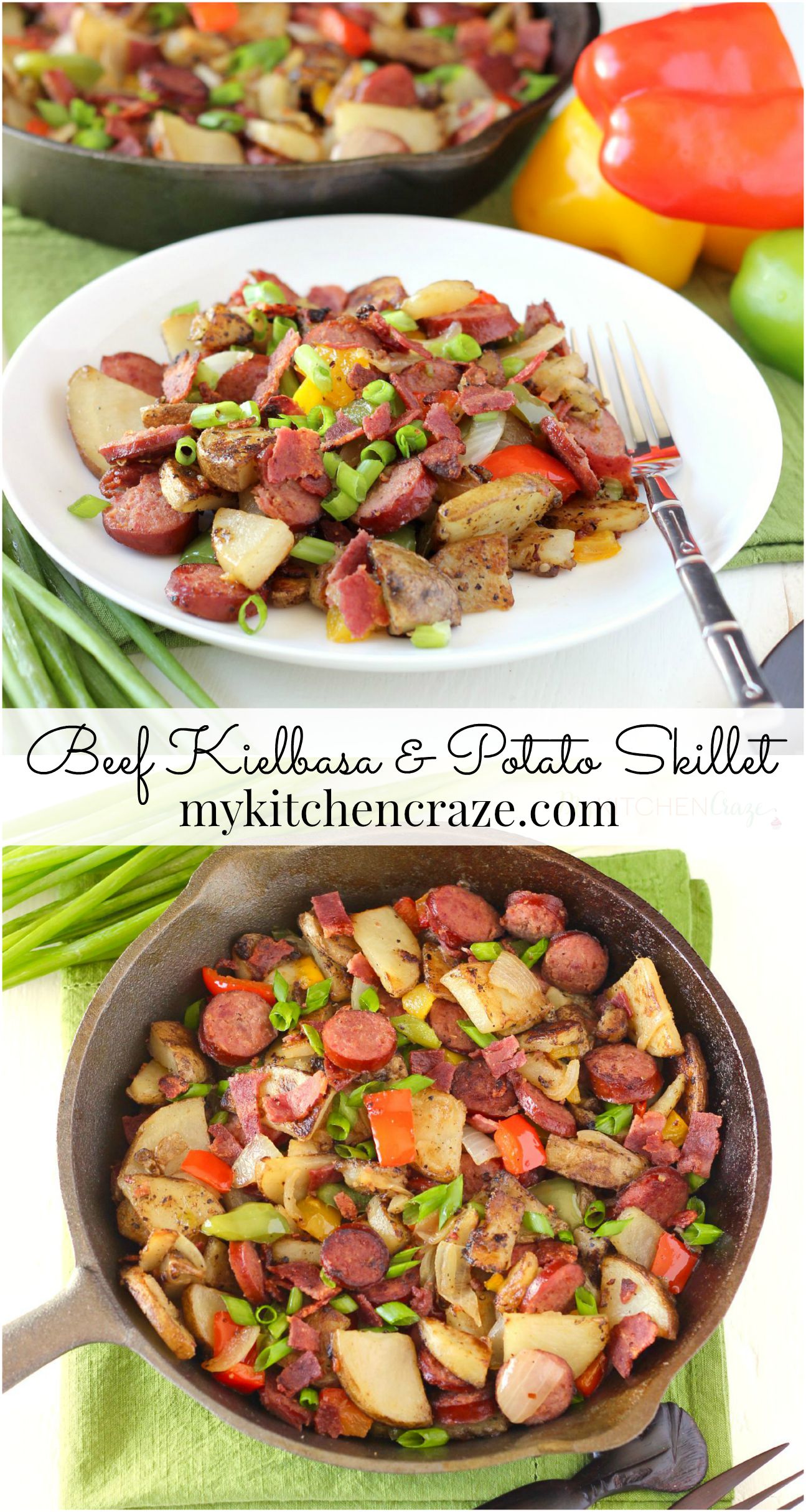 More 30 minute meals? Here you go: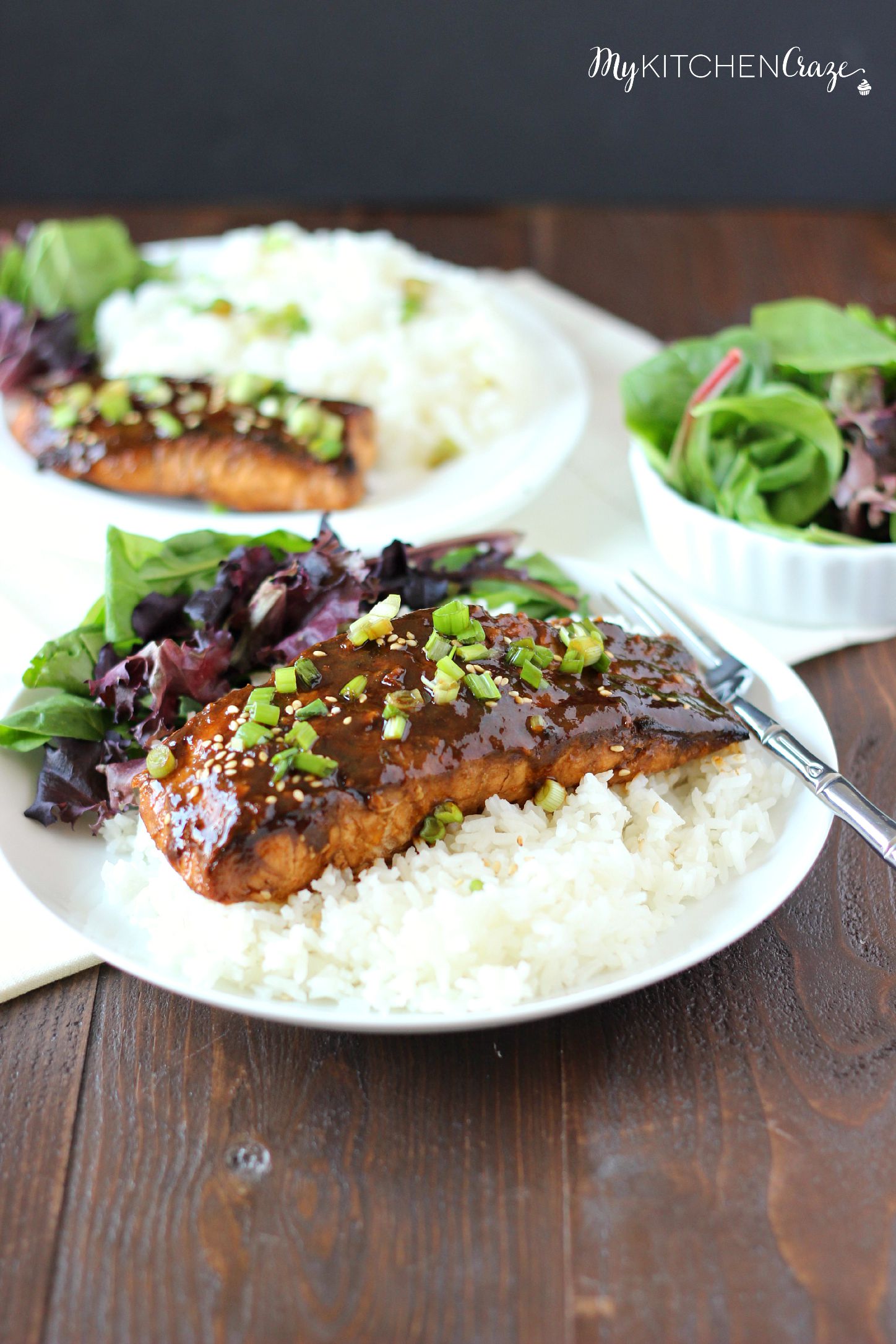 Honey Sriracha Glazed Salmon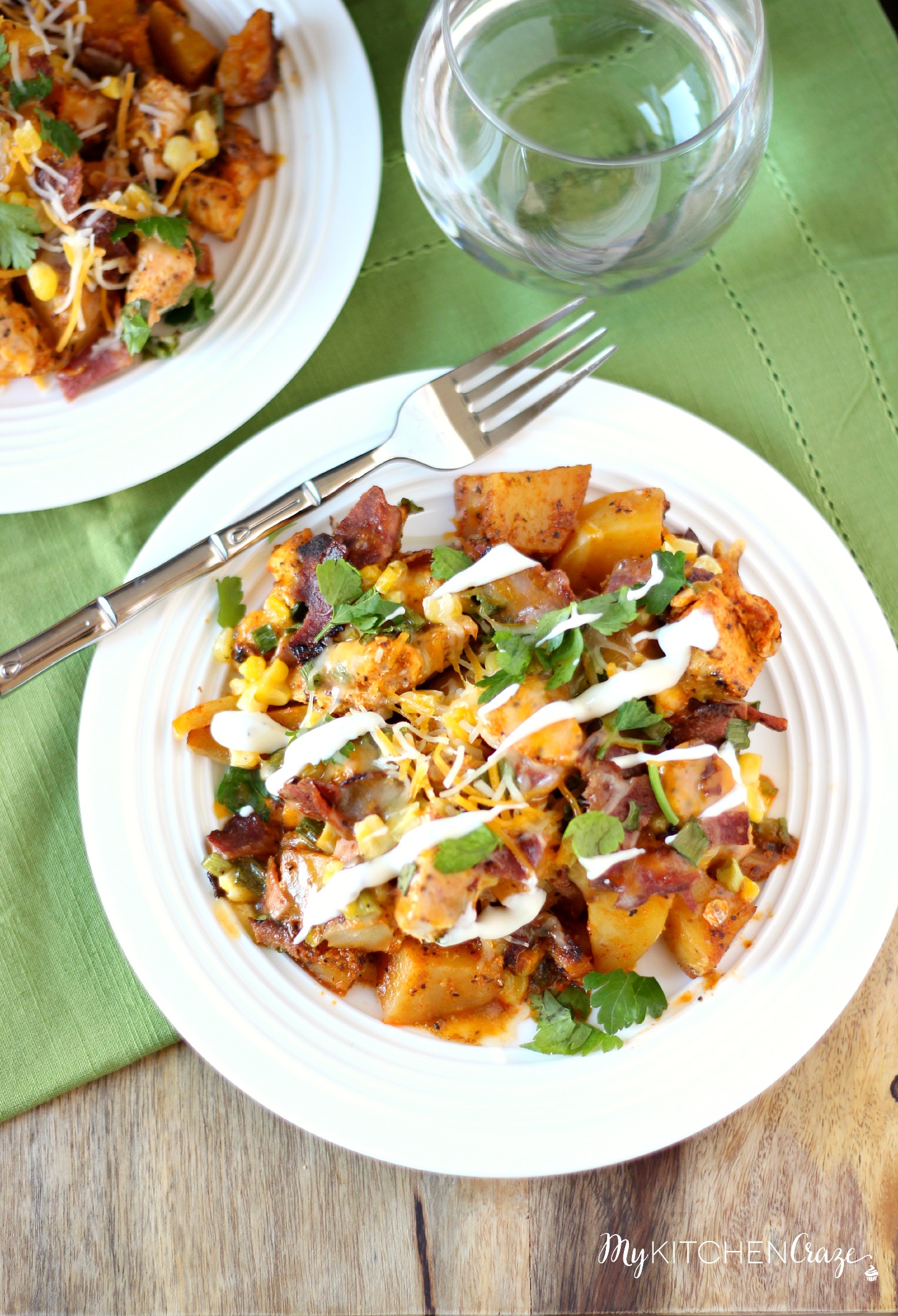 Buffalo Chicken & Potato Casserole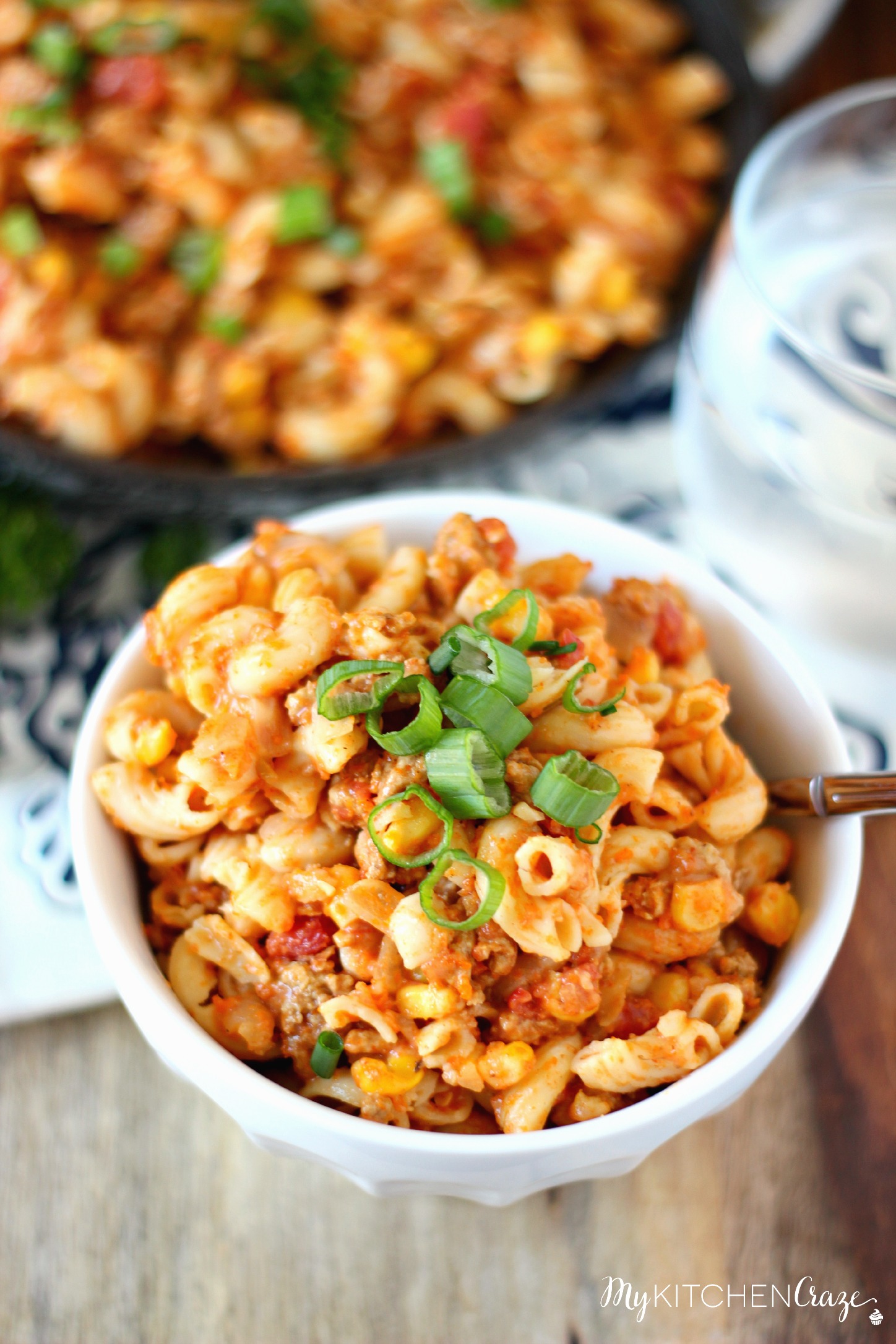 Taco Pasta
Here are some more 30 minute meals from other amazing food bloggers:
Pesto Chicken Lasagna Rolls by Baked by Rachel
Sour Cream Noodle Bake by Fake Ginger
Cheesy Chicken Enchilada Casserole by Family Fresh Meals
Chicken Vegetable Salad by Valentina's Corner