Beef and Broccoli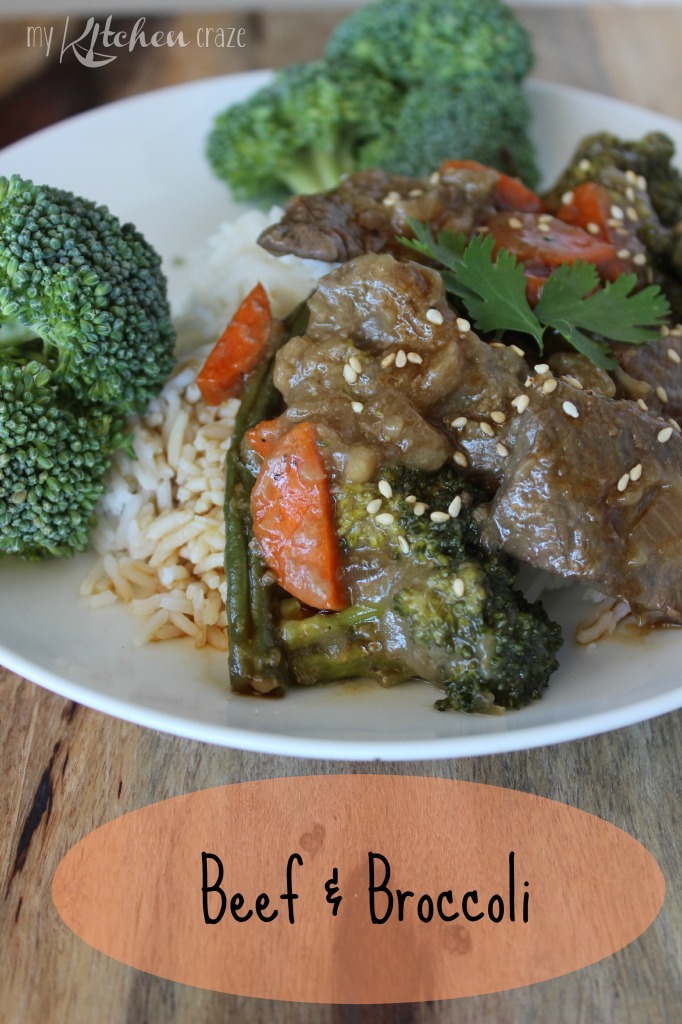 When I first found out my in laws were coming to visit, my first thought was, ohh I wanna make something yummy for dinner. Okay okay I wanted to impress them.. Haha. I wanted to make sure that it was an easy recipe, but also very tasty. Before I went gluten free I had tried to re-create Chinese dishes, but never had any successful meals that I thought were out of this world. So of course when I go gluten free I find the most amazing beef Chinese dish ever! This dish is out of this world and so easy and simple to make. I was shocked at how good it turned out.
I am not a huge veggie fan as I told you all about in my last post, but the broccoli in this dish was so crispy and tasty. Did I tell you that this is the best Chinese dish I have ever made. You guys will not be disappointed in this dish at all. The next time I make it, I would like to add some water chestnuts and maybe some bell peppers. You could totally use the base of this recipe and add all kinds of veggies or even make it with chicken. If any of you try it out, please leave a comment telling me how it turned out.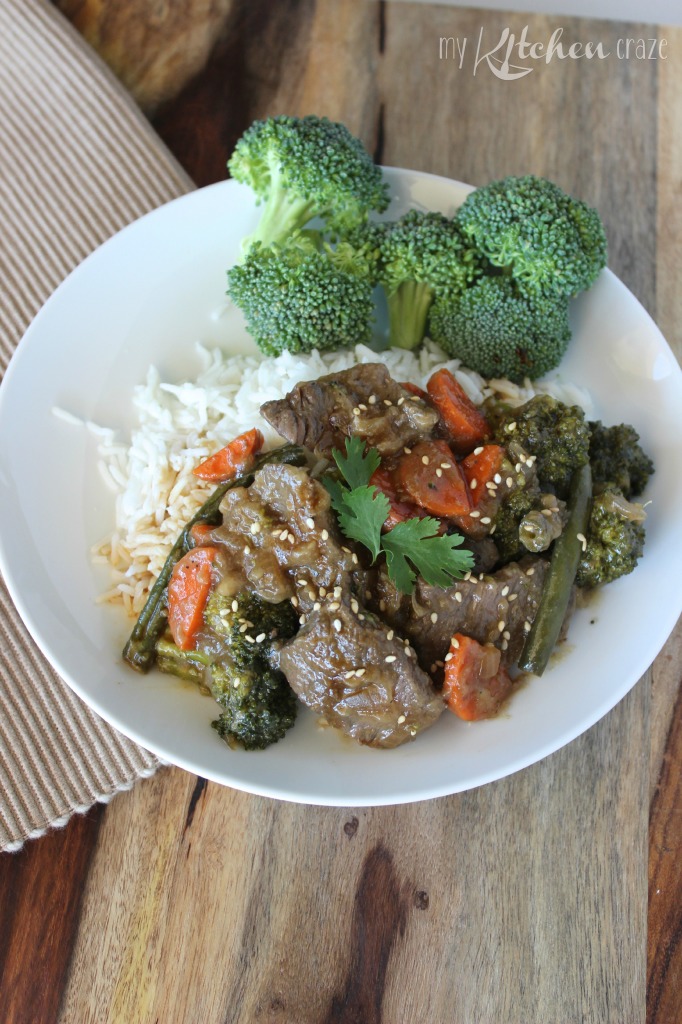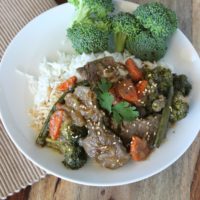 Get the Recipe:
Beef and Broccoli
Ingredients
Beef & Broccoli:
1

pound

London round steak

,

cut into thin strips

1/4

cup

water

1/4

cup

soy sauce

4

cloves

garlic

,

minced

1/2

tsp

ground pepper

2

tablespoon

olive oil

3

cups

broccoli

,

cut into small pieces

1/2

cup

onion

,

chopped

1/2

cup

green beans

,

chopped in 1 inch pieces

1/2

cup

carrots

,

thinly sliced
Sauce:
1

cup

cold water

1/4

cup

soy sauce

1/4

cup

brown sugar

1 1/2

teaspoon

ground ginger

1

teaspoon

sesame oil

,

optional

1/4

cup

cornstarch

sesame seeds

,

sprinkle on top
Instructions
In a mixing bowl mix together the 1/4 cup water, 1/4 cup soy sauce, garlic and black pepper. Add steak strips and marinade for 30 minutes.

Heat olive oil in large frying pan over medium-high heat. Add steak strips and marinate, fry until light pink, about 3 minutes. Don't over cook meat because it will become chewy. Take meat out of pan and set aside.

Add onion, carrots and green beans, cook for 2 minutes. Add broccoli and cook for 1 more minute. Make sure you keep stirring the ingredients the whole time so all the flavors mix well together.

In a small bowl or glass measuring cup, whisk together the cold water, soy sauce, brown sugar, ginger, sesame oil and cornstarch. Pour mixture into skillet and mix well. Cook until sauce thickens about 2-3 minutes. Add beef back to the skillet, turn off heat and mix well. Place lid on skillet and let sit 5 minutes.

Sprinkle sesame seeds on top when you serve. It's great with a side of white rice or pad thai noodles.