Tres Leches Cake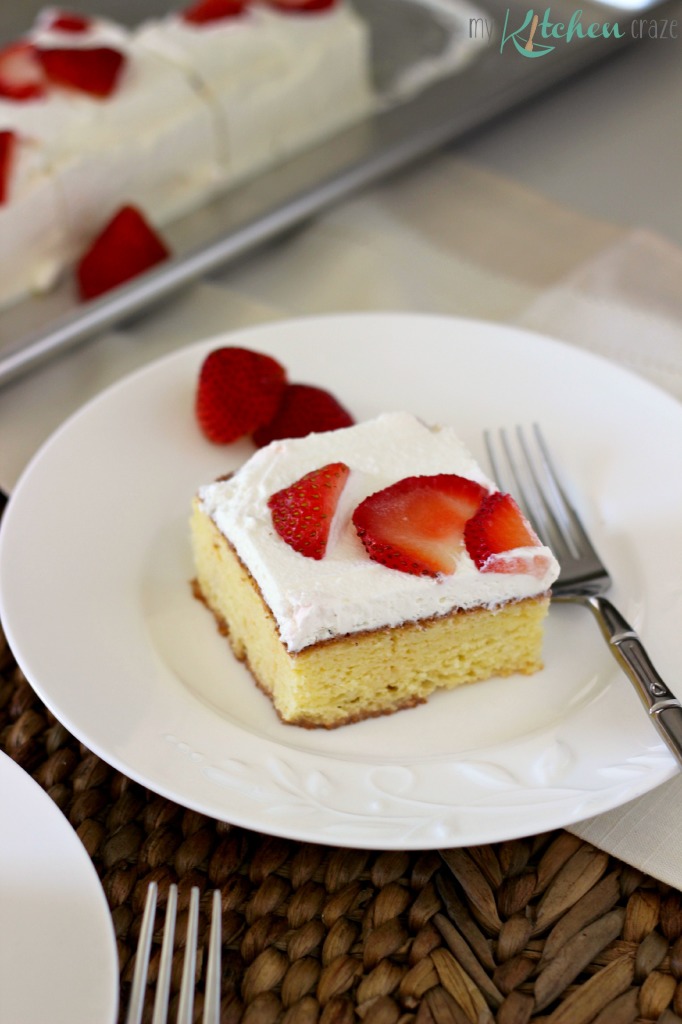 As you all know I would way rather eat, bake, and stuff my face with desserts. But since we can't do that every day all day I have to make things in moderation. I recently just bought Pioneer Woman's newest cookbook and I am obsessed with all of her recipes. But there was one in particular that I had never made and really wanted to try…Tres Leches Cake. WOW! This cake was moist and delicious.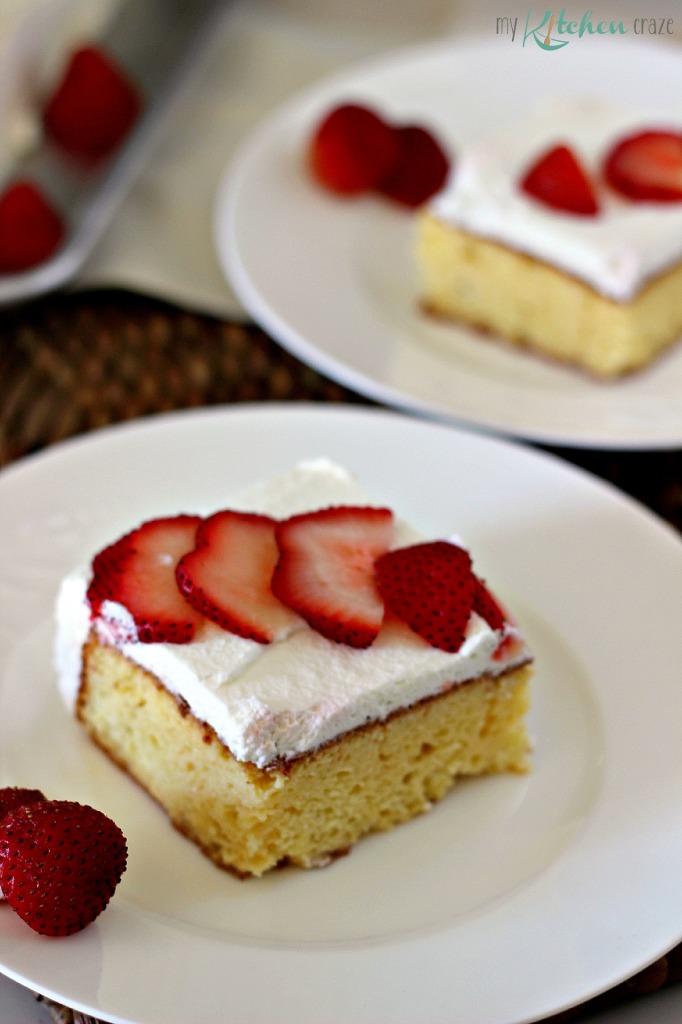 I did find one problem that was not in her book but on her blog. The Tres Leches cream is about 3 cups, but you only use 2 cups on the cake. It is not any where in the book about this. I am happy that I ended up feeling like it was a little too much cream and read her blog. But other than that little hiccup, this cake was yummy. I urge you to take the time and give it a try. You will not be disappointed.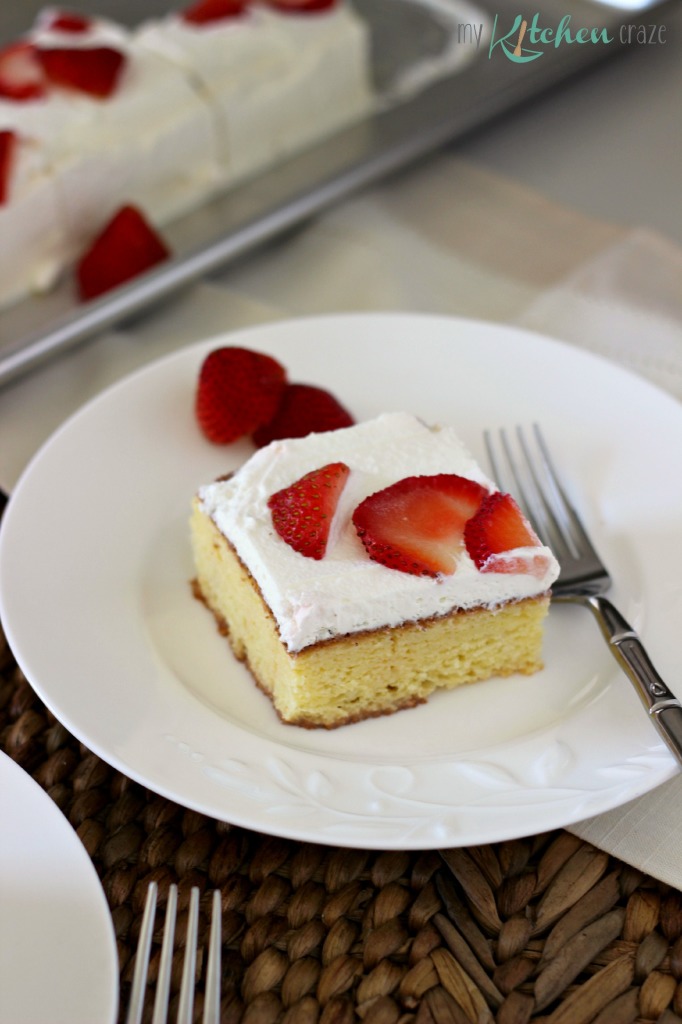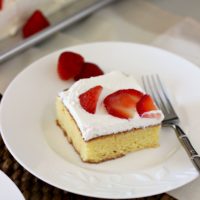 Get the Recipe:
Tres Leches Cake
Ingredients
1

cup

all purpose flour

1 1/2

teaspoon

baking powder

1/4

teaspoon

salt

5

large eggs

,

separated

1

cup

plus 3 tablespoons sugar

1/3

cup

whole milk

,

I used 2% and it was fine

1

teaspoon

vanilla extract

1

14 ounce can sweetened condensed milk

1

12 ounce can evaporated milk

1

pint

plus 1/4 cup heavy whipping cream

Maraschino cherries

,

for garnish (optional)
Instructions
Preheat oven to 350 degrees F. Grease and lightly flour a 9x13 baking dish.

In a large bowl combine flour, baking powder and salt. Set aside. Add the egg yolks and 3/4 cup of the sugar to a stand mixer bowl. add whisk attachment and beat until very light in color. Then add the milk and vanilla. Whisk until just combined. Pour this liquid mixture over the flour mixture. Stir gently to combine ingredients.

Rinse out mixing bowl, or use clean one. Add egg whites and beat on high speed until soft peaks start to form. While stand mixer is on, add 1/4 cup sugar in a steady stream, then continue beating until whites are stiff. Make sure not to over mix. You don't want dry egg whites.

Take egg whites and gently fold them into the bowl with other ingredients. Do Not over mix! Stop just short of everything being totally mixed together. Spread the batter into the prepared baking dish and bake for 35-45 minutes, or until a toothpick come out clean.

Remove the cake from the oven and allow to cool. Make sure cake has cooled then go on to next step. Once cake is cooled place upside down onto a platter or baking dish, being careful not to break or ruin cake. Poke holes in the surface with a fork all over.

In a medium size bowl, combine the sweetened condensed milk, evaporated milk, and 1/4 cup heavy cream. Mix well. Now measure out 2 cups (this milk mixture will make 3 cups. You can save the last cup for creamer or extra sauce if the cake gets dry).

Slowly douse the cake with the milk mixture. Making sure to get around all the edges and evenly coating the cake. You will notice that much of the liquid will be absorbed into the cake, but you can expect some to pool here and there. This is normal and will absorbed soon enough.

Allow the cake to sit for at least 30 minutes to absorb all the milks. Then you can whip 1 pint heavy cream with the remaining 3 tablespoons of sugar in your stand mixer with the whisk attachment. Whip until thick. Spread it all over the top of sides of the cake. You can then cut a piece and enjoy right then and there or refrigerate the cake until your ready to eat.