Apple Coffee Cake can be your breakfast or dessert. The apples inside the cake are tender and the cake is so moist that you'll keep going back for more. This cake has such amazing flavor and is delicious. Dare I say that it's one of the best coffee cake's I've eaten. Shh our secret.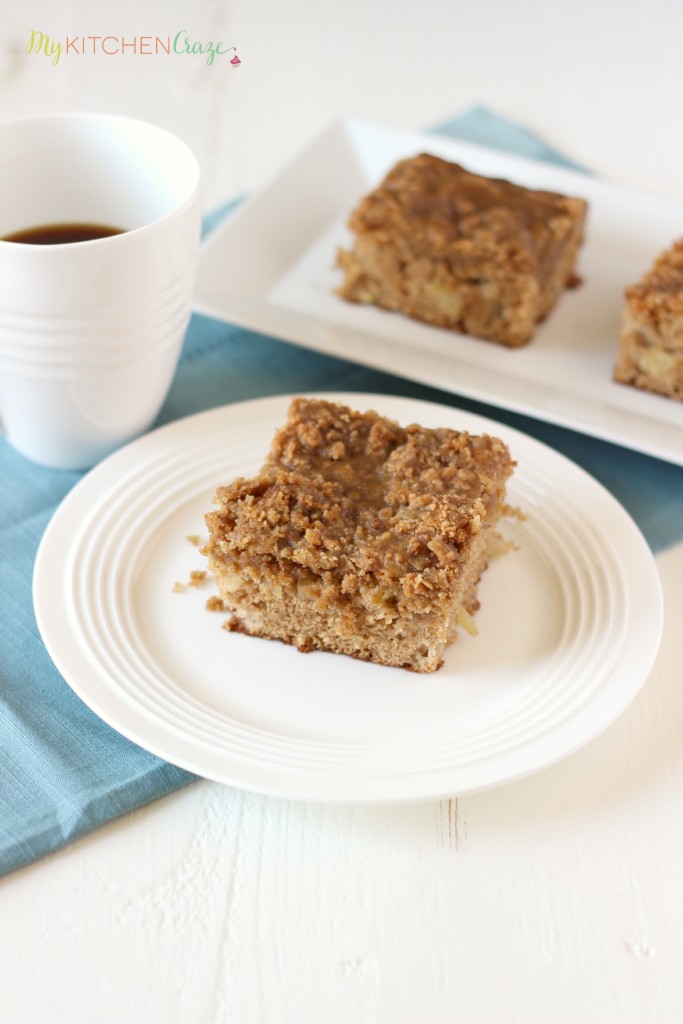 What plans do you all have this weekend? Is it a relax at home kind of day or is it go, go, go? This weekend is a pretty exciting weekend for us. Today is actually my wonderful and beautiful mother in law's birthday! YAY!! Happy Birthday Ammi!! 😉 Then 4 days later it's my mom birthday! Happy Birthday Mom!! Sorry guys had to give the mom's a shot out, since they were the only ones who read this little old blog for months and months.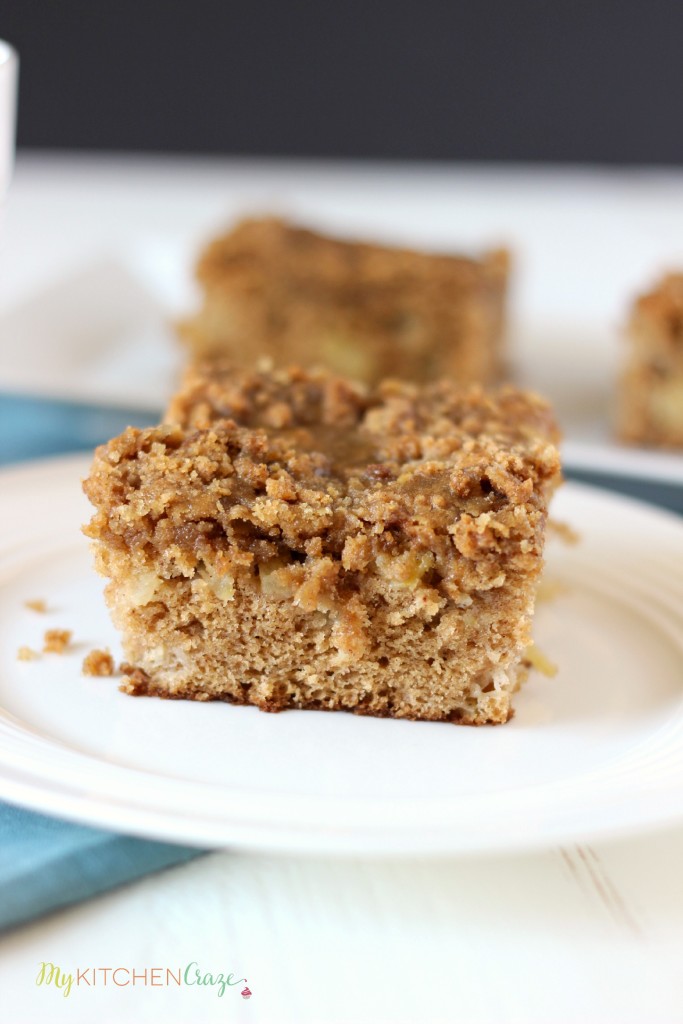 Now for our weekend. We're actually getting out of town and heading to my sister in-laws house in Orange County. I'm pretty excited to go see family. It's been way to long. I love my in laws and have the best time with them. It's funny because when ever we head to Orange County, we plan our trip around food, coffee and more food.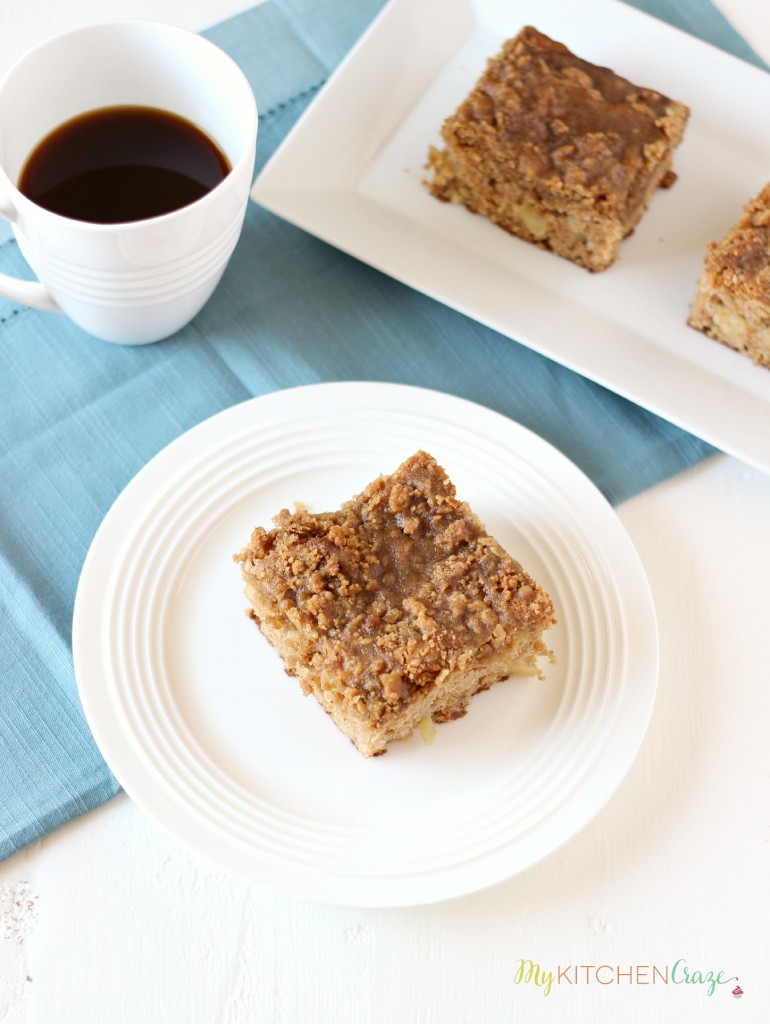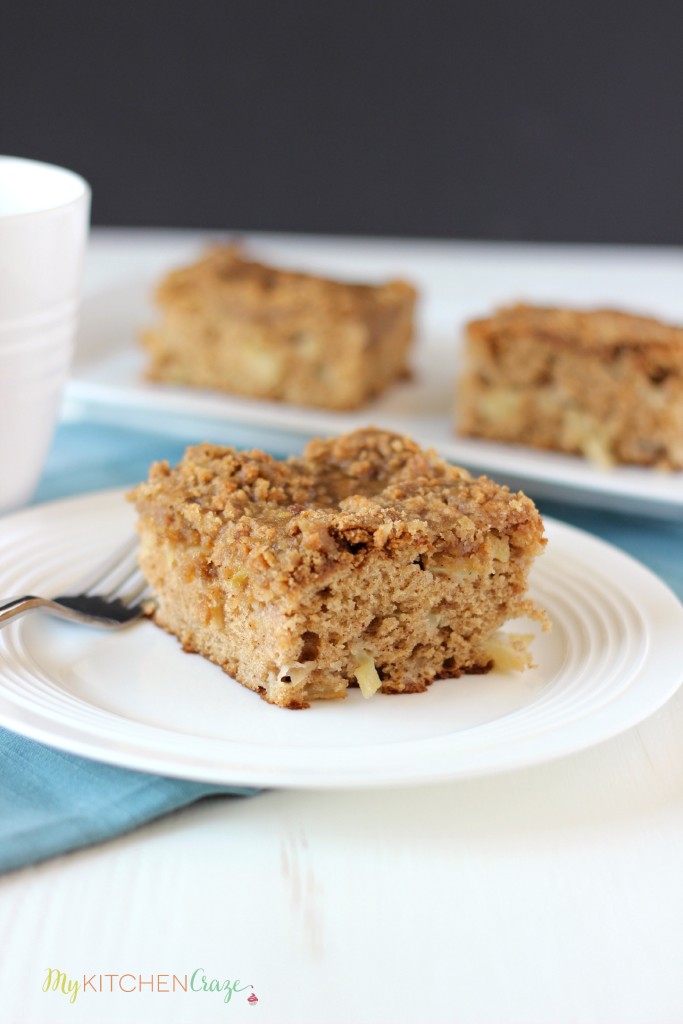 Orange County has some of the best restaurants and they have actual ma & pa coffee shops instead of Starbucks. Can you believe that we only have Starbucks in town? No, I'm sorry that's a lie. We do have a Coffee Bean and Tea Leaf, but no ma & pa places. I want need authentic coffee shops. Okay enough of my rambling, on to the food. I wanted to make something to take to my mother in law's, since it's her bday and she loves dessert.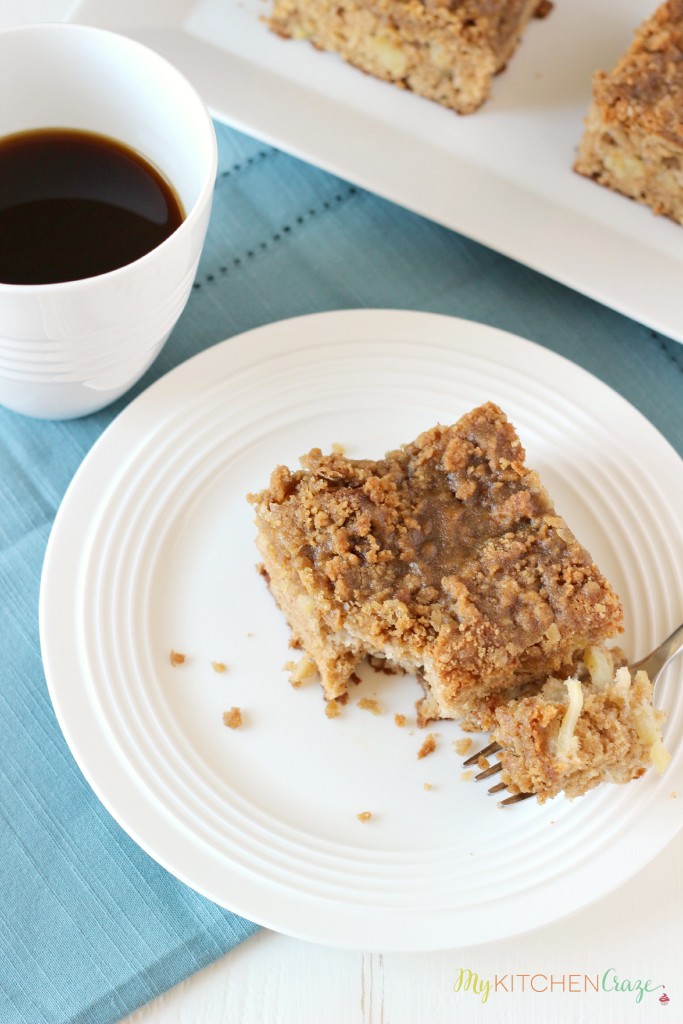 I knew this cake would be a hit with her. She loves the simple and fruity desserts. And you guys this cake is amazing! My whole family loves it and gobbles it up in a day. That's saying a lot for my hubby who only eats one to two bites of sweets. I think the apples and the cinnamon is what makes this coffee cake different then you regular cakes. You could add a big scoop of vanilla ice cream on top of this baby and it would be ever better!!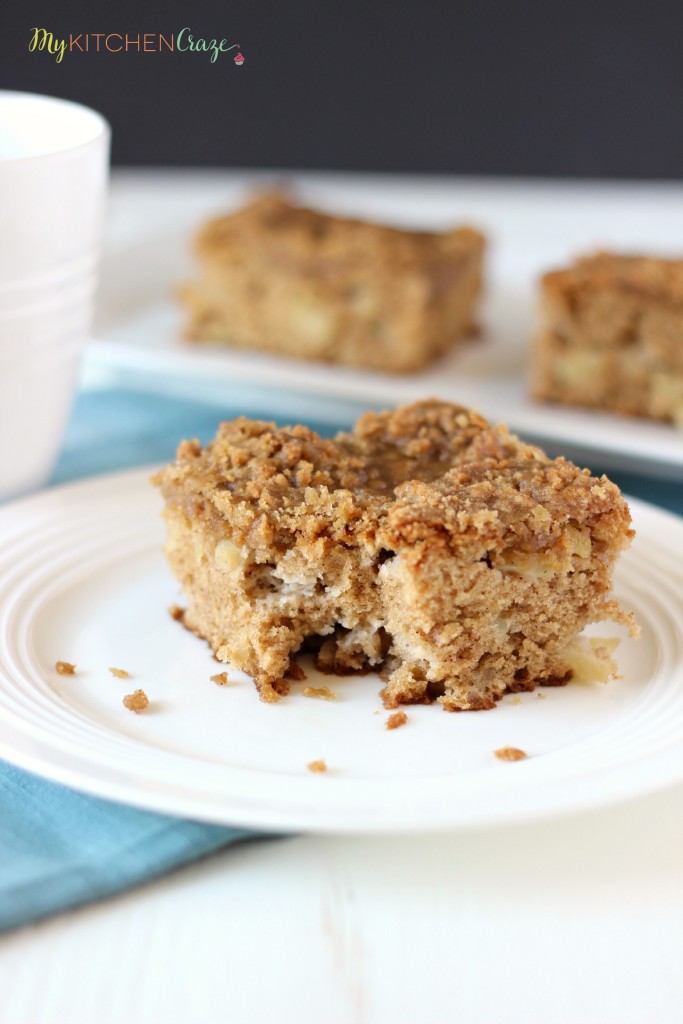 Happy Weekend Friends and Family! I hope you all have a fabulous weekend. See you Monday! 😉
Servings: 12 -16 squares
Apple Coffee Cake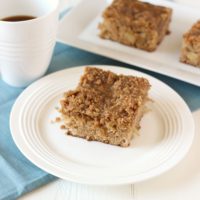 Print
Ingredients
Cake:
1 stick unsalted butter, softened
1 1/2 cups brown sugar, packed
2 eggs
2 cups all-purpose flour
1 teaspoon baking soda
1 teaspoon ground cinnamon
1/2 teaspoon salt
1 cup sour cream
1 teaspoon vanilla extract
2 cups granny smith apples, peeled and chopped, (about 2 green apples)
Crumb Topping:
1/2 cup brown sugar, packed
1/2 cup all-purpose flour
1/2 teaspoon ground cinnamon
4 tablespoons unsalted butter, cold
Brown Sugar Glaze:
1/2 cup brown sugar, packed
1/2 teaspoon vanilla extract
2 tablespoons water
Instructions
Preheat oven to 350 degrees F. Spray a 9x13 baking dish with non-stick cooking spray; set aside.

Using your stand mixer with the paddle attachment, cream together butter and brown sugar, until fluffy, about 3 minutes. Add eggs, making sure each egg in incorporated.

In a medium bowl, add flour, baking soda, cinnamon and salt. Whisk together.

With the stand mixer on slow, add to the wet ingredients. Alternate with the sour cream and vanilla. Ending with the flour mixture.

Fold in apples. Pour batter into the prepared baking dish, spreading out to the edges and making it even.

In a small bowl, combine the sugar, flour, cinnamon and cold butter. Mix until it resembles coarse crumbs. You can use a fork, pastry blender or your hands. Hands work best for me.

Make crumbs by taking a handful and squeezing it together. Then carefully break the ball into small crumbs all over the batter.

Bake 35-40 minutes, or until golden brown and cake is set. Let cool on a wire rack or stove for at least 10 minutes before applying the glaze.

To make the glaze, combine the brown sugar, vanilla and water. Mix until smooth. Drizzle over the cake and let it harden slight.

Serve warm and enjoy!