Almond Cupcakes with Toasted Coconut Buttercream
Today I'm bringing you some light, moist and delicious Almond Cupcakes with Toasted Coconut Buttercream. These would be perfect for Easter or a birthday. Really anytime is great for these cupcakes.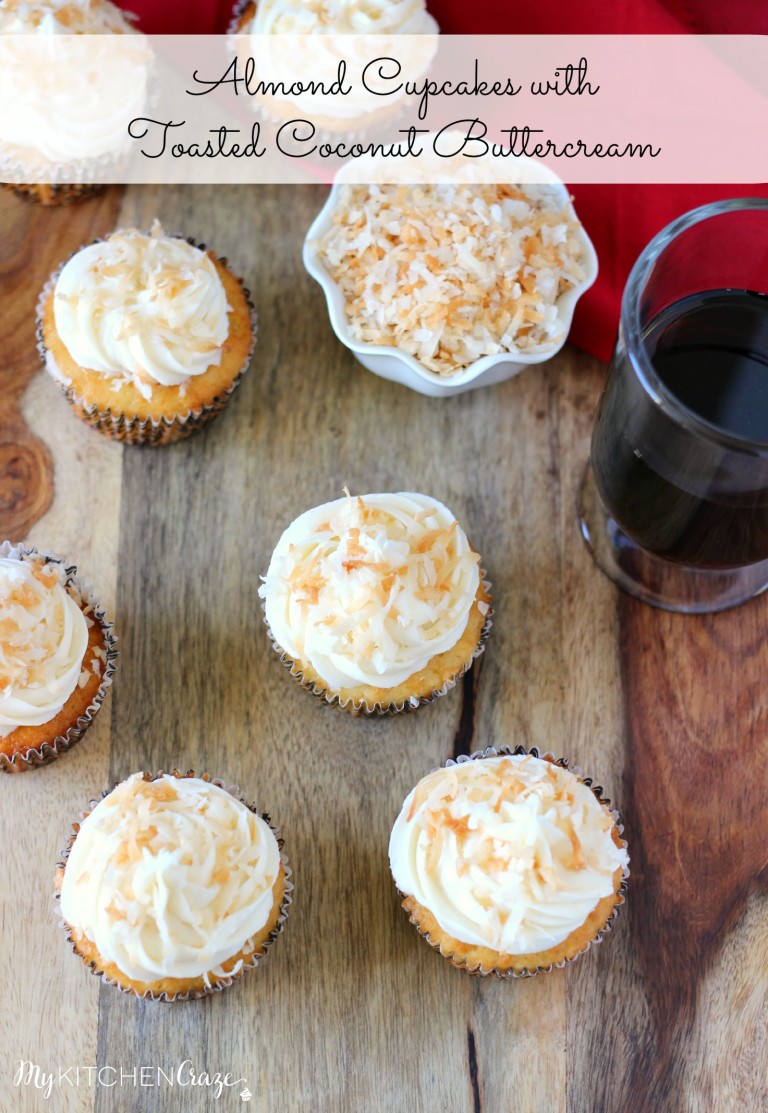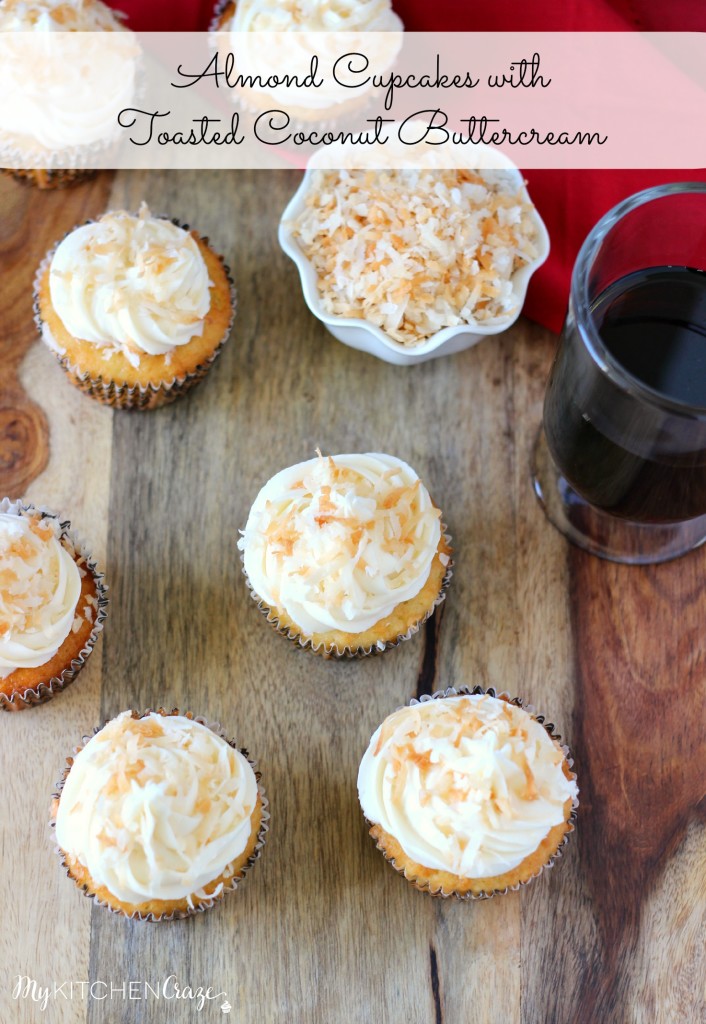 A few weeks ago I got some fun baking toys for cupcakes and I wanted to play and experiment with them. Because I'm horrible at deciding what type of cupcake to make, I asked my hubby what type of cupcake he'd want to eat.
His response was chocolate with vanilla buttercream or vanilla with chocolate buttercream. Really?!? I can make anything and he chooses the simplest cupcakes. So, I took it into my own hands and started experimenting. I knew that I wanted to make something light and not to rich. I was in a light spring-y mood. I thought a yellow cake with a hint of almond extract would taste amazing.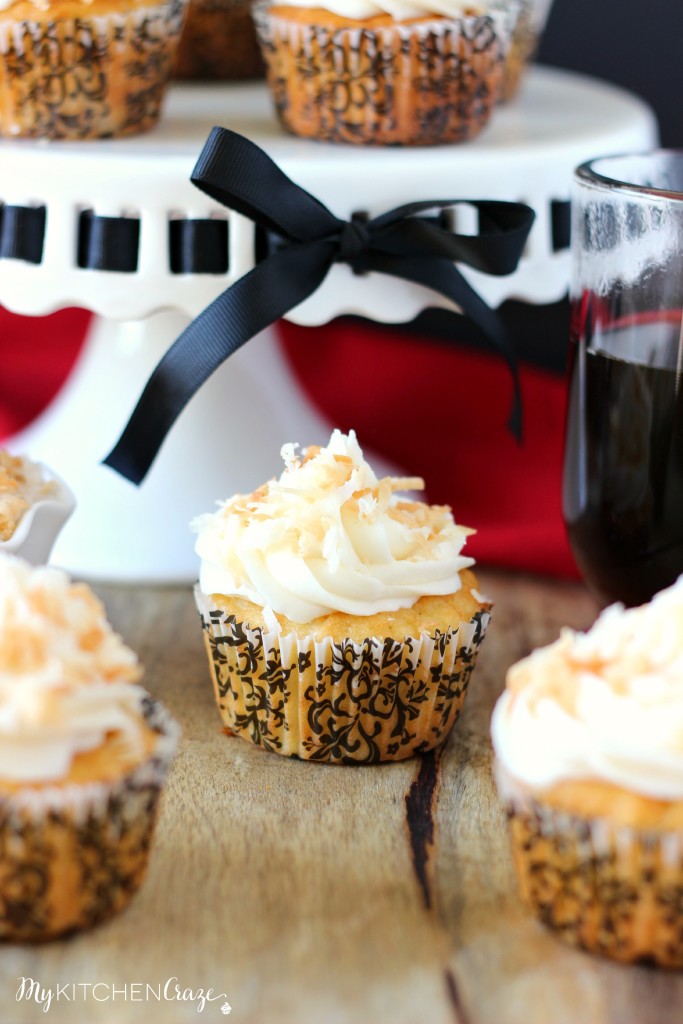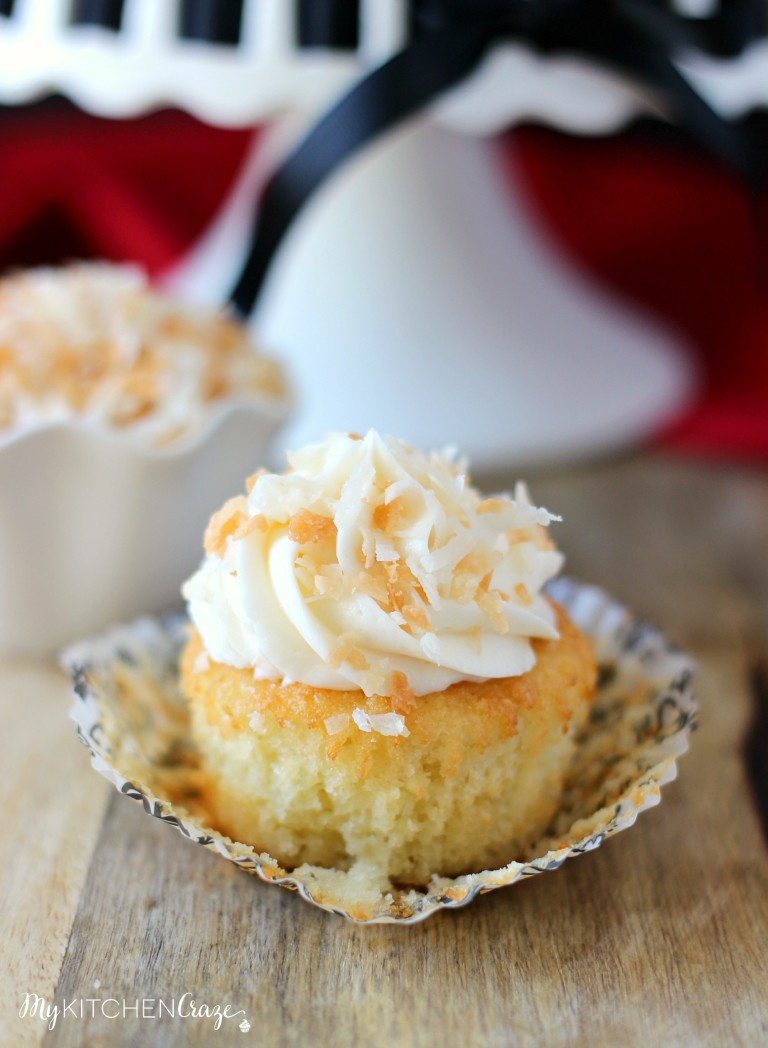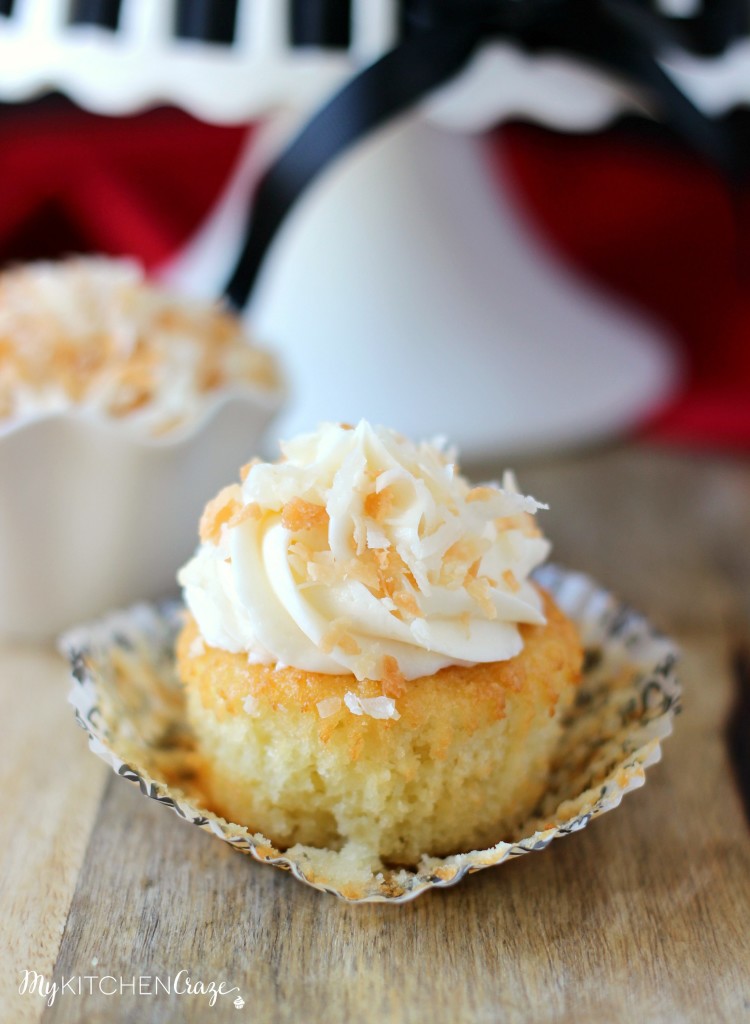 Now for the buttercream frosting, I needed to make something that complimented the almond flavor, but wasn't overly sweet.
I have this weird habit with overly sweet stuff. If it's to sweet then I can't have it with my coffee. If you didn't know I am obsessed with coffee and overly sweet dessert or foods makes my coffee taste off. Then I have to fill it will gallons of sugar and that's not good for my waist line. With that being said I wanted these cupcake to be light and moist with a creamy, simple and smooth buttercream.
Let me tell you that this cupcake fills the bill. These Almond Cupcakes with Toasted Coconut Buttercream would be the perfect dessert for any BBQ and/or a Sunday picnic, but if I'm being honest, I ate them while watching a movie, driving the kids to school and right before I went to bed. Don't judge me, please. That was the last cupcake and I wasn't going to share. Don't tell the kids.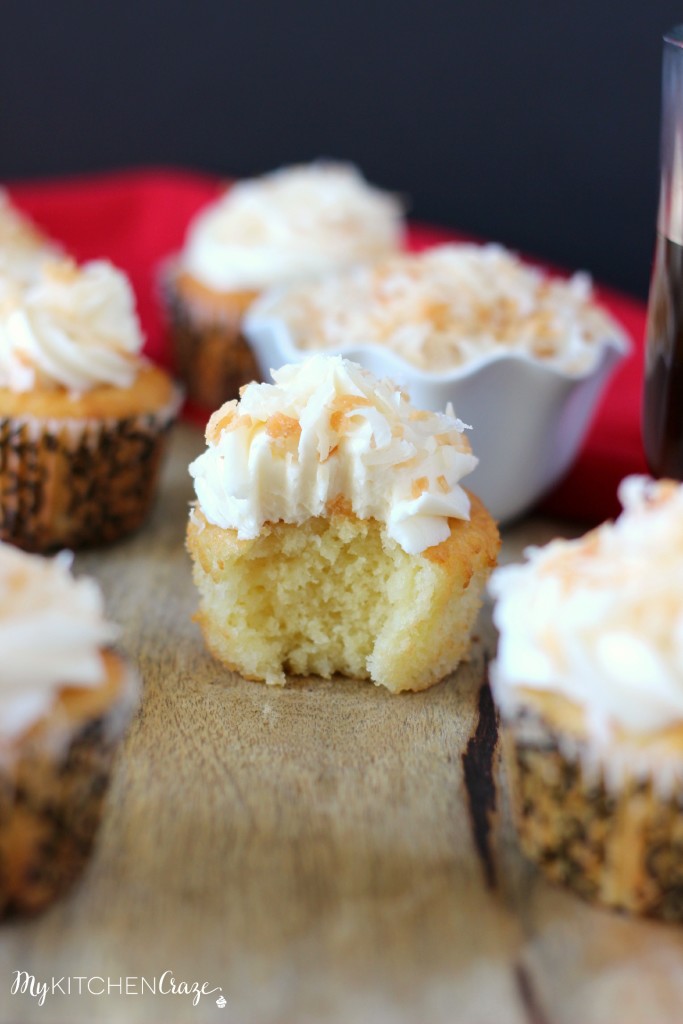 Have you ever toasted coconut before? If not, then its super simple! Here's how to do it:
Just take some sweetened coconut, toss it on a baking sheet and bake at 350 degrees for 7-10 minutes. Make sure to stir and shake the baking sheet during the cooking process at least twice. This will prevent any coconut from burning. Let cool for 10-20 minutes before using.
Get the Recipe:
Almond Cupcakes with Toasted Coconut Buttercream
Ingredients
Cupcakes:
2 1/4

cups

all-purpose flour

3 1/2

teaspoons

baking powder

1

teaspoon

salt

1 1/2

cups

granulated sugar

1/2

cup

unsalted butter

,

softened

1 1/4

cups

milk

1

teaspoon

vanilla extract

1

teaspoon

almond extract

3

eggs
Buttercream:
3

cups

powdered sugar

1/3

cup

butter

,

softened

1 1/2

teaspoon

vanilla extract

1-2

tablespoons

milk or heavy whipping cream

1

cup

toasted coconut

,

see above for instructions on how to make toasted coconut
Instructions
Preheat oven to 350 degrees F. Line 24 cupcake liners into 2 muffin pans. Set aside.

Cupcakes: Whisk together the flour, baking powder and salt in a medium size bowl; set aside.

In a stand mixer, using the paddle attachment, cream together the butter and sugar until light and fluffy, about 2 minutes. Add in eggs one at a time, making sure each egg is incorporated before adding the next egg.

Add in the vanilla and almond extracts. Mix together to combine.

With the mixer on slow, add the flour mixture and milk. Starting and ending with the flour.

Pour batter into cupcake liners filing about 3/4 full. I use my 2 tablespoon ice scoop to fill my cupcake liners and they come out perfect every time.

Bake cupcake for 20-25 minutes, or until toothpick inserted comes out clean. Cool completely on a wire rack before frosting.

Buttercream: Add powdered sugar and butter to your stand mixer bowl. Blend together on low speed, until incorporated.

Add in vanilla extract and 1 tablespoon milk/cream.

Gradually beat in just enough remaining milk to make buttercream smooth and creamy.

Place buttercream into a piping bag and pipe cupcakes.

Sprinkle toasted coconut all over tops of cupcake. You'll need to press down lightly to get the coconut to stay. Add as much or as little as you like.