Cinnamon Chocolate Chip Scones
Cinnamon Chocolate Chip Scones are the perfect breakfast, dessert or snack. Flakey and chocolatey, these scones are delicious anytime of the day! 
Be sure to follow me on Facebook, Instagram & Pinterest to stay up to date on all of my recipes!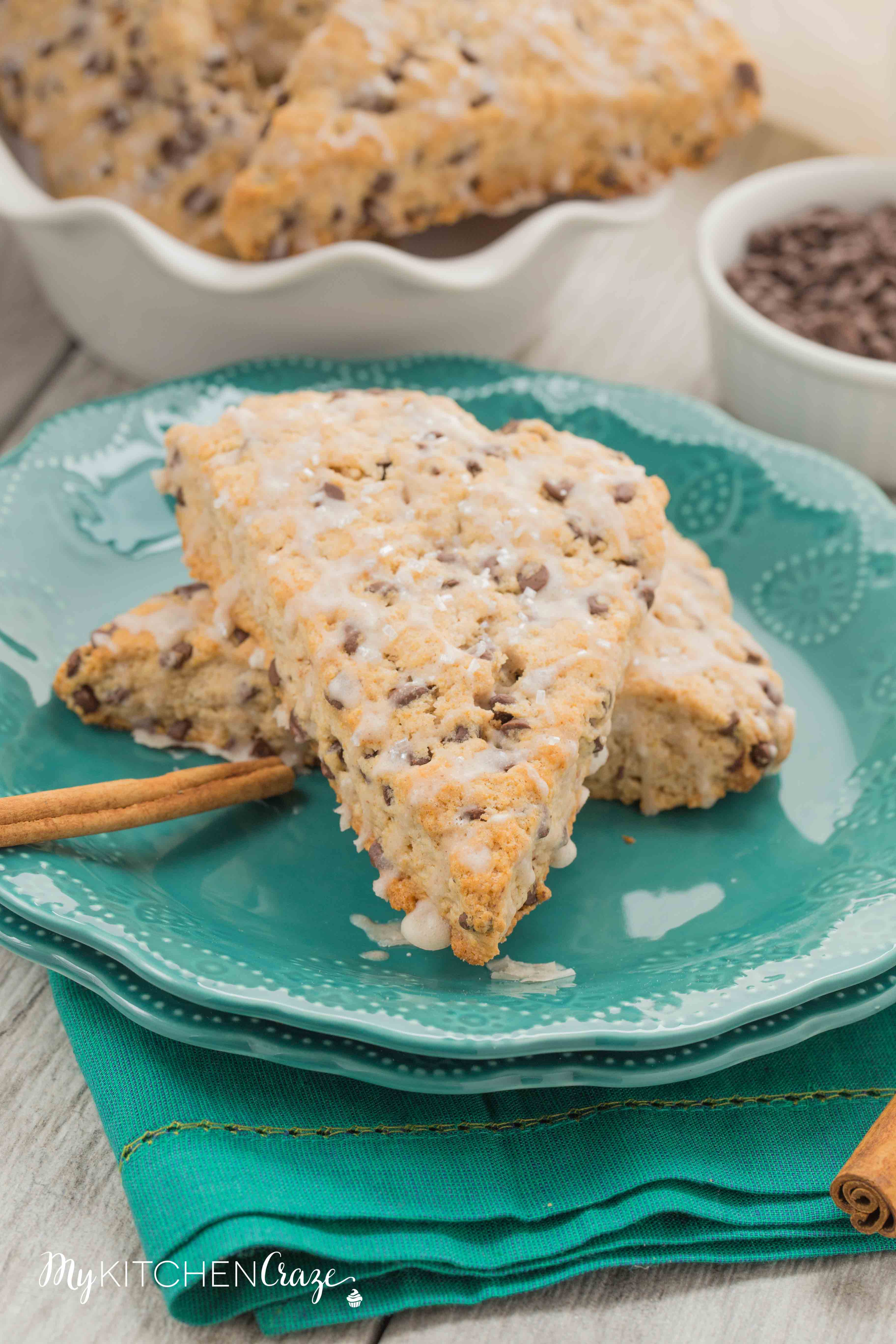 Scones are used to be a new thing to me back in 2014. I never wanted to try them before because they always looked a little dry to me. Needless to say I was wrong. I'm not sure why I was so hesitant, but I'm glad I finally got the nerve to try some.
I was at Starbucks and their scones looked so good. I knew I needed to take the plunge and try/buy one. I think it was the pumpkin or the blueberry scone. I'm not sure now, but I remember that I loved it. I ate the whole darn thing.  Now I'm obsessed with any and all scones.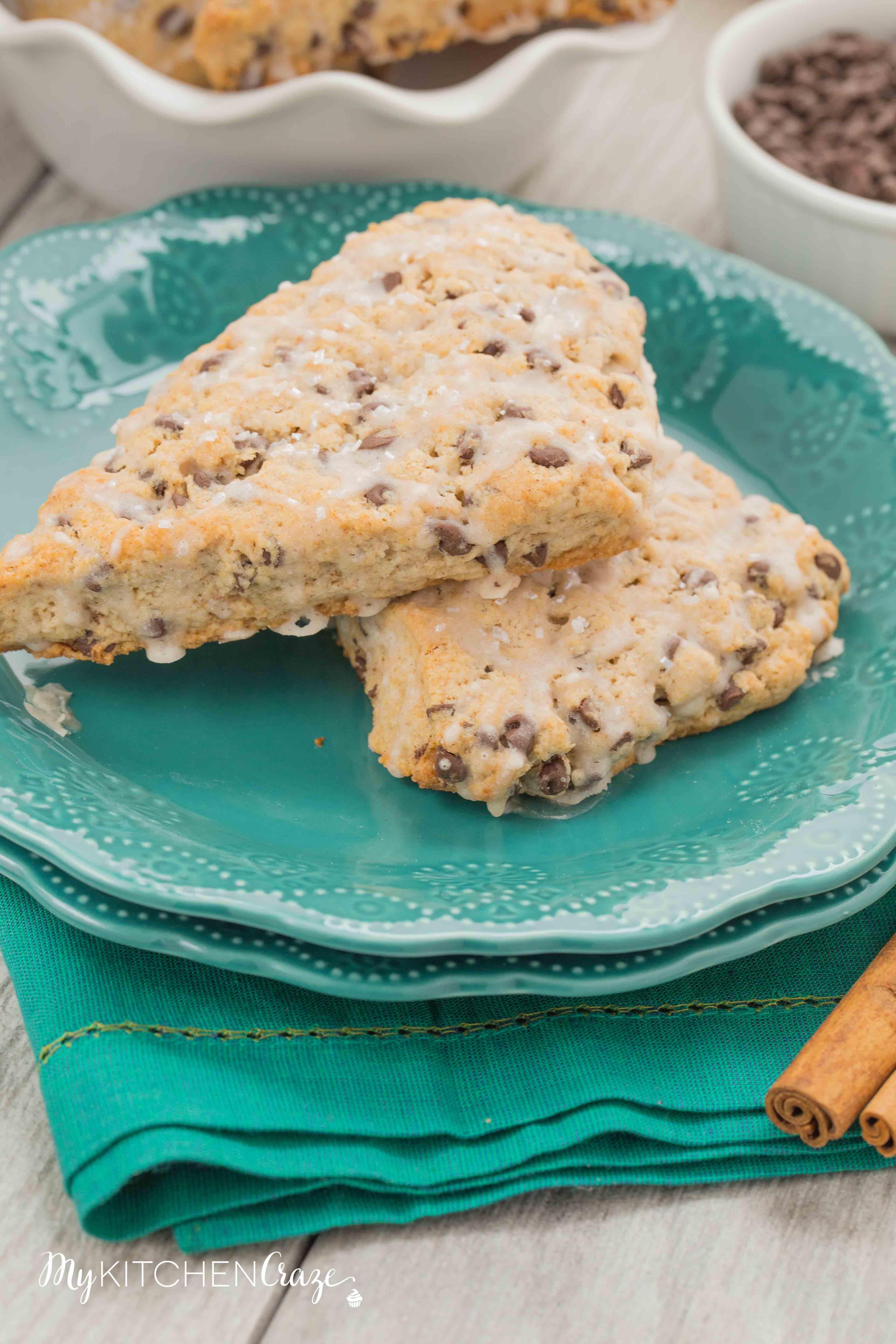 See, this is the thing with me. I'll say I don't like something over and over again. Then I finally get the nerve to try it and a-ha I love it. Once I figure out I like it, I then become obsessed with it. I'll eat it over and over and over, until I'm sick of it and don't want them again. Then I move onto something else. It's a vicious cycle. Are you like that?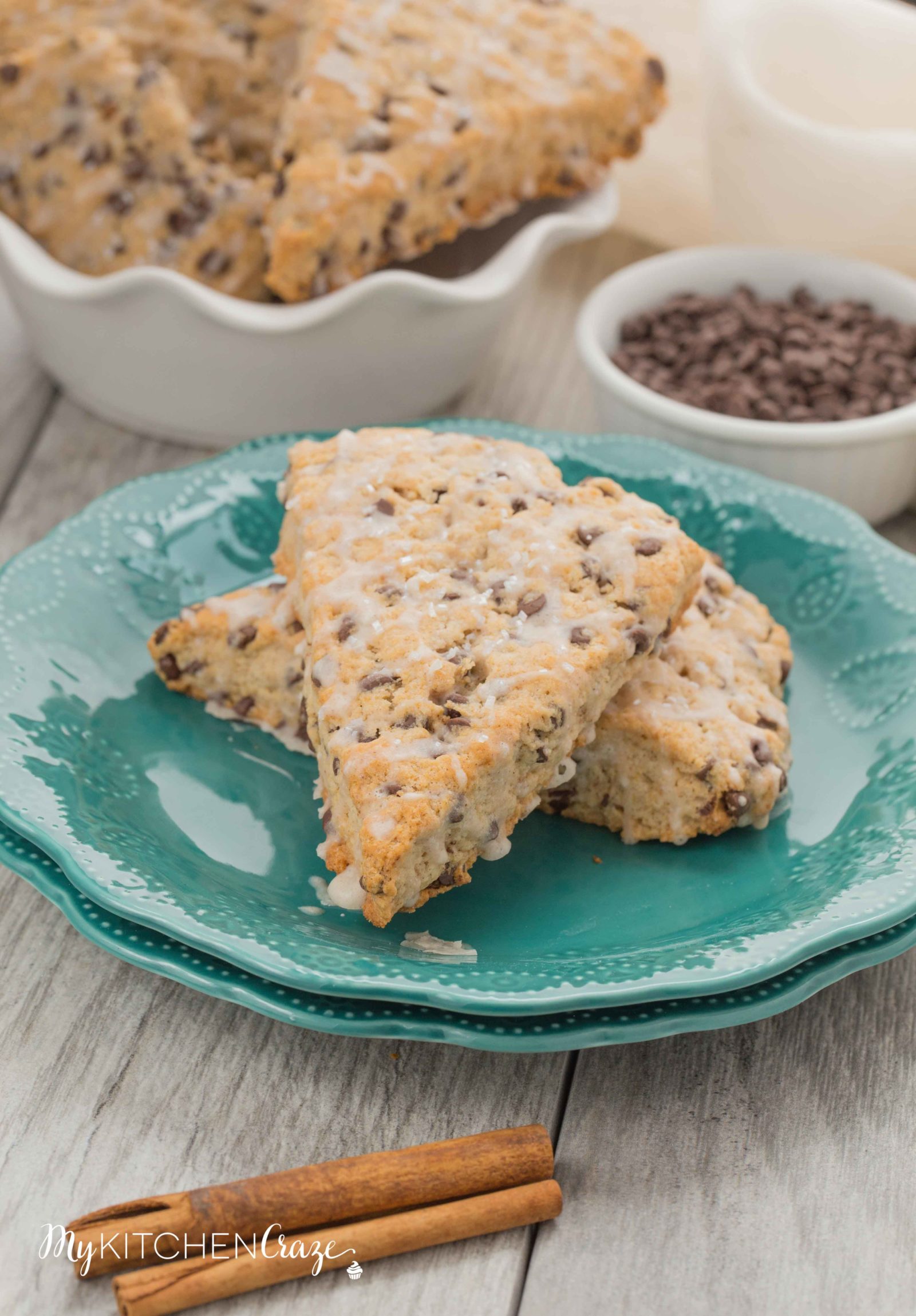 Since I went crazy for Starbucks scones, I knew I needed to come up with a scone  recipe that was just as good, if not better. These Cinnamon Chocolate Chip Scones are it.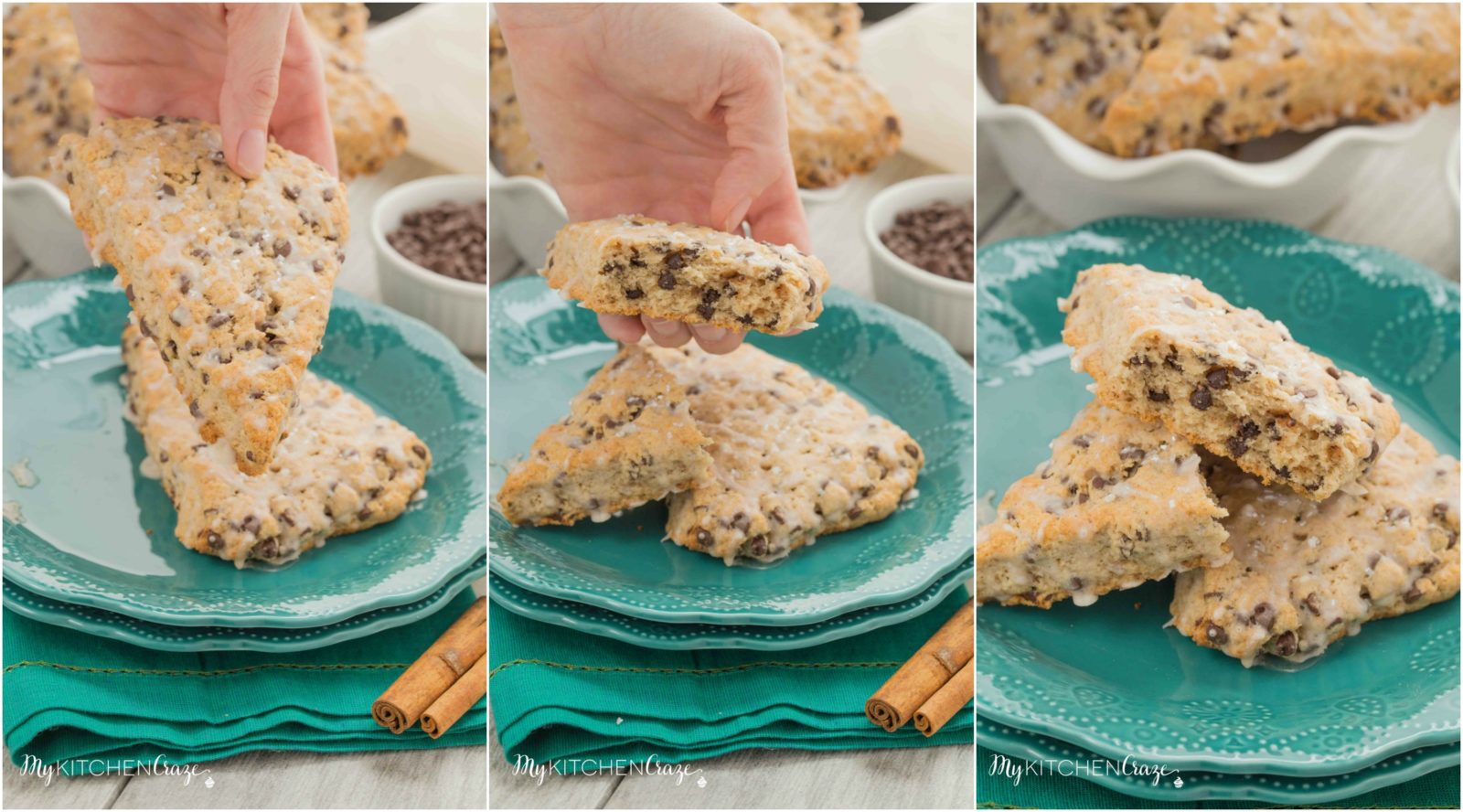 I've made these scones so many times that I've actually lost count now. The family loves them! I decided to make these scones for my mother in law and her friend one weekend they were visiting. My mother in law dove right in and enjoy every bite, but her friend nicely told me that she didn't like chocolate chips. I told her that I was sorry I didn't make another recipe and left the room for a few minutes. When I returned I saw that she chomping down on the scones. Being a good daughter in law just giggled and winked at my mother in law.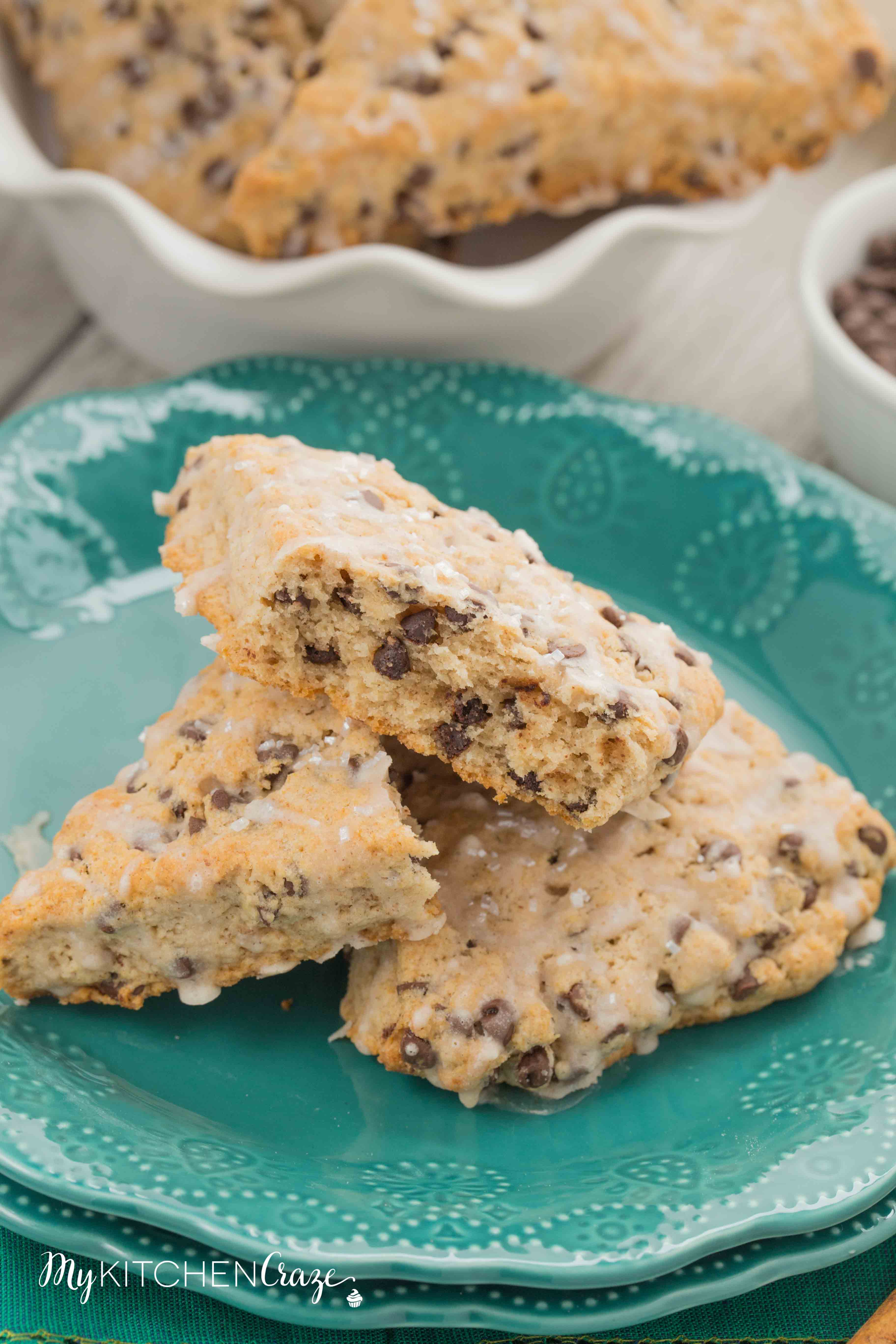 These scones are packed with chocolate chips and topped with a cinnamon glaze that'll make them the most delicious scones e-v-e-r! They're moist, crumbly and irresistible. Give them a try.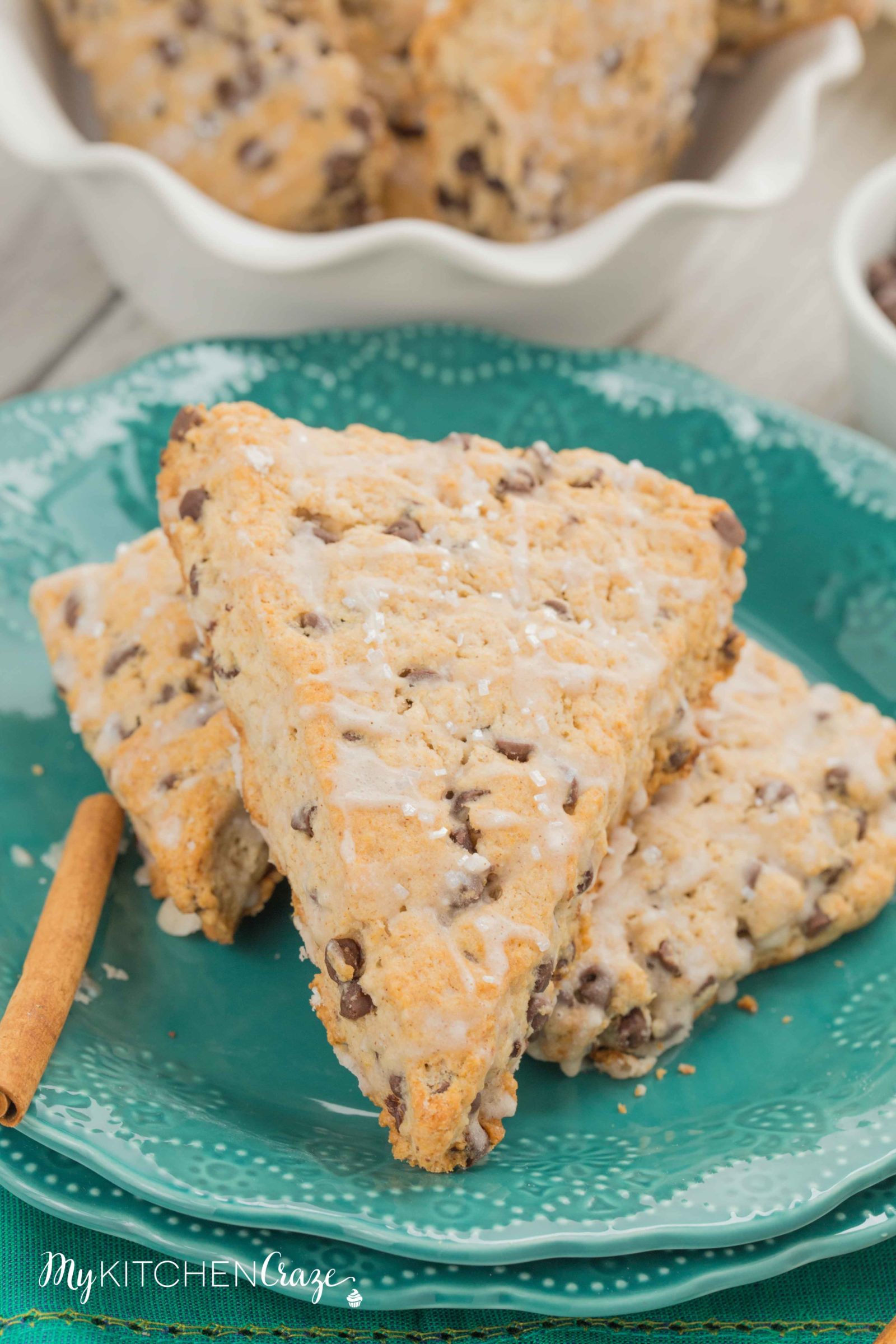 Photos and post updated on 5/10/16. Original post 10/9/14  
Cinnamon Chocolate Chip Scones
Author:
Prep time:
Cook time:
Total time:
Serves: 8 scones
Ingredients
[b]Scones:[/b]
2 cups all-purpose flour
1/3 cup sugar
2 teaspoon baking powder
1 teaspoon ground cinnamon
1/4 teaspoon salt
1/2 cup butter, cold and cut into small pieces
1/2 cup milk
1 teaspoon vanilla extract
3/4 cups mini or regular chocolate chips
[b]Cinnamon Glaze:[/b]
1 cup powered sugar
1/2 teaspoon ground cinnamon
1/2 teaspoon vanilla extract
1-2 tablespoon milk
Instructions
Preheat oven to 400 F degrees. Line a baking sheet with a silpat or parchment paper.
In a large bowl, combine the four, sugar, cinnamon, baking powder and salt. Whisk together.
Add cold butter. Using a pastry cutter or two forks, cut butter into flour mixture, until butter is broken up into small pieces the size of large peas. The mixture should look sandy.
In a small bowl combine vanilla extract and milk. Pour mixture into dry ingredients.
Combine until the dough starts to come together and pull away from sides of bowl. Add in chocolate chips, stir until combined.
Pat dough into a large disc about 3/4 inch thick on a lightly floured surface. Cut disc into 8 wedges. Place wedges on prepared baking sheet.
Bake for 15-17 minutes, until the scones are lightly browned. Transfer scones to a wire rack to cool.
Once the scones are cooled make the glaze: In a small bowl, add powered sugar, cinnamon, vanilla extract, and 1 tablespoon milk. Mix until glaze becomes a smooth, pourable consistency. Add additional milk a teaspoon at a time to thin glaze as needed.
Drizzle glaze over cooled scones. Allow glaze to set before serving.
Enjoy!
Notes
**If your dough becomes to dry, add in a few extra teaspoons of milk. If your dough is to wet, add in an extra tablespoon of flour or so.**

Want some more scone recipes? Here you go! 
Blueberry Scones with Vanilla Glaze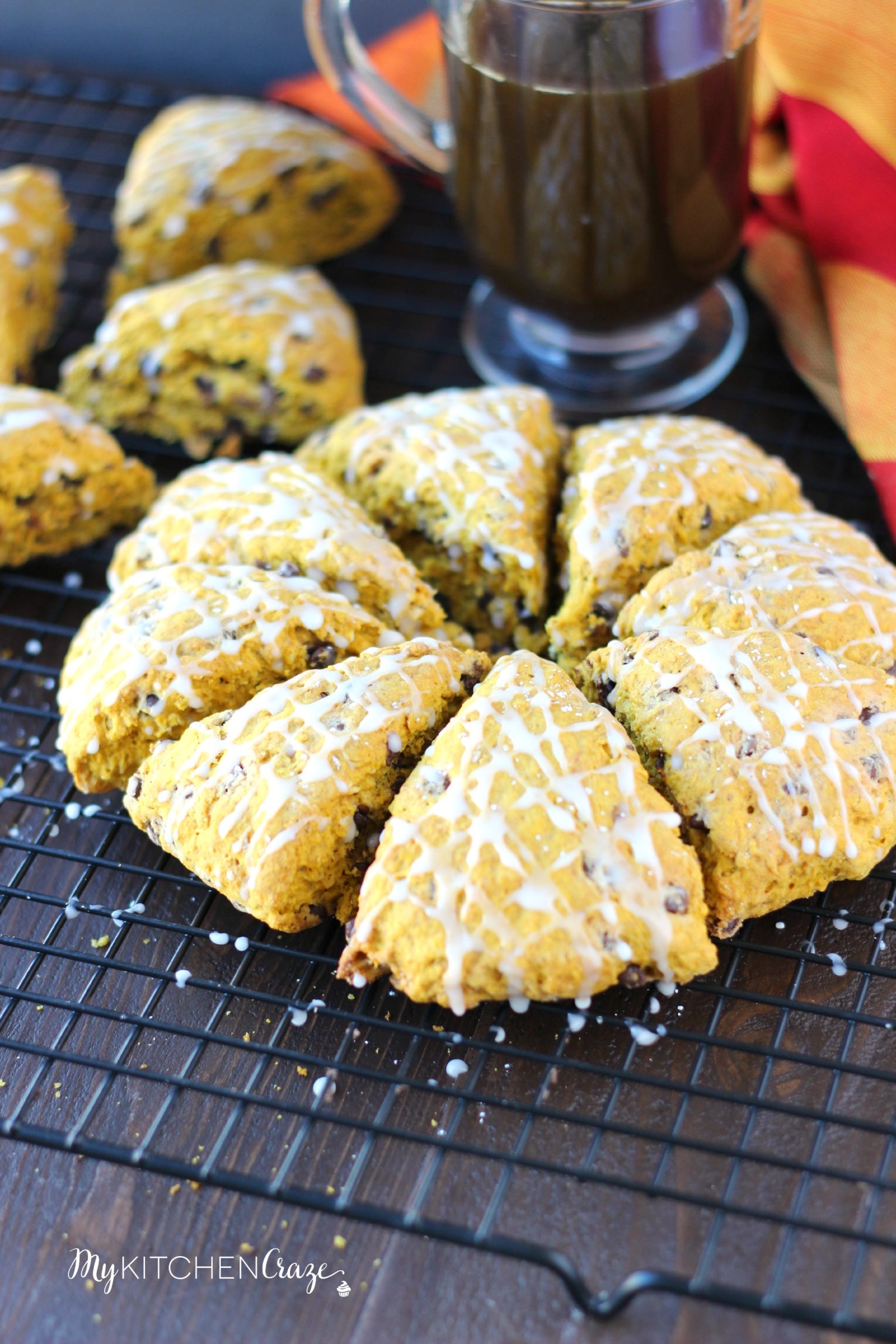 Pumpkin Oatmeal Chocolate Chip Scones
Scone recipes from around the web:
Chocolate Strawberry Scones with an Orange Glaze by A Latte Food
Almond Joy Scones by How Sweet It Is
Carrot Cake Scones by A Kitchen Addiction