Blueberry Scones with Vanilla Glaze
Happy Wednesday Guys!! Breakfast Week continues at My Kitchen Craze! Today I wanted to bring you a sweet recipe.
These Blueberry Scones with Vanilla Glaze are perfect for a quick grab and go breakfast. They're crunchy around the edges but moist in the center. Topped with a vanilla glaze to give them a tad bit of sweetness. Delicious!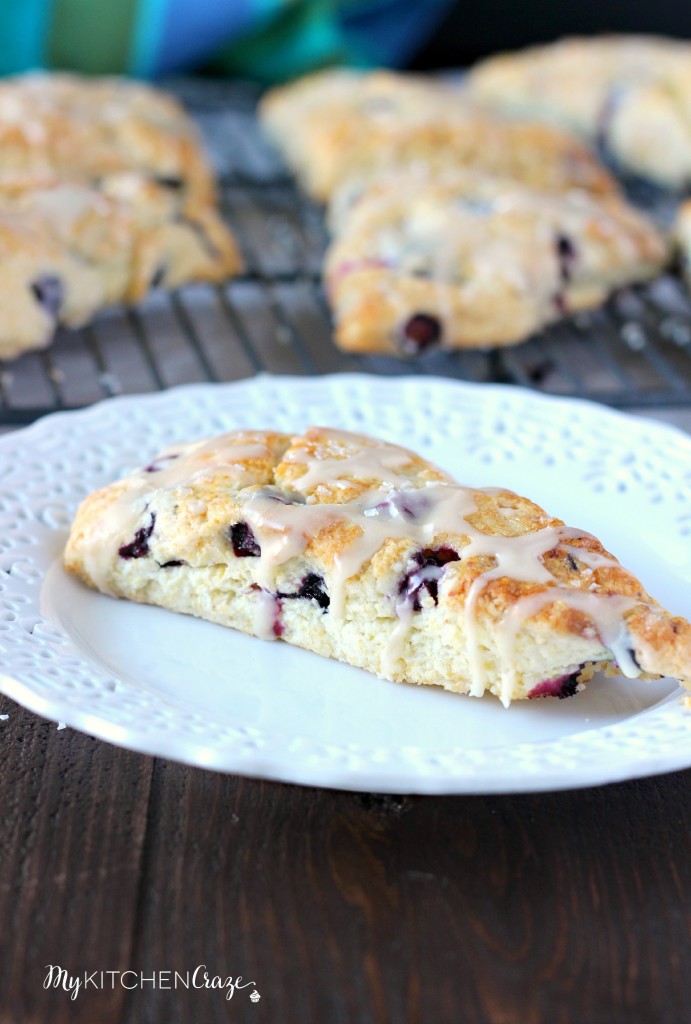 I really love scones. I love how they're not to soft, but also not to dry. They have the perfect amount of sweetness and are delicious with my coffee. I've made these Cinnamon Chocolate Chip Scones before, but I've never made scones with  fresh fruit.
Blueberries are a great fruit, don't you think? They're one of my many favorite fruits, besides clementines, bananas and watermelon. I just love how sweet and tarty blueberries are. They aren't overly mushy. I hate mushy fruit. And they last forever.
For some reason we'll go through fruit quickly or never touch it. Some days all we do is eat fruit and some days we don't even look at it. So I love that blueberries don't go bad quickly.
These scones are easy to whip together and are really really yummy! This recipe makes 8 scones and they were gone within 2 days at my house. We devoured them to say the least. So if you're looking for a sweet breakfast but gotta go, make these Blueberry Scones with Vanilla Glaze!
Blueberry Scones with Vanilla Glaze
Ingredients:
Scones:
2 cups all-purpose flour
1 tablespoon baking powder
1/2 teaspoon salt
2 tablespoons granulated sugar
5 tablespoons cold unsalted butter, cut into cubes
1 cup fresh blueberries
1 cup + 1 tablespoon heavy cream
coarse sugar (optional)
Glaze:
1 cup powdered sugar
2 tablespoons milk
1/2 teaspoon vanilla extract
Directions:
Preheat oven to 400 degrees F.
In a large bowl, add the flour, baking powder, salt and sugar. Whisk together to combine.
Add cubes of cold butter to flour mixture. Using a pastry blender, fork or your hands break down butter until it resembles coarse crumbs.
Fold the blueberries into the flour mixture. Make sure to be gentle and not break the blueberries.
Fold in the 1 cup of heavy cream, until just incorporated. Do not over work the dough.
Press the dough into a 12 by 3 rectangle on a lightly floured work surface. Cut the rectangle in half, then cut the pieces in 1/2 again. This should give you 4 squares. Cut the squares in 1/2 diagonal. This will give you the classic scone shape.
Place scones on an ungreased baking sheet. Brush the tops with the tablespoon of heavy cream. You can also sprinkle some coarse sugar if you have it.
Bake 15-20 minutes, or until lightly browned.
Remove scones to a wire rack and let cool completely before glazing.
In a large glass measuring bowl or small bowl, mix all glaze ingredients until smooth. Using a spoon drizzle over cooled scones. Let sit for 30 minutes, so the glaze can harden.
Serve & Enjoy!