Tuscan Garlic Chicken
I love pasta. I wish I could eat it every night.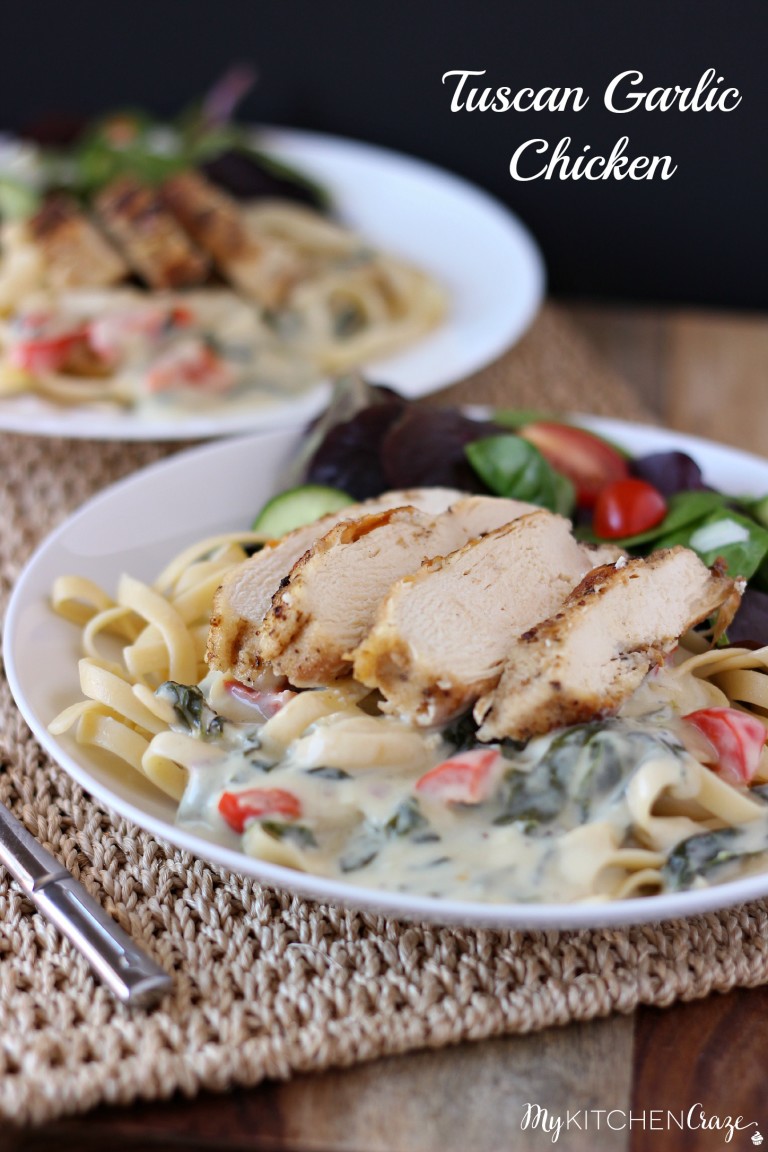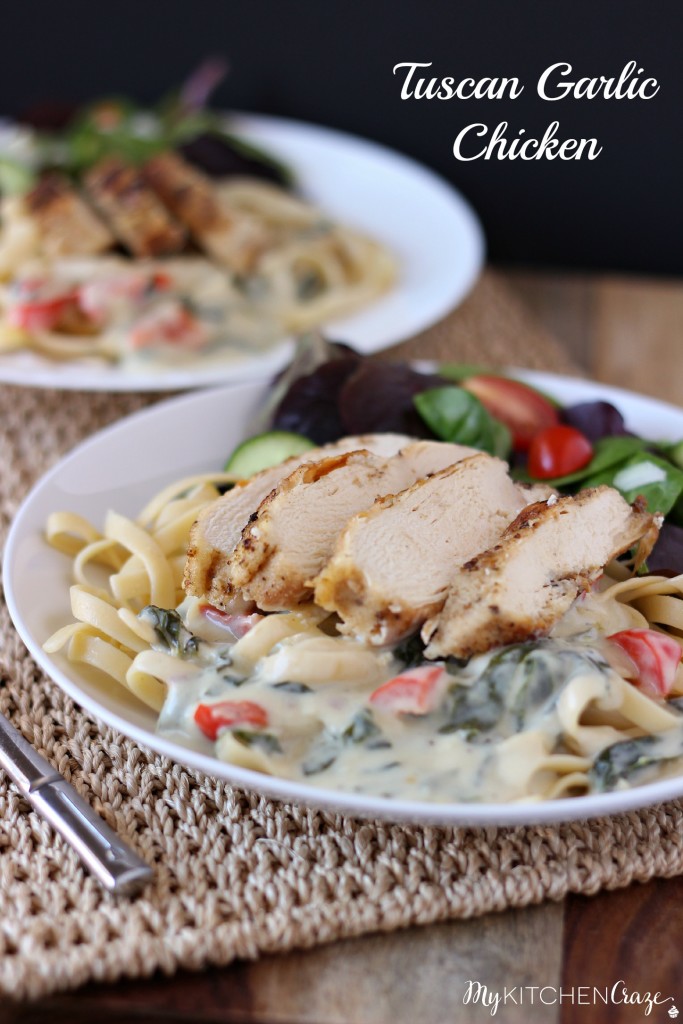 Of course I can't let that happen because for one, pasta isn't the healthiest, but really my family would disown me. My two favorite foods are Mexican food & Italian Food. I just love them and think that they are the best tasting food ever.
There is just something about pasta that's fun, but also very comforting. It tastes delicious and it re-heats great. A win, win in my family. Because I don't do leftovers, my hubby and son always have to eat the food and they get sick of it after the 2nd or 3rd time.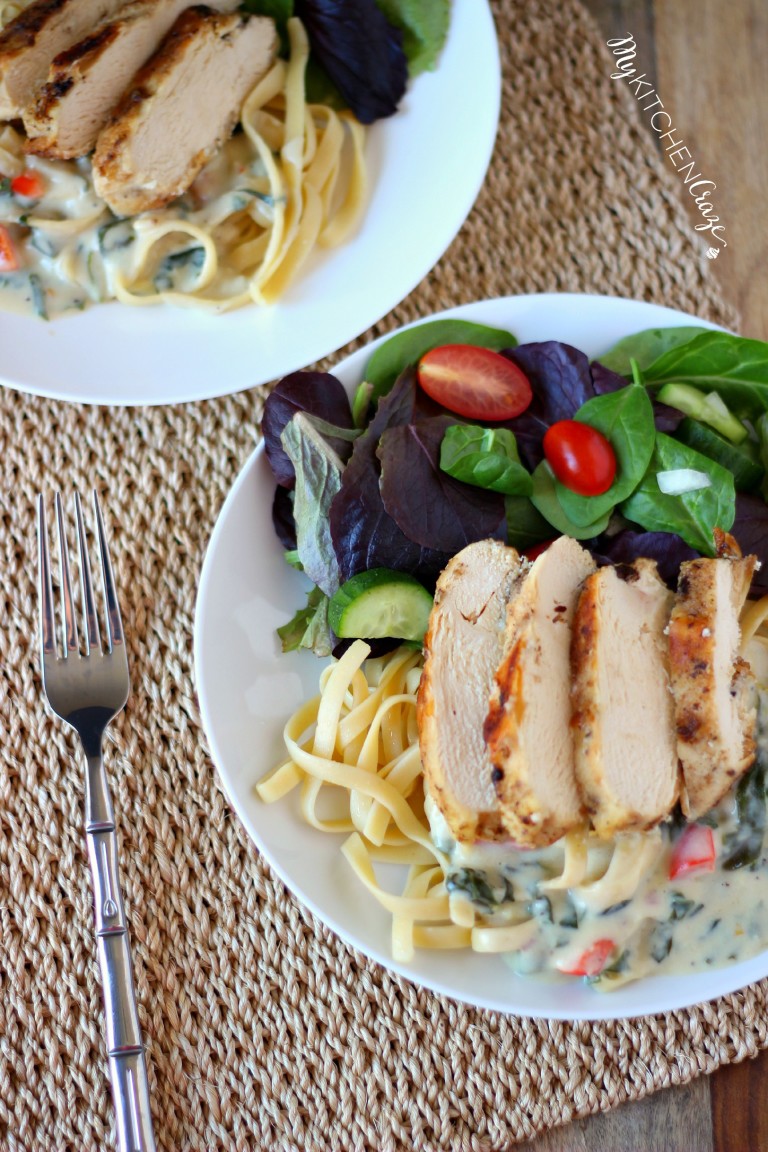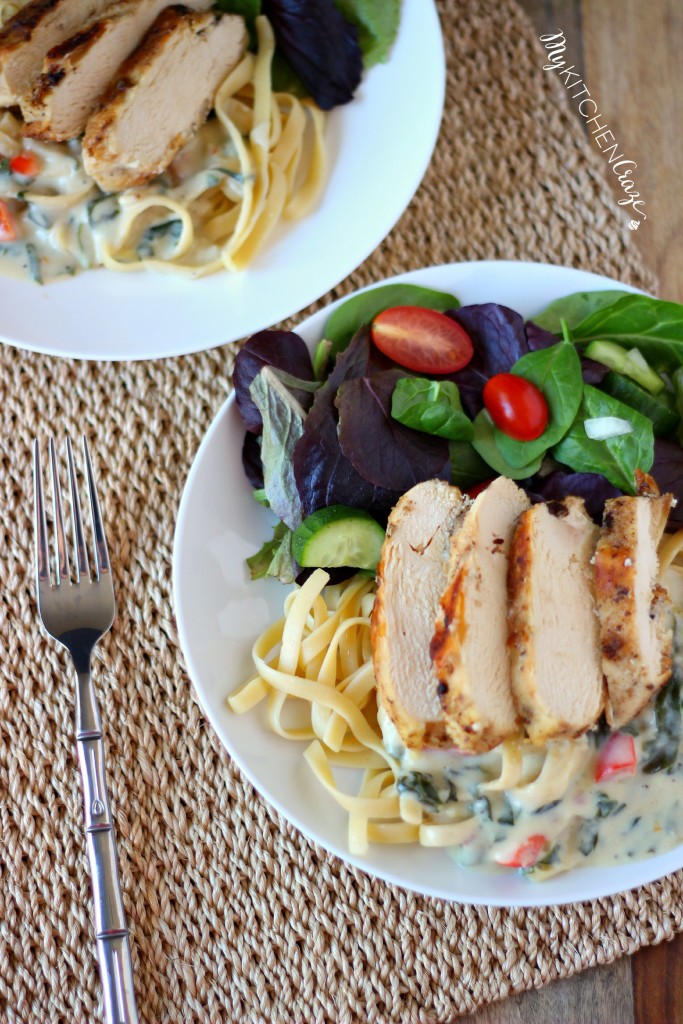 I decided that since I've been making a lot of red pasta sauces lately, I would make a cream based sauce. My son loves any and all Alfredo sauces, so I knew he would love this dish. And he wouldn't complain about leftover, either. Now I don't want you guys to worry about the ingredient list. I know it looks long and like a lot of items, but I promise that this dish is well worth the grocery shopping and time.
It doesn't take that much time to make and it also helps if you have some extra hands too. I love that the chicken turns out crispy, but stays moist. Then once you add the pasta and the cream sauce, it takes this dish to the WOW stage. This cream sauce is delicious! I can just drink the sauce all by its self…it's that good!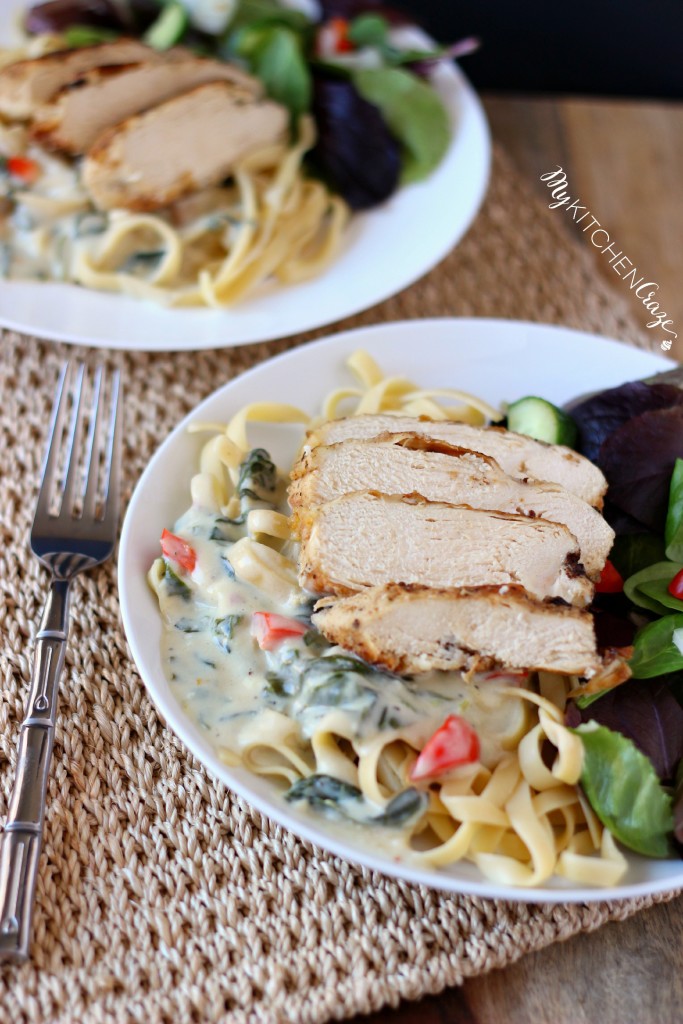 So if you have some free time this weekend or any weekend and want some yummy food, then you should make this Tuscan Garlic Chicken! Happy Weekend!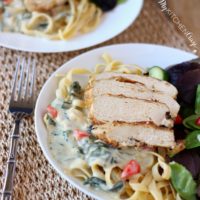 Get the Recipe:
Tuscan Garlic Chicken
Ingredients
3/4

cup

all-purpose flour

,

plus two tablespoons flour

1/2

teaspoon

season salt

,

or plain salt

1

teaspoon

pepper

1/2

teaspoon

dried basil

1/2

teaspoon

dried oregano

4

boneless

,

skinless chicken breast, pounded out a little

5

tablespoons

olive oil

,

divided

2

tablespoons

garlic cloves

,

minced (about 7-8 cloves)

1 1/2

red bell pepper

,

chopped

1

cup

low-sodium chicken broth

8

oz

baby spinach

,

light chopped

1

cup

heavy whipping cream

4

teaspoon

cornstarch

2

cups

milk

1/2

teaspoon

red pepper flakes

1/2

teaspoon

salt

1/2

teaspoon

pepper

1 1/2

cups

Parmesan cheese

,

shredded

1

pound

fettuccine noodles
Instructions
Preheat oven to 350 degrees F. Place foil over a baking sheet and lightly spray with cooking spray; set aside.

In a shallow pie plate, combine flour, salt, pepper, basil and oregano. Take pounded chicken and coat with the flour on both sides, making sure that both sides are nicely coated.

Heat 3 tablespoons of olive oil in a 12-inch skillet. Once oil is hot and simmering, place 2 chicken breast in skillet, cooking 3-4 minutes on each side. Just until they're golden brown, but not cooked all the way through. Make sure not to move the chicken once you place it in the skillet, until you're ready to flip it. Gently remove the first two chickens to the foil lined baking sheet and cook remaining 2 chicken breasts.

While the chicken is cooking, cook fettuccine noodles according to package details.

Once the chicken is done cooking on the stove, place chicken into preheated oven for about 11-12 minutes, until chicken is cooked through. Once chicken is done, set aside and tent with foil until ready to eat.

While the chicken is cooking in the oven, wipe out skillet and return to medium heat, adding remaining 2 tablespoons olive oil. Once the oil is hot and simmering, add garlic and bell pepper. Cook for 2-3 minutes, making sure not to burn the garlic.

Stir in two tablespoons flour and stir constantly for one minute. Slowly add the chicken broth and bring to a slow simmer, whisking constantly, until slightly thickened, about 3-4 minutes.

Mix cornstarch and heavy whipping cream together in a small bowl or glass measuring cup.

Add cornstarch mixture, spinach, milk, red pepper flakes, salt and pepper to the skillet. Bring the sauce mixture to a simmer and cook, stirring occasionally until the spinach is wilted and sauce is slightly thickened, about 2-4 minutes. Stir in Parmesan cheese.

Once the pasta is done, stir half of the cream sauce mixture with the pasta. Place some pasta on a plate, top with some chicken than spoon a little more sauce over the top.

Serve & Enjoy!