Warm mixed berries topped with crispy oats, make this Triple Berry Crisp a delicious fruit dessert! Serve it with a big scoop of vanilla ice cream or all by its self. It's delicious and a must have this season!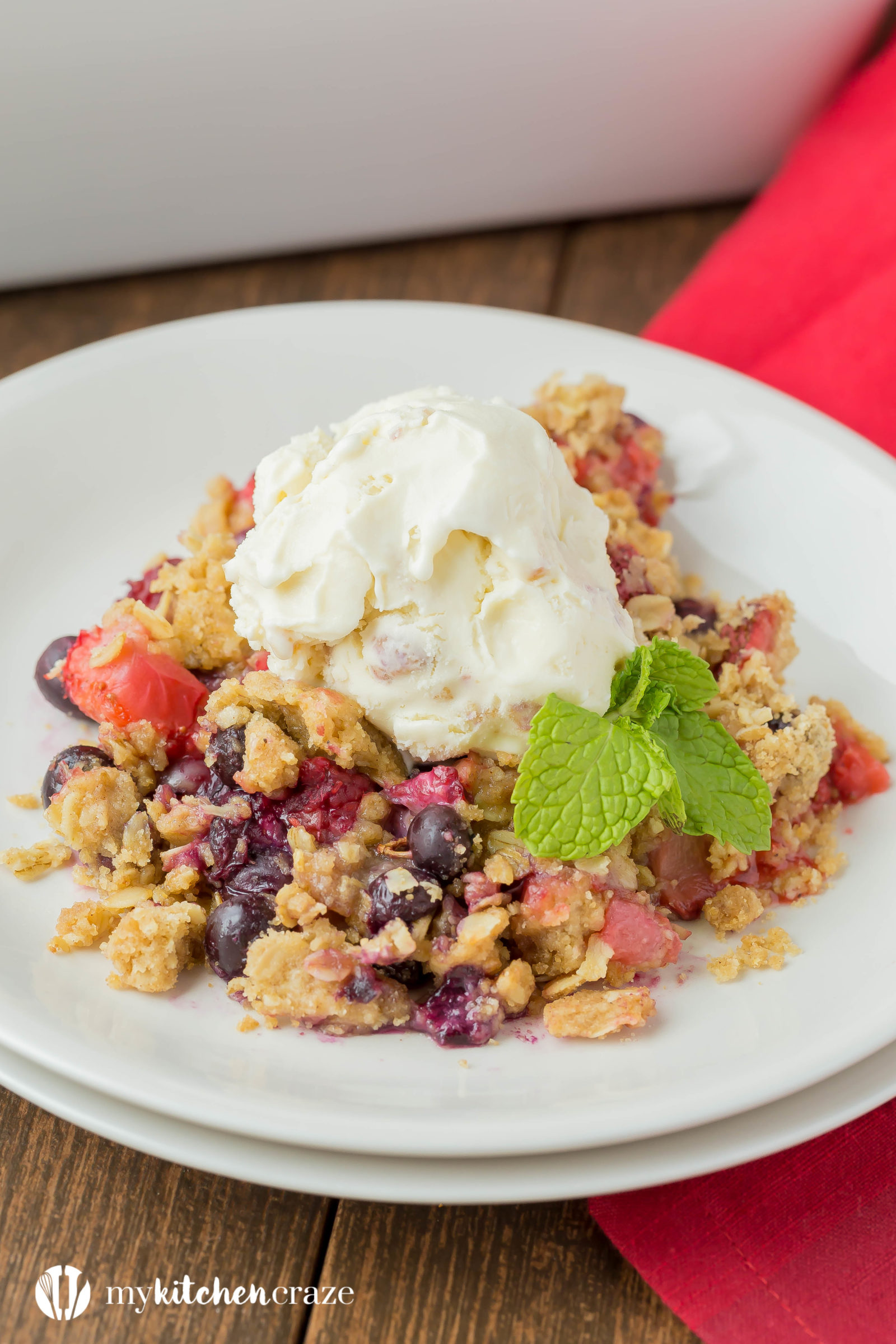 I need to ask you all a very serious question today. Are you a cobbler or crisp person? Or are you a dare devil and like both?
In our house you're either one or the other. I'm not sure why that is, but it just is. In fact almost everyone in our house is a crisp person. Maybe it's because we didn't grow up where there was cobbler being made every summer.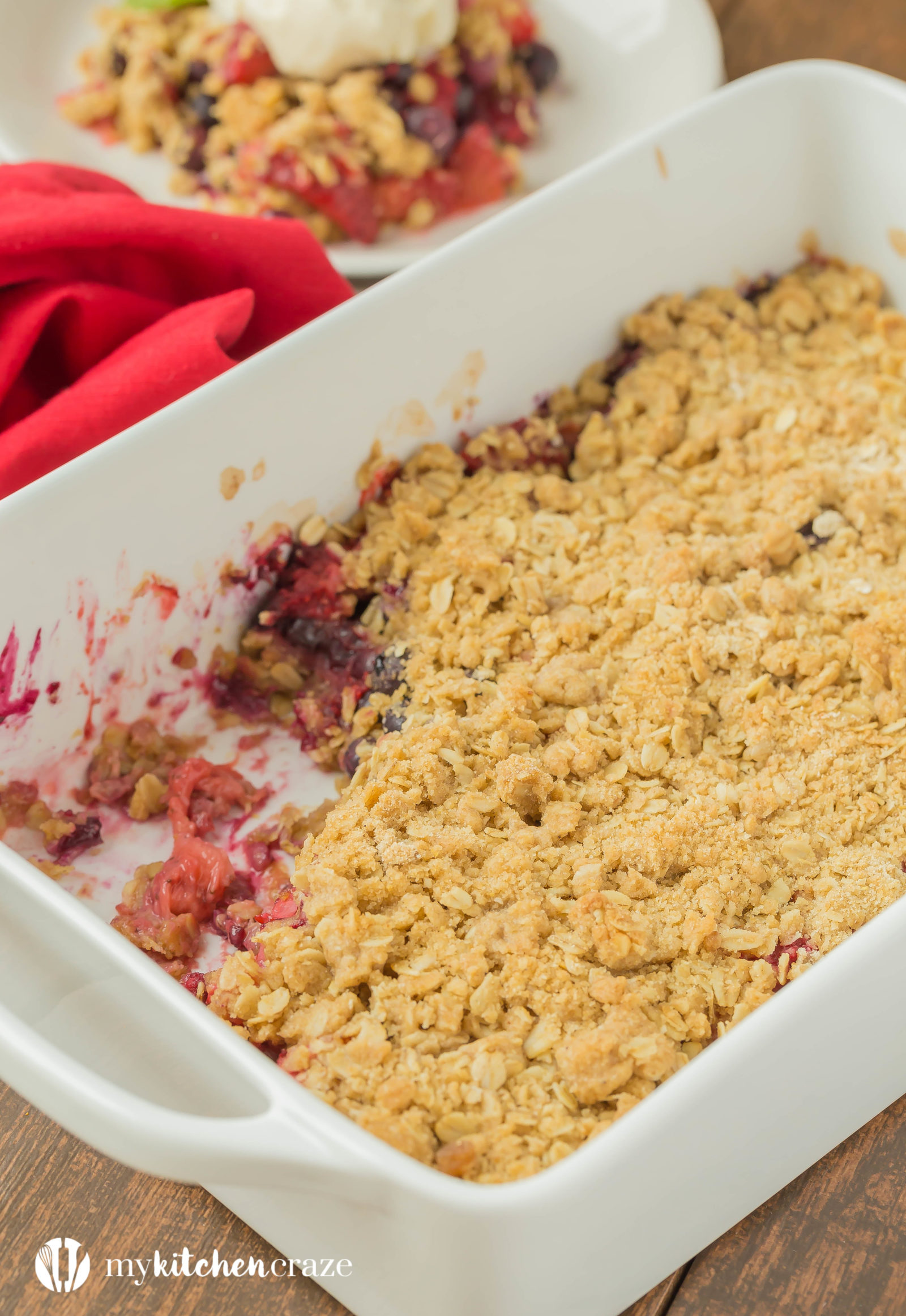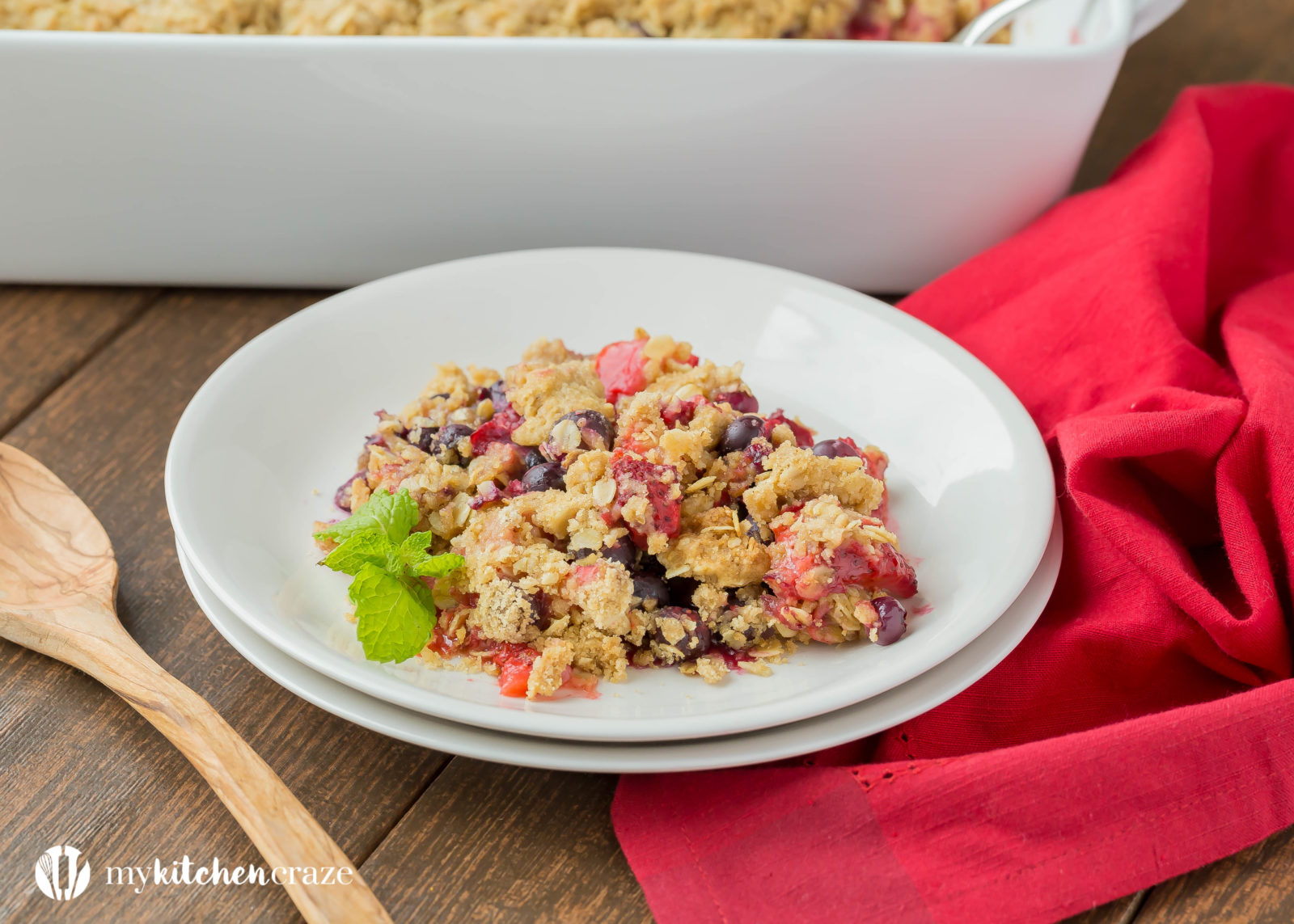 But to be honest with you all, I'm just not that fond of cobbler. It's good don't get me wrong, but it's not my favorite fruit dessert. Maybe if I kept eating it, I'd fall in love with it. But I gotta tell yea, if there was a choice between cobbler and crisp, hands down I would always pick a crisp over a cobbler. I just love the combination of oats and fruits. Yum!
In fact one of the many reasons I love summer is because you get all the fresh berries you want. I know that berries are pretty much available year round now a days, but there's nothing better than some juicy strawberries, blueberries and raspberries. Summer just has the best fruits. Watermelon, peaches, nectarines, plums, mangos and the list keeps going and going.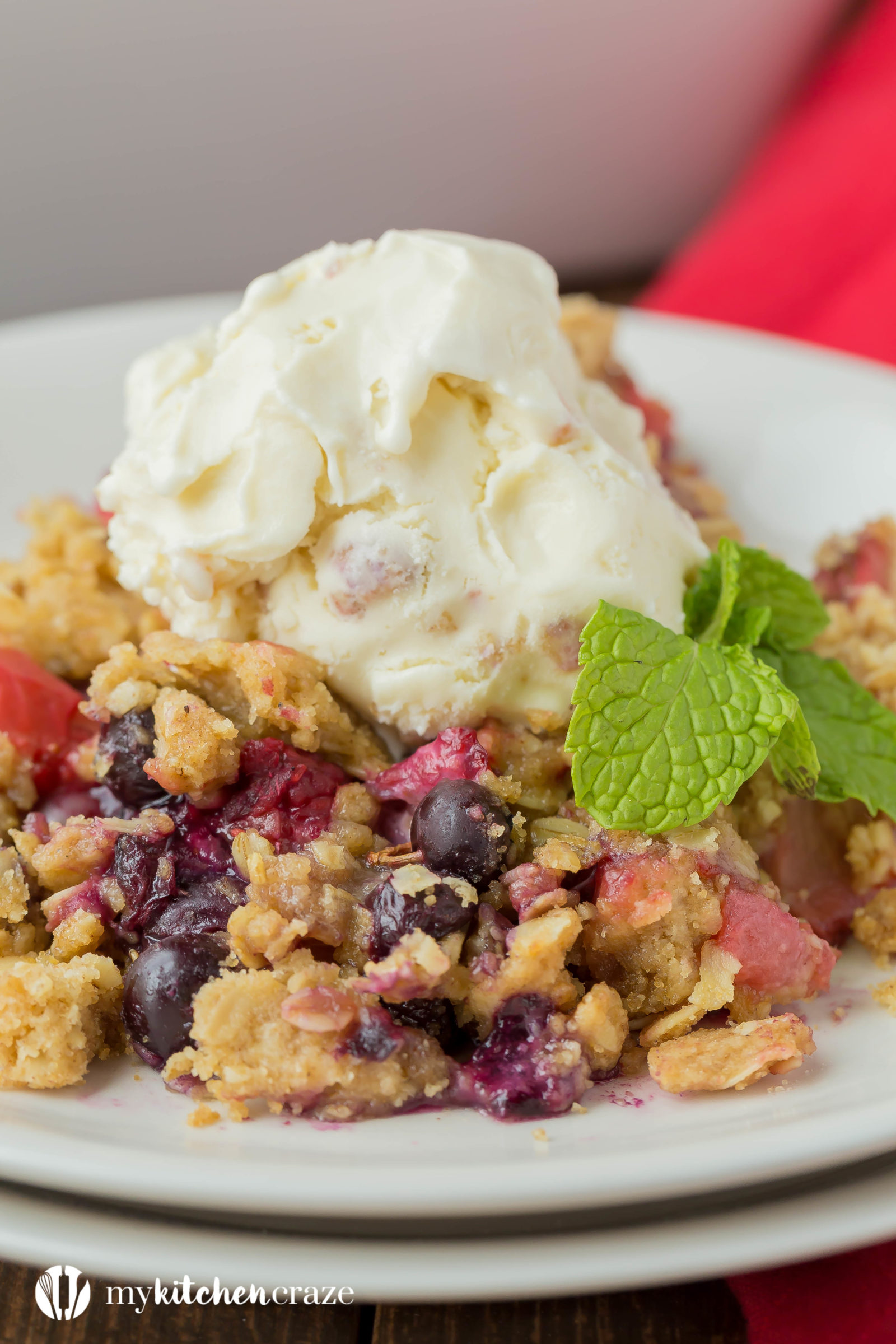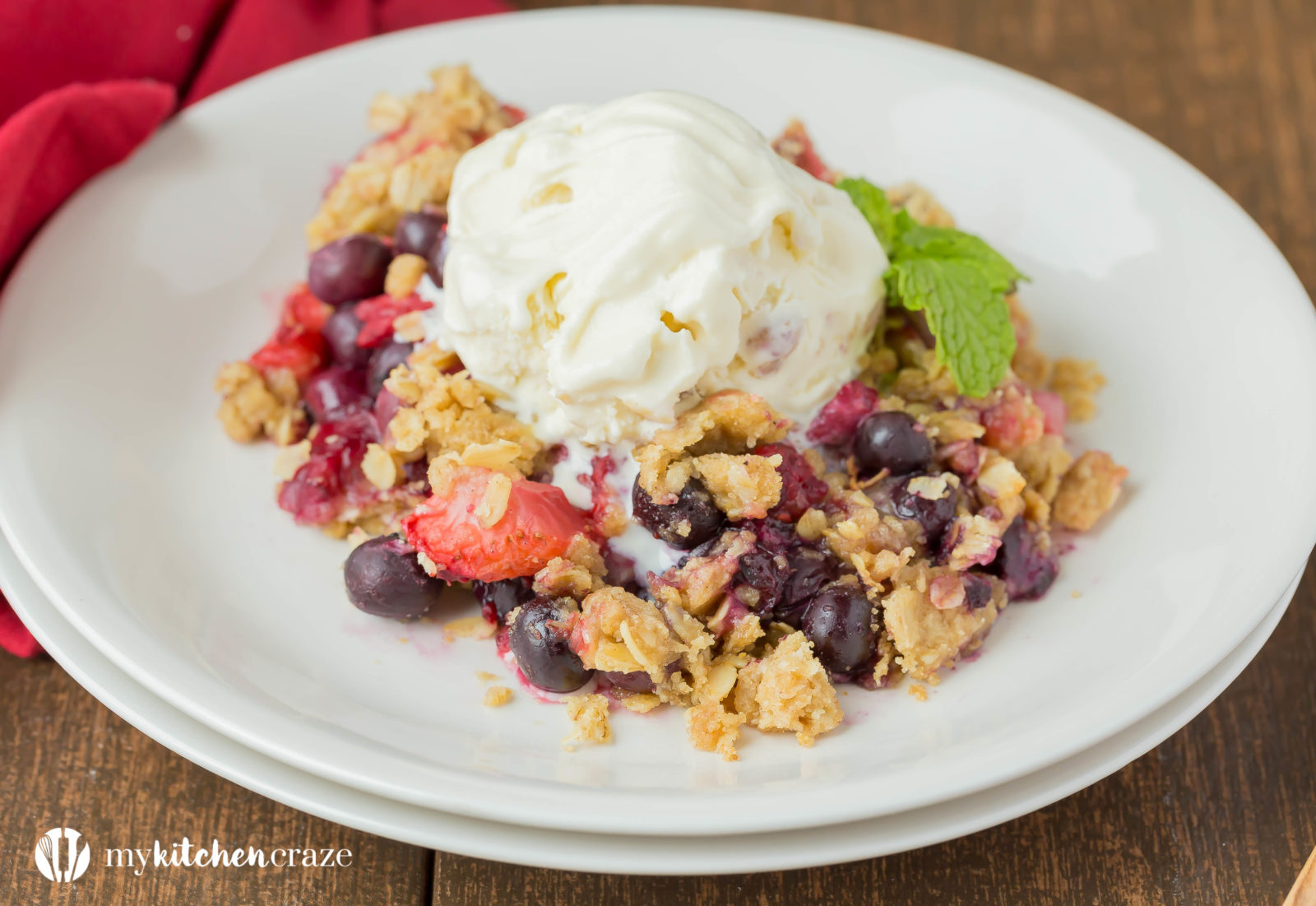 My hubby was having some friends over from work last weekend and of course I had to make some sort of dessert so I thought why not a crisp. I wanted something fresh and light, but also pretty easy to make. I had enough cooking and cleaning to do around the house, so I needed something that was quick, but full of flavor and would WOW our guests.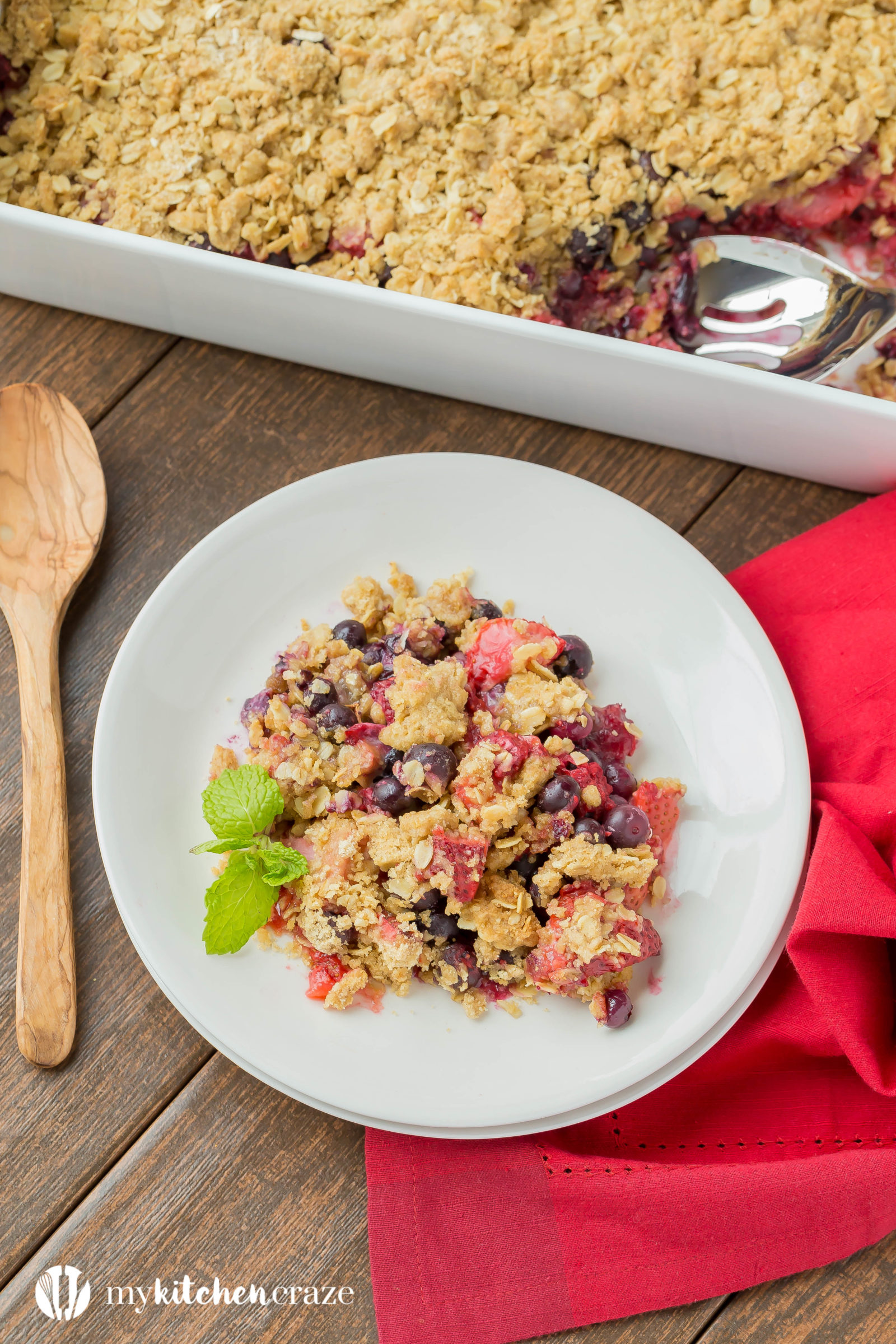 Boy oh boy did this crisp turn out amazing. What sets this crisp apart from the other millions out there, is the layering process. You spread half of the crisp in the bottom of the baking dish, then the triple berries and last but not least, the remaining crisp on top. Bake, scoop and eat. It's that easy.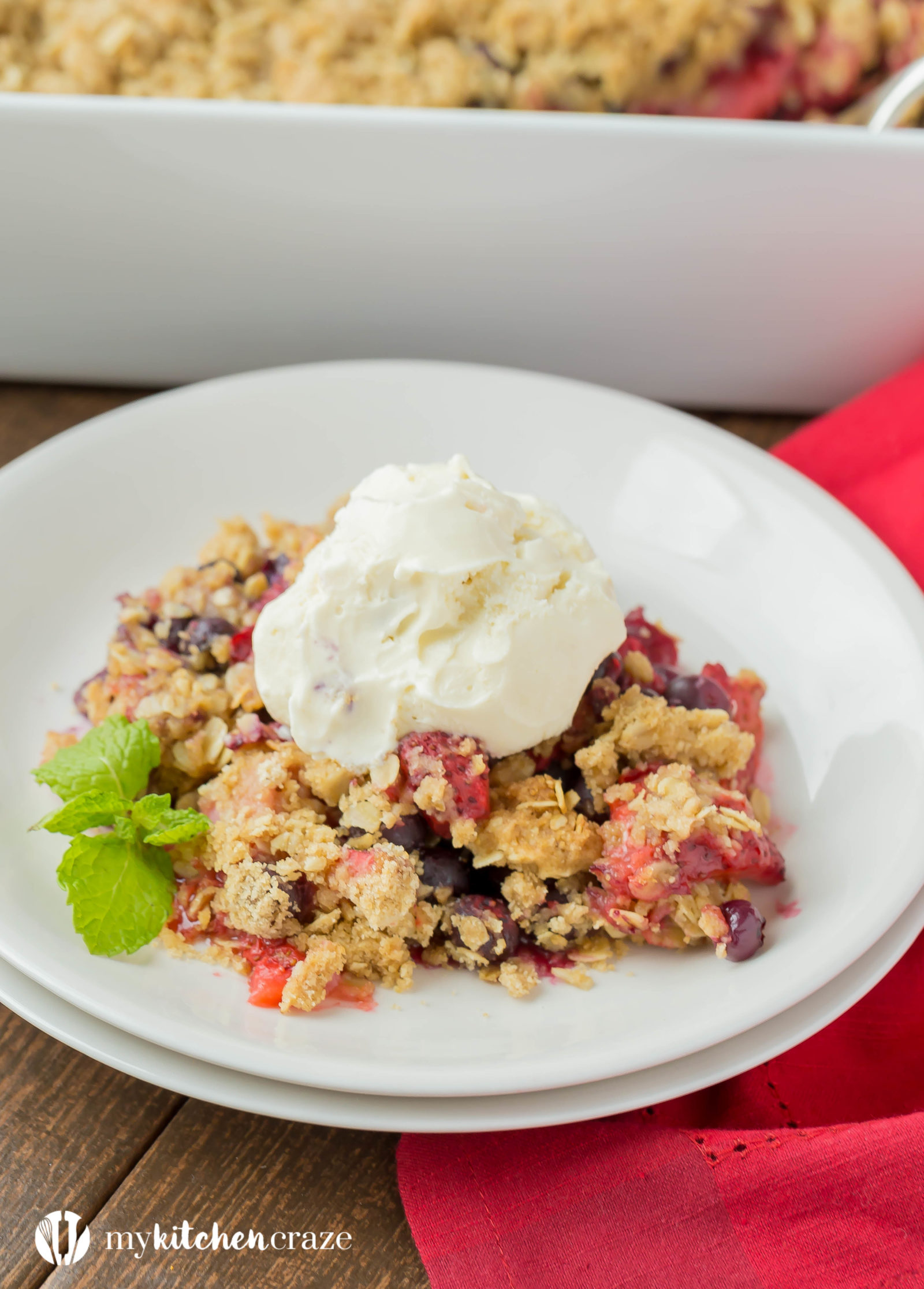 Hope you all enjoy this crisp as much as I do. In fact I had this crisp for leftovers for 3 days and it was amazing day after day. In fact I think I might need to make some today.
Photos updated: 3/15/17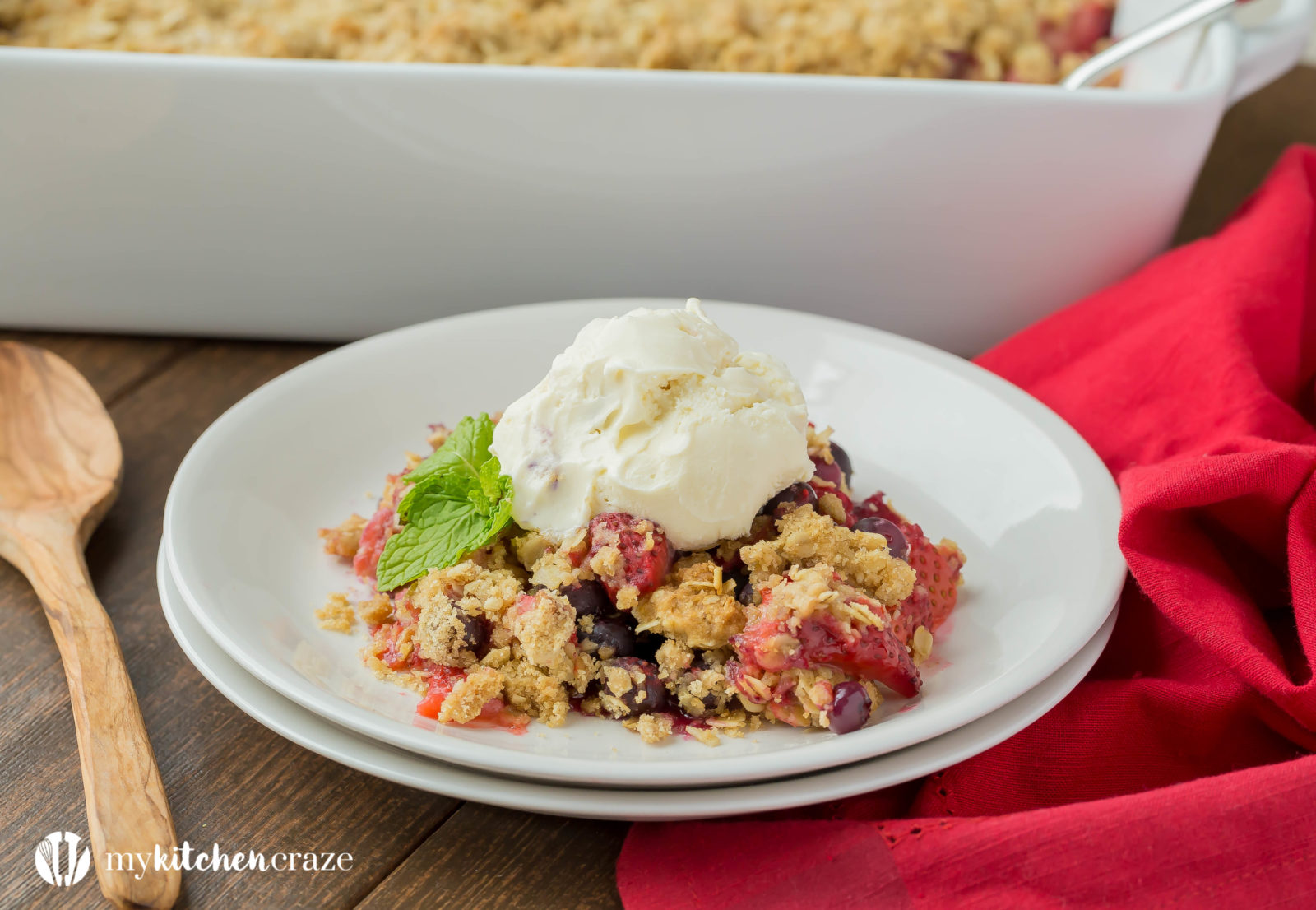 Servings: 12 -16
Triple Berry Crisp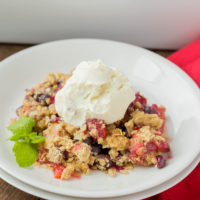 Print
Ingredients
1 1/2 cups fresh strawberries, quartered
1 1/2 cups fresh blueberries
1 1/2 cups fresh raspberries
1 tablespoon cornstarch
4 tablespoons granulated sugar
pinch of salt
2 cups all-purpose flour
2 cups old fashioned oats
1 1/2 cups brown sugar, packed
1 teaspoon ground cinnamon
1/2 teaspoon ground nutmeg
1 1/4 cups butter, cold and cubed
Instructions
Preheat oven to 350 degrees F.

In a large bowl, lightly mix together the berries, cornstarch, sugar and salt. Set aside until ready to use.

In a separate large bowl, combine the flour, oats, brown sugar, cinnamon and nutmeg. Mix well. Using a pastry blender, fork or your hands cut in the cubed cold butter until mixture resembles coarse crumbs. Press half of the flour/oats mixture into the bottom of a 9x13 baking dish.

Cover with the prepared berries (if there is a lot of liquid, drain some out or use a slotted spoon while pouring into the baking dish). Crumble remaining flour/oats mixture over the berries.

Bake for 30-40 minutes, or until topping is light golden brown and berries are bubbly.