Toffee Cheesecake Bars
Toffee Cheesecake Bars are not only easy to make, but have a crunchy cookie base, a creamy cheesecake layer and sprinkled with toffee bits. What could be better? These bars taste delicious! Everything's better in bar form, don't you think?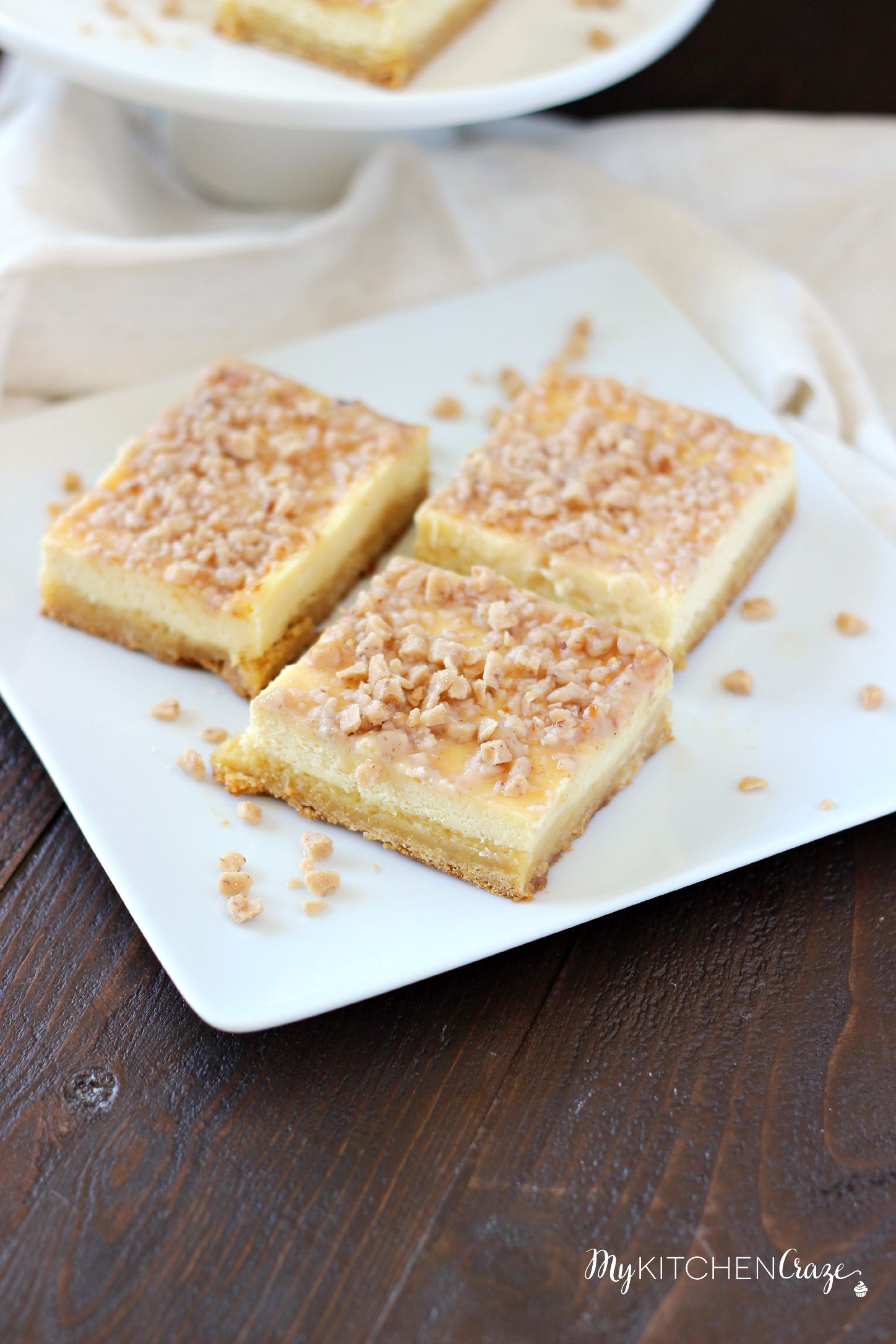 Hi guys! How are you all doing? I'm sorry I've been MIA for about 2 weeks, but the family and I moved from Palm Springs, CA to Las Vegas, NV. The move was very unexpected and I had only about 4 weeks to pack up our 4 bedroom house, find a house to rent in Vegas and then try to get our home rented in Palm Springs.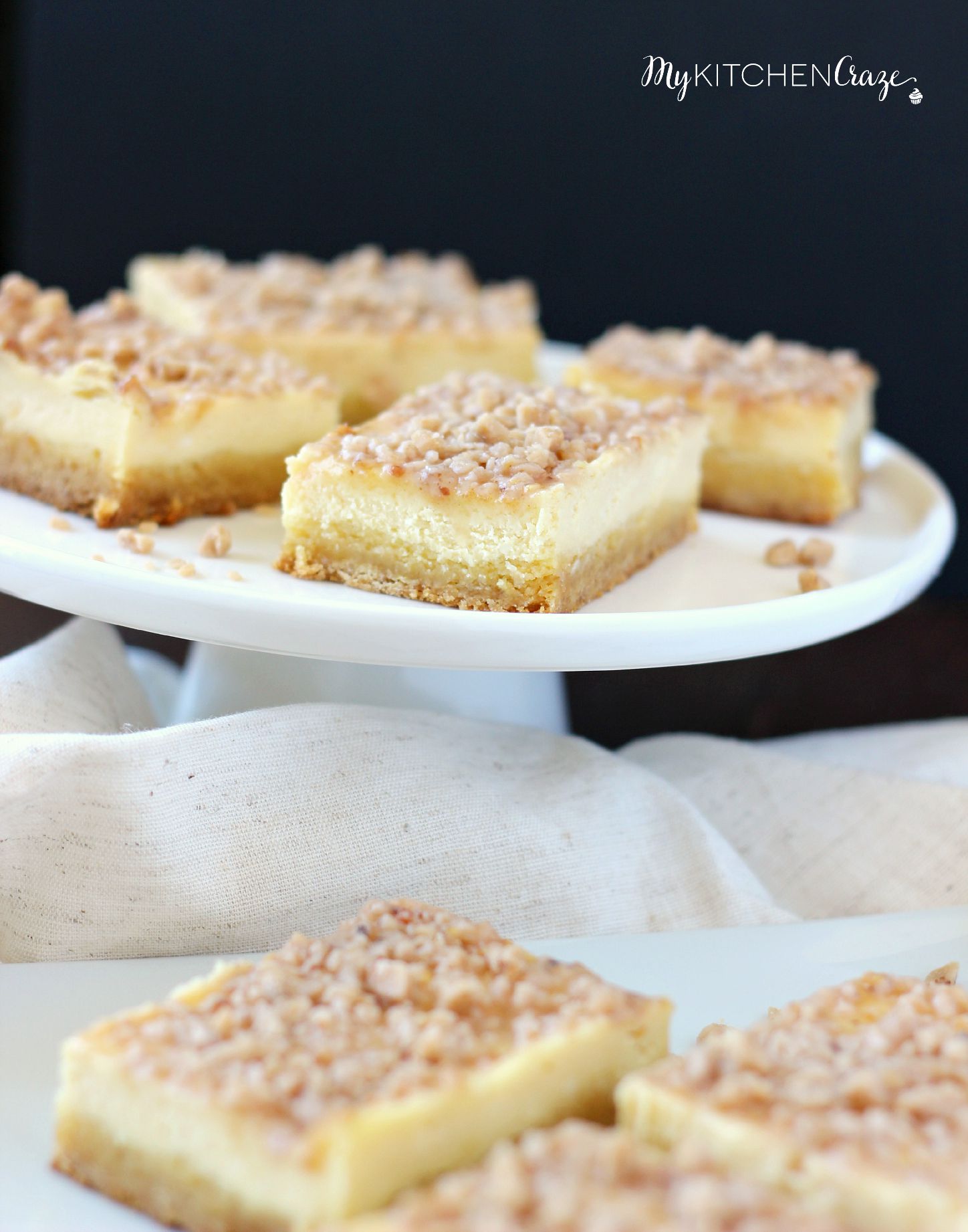 Needless to say, I'm exhausted. I haven't actually cooked a full meal in about 2 weeks. I've done semi-homemade meals, but nothing from scratch. Since I haven't had the time to cook, I haven't had the time to bake. But I sure do miss it.
There's something about being in the kitchen, making something for the family, that calms me. It could be baking or cooking. Doesn't matter. It's just therapeutic for me. What can I say? The kitchen gets me.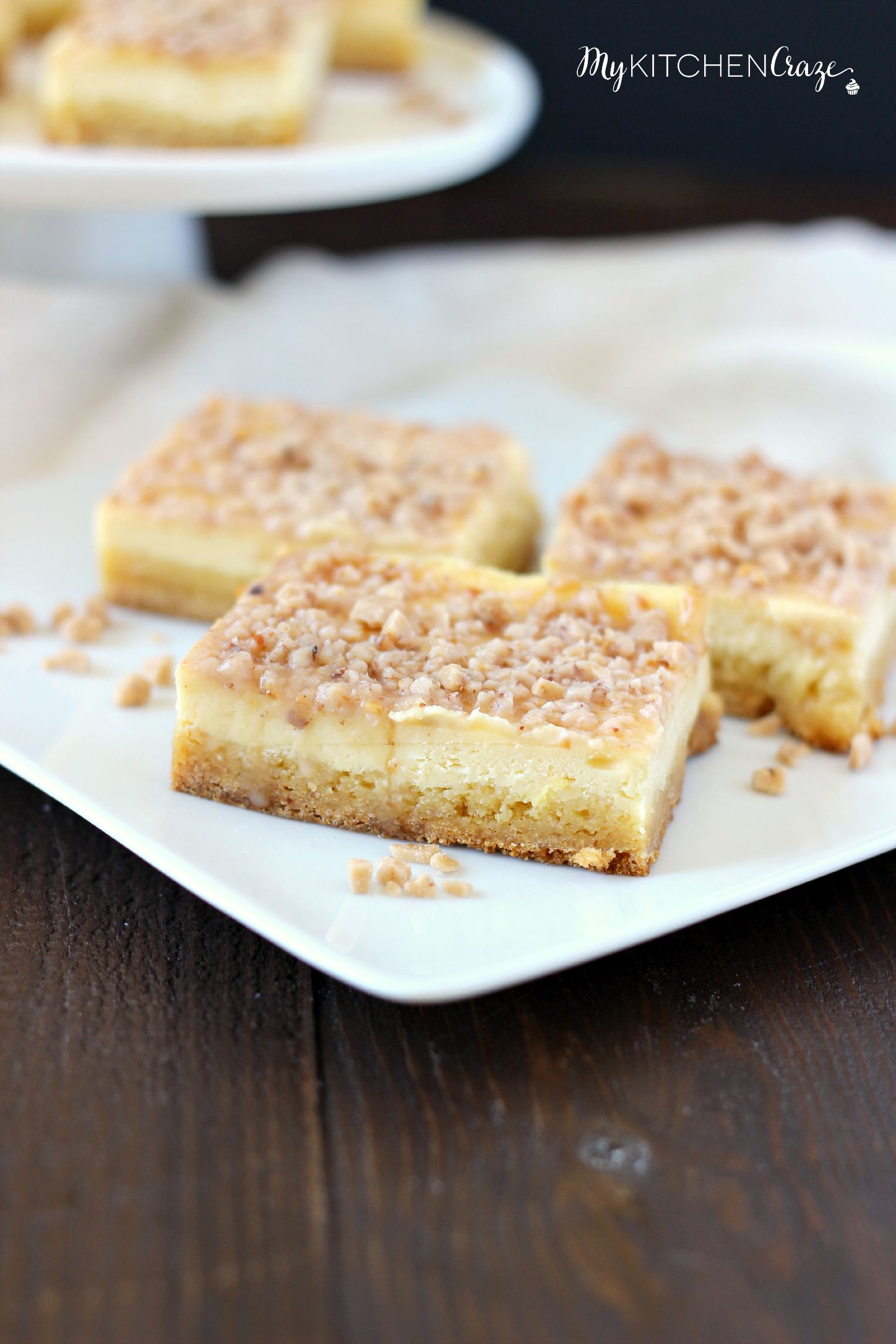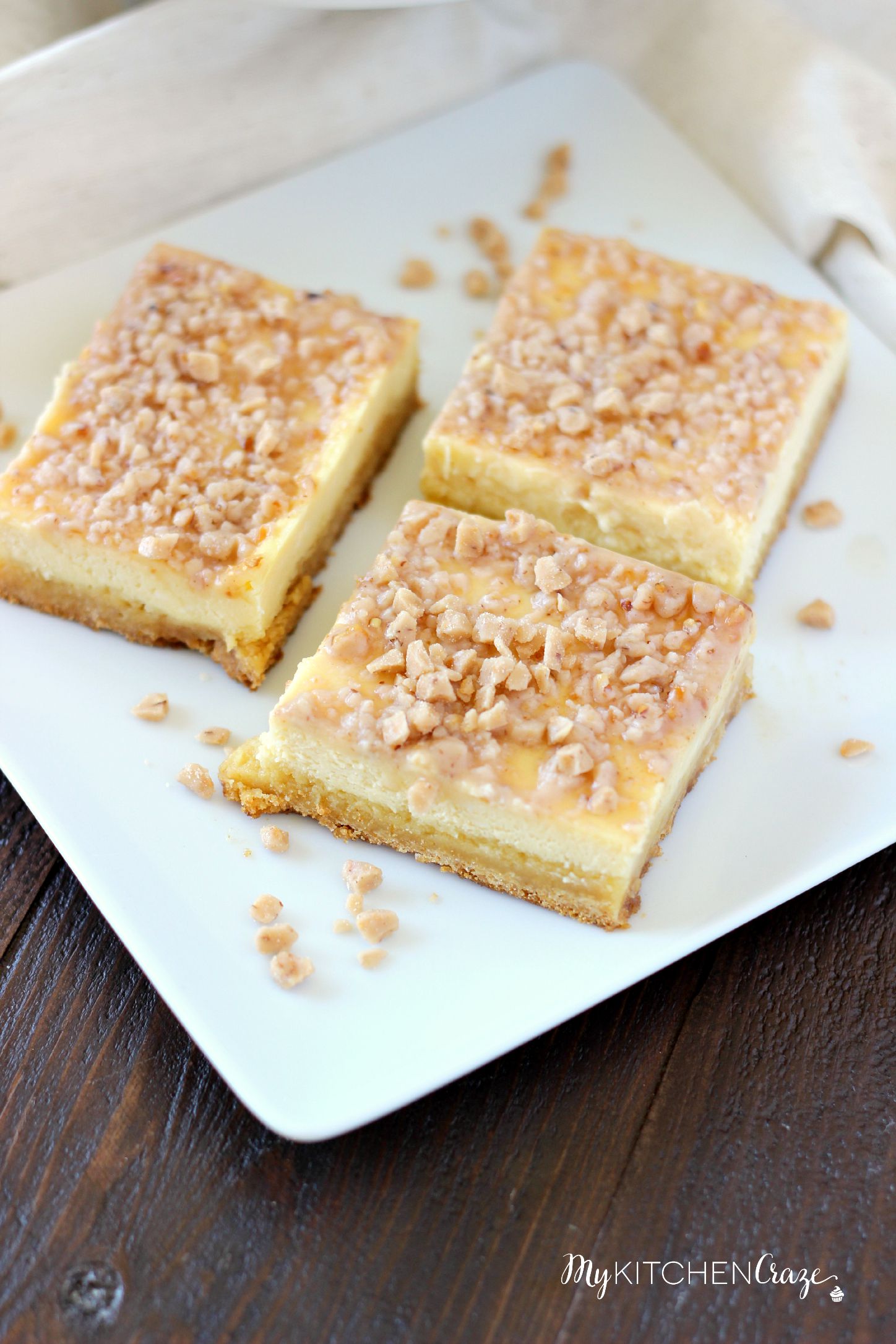 I actually made these cheesecake bars when we were still in California. I act like we moved 3 states over, don't I? When in fact it's only a 4 hour drive. Hehe. I hope I make you laugh just as much as I make myself laugh. But I really wanted to share these with you all before the move, but there wasn't enough time in the day.
What's that saying? Better late than never?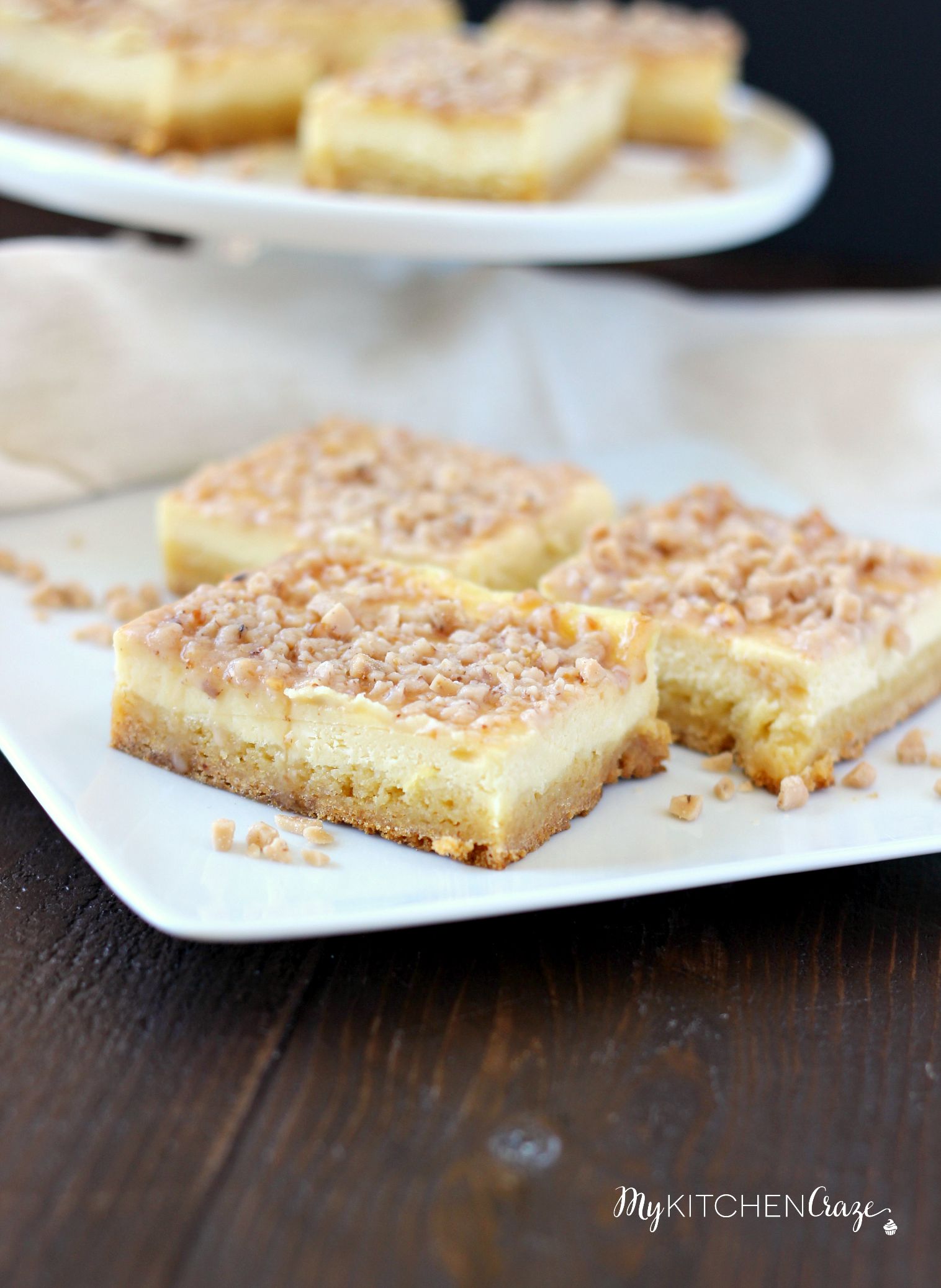 I don't know what it is about bars in general, but I love them. Add some cheesecake on top and I'm in heaven. I wasn't always a cheesecake fan, but man oh man do I like it now. These cheesecake bars are a cinch to throw together too. Sprinkle the top with toffee bits right when the bars come out of the oven and you get this melted toffee flavor. Yum!!
These bars are delicious and I highly suggest you make them right this second. You'll be so happy you did. Now I got to get back to unpacking my 5,235 boxes. Hopefully I'll be done in time for Christmas. Have a wonderful weekend! 🙂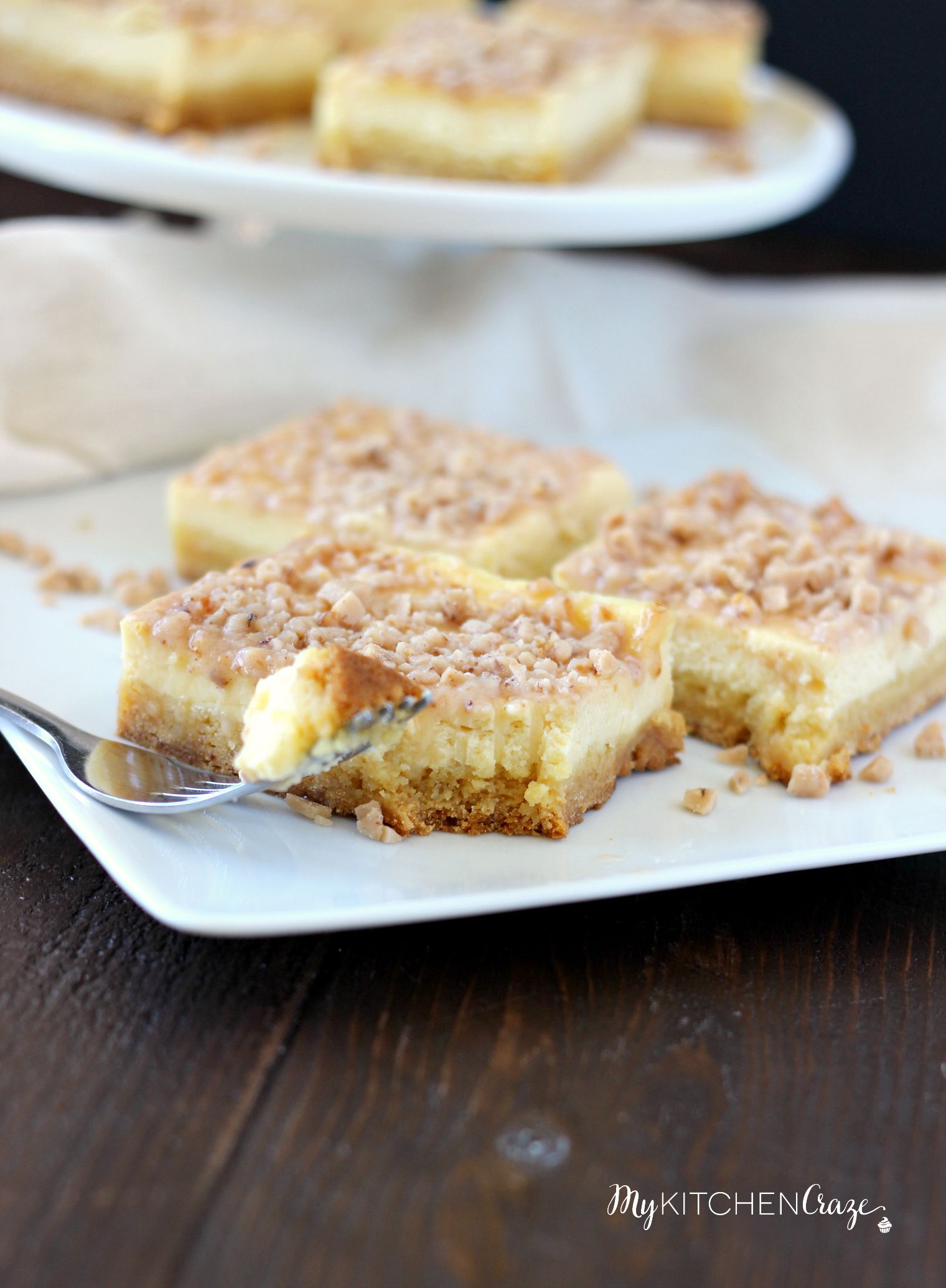 Toffee Cheesecake Bars
Author:
Prep time:
Cook time:
Total time:
Ingredients
1 package (1 lb 1.5 oz) sugar cookie mix
1 box french vanilla pudding mix
2 tablespoons brown sugar, packed
1/2 cup butter, melted
2 1/2 teaspoon vanilla extract, divided
2 whole eggs, divided
3 egg yolks
2 (8 oz) packages cream cheese, softened
1/2 cup sour cream
1/2 cup sugar
2/3 cups toffee bits
Instructions
Heat oven to 350 degrees F. Light spray a 9×13 baking dish with non-stick cooking spray; set aside.
In a large bowl, add the cookie mix, pudding mix, brown sugar, melted butter, 1 teaspoon vanilla and 1 whole egg. Mix until a soft dough forms. Press dough into the bottom of the greased baking dish; set aside.
Using your stand mixer, cream together the cream cheese, sour cream and sugar, until smooth. With the mixer on a slow speed, add remaining egg, egg yolks and remaining 1 1/2 teaspoons vanilla. Mix until smooth and creamy. Pour over cookie crust in the baking dish.
Bake 30 – 35 minutes, or until center is set. Immediately sprinkle toffee bits all over the top of warmed cheesecake bars.
Let cool for 30 minutes. Refrigerate for 3 hours, or until chilled through. Cut into bars.
Notes
**Make sure to refrigerate these bars until your ready to eat.**[br][br]Recipe source: [url href="http://www.bettycrocker.com/recipes/creme-brulee-cheesecake-bars/292a25e3-2752-4a46-9cc7-7a04ae799d98″ target="_blank"]Betty Crocker[/url]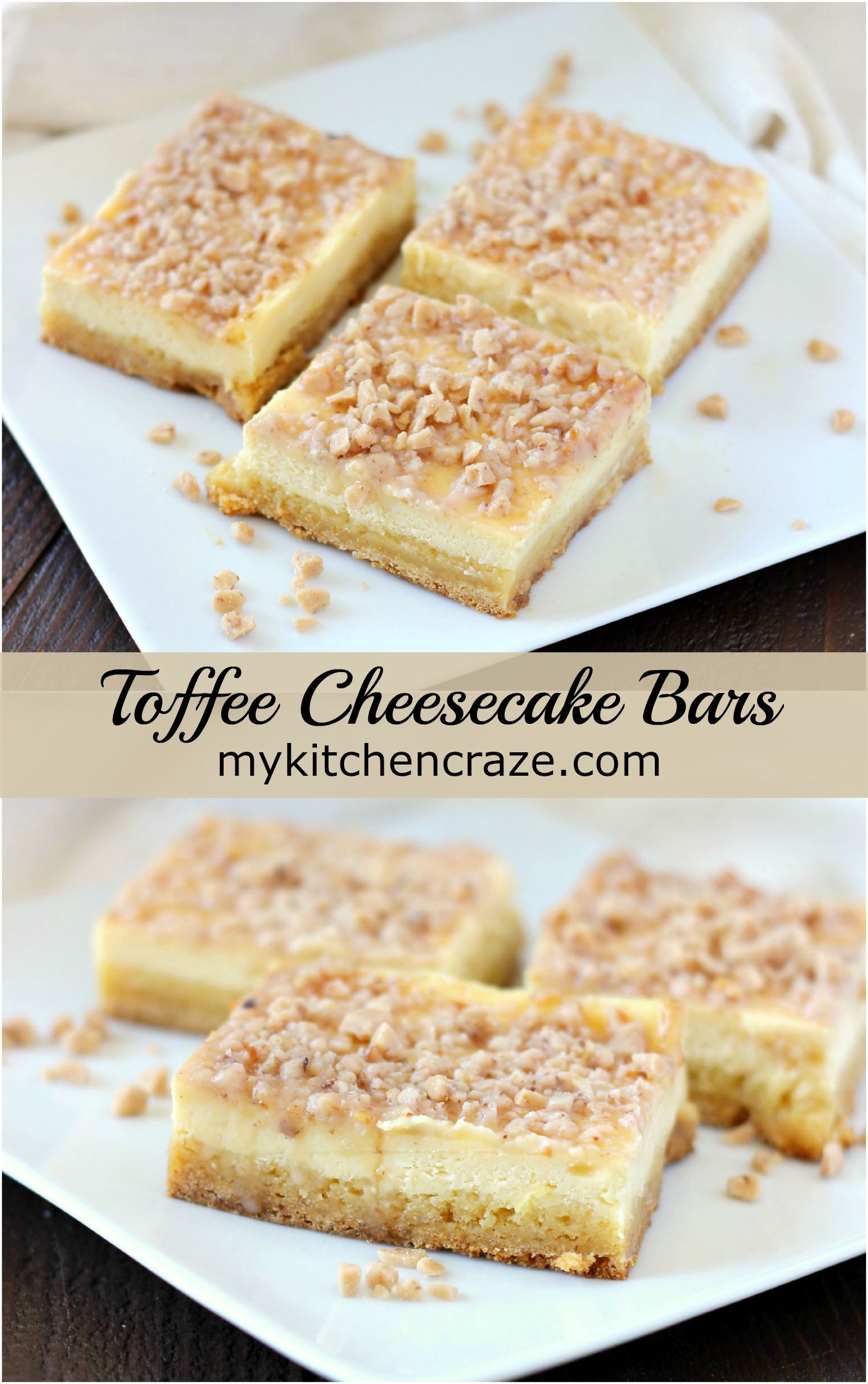 Want some more bar recipes? Well look no further. Here you go!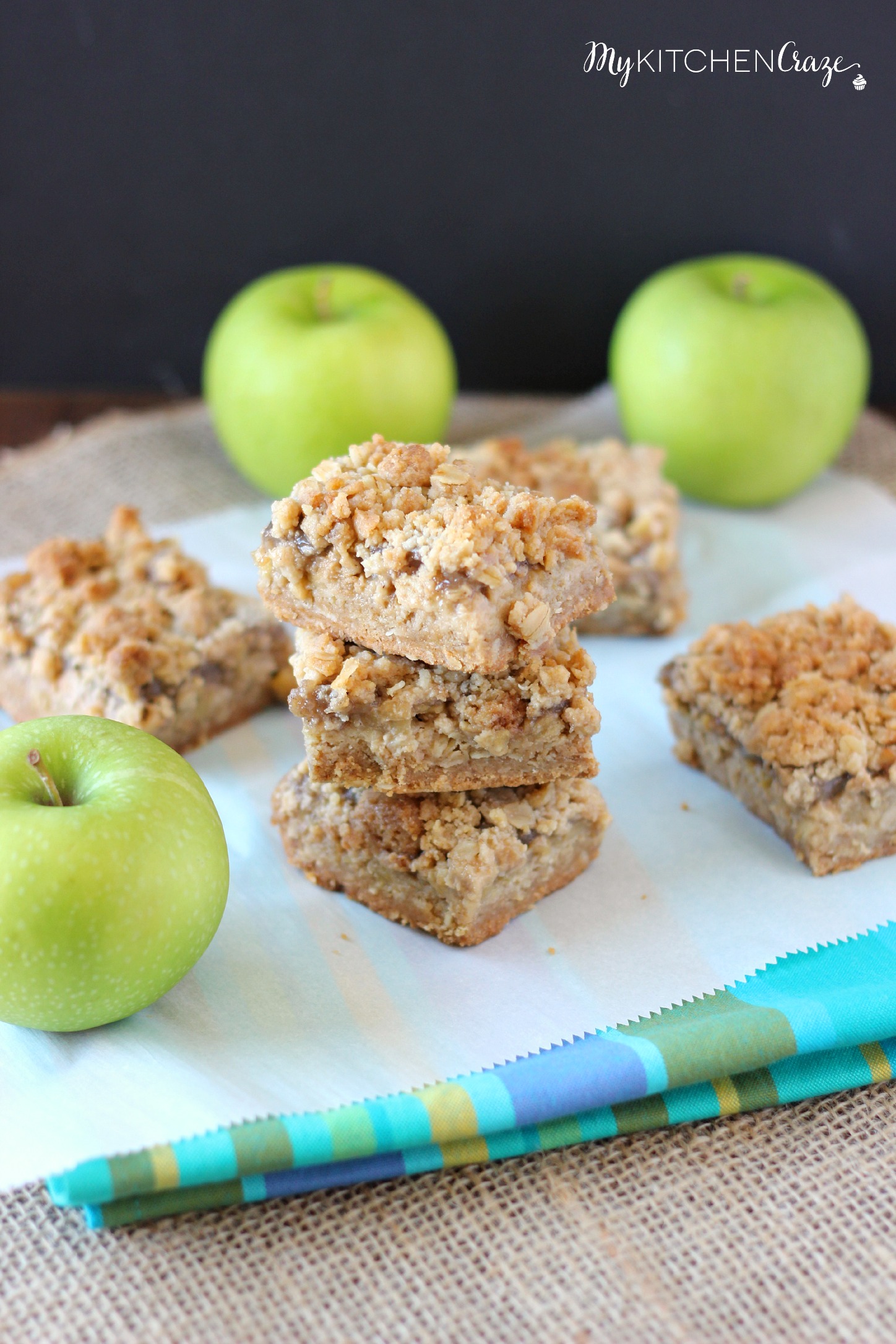 Caramel Apple Crumb Bars 
Monster Cookie Bars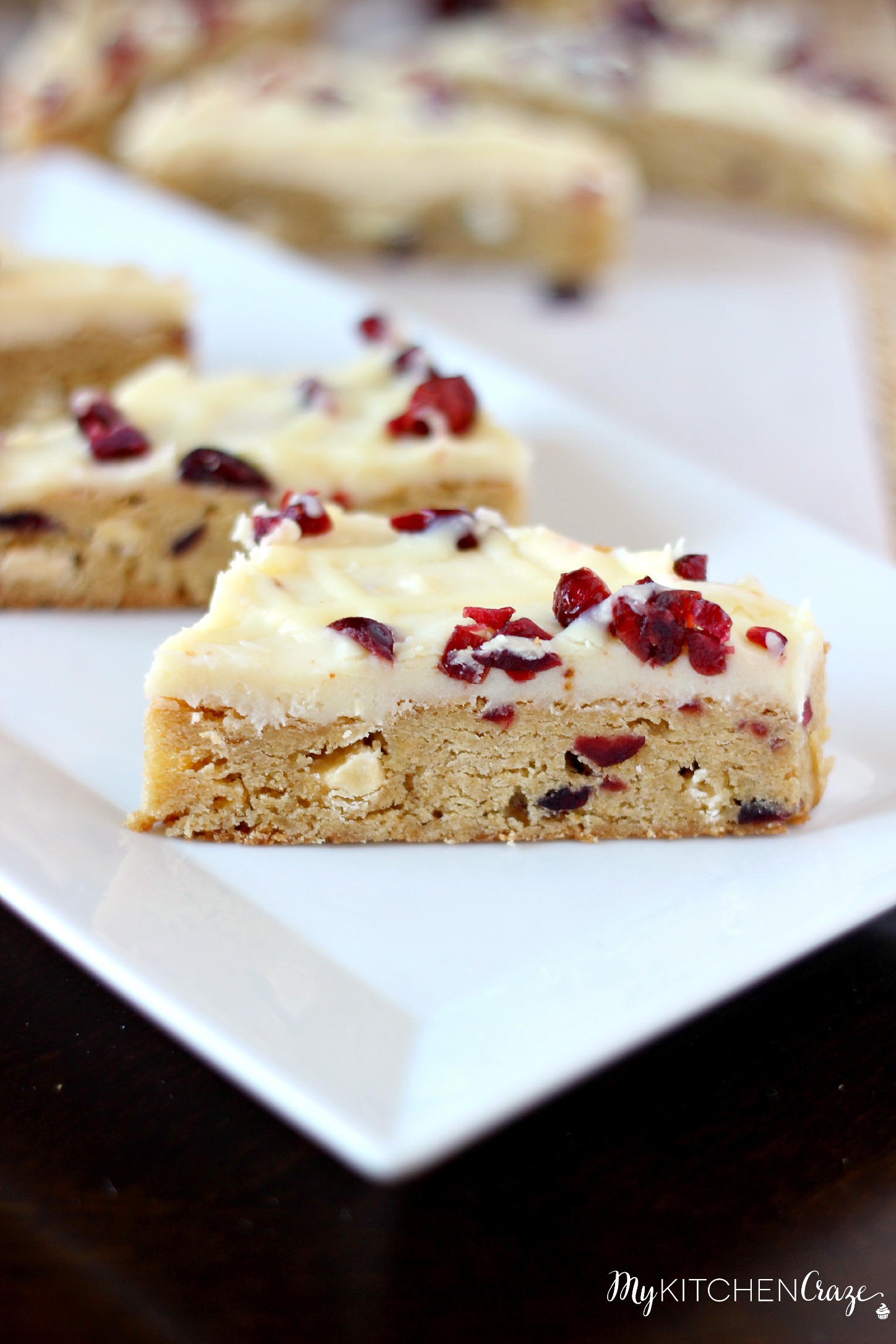 Cranberry Bliss Bars {Starbucks Copycat}
Here are some more delicious cheesecake bars from my friends:
 Cheesecake Bars by Bakerita
Lemon Raspberry Cheesecake Squares by Live Well Bake Often
Tequila-Lime Cheesecake Bars by Sweet Peas & Saffron
Vanilla Cheesecake Bars with Chai Whipped Cream by A Latte Food
Salted Caramel Mocha Cheesecake Squares by Maebells