Simple Skillet Lasagna
Simple Skillet Lasagna is an easy meal that will be on your table in no time at all. No more store-bought lasagna for you. Have a delicious skillet lasagna in minutes. Yum!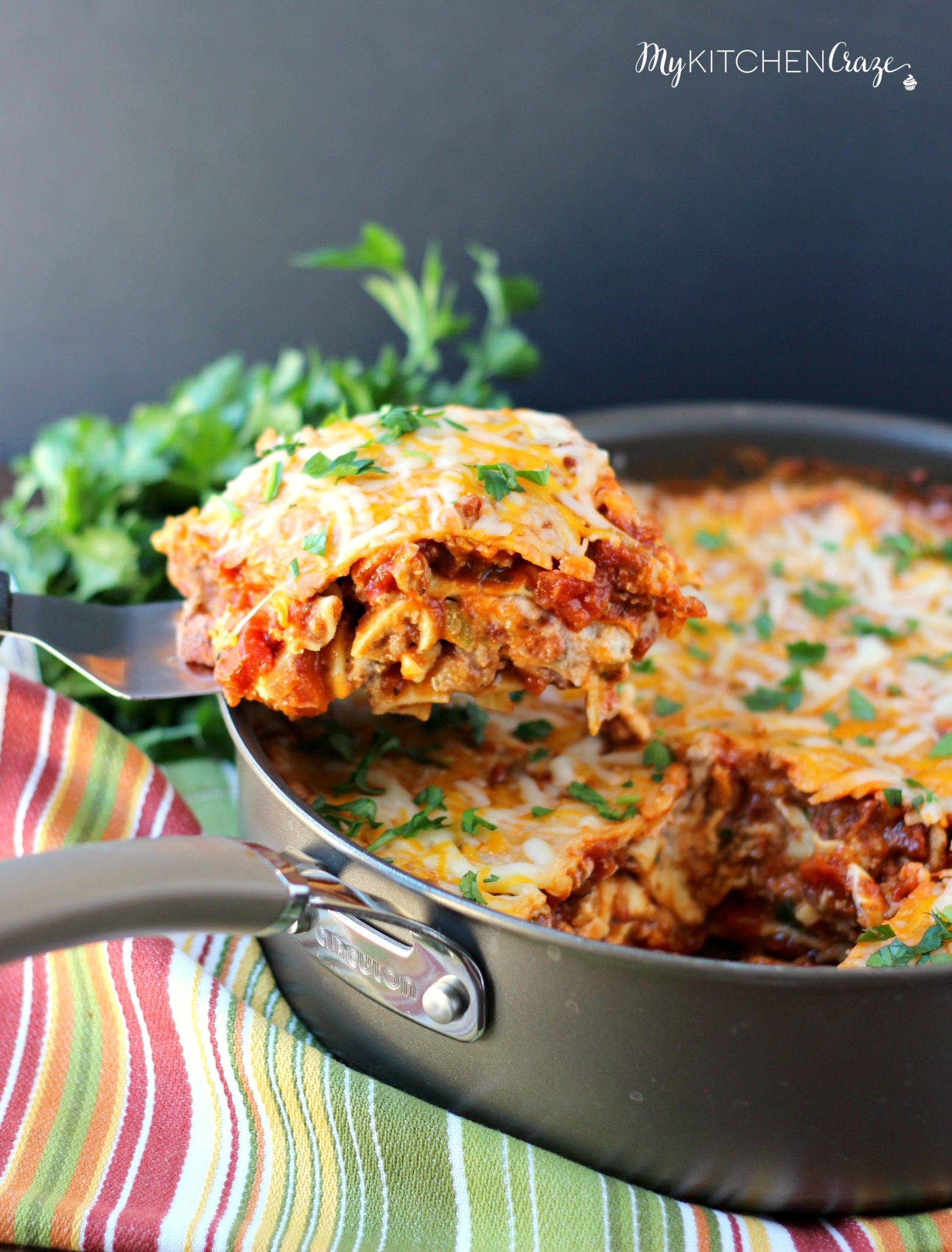 Happy Monday friends. Today I'm sharing an easy and delicious recipe with you all. When I was in my 20's I used to buy boxed lasagna all the time. I loved it and that was my go to meal. In fact I think that's all my hubby and I lived off of our first year of marriage. While I was shopping at Wal-Mart this past week, I noticed that Kraft Natural Cheeses came in a larger 1 pound size and I couldn't resist buying some. I just love cheese. Who doesn't?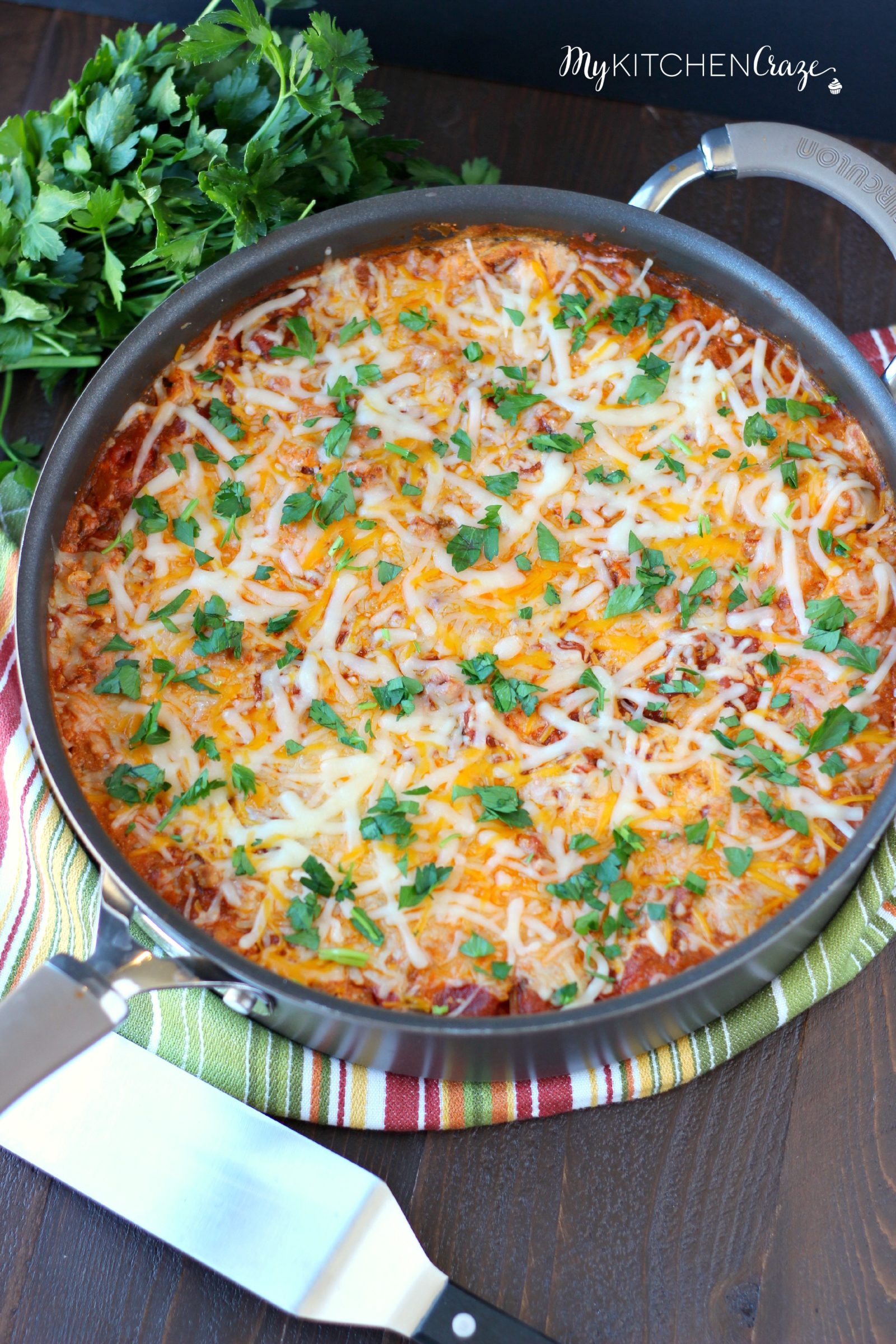 I really like Kraft's Natural Cheese's. I love that you can save time with the already pre-shredded packages. Plus they have a huge selection of favors. One of the many reasons I love Kraft Natural Cheeses is because they're well balanced, nutritious, and made with fresh and natural ingredients. You'll love them! I use them in all sorts of recipes. Anywhere from tacos, quesadillas, omelets and pasta dishes.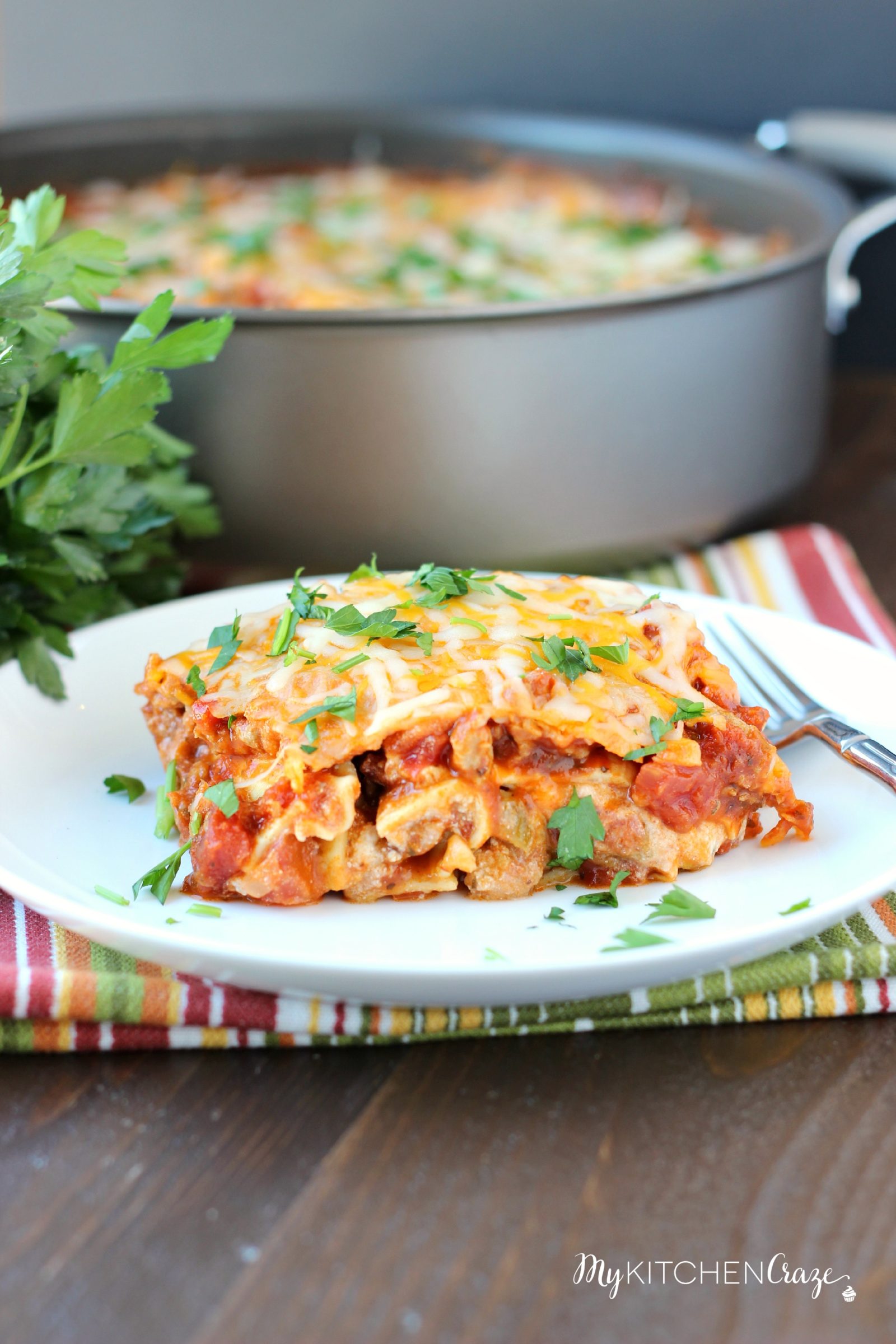 I knew once I bought these cheese packages that I needed to make my skillet lasagna. I came by this recipe on accident actually. It's one of my aunt's recipes she gave me a while ago. So I tweaked it a little here and there and wha-la. This Simple Skillet Lasagna was born. I've made this recipe for parties, work functions for the hubby and at home. Every time I make this recipe, I always love how easy and quick it comes together.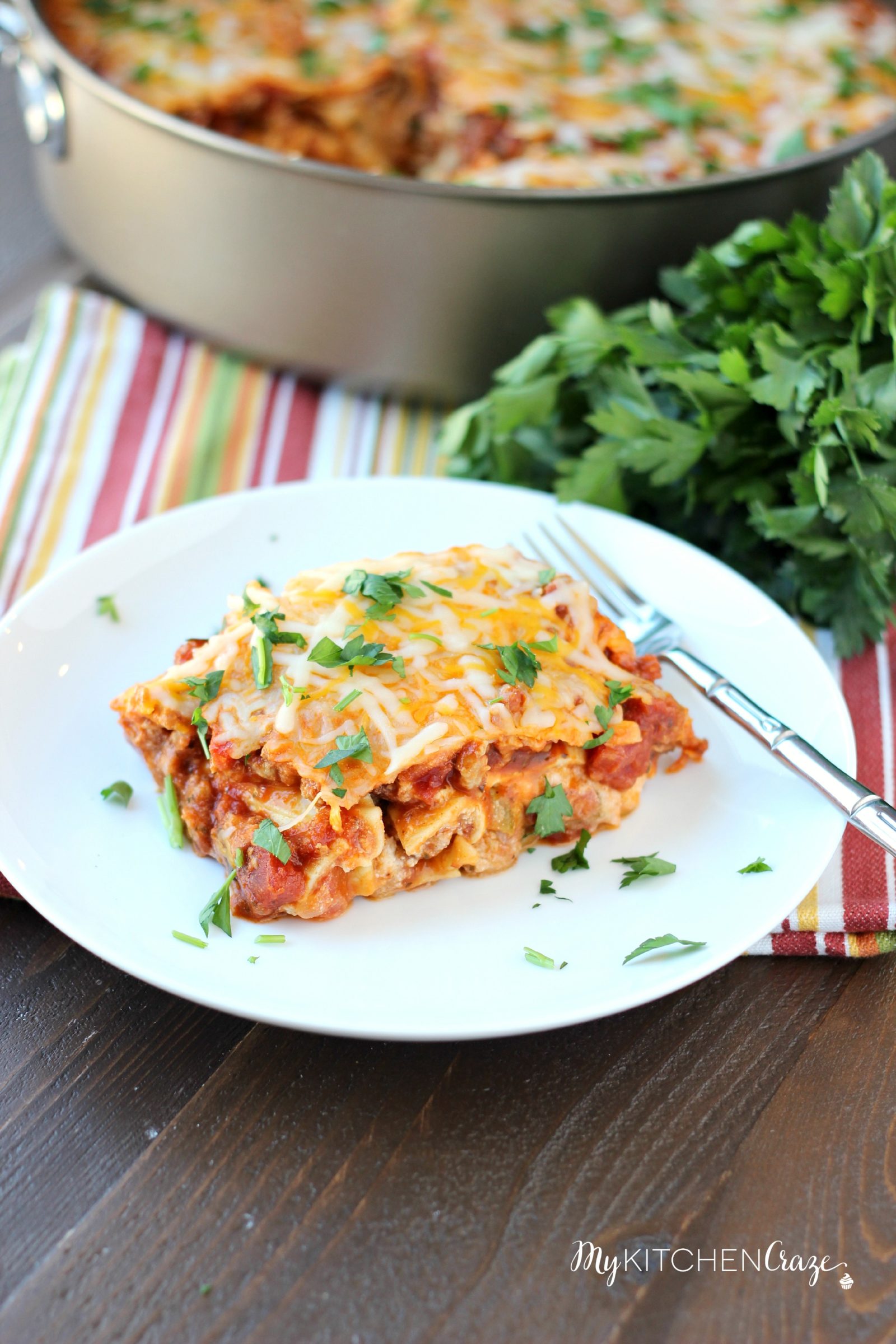 You all know that I'm all about easy and quick meals in our home and this simple skillet lasagna takes minutes to whip up.
Last week I was feeling blah so I knew this was the perfect dinner. It's been getting colder and all I want to do it bundle up. I don't know why, but when it's cold outside I just want to be lazy. It's probably a good thing I don't live in an area where it snows and rains 24/7. Could you imagine? I would be sitting on the couch all day, watching lifetime movies and drinking coffee. Nothing would get done. 😉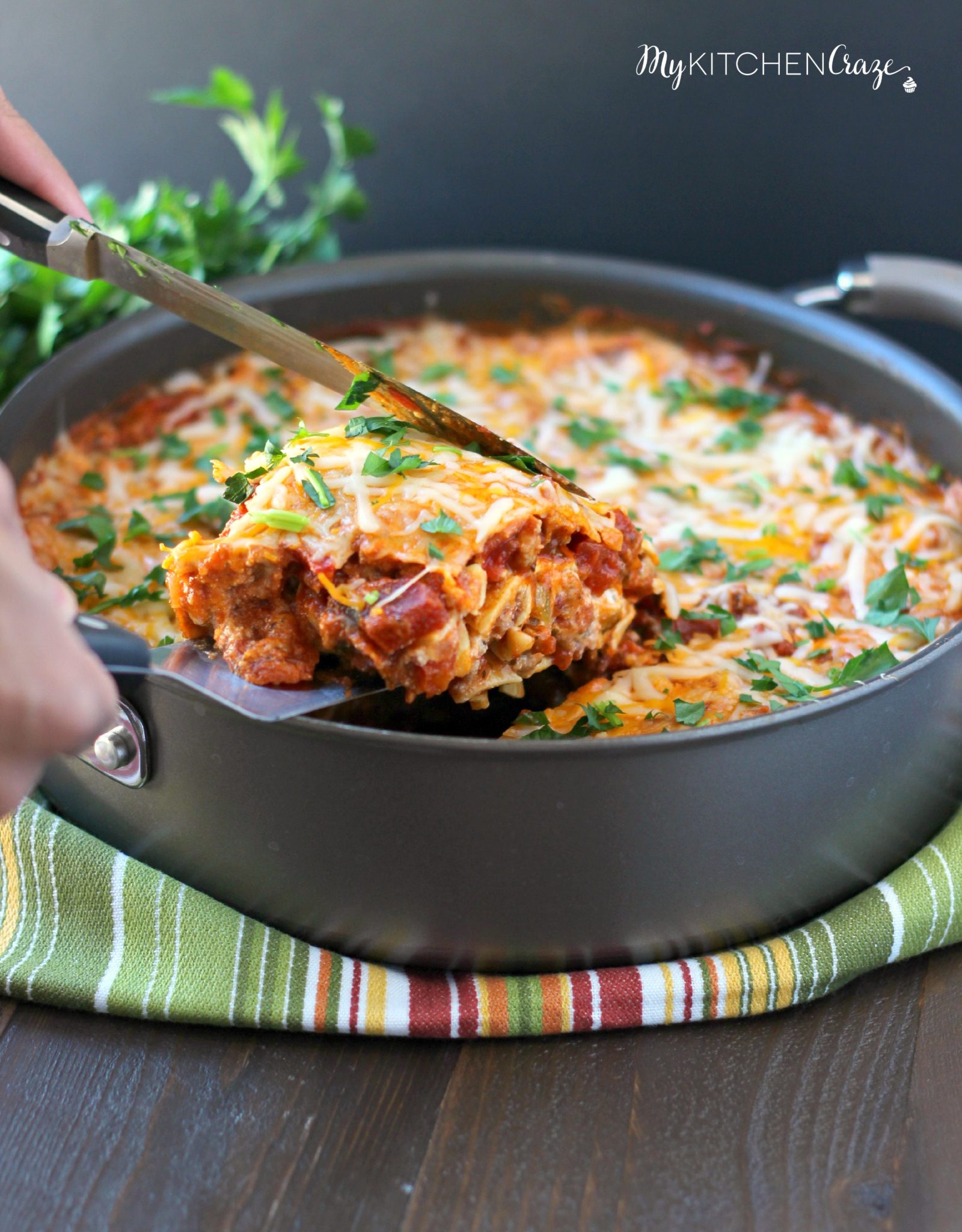 No matter if it's a busy day, or you need a pretty meal for that next potluck you need to consider this Simple Skillet Lasagna. It's rich in flavor and taste better than any store-bought lasagna, but with out the hassle. Make this for dinner and you'll be the best cook ever!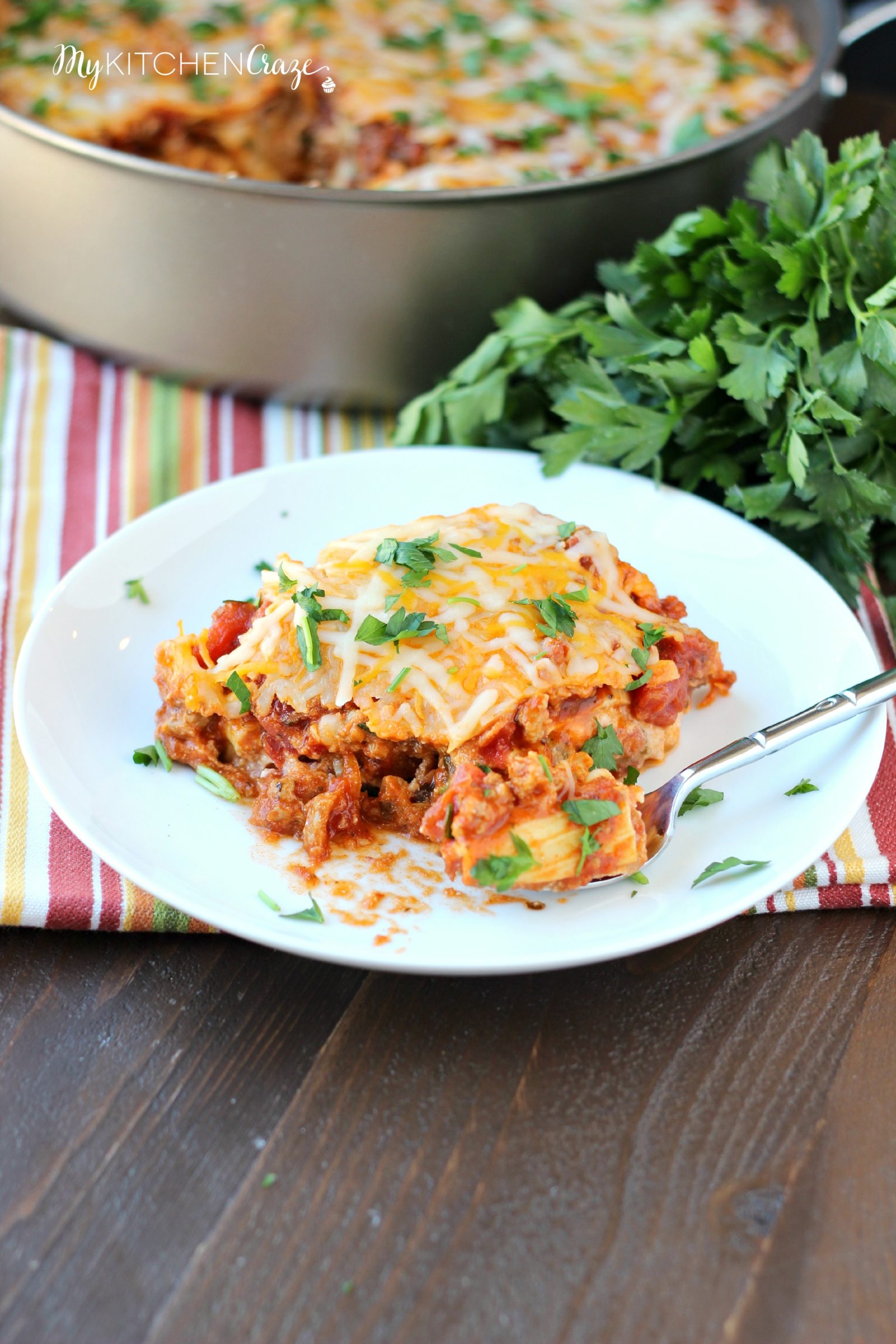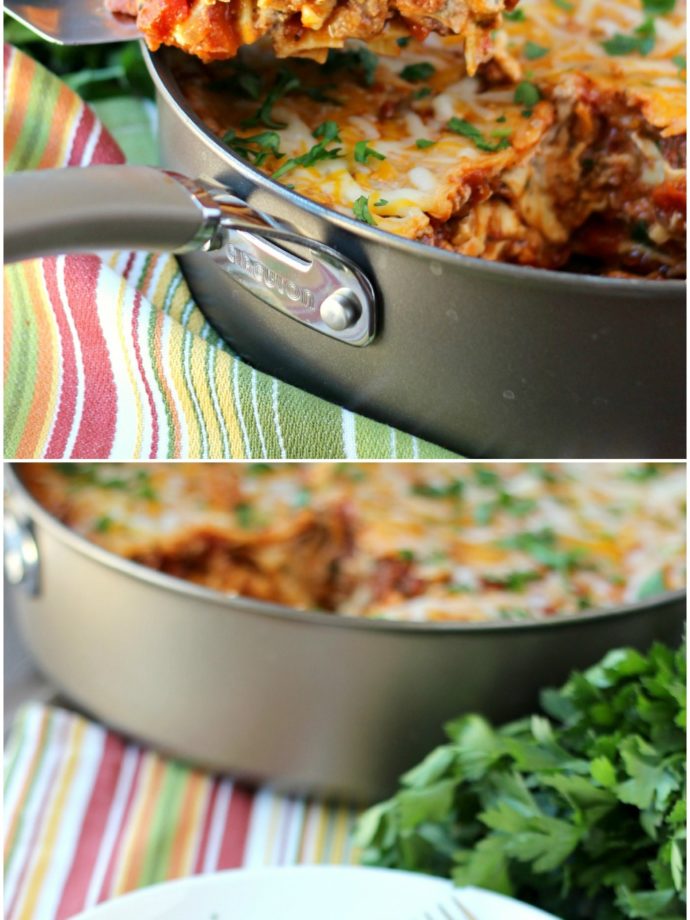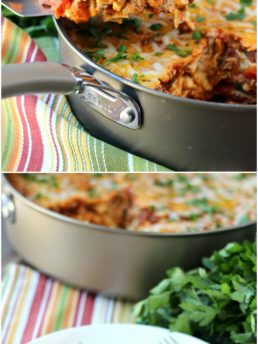 Get the Recipe:
Simple Skillet Lasagna
Ingredients
1

pound

Italian seasoned ground turkey

1

medium onion

,

chopped

2

garlic cloves

,

minced

1

14.5 ounce can diced tomatoes with basil, oregano and garlic, undrained</span>

2

14 ounce jar spaghetti sauce (you might want to buy a larger jar in case you need some extra sauce)

2/3

cups

condensed cream of celery soup

2

eggs

,

lightly beaten

14

ounce

part skim ricotta cheese

1

teaspoon

Italian seasoning

10-13

no-cook lasagna noodles

1

cup

Kraft Natural Shredded Mozzarella cheese

,

divided

1/2

cup

Kraft Natural Shredded Colby Monterey Jack cheese

garnish: Italian parsley & basil
Instructions
In a large skillet, cook turkey meat, onion and garlic over medium high heat until no longer meat. Drain meat and add to a large bowl. Stir in tomatoes and spaghetti sauce.</span>

In a medium size bowl, add the cream of celery soup, eggs, ricotta cheese, 1/2 cup mozzarella cheese and Italian seasoning. Mix well.

Using the same large skillet turn the heat on to low heat. Add in 1 cup of meat mixture and spread evenly over the bottom of the skillet. Layer with noodles, breaking them to fit. Layer with 1 cup ricotta cheese mixture, 1 1/2 cups meat sauce and noodles. Continue this process one more time ending with the noodles. Top with remaining meat sauce. If you've run low on meat sauce, this is where you can use of that extra spaghetti sauce.

Turn heat up to medium-high heat and bring to a boil. Reduce the heat and cover. Simmer for 15-17 minutes or until noodles are tender.

Remove the skillet from the heat and sprinkle with shredded cheeses. Cover and let stand 2-4 minutes or until melted. Garnish with parsley and basil.

Cut, serve & enjoy!