Salsa Chicken with Cilantro Lime Rice
Salsa Chicken with Cilantro Lime Rice is the perfect meal for those nights you don't want to think about dinner. Made within 40 minutes, this is one delicious dinner!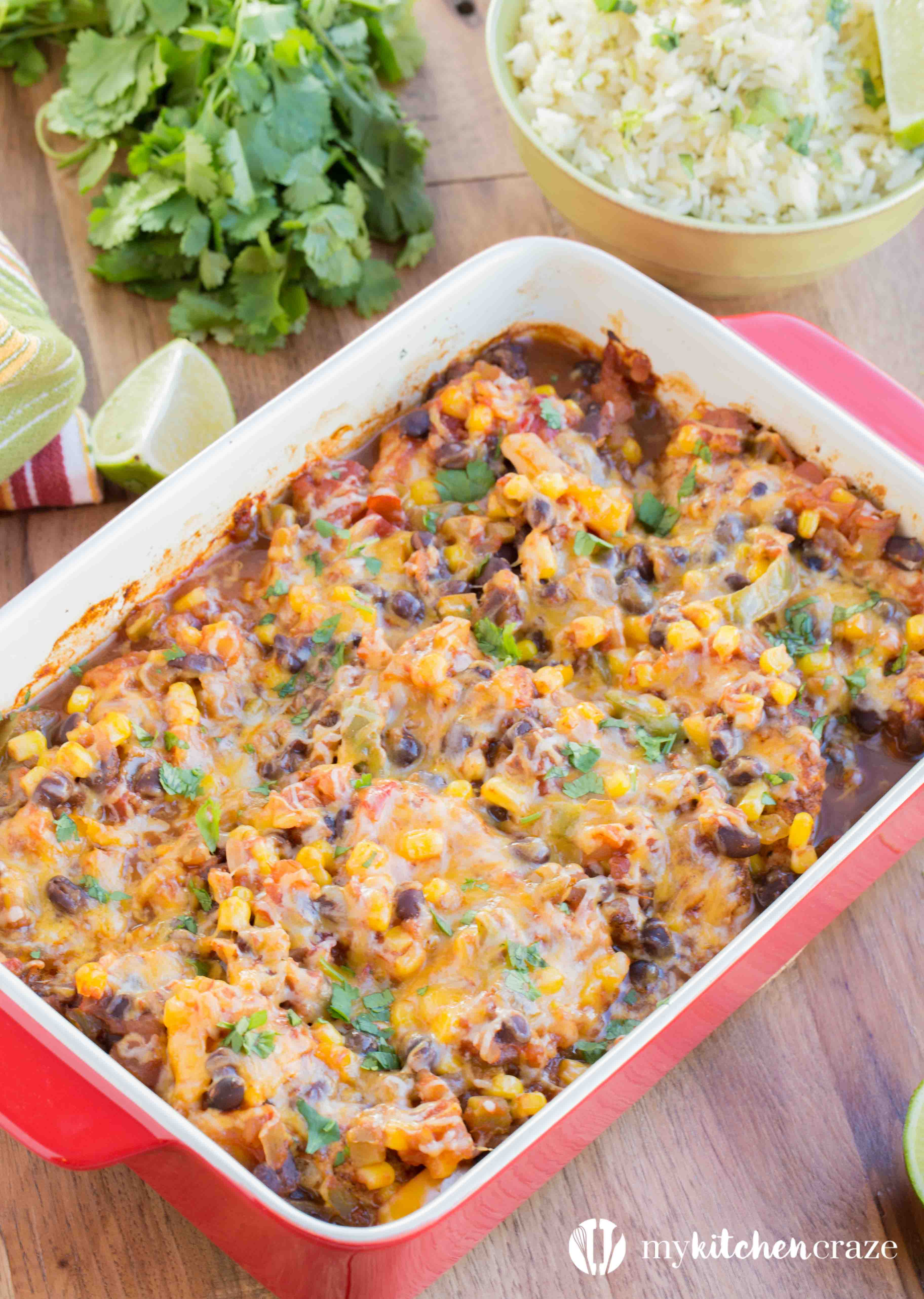 This Salsa Chicken with Lime Cilantro Rice is one of my favorite chicken dishes to make and eat lately. I think I've made it 3 or 4 times now. The family's probably getting sick of it, but not me. It's so good!! I love how easy it is to make and the fact that it comes with a side makes it my go to meal all the time. Don't you hate when you know what to make as your main entree, but have no idea what to make for a side? I know I hate that.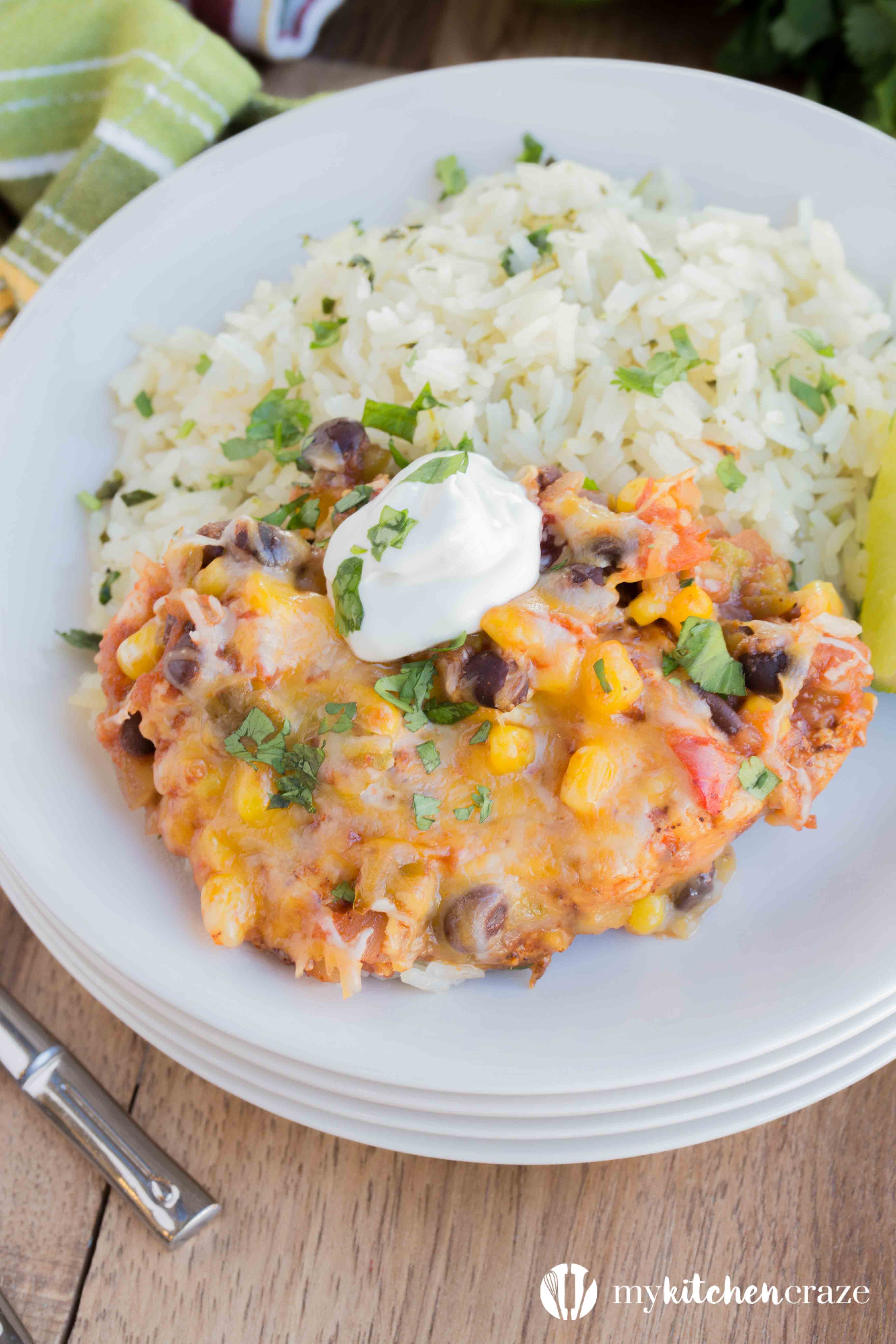 I also hate having the same side dish over and over. For instance we always have a starch and some sort of veggie. But most of the time I'll make a quick box of rice and a frozen veggie. Yes, you heard me right…boxed rice. It's just easy and no fuss and when you're a busy mom of two, you want to get something on the table for dinner fast. And that sometimes means boxed rice and frozen veggies.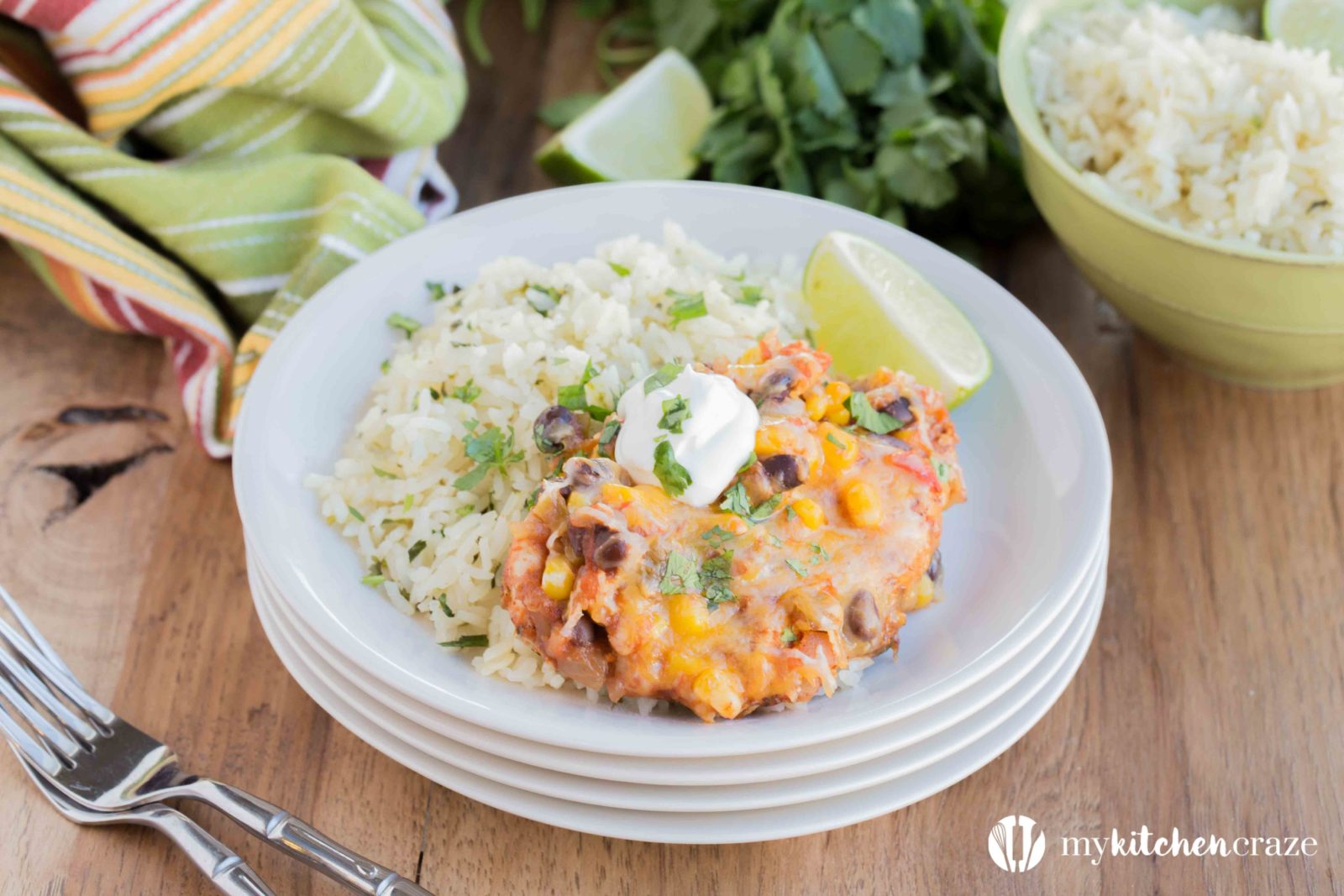 Hence why I'm in love with this recipes so much. It has all the ingredients we want in a recipe. The chicken's cooked in salsa and has corn, black beans, bell peppers and onions with it. Then you add a little cheese and man oh man you have a great protein dish. Then you make this easy no fuss rice.
I always thought rice was to complicated to make, but I was wrong. It's actually very easy and once you know the system you'll want to make it all time. This rice is a cilantro lime rice and it's so tasty. It goes perfectly with the chicken and makes for a perfect dinner recipe.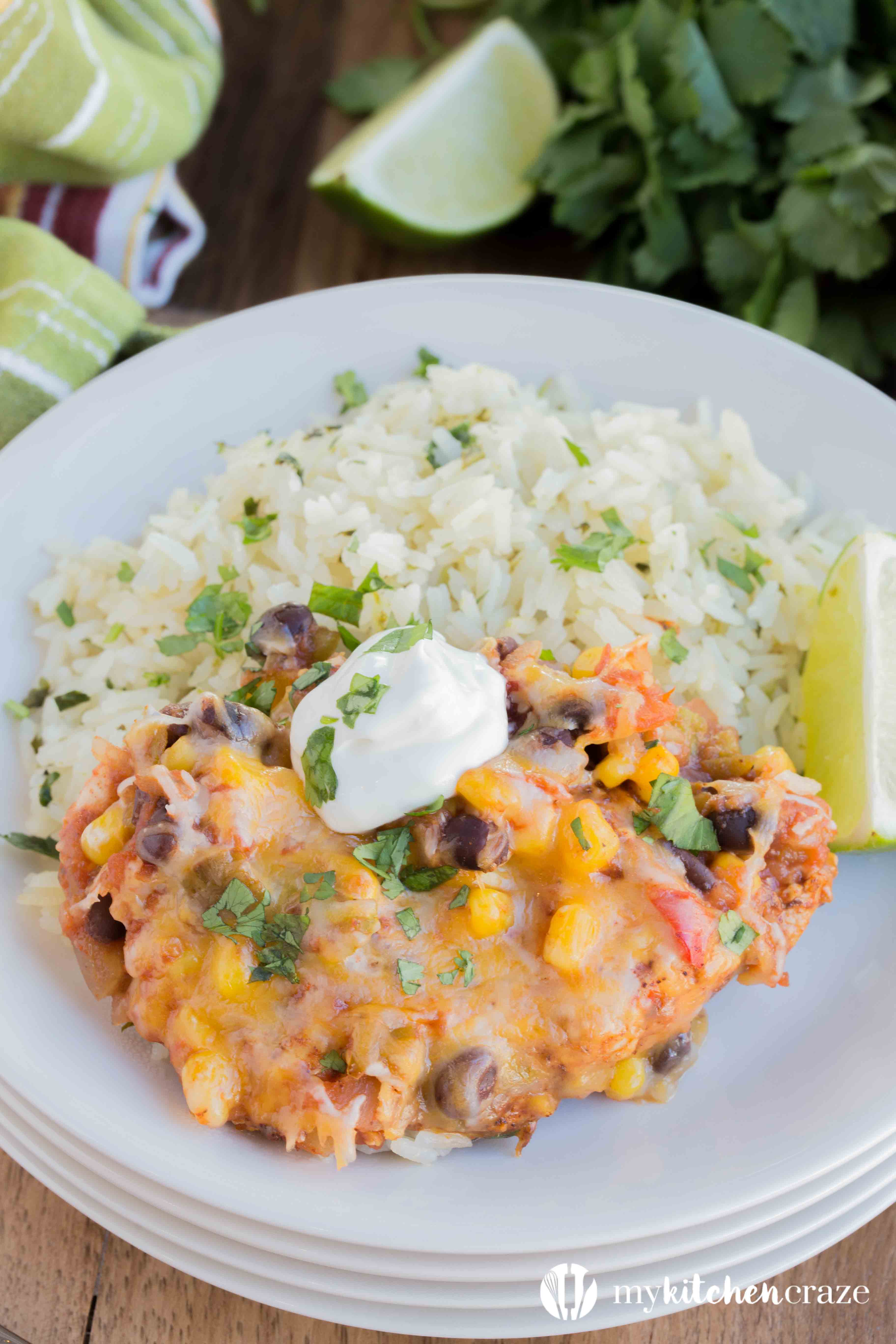 I really wanted to make this a 30 minute meal, but the chicken takes a while to cook, so there was no way that was happening. But you can have this done and on your table within 40 minutes (if your chicken is cooked through). And everyone will love it.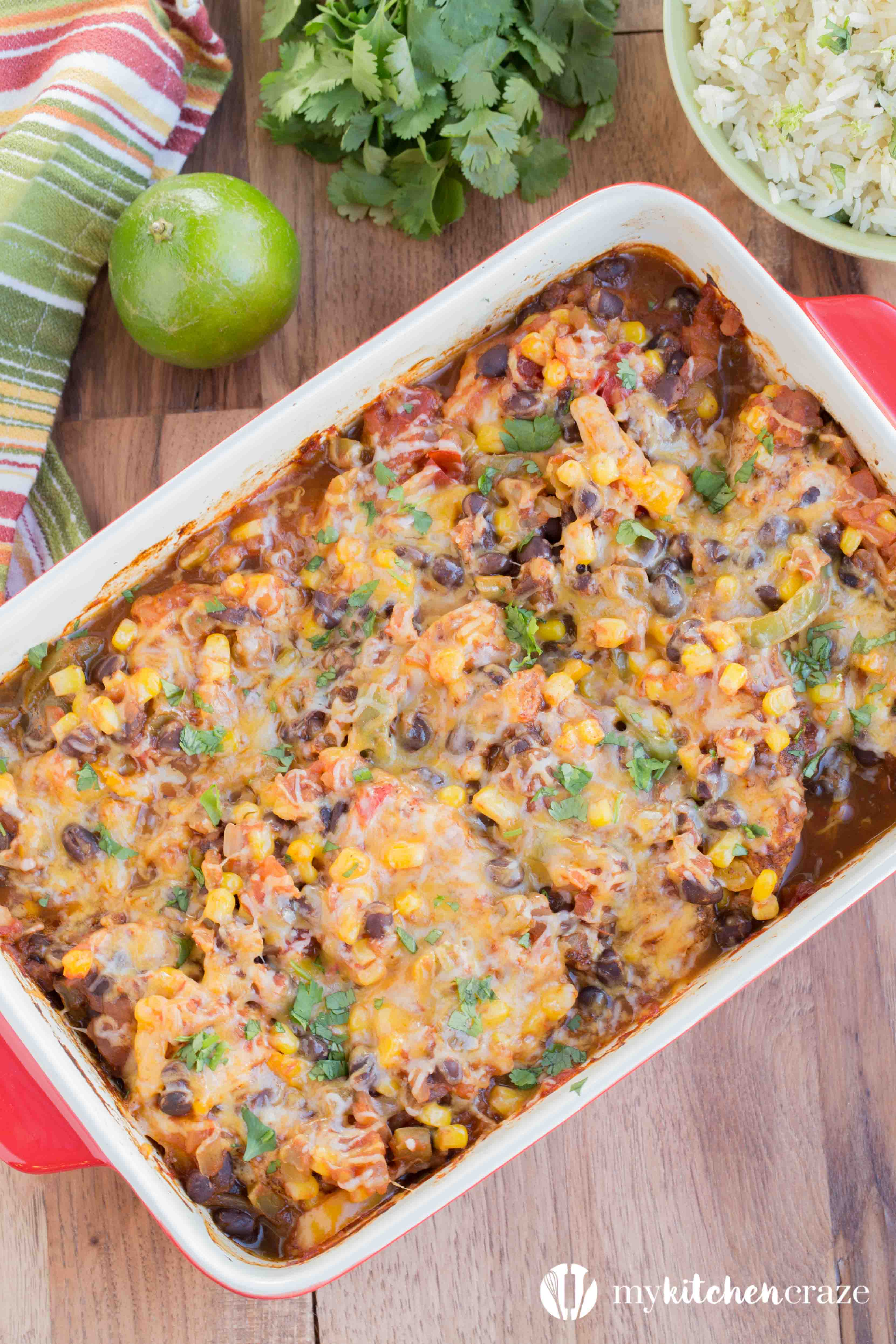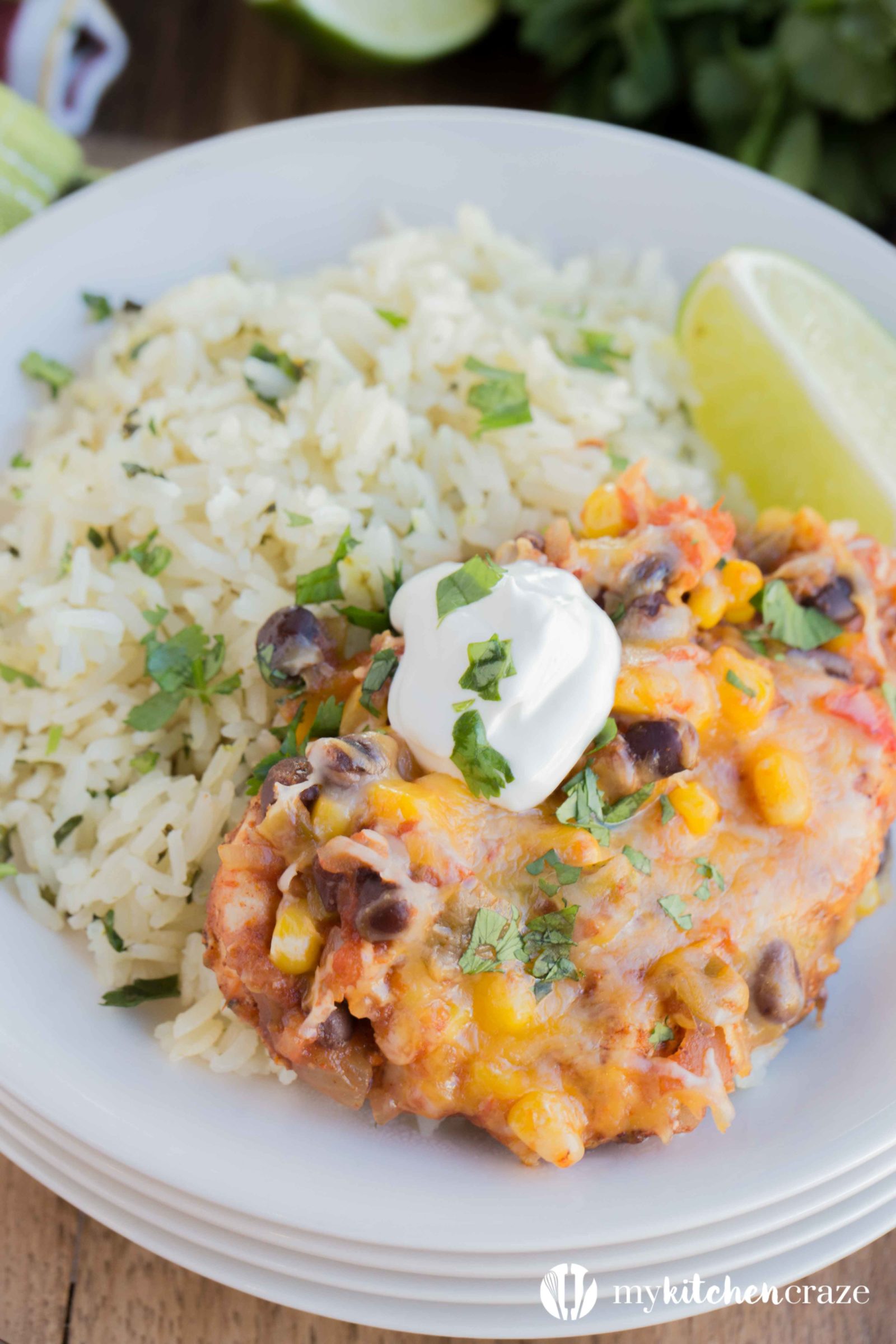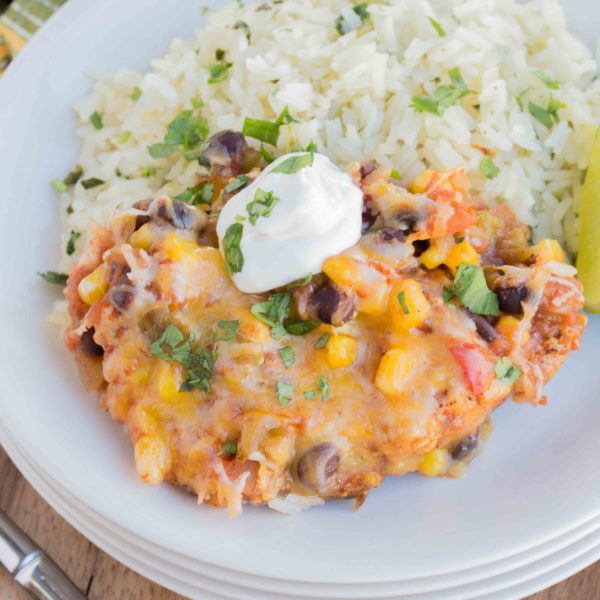 Get the Recipe:
Salsa Chicken with Cilantro Lime Rice
Ingredients
Salsa Chicken:
4

chicken breasts sliced thinly or chicken tenders

4

teaspoons

taco seasoning

1 1/2

cups

salsa

3/4

cup

cups corn

3/4

cup

canned black beans

,

rinsed

1/2

cup

frozen bell pepper mix

1

cup

Mexican shredded cheese
Cilantro Lime Rice: 
1

cup

rice

1 1/2

cups

chicken broth

2

teaspoon

minced garlic

1

teaspoon

olive oil

1-2

teaspoon

salt

1

tablespoon

lime

,

juiced and zest

1/4

cup

cilantro

Garnish: avocado

,

sour cream, cilantro
Instructions
Preheat oven to 375 degrees. Lightly spray a 9x13 baking pan with non stick cooking spray; set aside.

Place chicken in baking dish. Sprinkle with taco seasoning. Add the corn, black beans and bell pepper/onion mix over chicken.

Pour salsa on top.

Bake 25-30 minutes, or until chicken is cooked through. Sprinkle cheese evenly over cooked chicken and bake for another 3 minutes.

While the chicken is in the oven, begin making the rice.

Place rice, chicken broth, garlic, olive oil and salt in a medium sauce pan. Bring to a boil. Once boiling, reduce heat to a simmer, cover and cook 15-20 minutes, or until rice is tender and water is absorbed.

Add in lime juice, zest and cilantro. Lightly fluff with a fork.

Place cooked chicken over rice and garnish with additional toppings if desired. Serve & Enjoy!