Monster Cookie Bars
Are you like me and need a sweet snack mid day? These Monster Cookie Bars are the perfect afternoon snack. Gooey, chocolatey, peanut buttery and just scrumptious. Your gonna love them!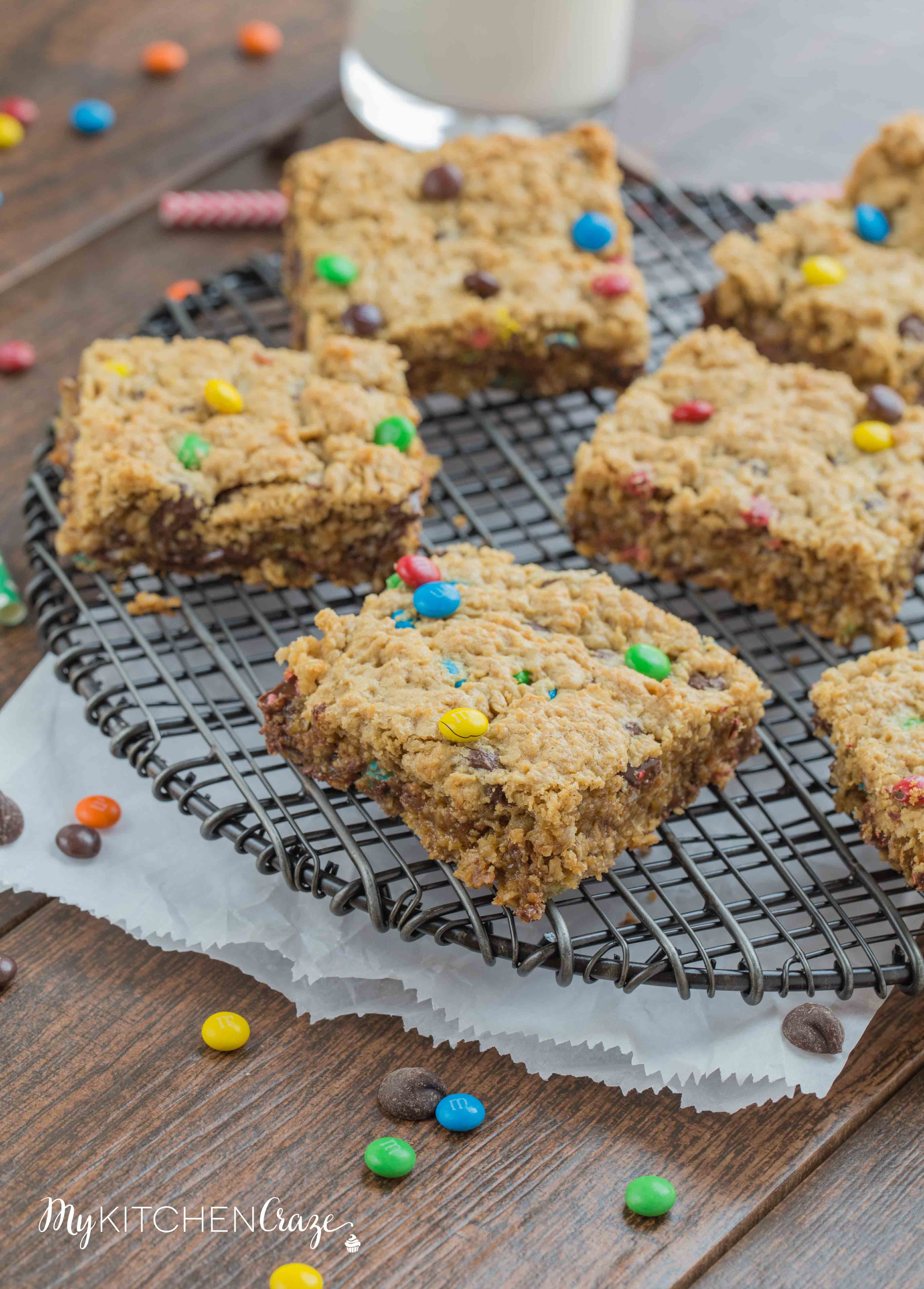 Are you like me and crave sweets sometimes? Okay, it's not sometimes, it's all the time. Every day around 3pm I need something sweet. Like a cookie or brownie. Just something to snack on. I'm a total sweet snacker. I just need that little pick me up or I won't be able to get through the rest of the day.
Let me tell you, this whole mom thing can be very overwhelming at times. My day doesn't really start until 2:30 in the afternoon. The reason I say that is because once I pick up the kids from school it's go go go. We have either soccer, gymnastics or swim lessons. And after that, I normally have to go to the store, make dinner, finish up on that blog post I was working on before I left and then try to catch a movie with the family, if we have a few seconds.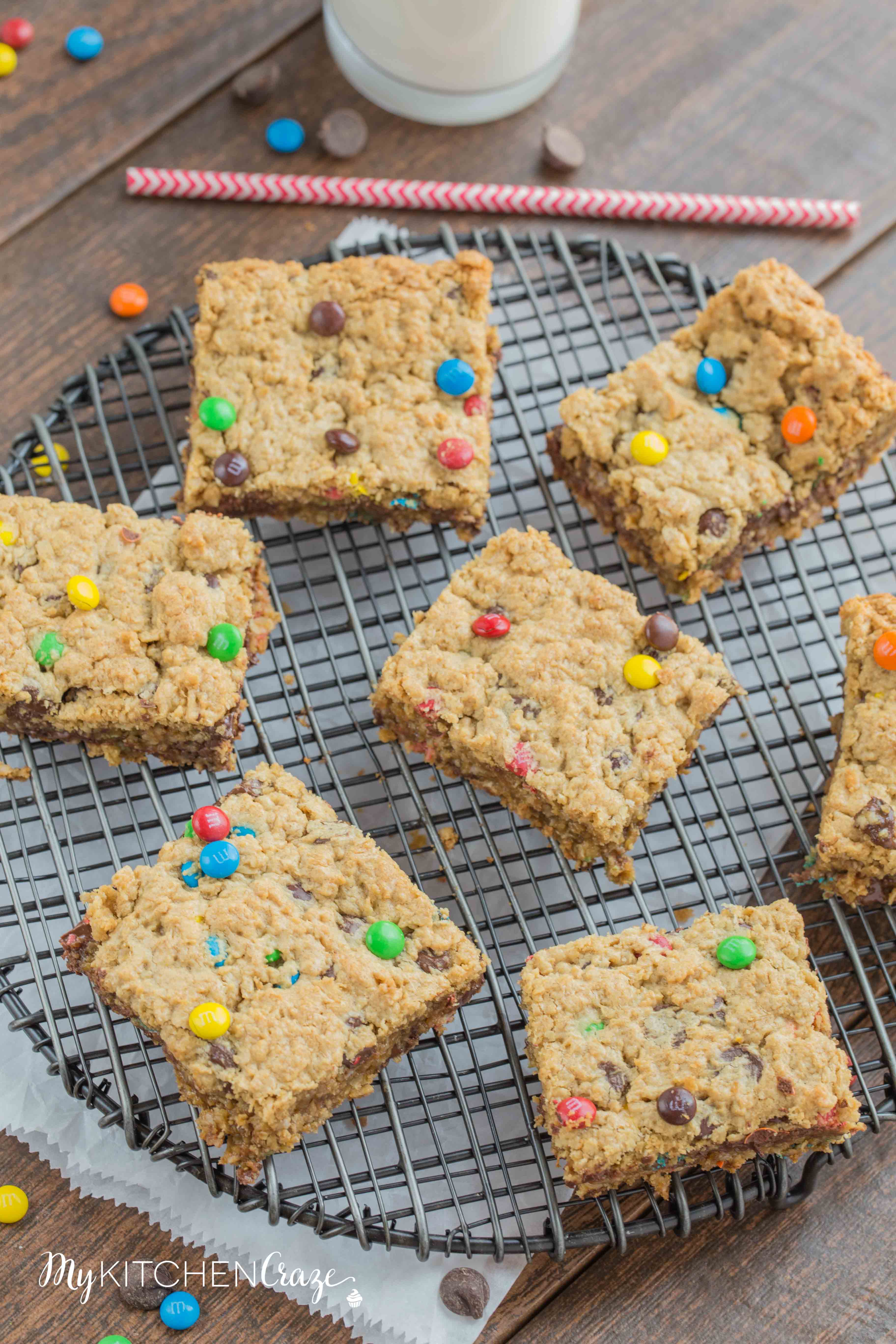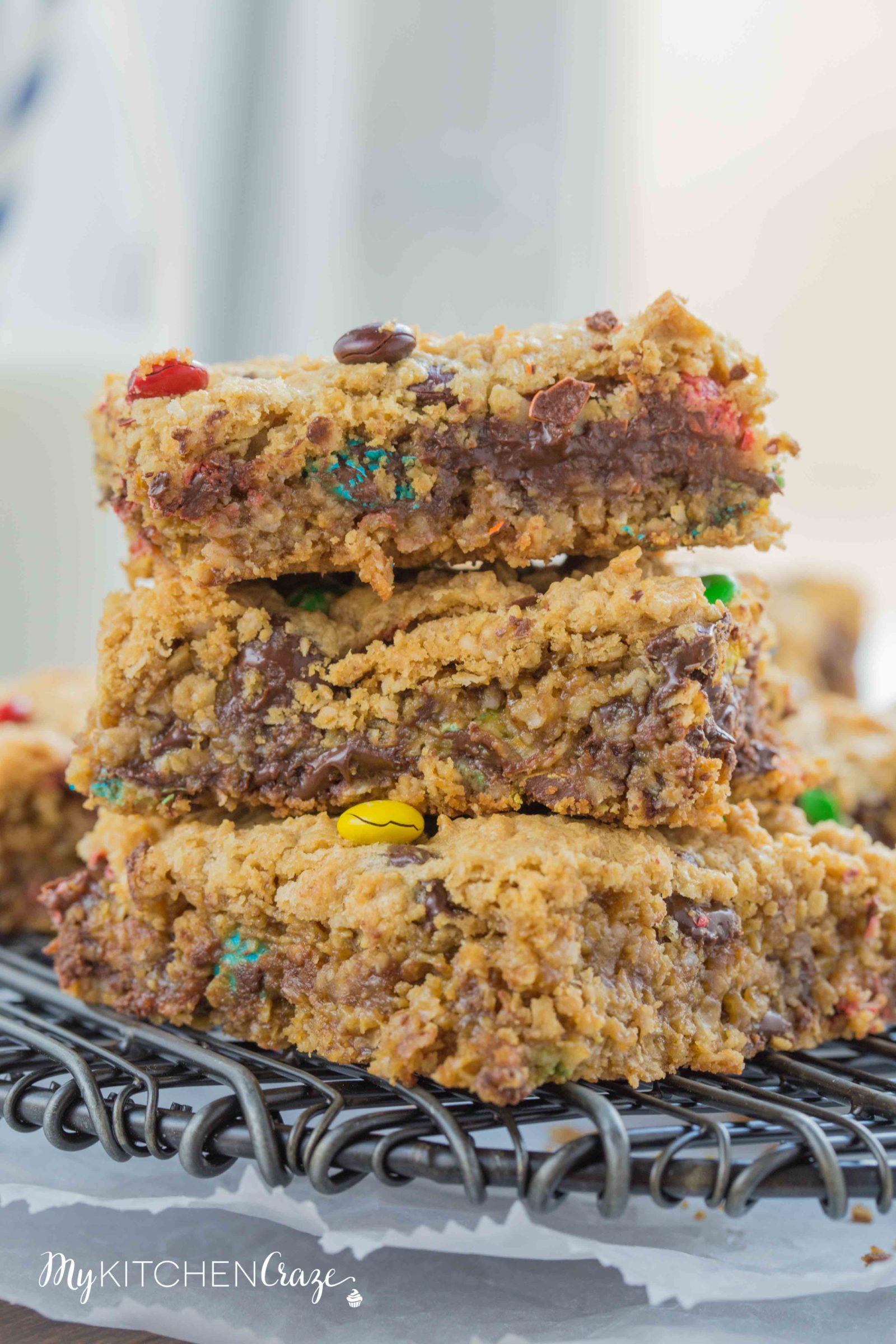 I always thought that once the kids got older, life would be slower. Let me tell you that is not how it goes. Life gets busier because the kids get more involved in after school activities. It's crazy.
So imagine this, it's 11:00am and you know you have 3 1/2 hours until you have to get go get the kids. I'm already imagining what my 3:00 snack is going to be. I'm envisioning some sort of cookies, but in a bar form because they are easy to grab and go. That's when I remember I have a recipe for these Monster Cookie Bars that I've been wanting to try for some time.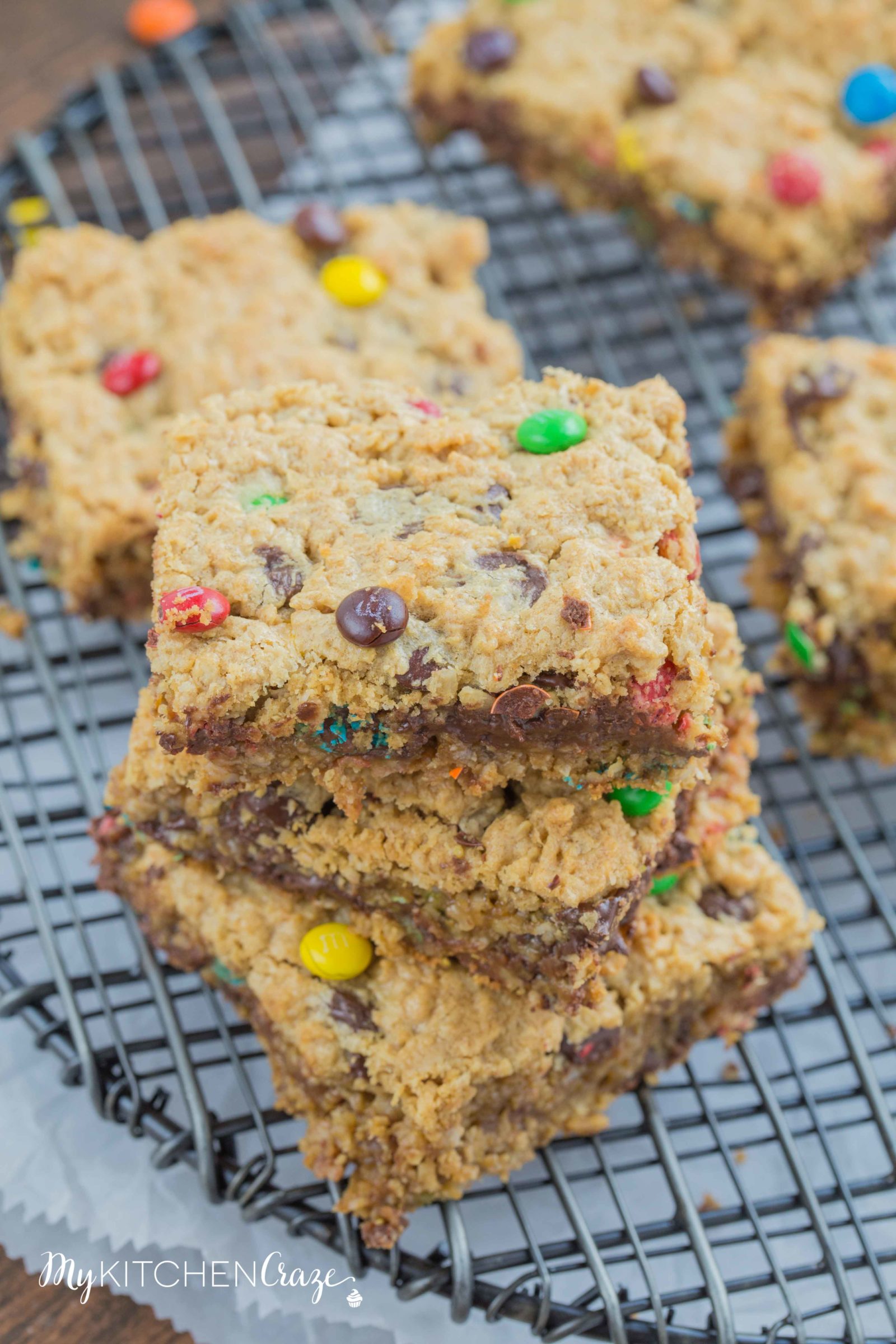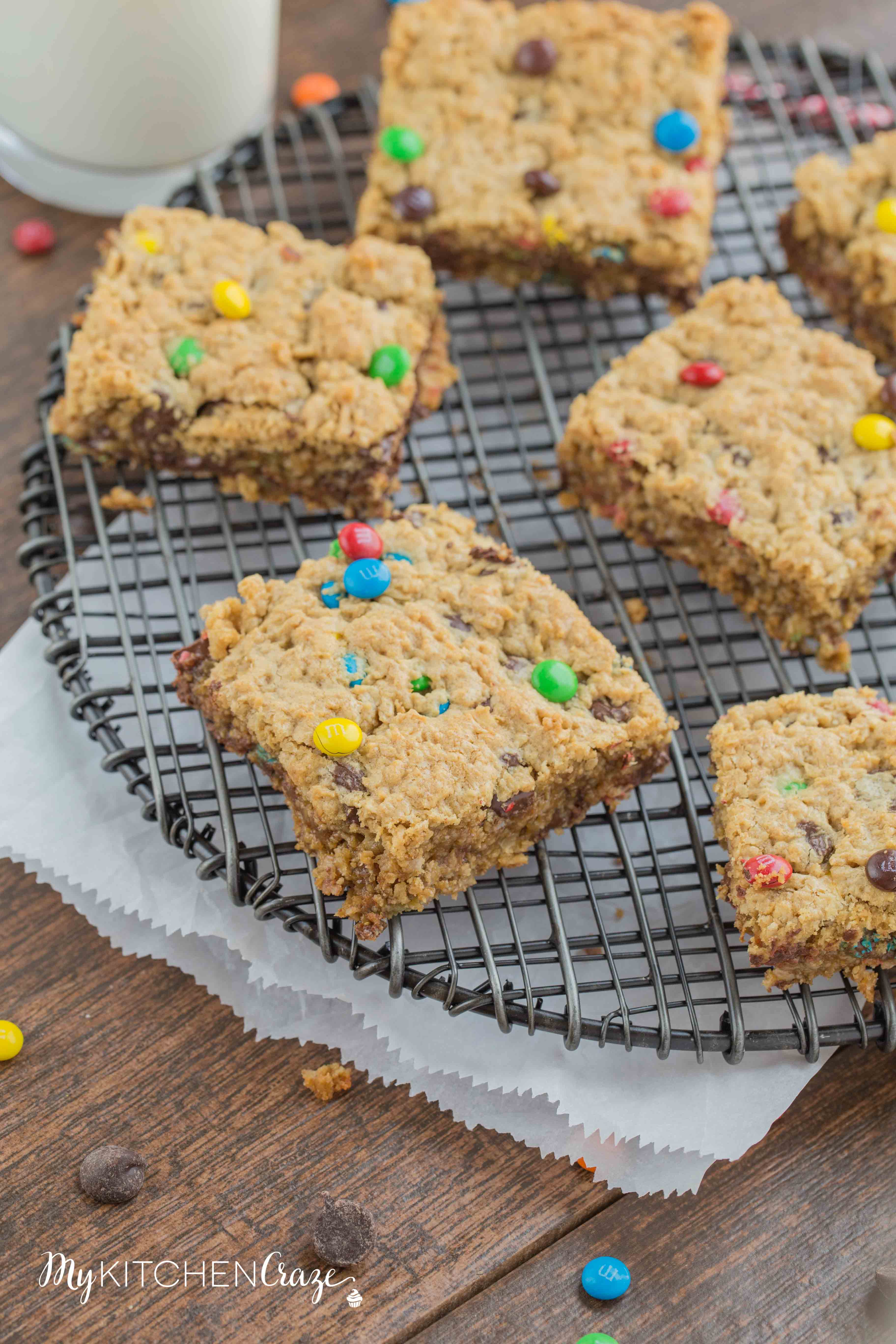 I was on a mission to make these bars, so I could eat them while I wait in the car for the kids. I kept thinking that I could have my afternoon snack while I was waiting. Then I wouldn't have to share. Hehe. Did you know when your kids get older that you'll have to share everything you eat? You aways, I mean ALWAYS have to share your snacks, dessert and drinks with your kids. You could tell them no, but then you get this adorable pitiful face and can't resist.  So I was super excited to make and eat these before the kids got in the car. Boy, oh boy, they did not disappoint.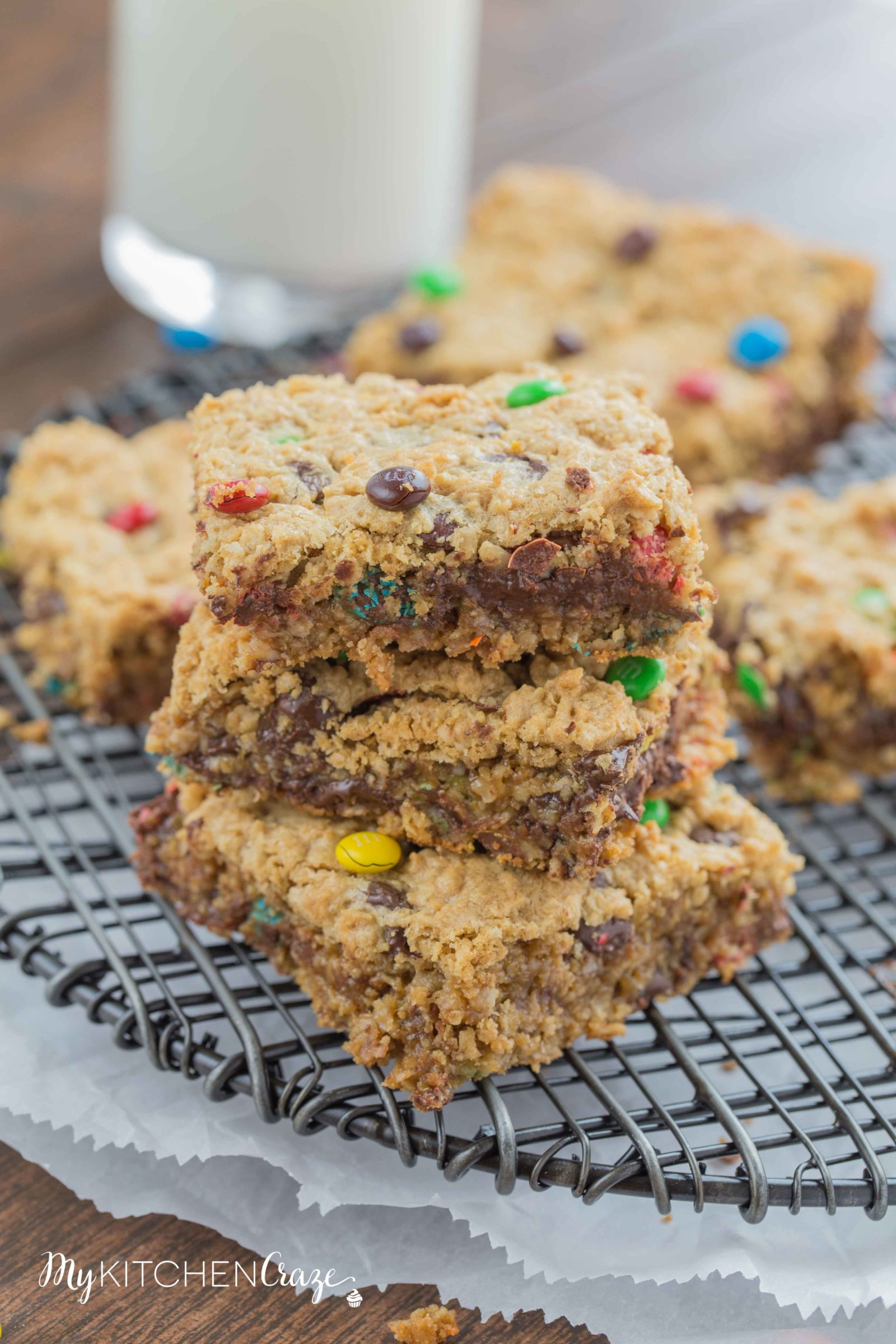 These Monster Cookie Bars were the perfect sweet afternoon snack. They had the perfect combination of M&M's, peanut butter, oatmeal and chocolate chips. They were gooey and oozing with chocolate chips and the m&m's added that double chocolate factor. Yumm! They're delicious! Give them a try for your afternoon snack or your nightly dessert. You will be glad you did!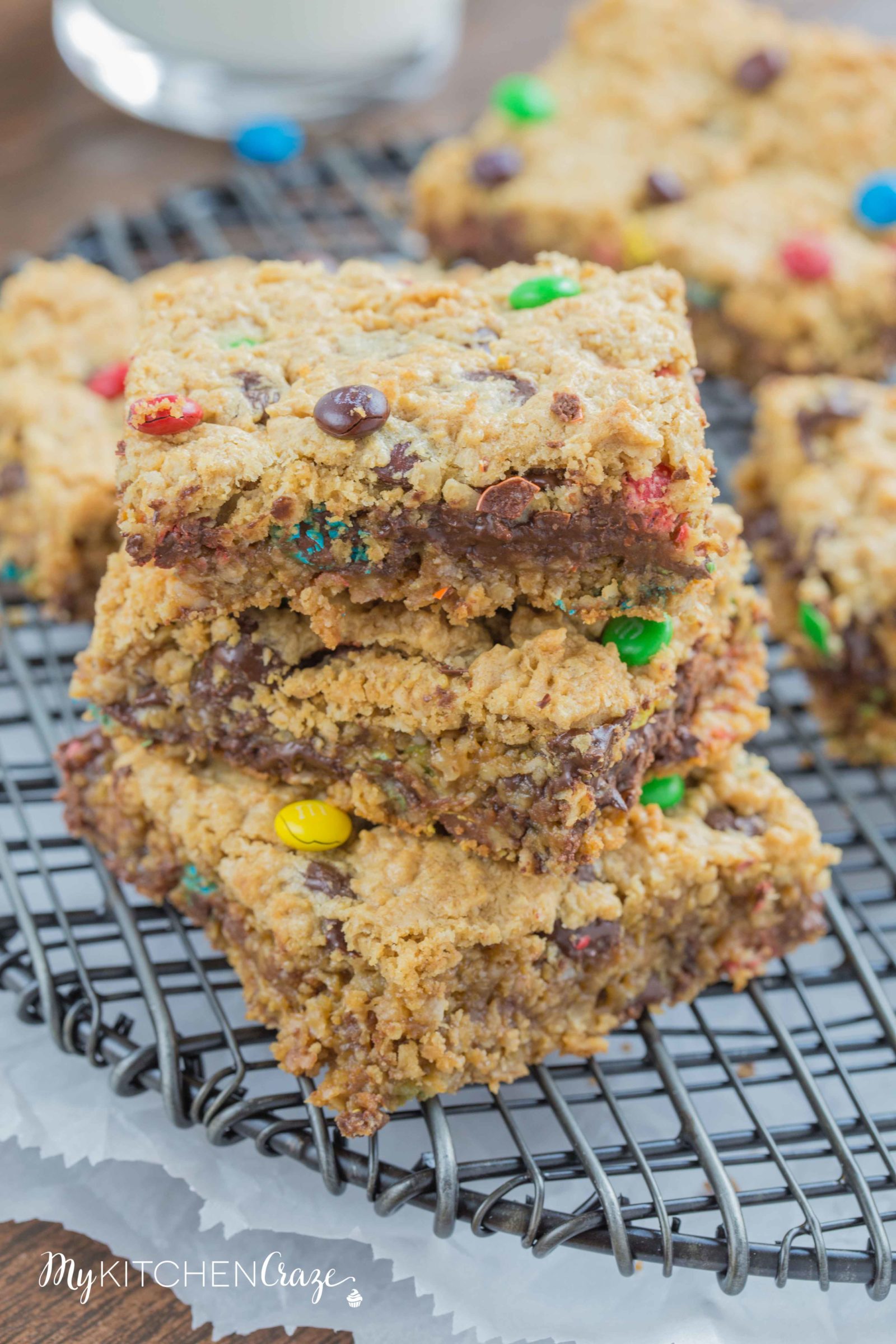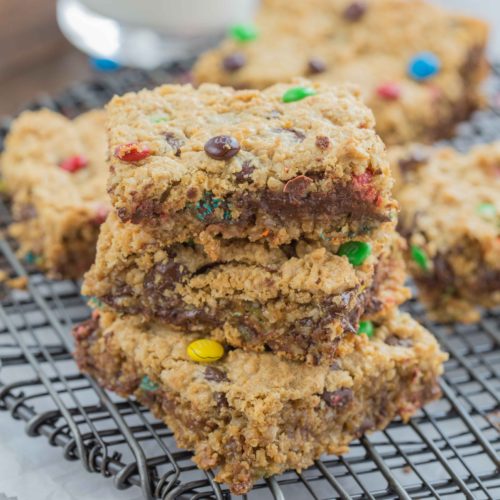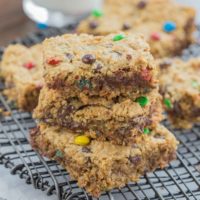 Get the Recipe:
Monster Cookie Bars
Ingredients
2/3

cup

granulated sugar

2/3

cup

brown sugar

,

packed

2

large eggs

1/4

teaspoon

salt

1

teaspoon

vanilla extract

1

cup

creamy peanut butter

1/3

cup

butter

,

softened to room temperature

1

cup

chocolate chips

1

teaspoon

baking soda

3

cups

quick oats

3/4

cup

M&M's
Instructions
Preheat oven to 350 degrees F. Grease an 9x13 baking dish with cooking spray; set aside.

In a large mixing bowl or stand mixer, mix the granulated sugar, brown sugar and eggs together, until combined. Add the salt, vanilla, peanut butter, and butter. Mix until creamy and combined. Mix in the baking soda and oatmeal. Stir in chocolate chips; mix well.

Place batter in the baking dish and spread into an even layer. Sprinkle the M&M's all over the top, then press down slightly, pushing them into the dough a little.

Bake 20-25 minutes until the edges are a golden brown and dough is set.

Place the pan on the stove and let the bars cool completely, then slice and serve.