Mini Chocolate Bundt Cakes
Mini Chocolate Bundt Cakes are perfect for a special celebration or any special occasion. These bundt cakes are a delicious fudge-y cake, topped with a vanilla glaze and a raspberry. Grab a glass of milk cause you'll be grabbing more than one bundt cake.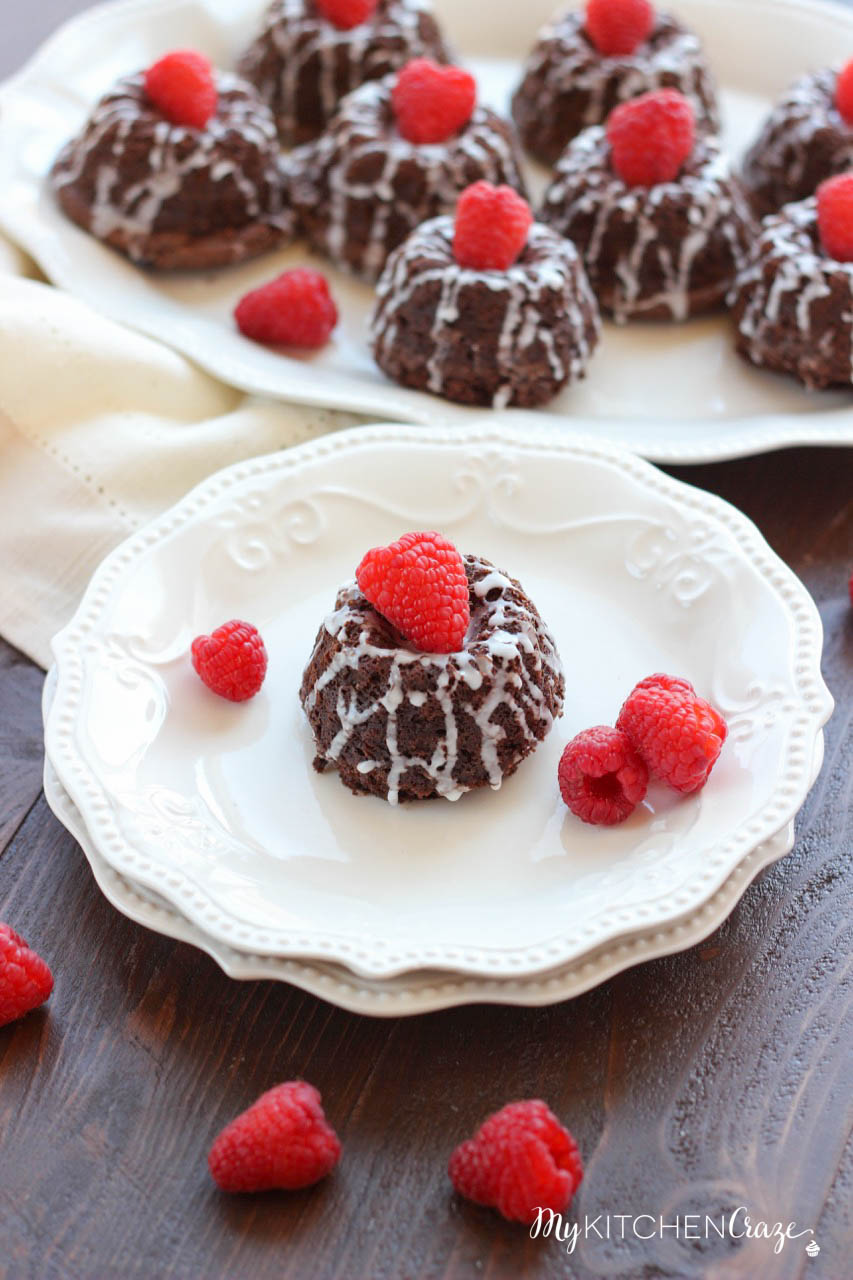 Attention chocolate lovers!! Get ready to be wowed. These Mini Chocolate Bundt Cakes are so good that you'll be in chocolate heaven.
Have you ever eaten Kentucky Fried Chickens chocolate cake? If you have then you know how addicting it is. That's what these bundt cakes taste like, but better. But if you've never eaten KFC cake, then I highly suggest you try these bundt cakes. Like right now! 🙂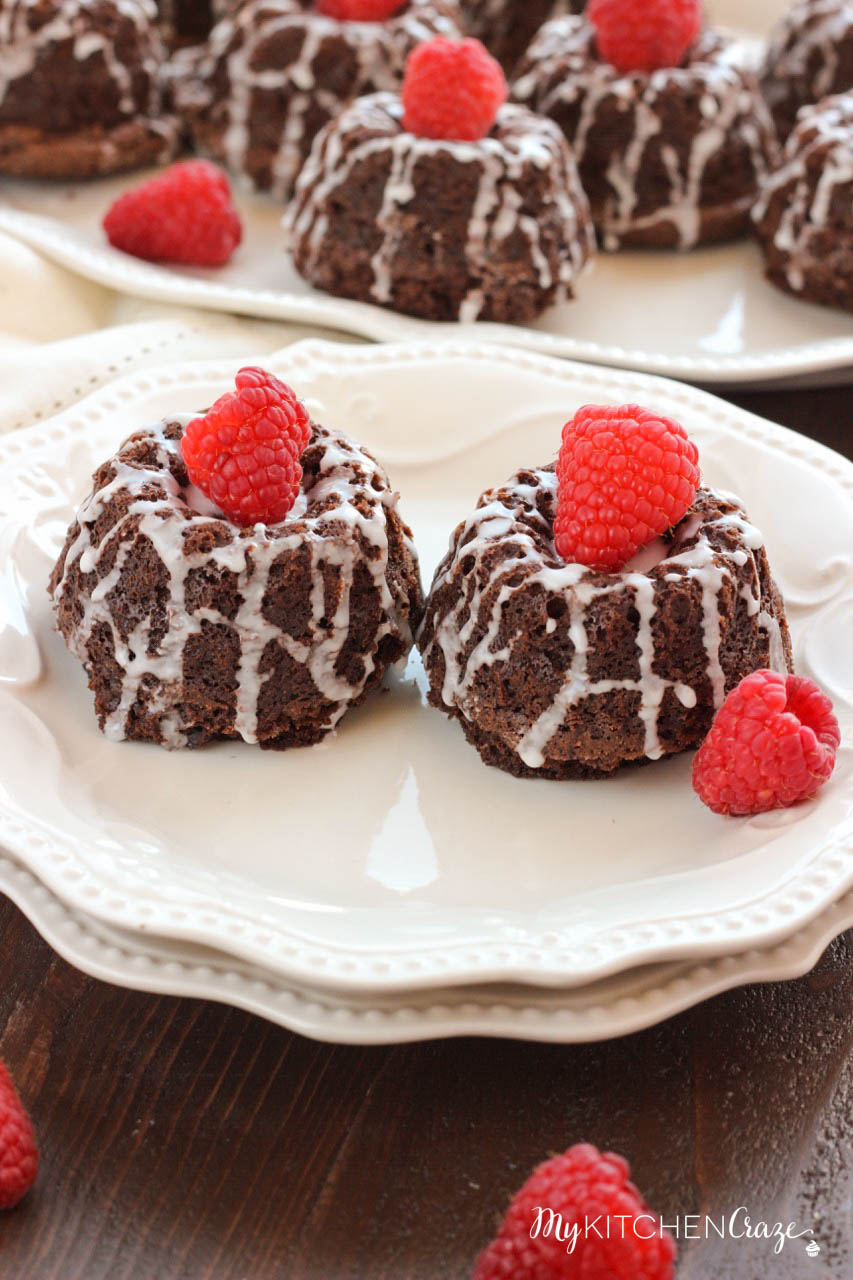 Not only are these cakes delicious, but aren't they super cute too? Everything is cuter when it's mini. Don't you agree? When ever I'm throwing a party or having some guests over, I like to have finger foods on hand. I like people to grab and go. No one wants to sit down for 20 minutes so they can eat. You want to mingle and gossip. That's what you do at parties. Plus it makes cleaning much easier.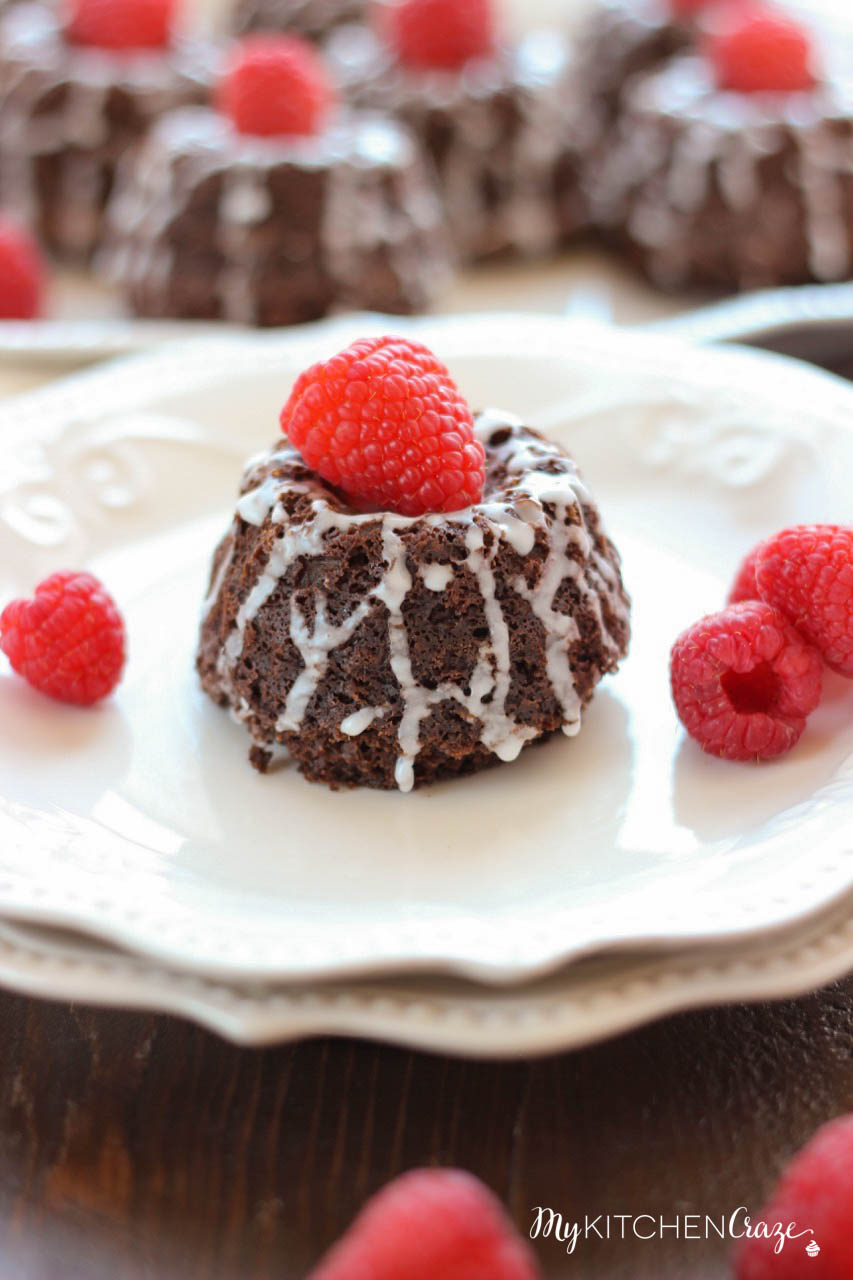 Enough chatting about bundt cakes. Today's a special day on the blog. My food blogger friends and I are throwing a virtual baby shower for not one, but three awesome ladies. SURPRISE!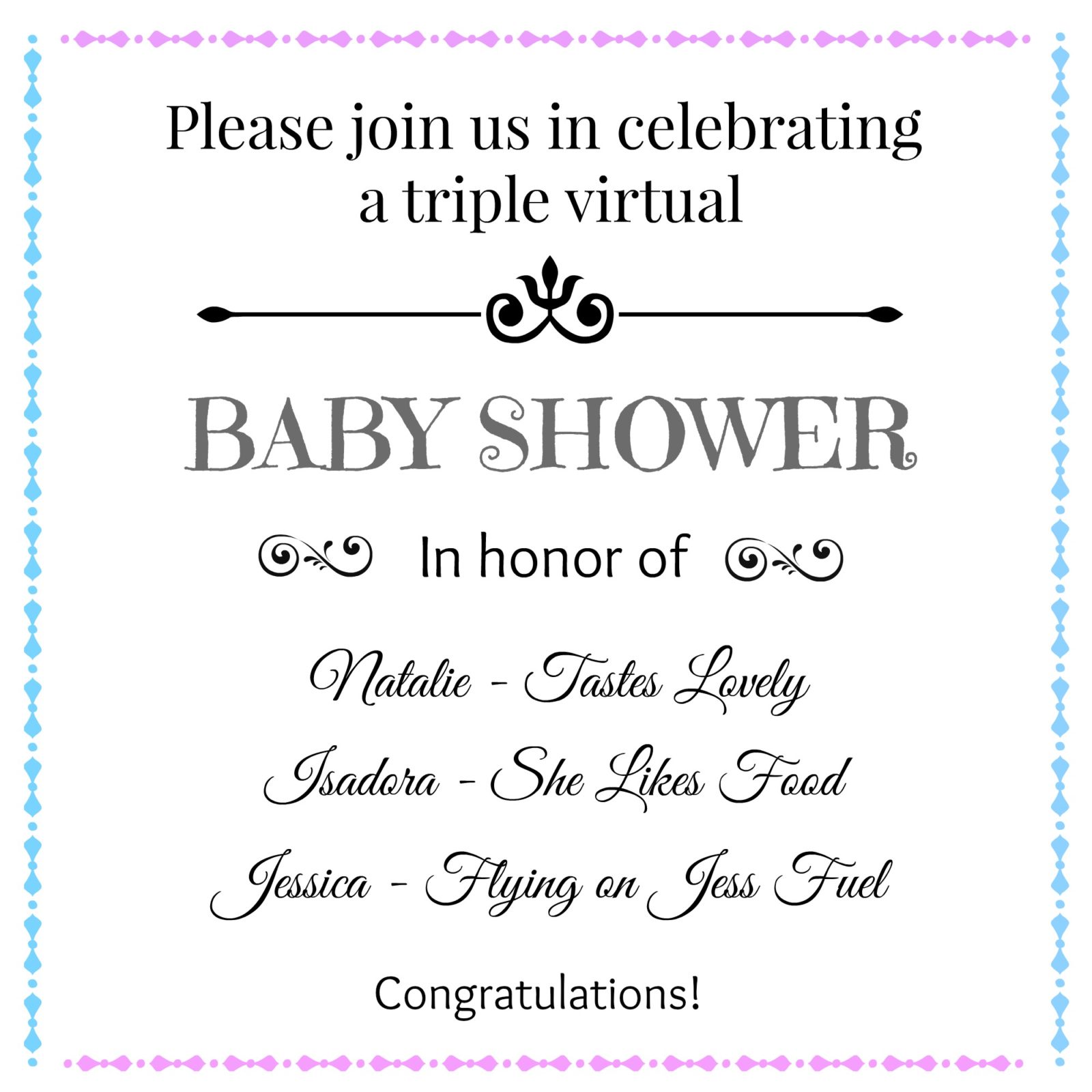 Natalie from Tastes Lovely had a baby boy about three months ago and he is the cutest ever. Natalie is super talented and has help me with countless blogging questions. Isadora from She Likes Food is having a baby boy too and I couldn't be more excited for her. She's always so sweet and helpful when ever I need help. Jessica from Flying on Jess Fuel is having a baby girl in only a few months. I secretly hope to be like Jessica one day. She's always running and do some sort of 5k. Let's just say she's my running idol.
All three of these girls are amazing! They're not only talented food bloggers, but friends. Having a baby is such a blessing and I couldn't be happier for them. Cheers ladies and here's to many family fun filled years.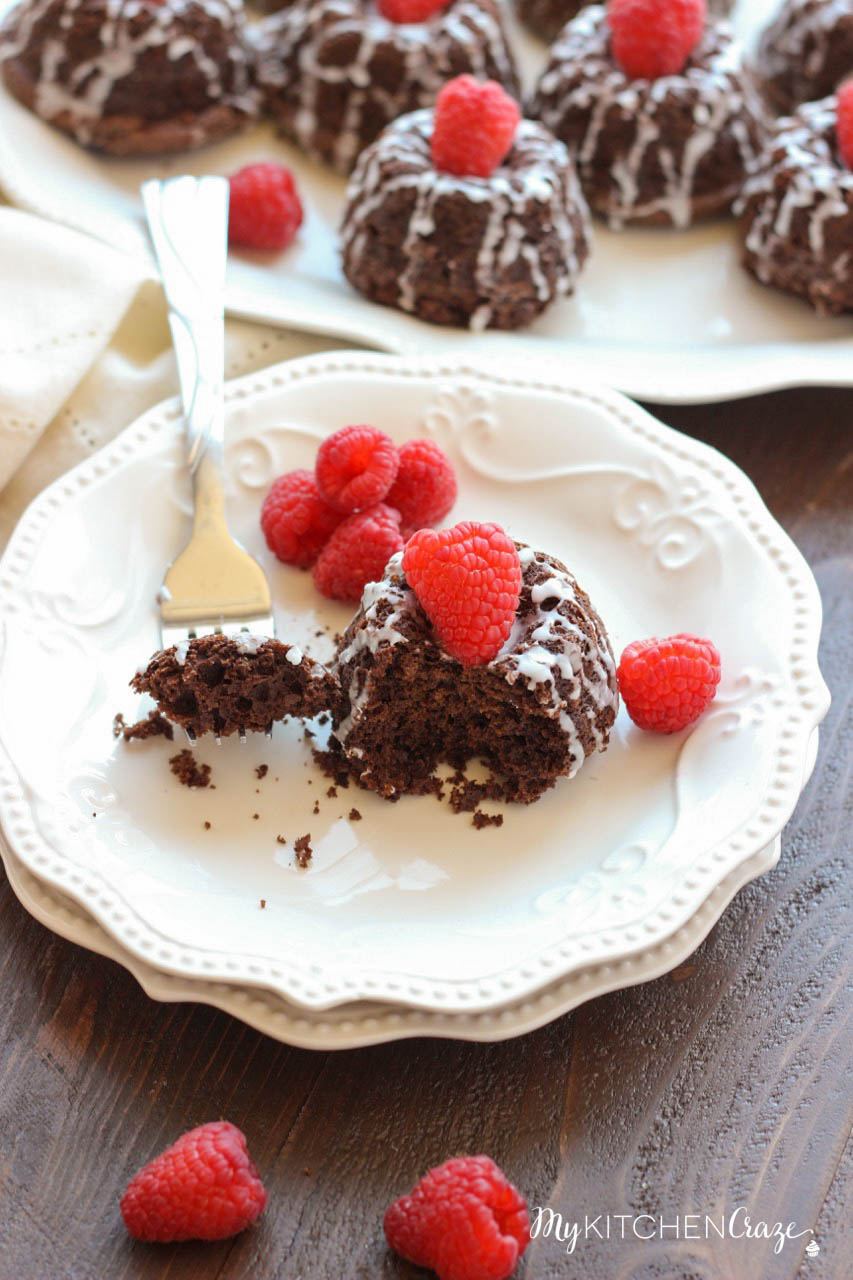 No matter what you're celebrating, these Mini Chocolate Bundt Cakes need to be on your menu! This fudge-y, Mini Chocolate Bundt Cake Recipe is the ultimate chocolate treat. Moist and delicious cakes that everyone will love!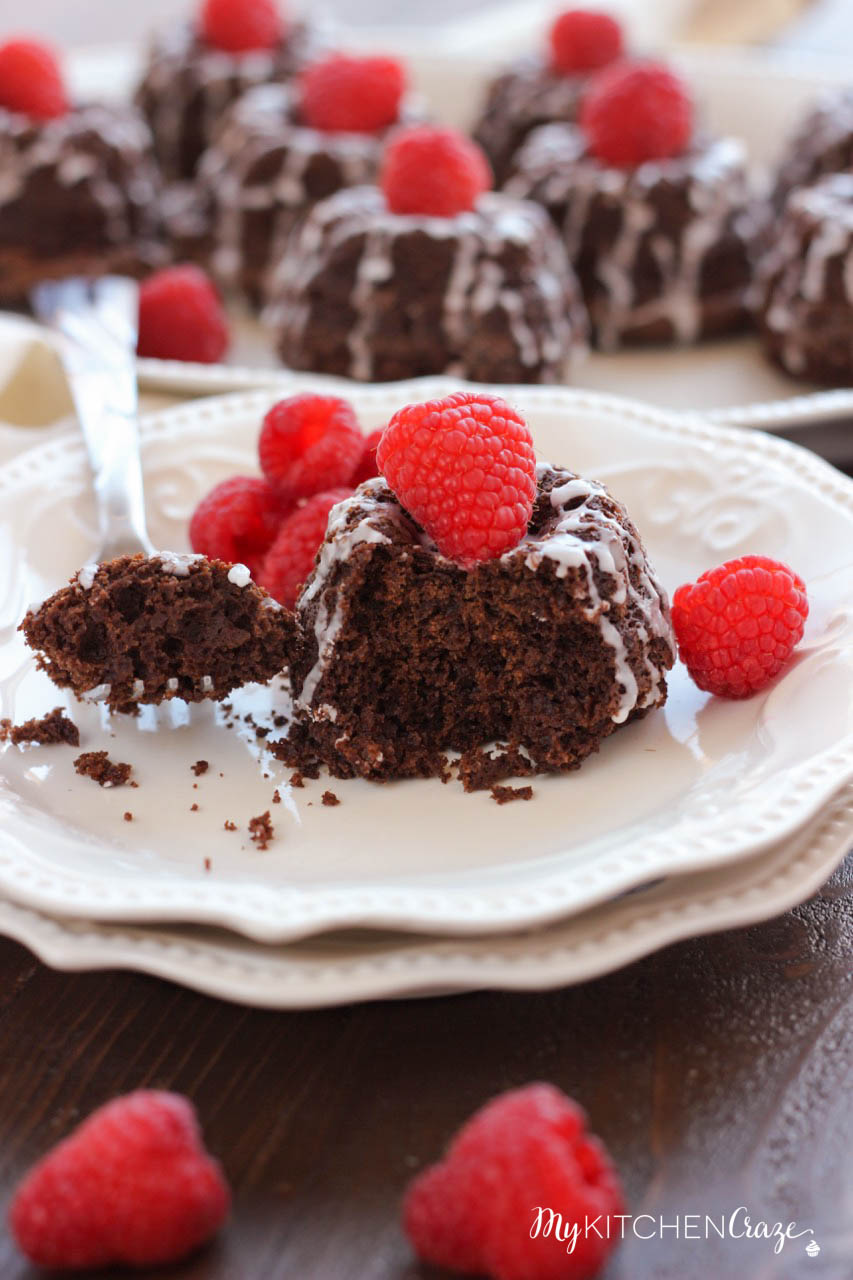 Be sure to scroll down to see what everyone else brought to the baby shower. Don't forget to stop by Natalie, Isadora and Jessica to wish them all the best.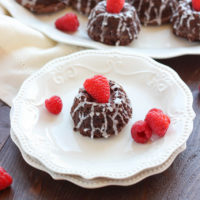 Get the Recipe:
Mini Chocolate Bundt Cakes
Ingredients
Cake: 

1/4

cup

semisweet chocolate chips

1/2

cup

strong coffee

1

cup

sugar

1

cup

all-purpose flour

1/2

cup

unsweetened cocoa powder

1/2

teaspoon

baking soda

1/4

teaspoon

baking powder

1/4

teaspoon

salt

1

large egg

1/4

cup

butter

,

melted

1/2

cup

sour cream

1/4

teaspoon

vanilla
Vanilla Glaze:
1 1/2

cups

powdered sugar

1/4

teaspoon

vanilla extract

2

tablespoons

milk

garnish: raspberries
Instructions
Heat oven to 300°F. Spray mini bundt pan with non-stick baking spray; set aside.

Place chocolate chips and coffee in bowl and heat in microwave for 30 seconds; stir until smooth. Set aside.

In medium bowl, whisk together sugar, flour, cocoa powder, baking soda, baking powder and salt.

Using a stand mixer, beat egg on medium speed until pale yellow, about 1 minute. Add butter and beat for 30 seconds. Add sour cream and vanilla, mixing well.

Gradually pour in melted chocolate mixture and mix until well combined. With your stand mixer on a low setting, add in your dry ingredients. Mix until just combined.

Divide the batter evenly among bundt tins, about 1/3 cup.

Bake for 20 to 25 minutes, or until toothpick comes out clean.

Cool on wire rack for 10 minutes before removing from tin, and cool completely before glazing.

To make the glaze, just add all the ingredients to a small bowl and throughly mix. Sprinkle over cooled bundt cakes.

Garish and enjoy!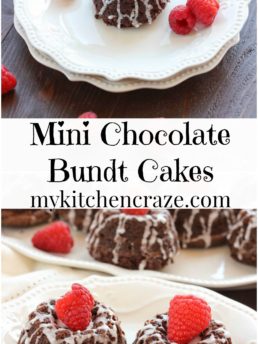 Get the Recipe:
 Caprese Cups - Pumpkin 'N Spice
Almost No Bake Pineapple Squares – The Recipe Rebel
Key Lime Cheesecake Bars with Coconut Macadamia Crust – Flavor the Moments
Lemon Macarons – Life Made Sweeter
Lemon Lime Bars – Bake. Eat. Repeat.
Chocolate and Salted Caramel Swirled Meringues – Floating Kitchen
Prosciutto-Wrapped Avocado Crostini with Balsamic Glaze – My Sequined Life
Mediterranean Stuffed Mini Peppers – Kristine's Kitchen
Pepper Jack and Bacon Stuffed Cherry Tomatoes – A Latte Food
No Bake Baileys Smores Mousse Cups – With Salt and Wit
Strawberry Shortcake Bread – Maebells
Banana Cream Pie Dessert Nachos – Whole and Heavenly Oven
Lemon Cream Pie Bites – Bakerita
Balsamic Strawberry Wonton Bites – Sweet Peas & Saffron