Mexican Shrimp Cocktail
Mexican Shrimp Cocktail is a refreshing appetizer made with all sorts of different and delicious flavors. Perfect as a starter or a light meal. Serve it chilled with saltine crackers or tortilla chips. Make sure to grab some extra hot sauce too!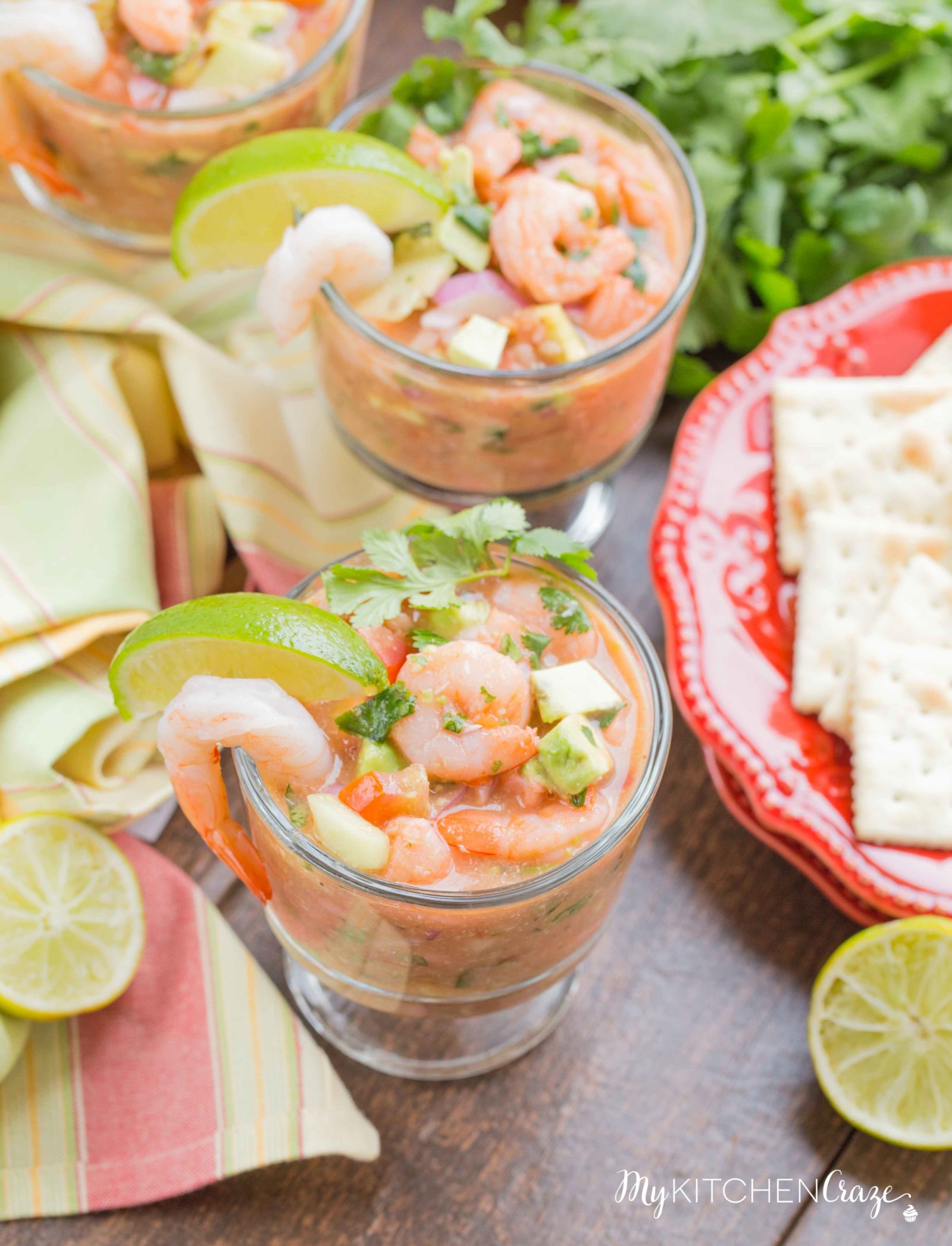 You guys are going to love these next few recipes on My Kitchen Craze!  You'll be thanking me! Wanna know why?
For the remainder of the week, I'll be sharing Cinco de Mayo recipes (sorry I didn't start this Monday morning, but life got in the way). You all know what Cinco de Mayo recipes mean, right? Yes you guessed it…Mexican food! You all know I'm obsessed with Mexican food, so I had to share my love for Cinco de Mayo too. Today I'm bringing you a recipe that's super simple to make, but tastes oh so good.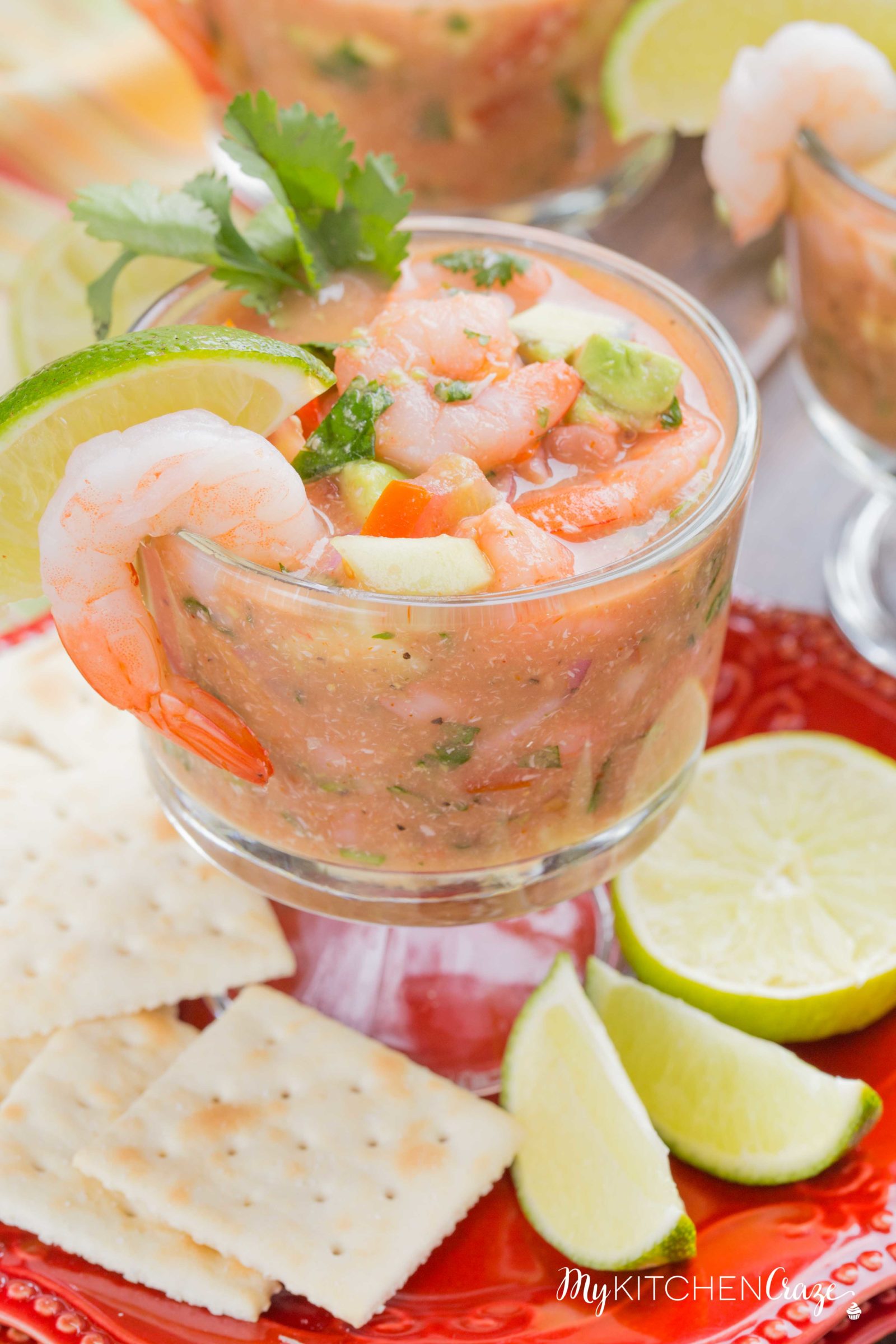 Enter Mexican Shrimp Cocktail also know as Coctel de Camaron's.
I wasn't always a lover of Mexican Shrimp Cocktail. In fact I'm still on the edge about it at restaurants. Not because I don't like it, but because I'm picky about my shrimp. I like to eat fresh shrimp and sometimes you don't know if you're getting the fresh shrimp.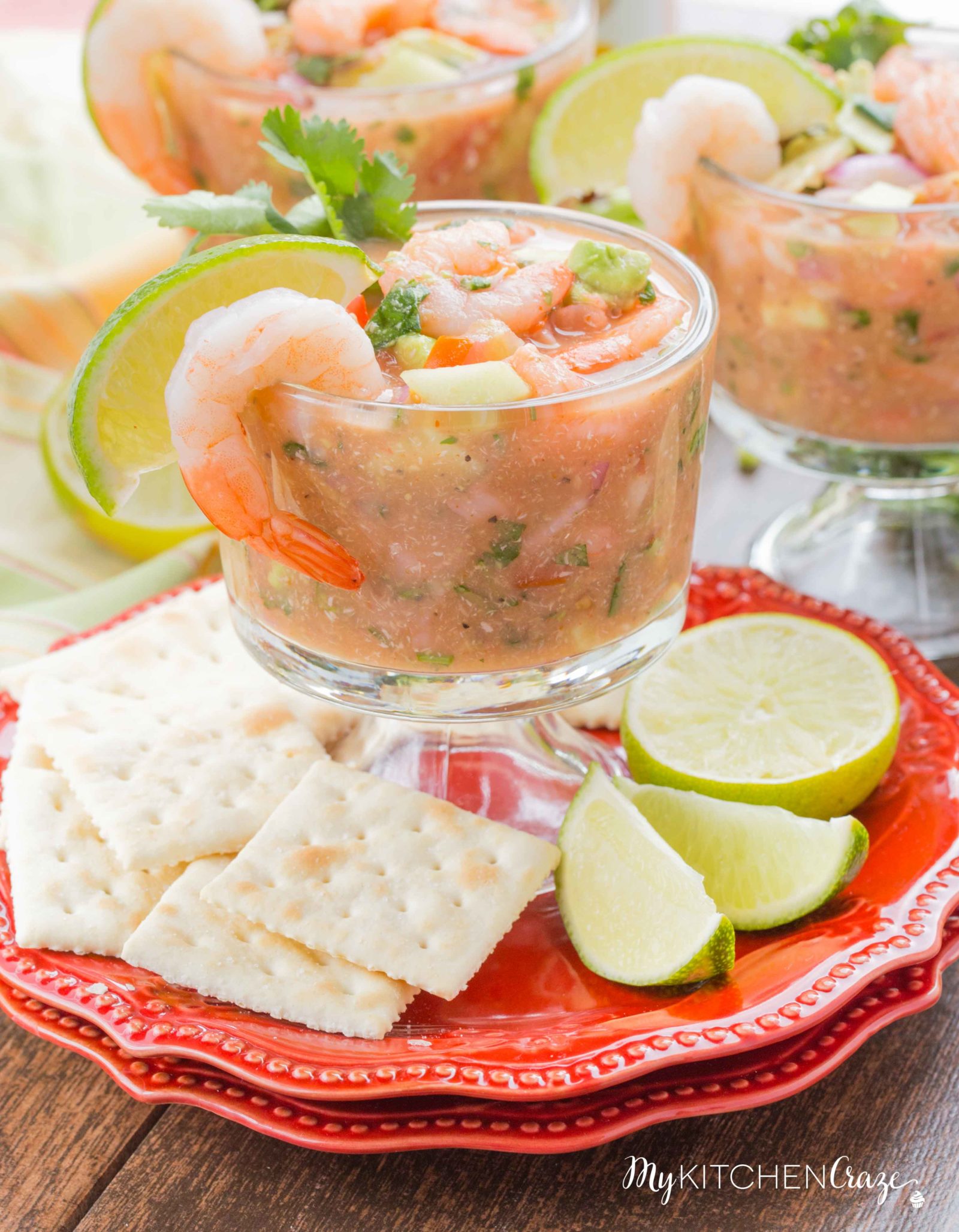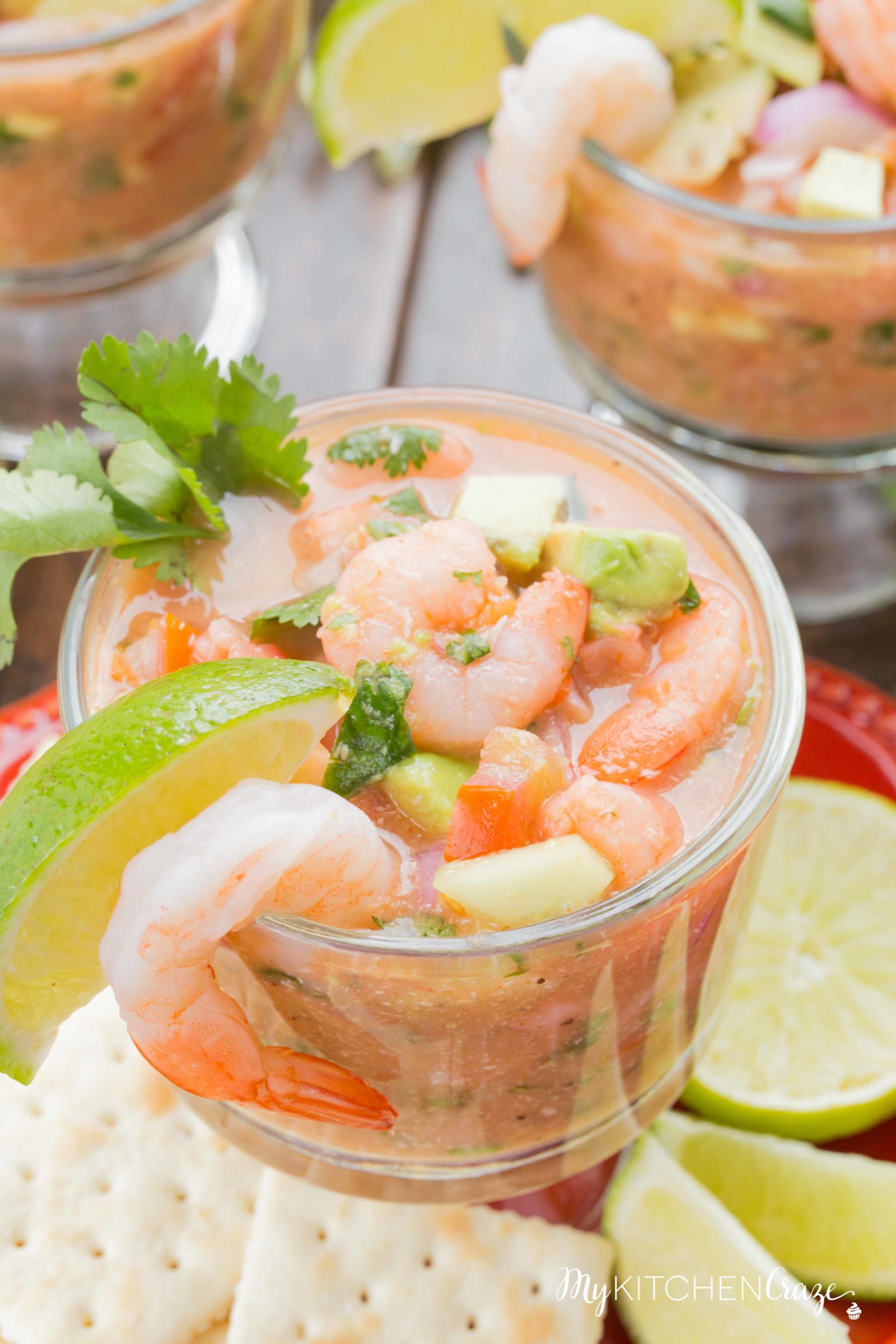 I do wish I would have made this recipe sooner. I never realized how easy and fresh this dish was until I made it myself. Once you have all the ingredients together, this recipe comes together within 15 minutes. The longest wait time is letting it sit in the fridge for 3 hours so all the flavors can come together. Don't you hate when you have to wait to eat something, just so the flavors can blend together. I really do, but I tried this recipe without waiting vs. waiting and let me tell you that it tastes so much better after 3 hours.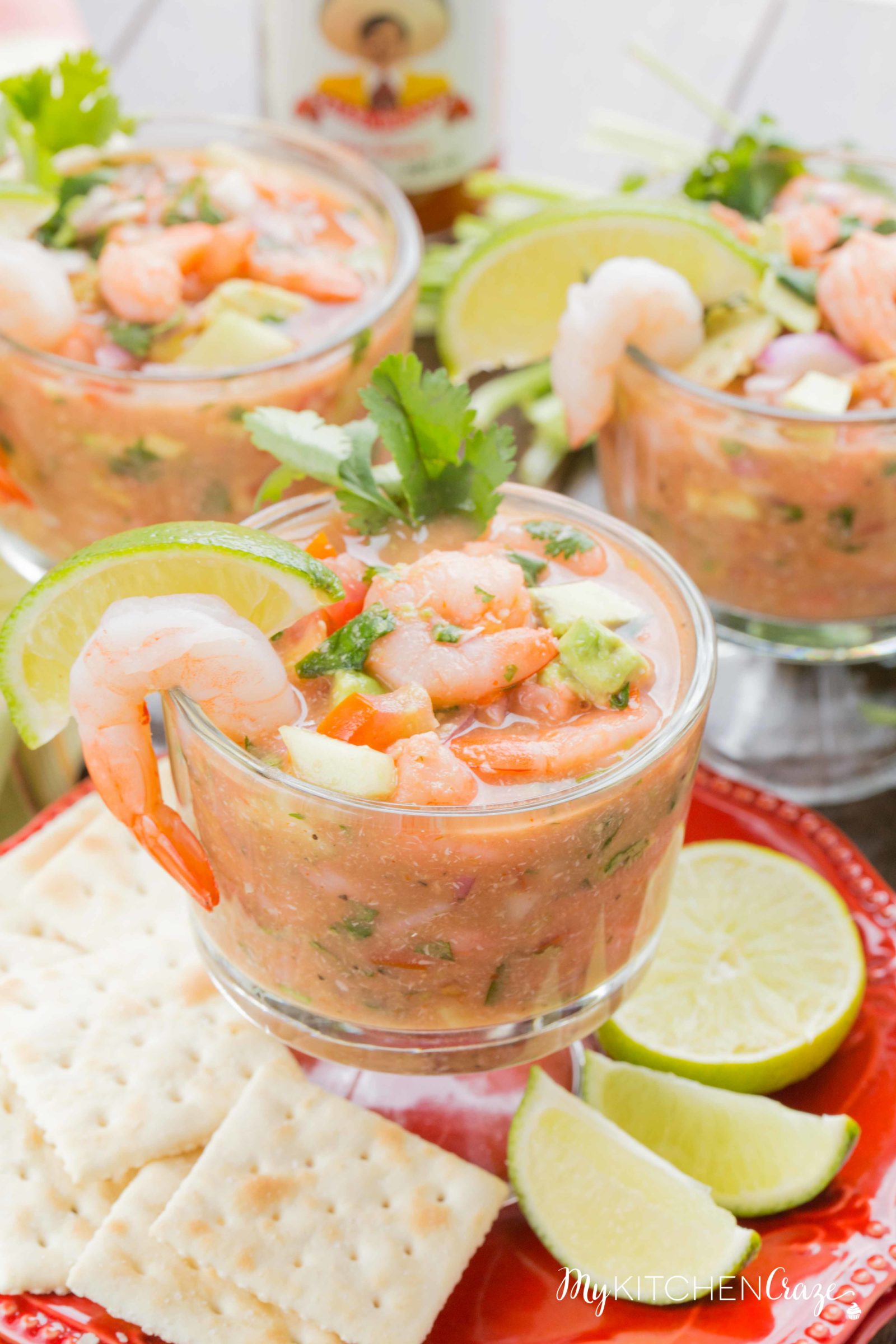 In fact it tastes great if you make it the night before. I would suggest waiting on adding the avocado's but the rest of the ingredients tastes better the next day. Now some of you like to eat Shrimp Cocktail with chips and that's totally fine, but personally we ours with saltine crackers. Also the hubster likes tabasco hot sauce with his shrimp cocktail, but I like tapatio hot sauce in mine. Whatever hot sauce or dippers, you'll love this recipe.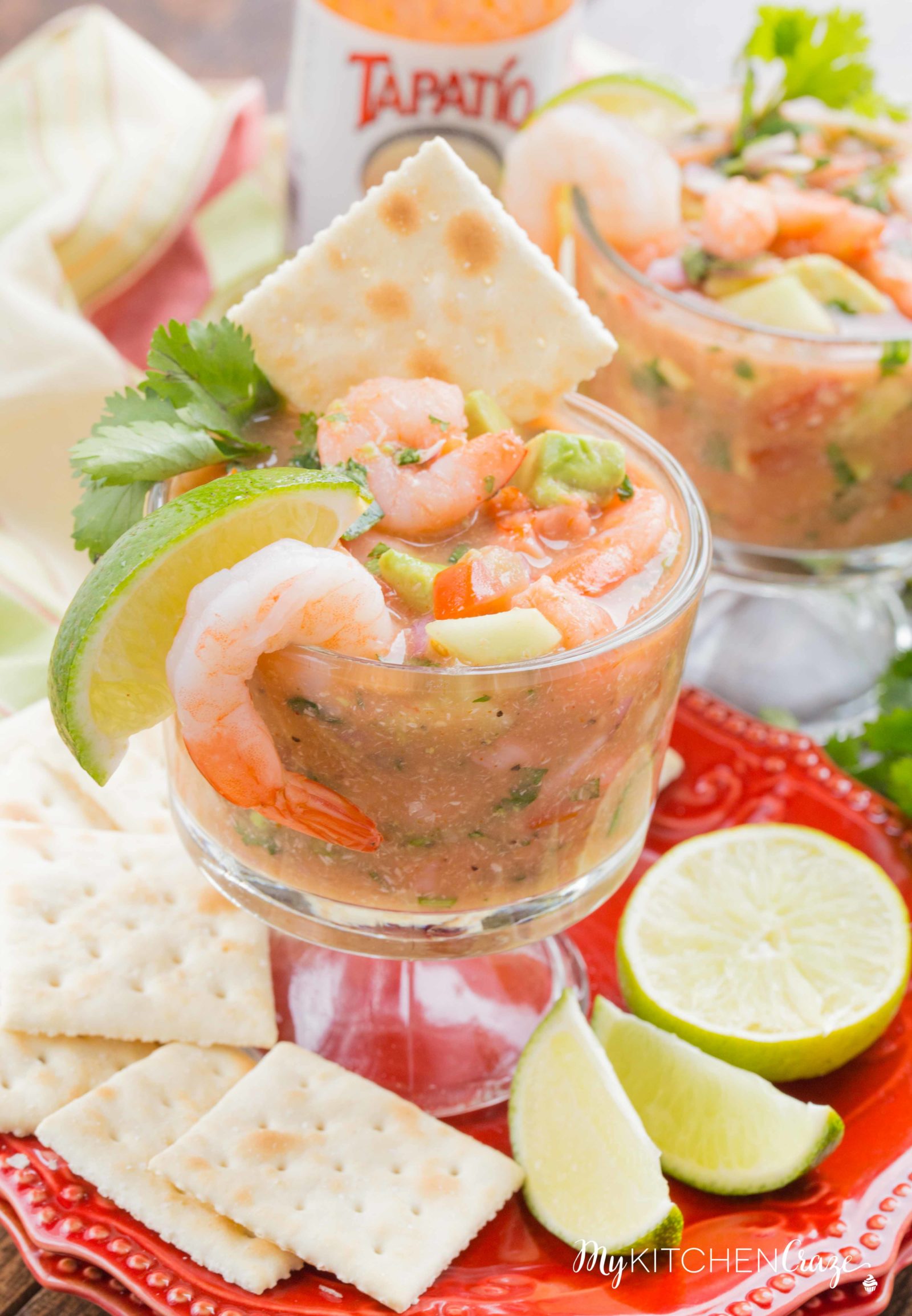 Mexican Shrimp Cocktail is perfect as an appetizer or a light lunch/dinner. However you choose to eat it, make sure you have a sleeve of crackers or tortilla chips because you won't be able to stop at one bite.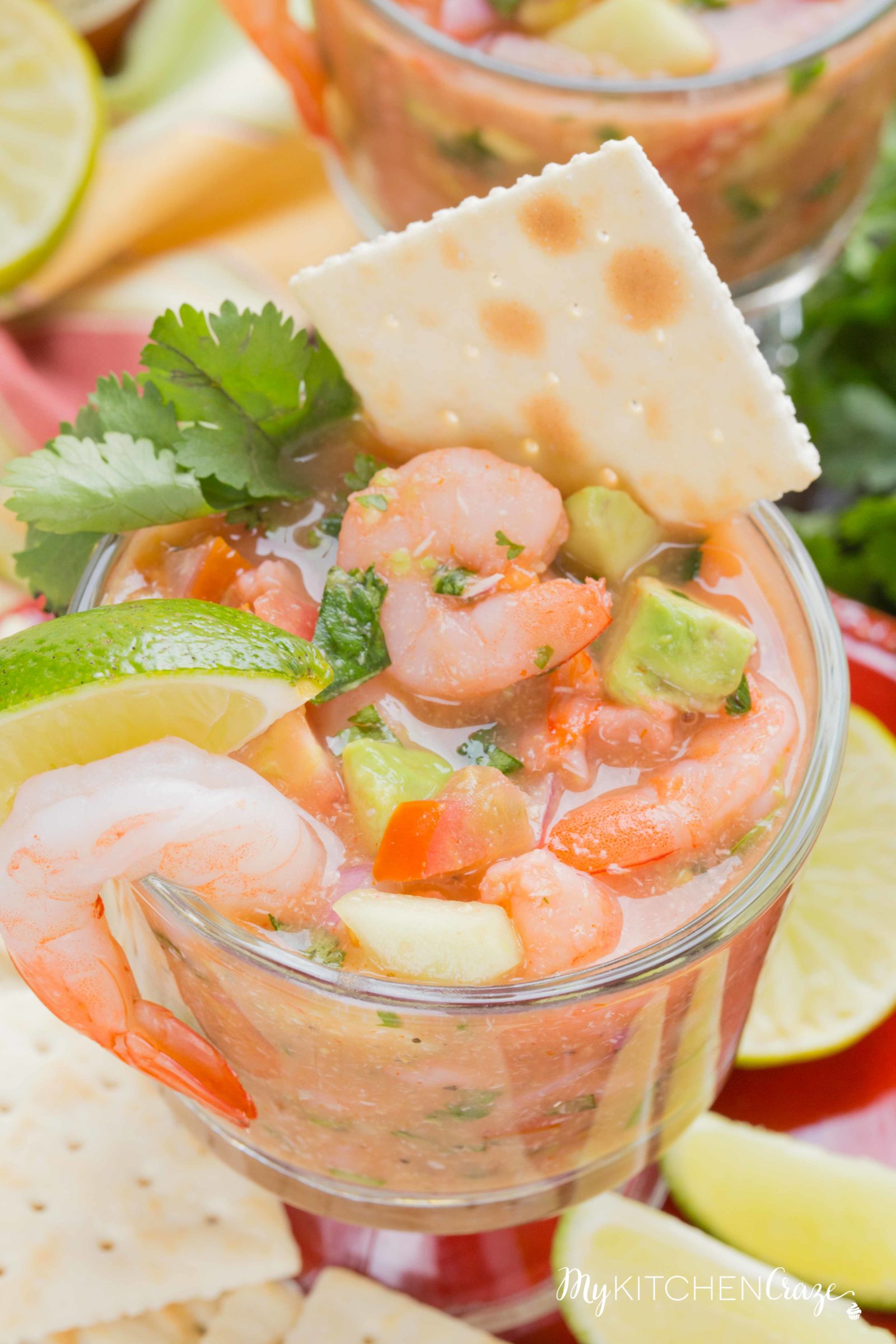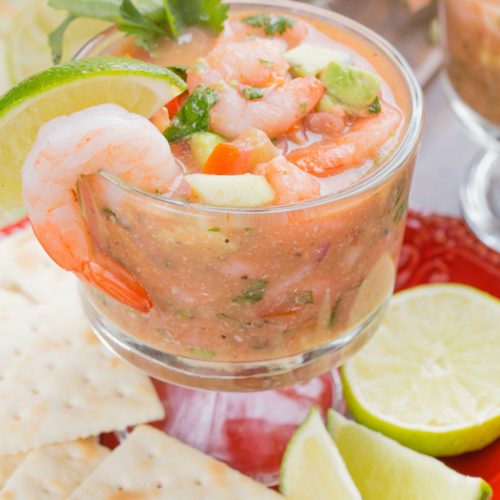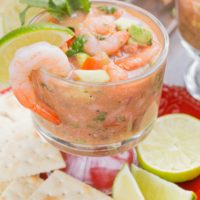 Get the Recipe:
Mexican Shrimp Cocktail
Ingredients
2

pounds

cooked shrimp

,

peeled, deveined and cut into pieces

3-5

cloves

garlic

,

1 tablespoon, minced

1/2

medium red onion

,

chopped

3/4

cup

fresh cilantro

,

chopped

1/2

cup

cucumber

,

chopped

2

roma tomatoes

,

chopped

2

cups

clam

,

clamato juice

1/4

cup

ketchup

1/4

cup

fresh lime juice

2

teaspoons

Mexican hot sauce

,

I use tapaito

1

teaspoon

Worcestershire sauce

1/4

cup

prepared horseradish

1/2

teaspoon

salt

2

ripe avocados

,

pitted and chopped
Instructions
Place shrimp, garlic, onion, cilantro, cucumber and tomato in a large bowl.

Add in clam juice, ketchup, lime juice, hot sauce, Worcestershire sauce, horseradish and salt. Stir together to combine.

Gently stir in avocados.

Cover and refrigerate 3 hours or overnight.

Serve with saltine crackers or tortilla chips and extra hot sauce. Enjoy!