Gingerbread Kiss Cookies are perfect for your annual cookie swap. How do I know this you ask? Because I used them for The Great Food Blogger Cookie Swap 2014!
  Be sure to follow me on Facebook, Instagram & Pinterest to stay up to date on all of my recipes!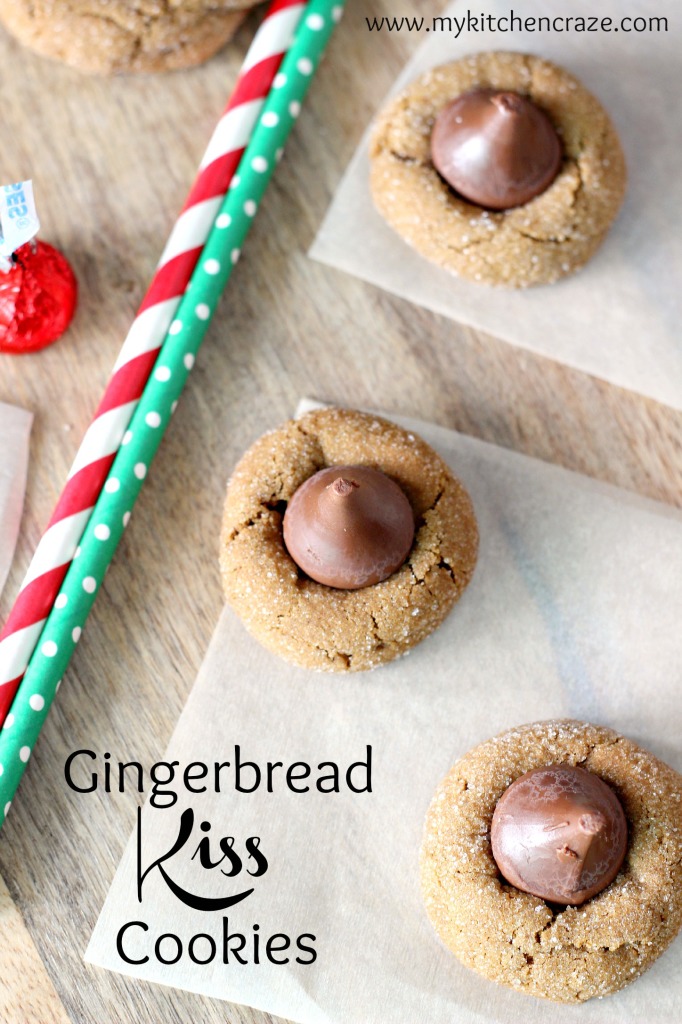 This year I signed up for the annual The Great Food Bloggers Cookie Swap.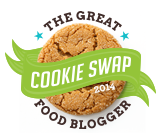 I was super excited about being a part of  this cookie swap this year. The cookie swap asks every blogger to donates $4.oo to the Kids Cancer Organization (which doesn't seem like a lot, but when it's 1,500 bloggers, that $4 adds up real quick). Also, how fun is it to meet new bloggers and get some cookies in the process?
How the cookie swap works, is you get three names and addresses in your email, then you bake 3 dozen cookies and mail one dozen to each blogger. Unfortunately, I only received cookies from two bloggers, but the cookies that I did receive were amazing!!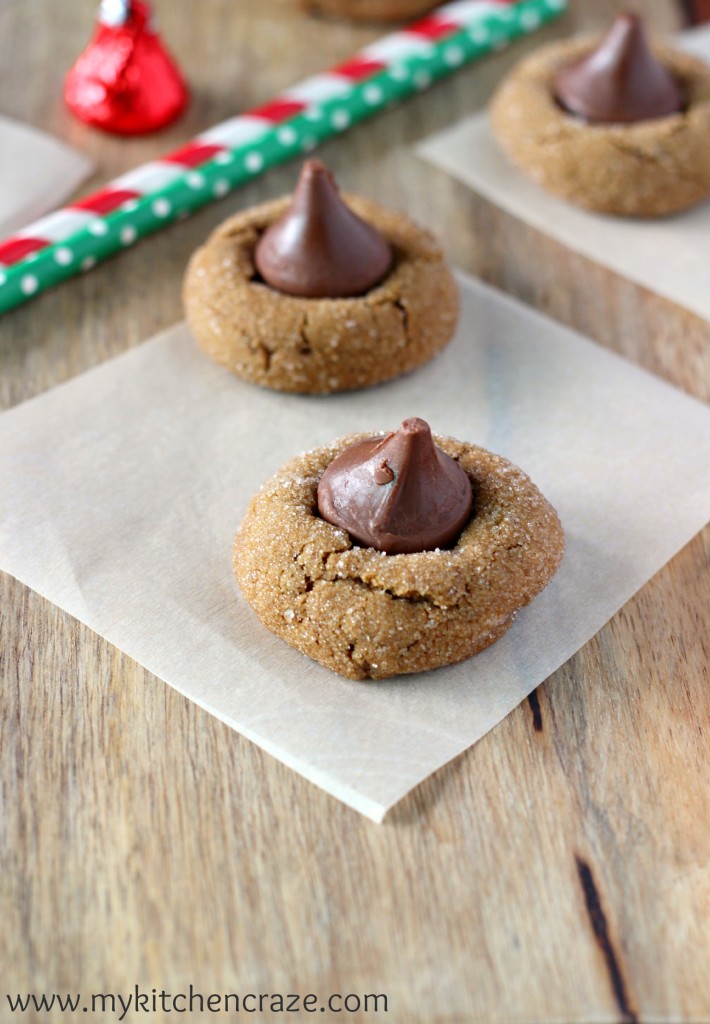 When I set out to make my 3 dozen cookies, I wanted to get the bloggers names and locations first because I needed to see how far away each blogger lived. I didn't want to make a cookie that was too soft or too crumbly. And I wanted to make sure that they stayed together and tasted great after 4 days of travel.
I won't even tell you how terrified I was that the cookies would arrive in crumbs and taste horrible. I wanted to make a few friends, not make them hate me, hehe.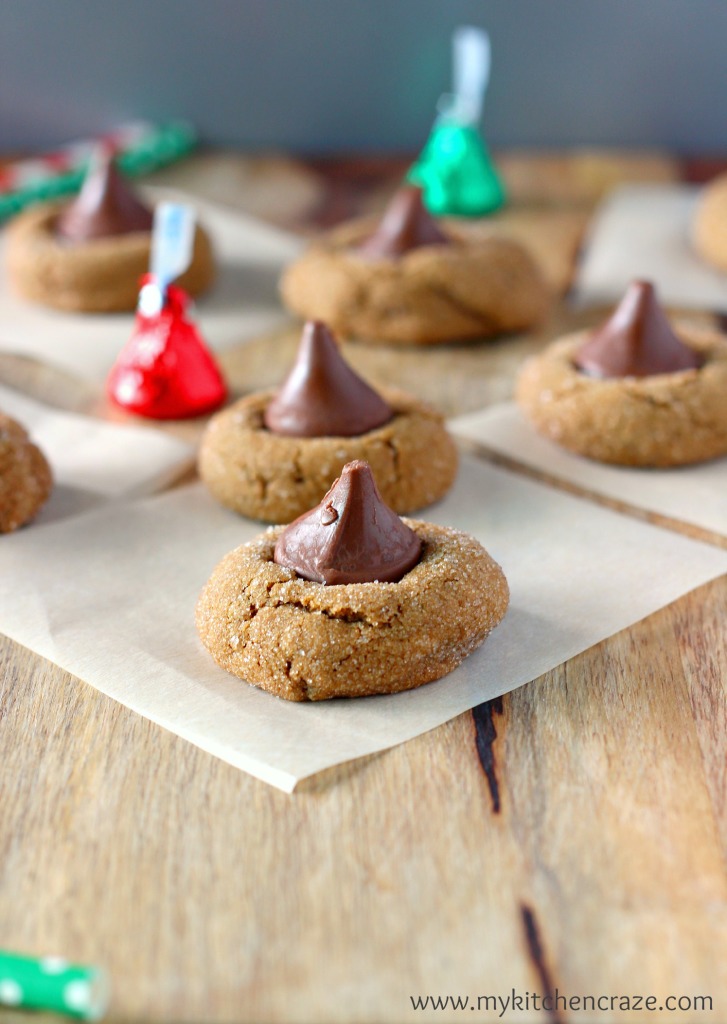 I decided on something Christmas-y and topped with chocolate because who doesn't love chocolate?
Gingerbread Kiss Cookies.
These gingerbread kiss cookies have a hint of molasses, ginger and cinnamon, then topped with a chocolate kiss. What's not to love. They are soft and chewy with a great ginger flavor. They also hold very well for a few days, so I knew these were going to be the prefect fit for the blogger cookie swap.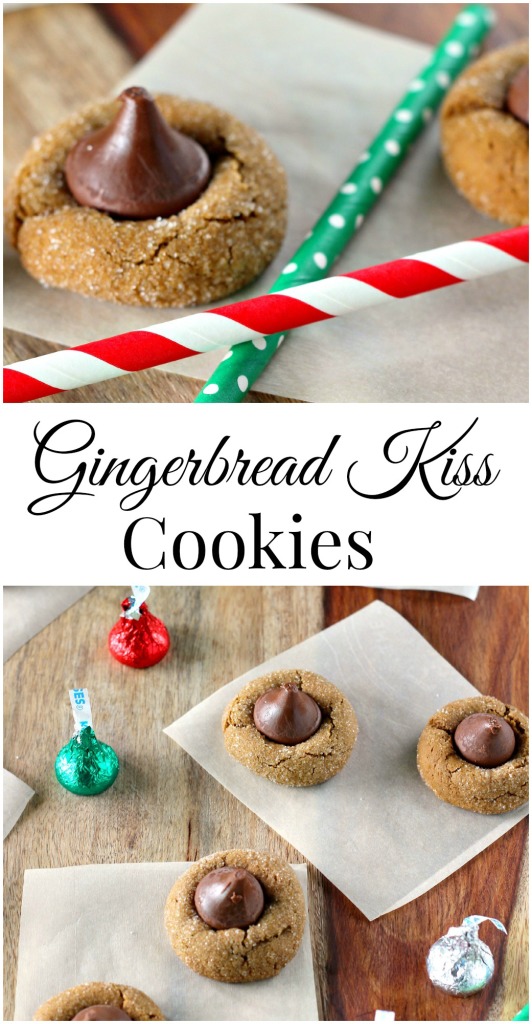 Servings: 3 -4 dozen
Gingerbread Kiss Cookies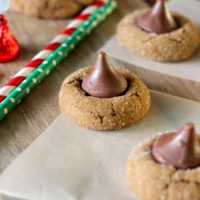 Print
Ingredients
3 cups all-purpose flour
1 teaspoon ginger
1 teaspoon cinnamon
1/4 teaspoon nutmeg
1 teaspoon baking soda
1/4 teaspoon salt
3/4 cups 1 1/2 sticks unsalted butter, softened
3/4 cup brown sugar, packed
1/2 cup molasses
1 egg
1 teaspoon vanilla extract
1/4 cup granulated sugar
50 Hersey's Kisses, unwrapped
Instructions
In a large bowl, whisk together the flour, ginger, cinnamon, nutmeg, baking soda and salt. Set aside.

In a stand mixer, using paddle attachment; cream together the brown sugar and butter. Add molasses, egg and vanilla, mixing until just combined.

With the mixer on slow, add the flour mixture until combined.

Place dough in a bowl, cover with plastic wrap and refrigerate at least 2 hours or overnight. Your dough should be firm but easy to work with. Remove the dough 20 minutes prior to baking so it will be workable.

Preheat oven to 350 degrees F. Line baking sheet with parchment paper.

Roll dough into 1 inch balls, roll around in granulated sugar and place on baking sheet.

Bake 8-10 minutes. Remove from oven and immediately press Hersey kiss into each cookie. Remove cookies to a wire rack to cool completely.

Store in an air tight container. Will keep for 4-6 days.

Enjoy!