Chicken Enchilada Zucchini Boats 
Chicken Enchilada Zucchini Boats are filled with all the same delicious flavors as regular enchiladas, but are healthier! Loaded with tons of veggies and yummy flavors, these enchiladas are great for dinner!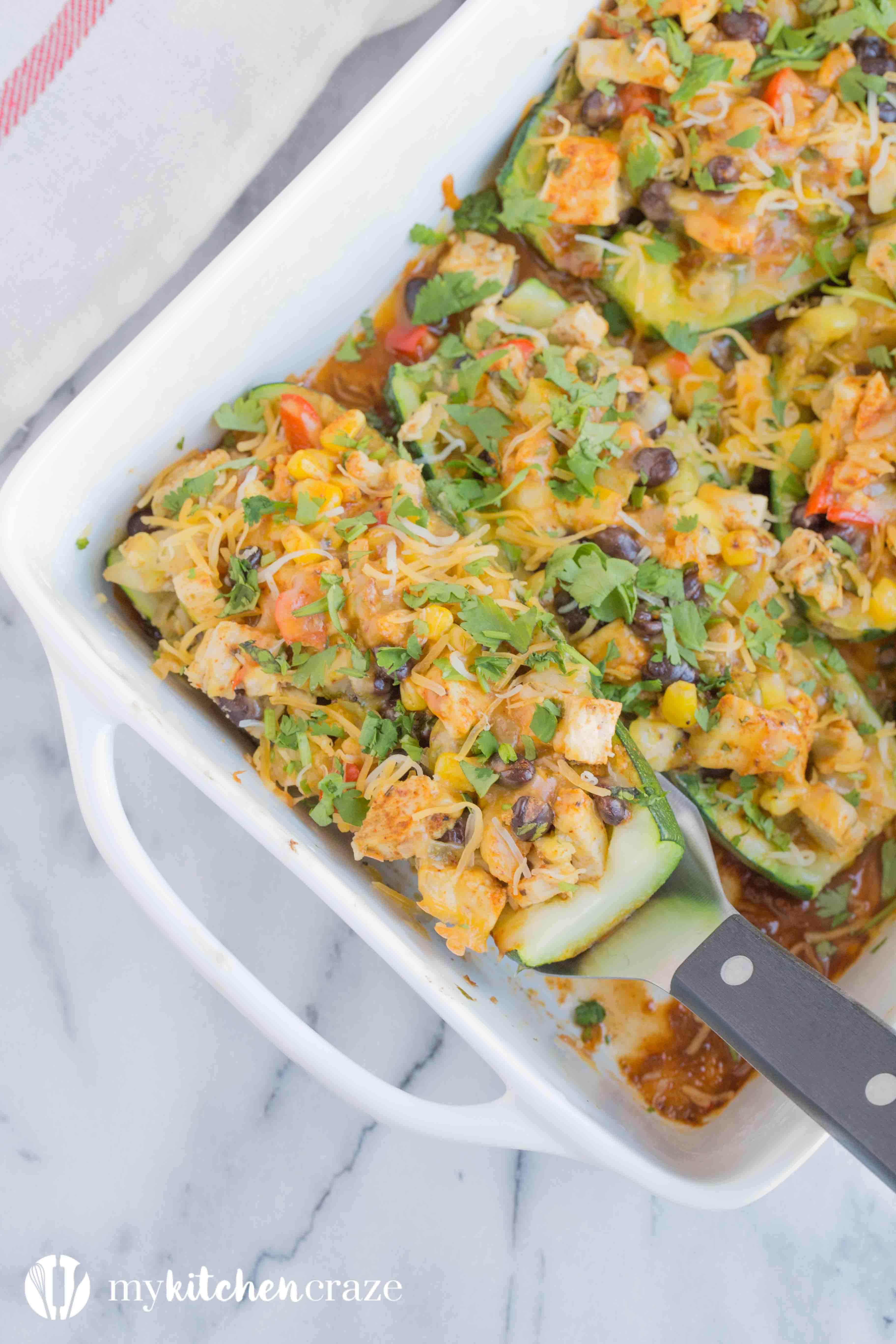 I love enchiladas!! I love enchiladas!! Have I mentioned I love enchiladas? Okay I'm sorry I'm being annoying but I could eat them day after day.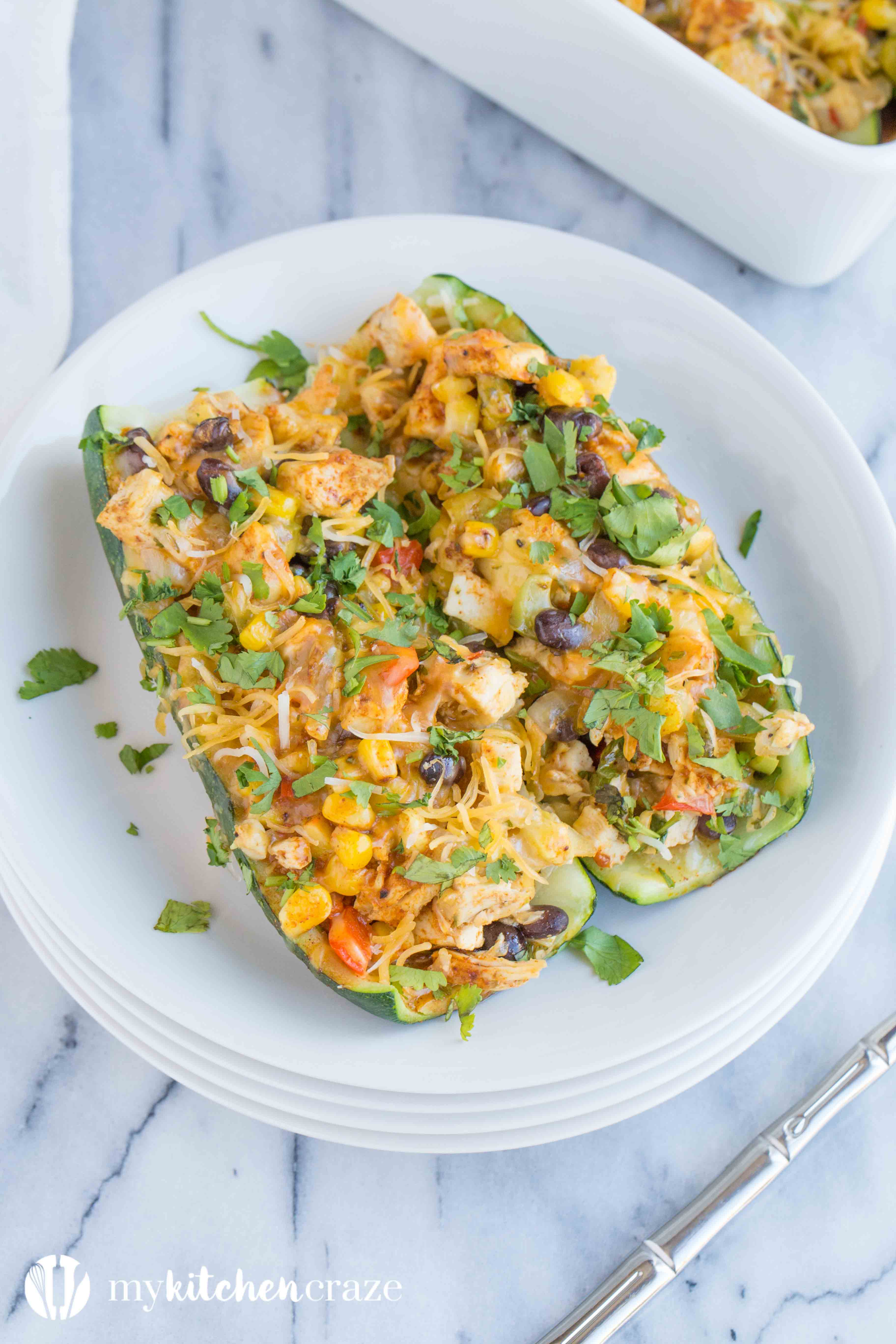 I haven't talked much about my autoimmune disease lately but in case you're unaware, I have IBD (Irritable Bowel Diease). I found out about 2 years ago and I was very sick at the time. I realized I needed to eat healthier, but I'm not a healthy type of person. I don't like to restrict my diet at all and if I do decide to, I always end up cheating.  When I decided last year to start eating healthier, I got sad knowing I couldn't enchiladas anymore. For most IBD patients they can't eat spice and heavy foods. Also carbs can bother my tummy too.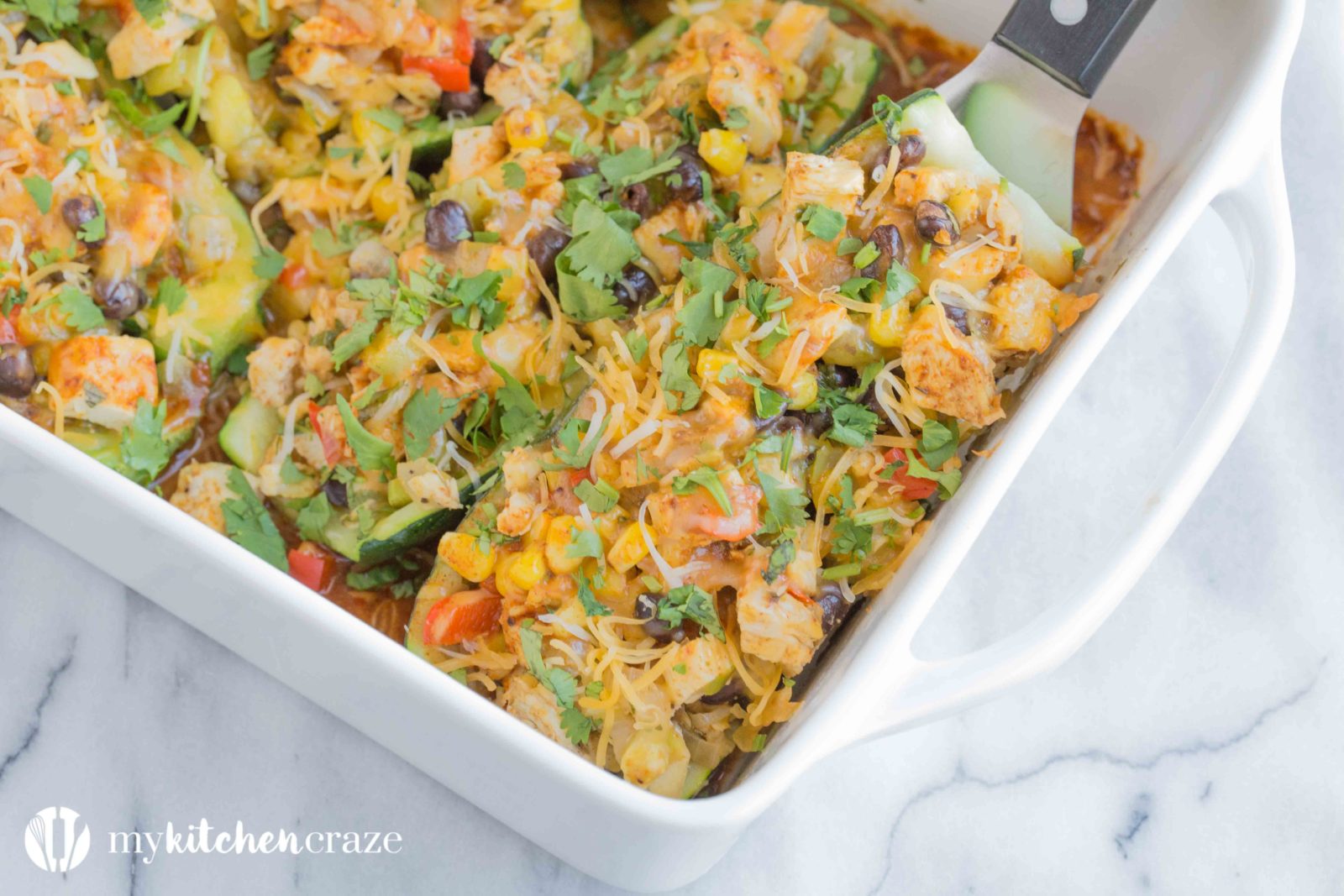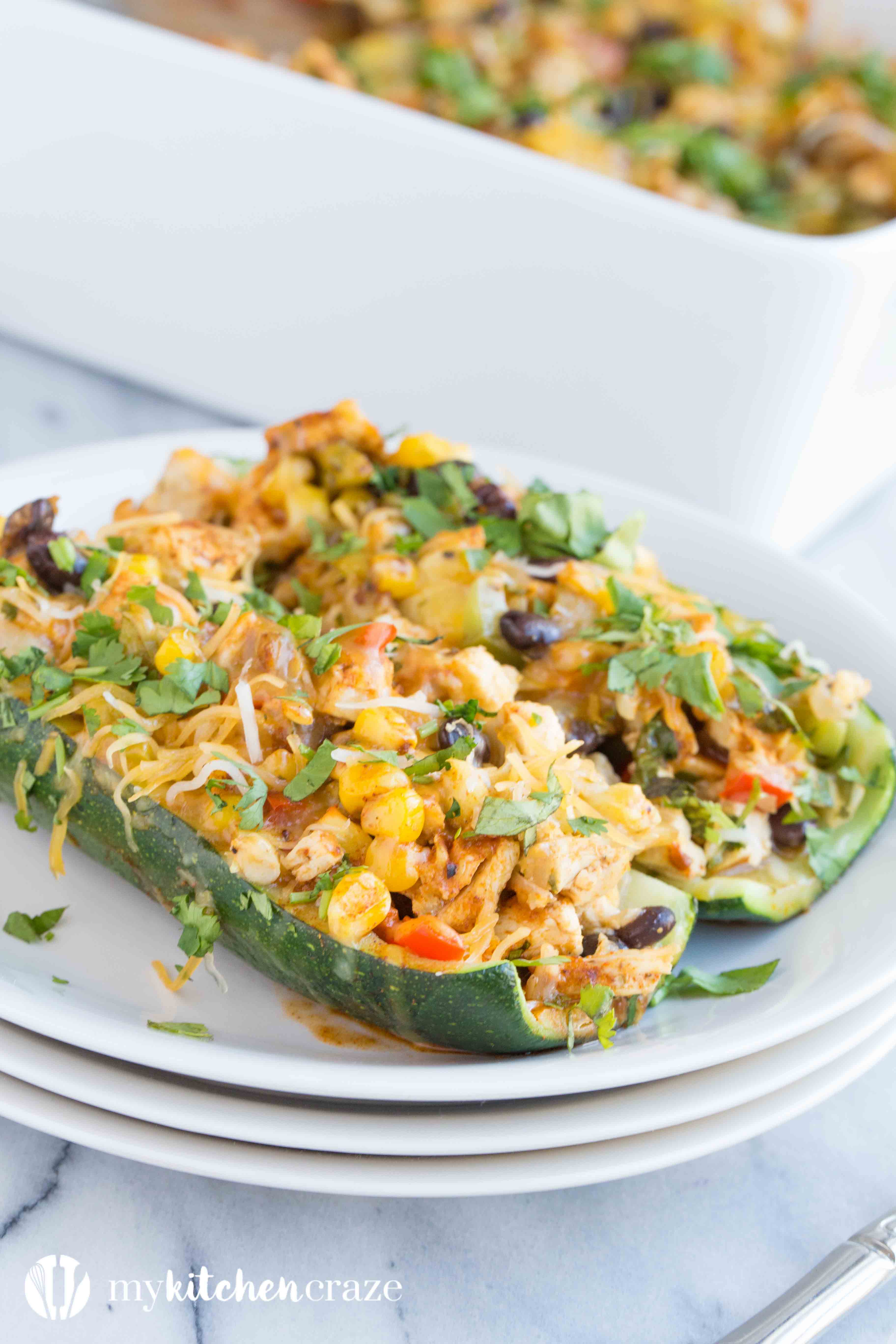 I know it's a silly thing to be sad about it, but my love for food runs deep. What can I say I'm addicted to my enchiladas. 🙂
When I found out about my IBD/Ulcerative Colitis I didn't care or watch the things I ate. I thought I would start taking the medication and be fine, right? Boy oh boy was I wrong! I ended up having a rare (they always say rare) side effect to the medication, so I wanted to stop taking it all together.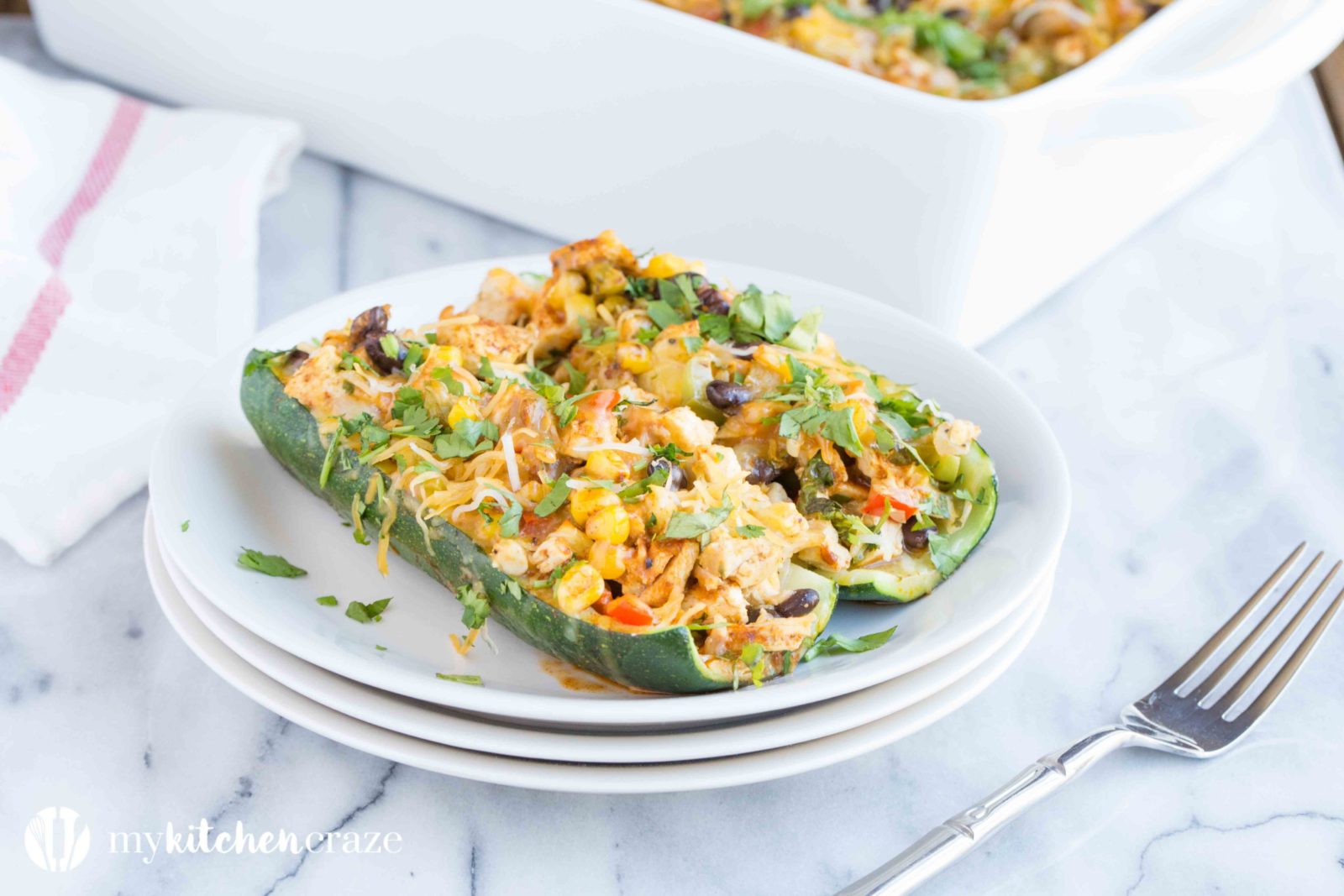 The medicine also made my hair very thin and brittle. It was the most devastating thing to me at the time. I know hair is just a cosmetic thing, but for me who's had long hair her whole life, its was a hard reality.
Once I connected all the dots and realized the hair loss was due to the medication, I started googling about foods. I found out that IBD patients could try gluten free, specific carbohydrate diet, and just eating what "your" body can handle. That's what I've been doing for the past two years. I honestly thought my mexican food days were a thing of the past, but I was wrong. Yay!!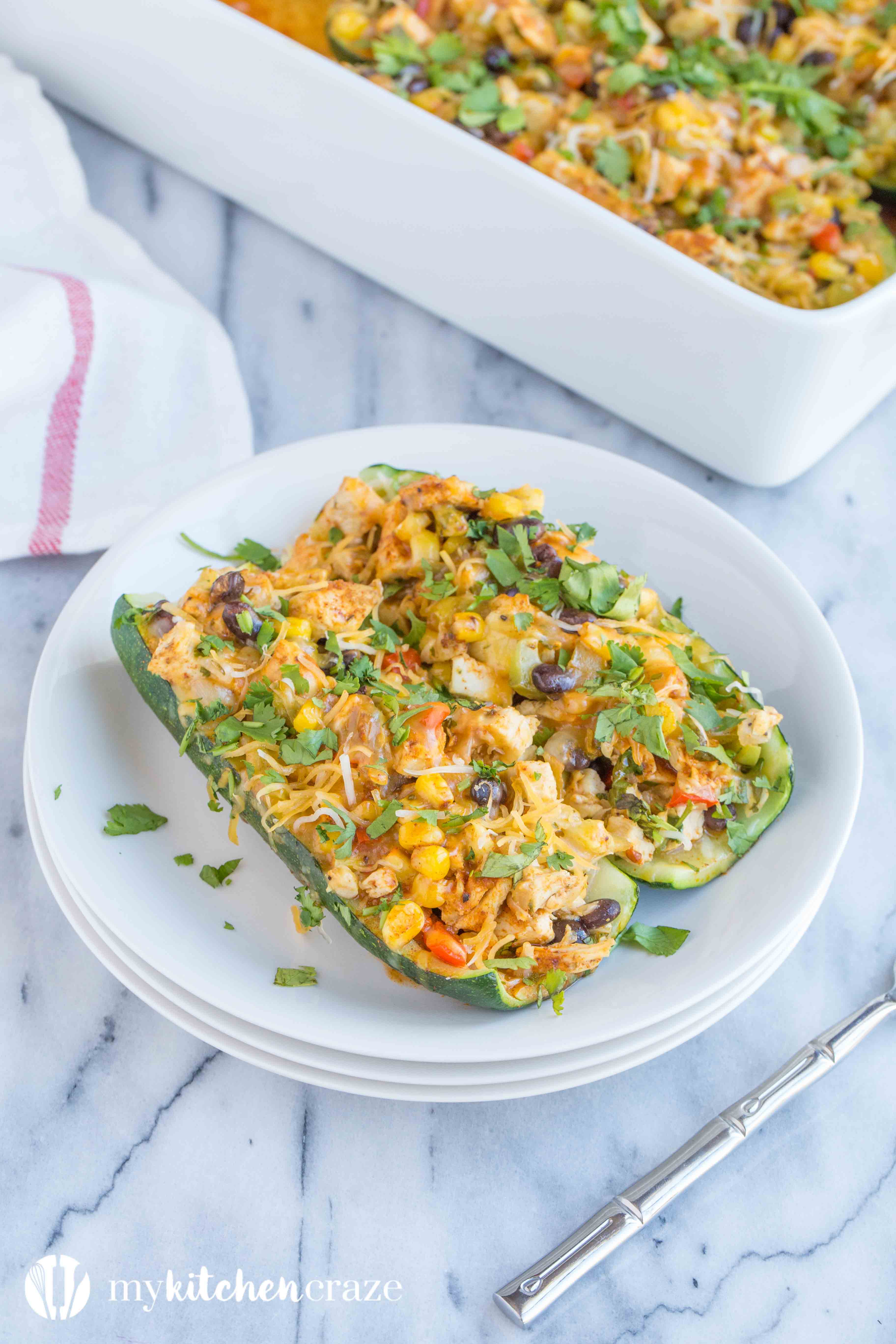 These Chicken Enchilada Zucchini Boats are amazingly delicious and perfect recipe to get my cravings to go away. Now a days my tummy can take more carbs and spice (thank goodness), but whenever I start to feel yuckie or want a healthier meal, I whip up a batch of these babies. They're super easy to make and are loaded with all sorts of delicious flavors and veggies. Btw, I always buy my Enchilada sauce from Trader Joe's or Sprouts but if you'd like to make some from scratch I have this recipe here that tastes amazing!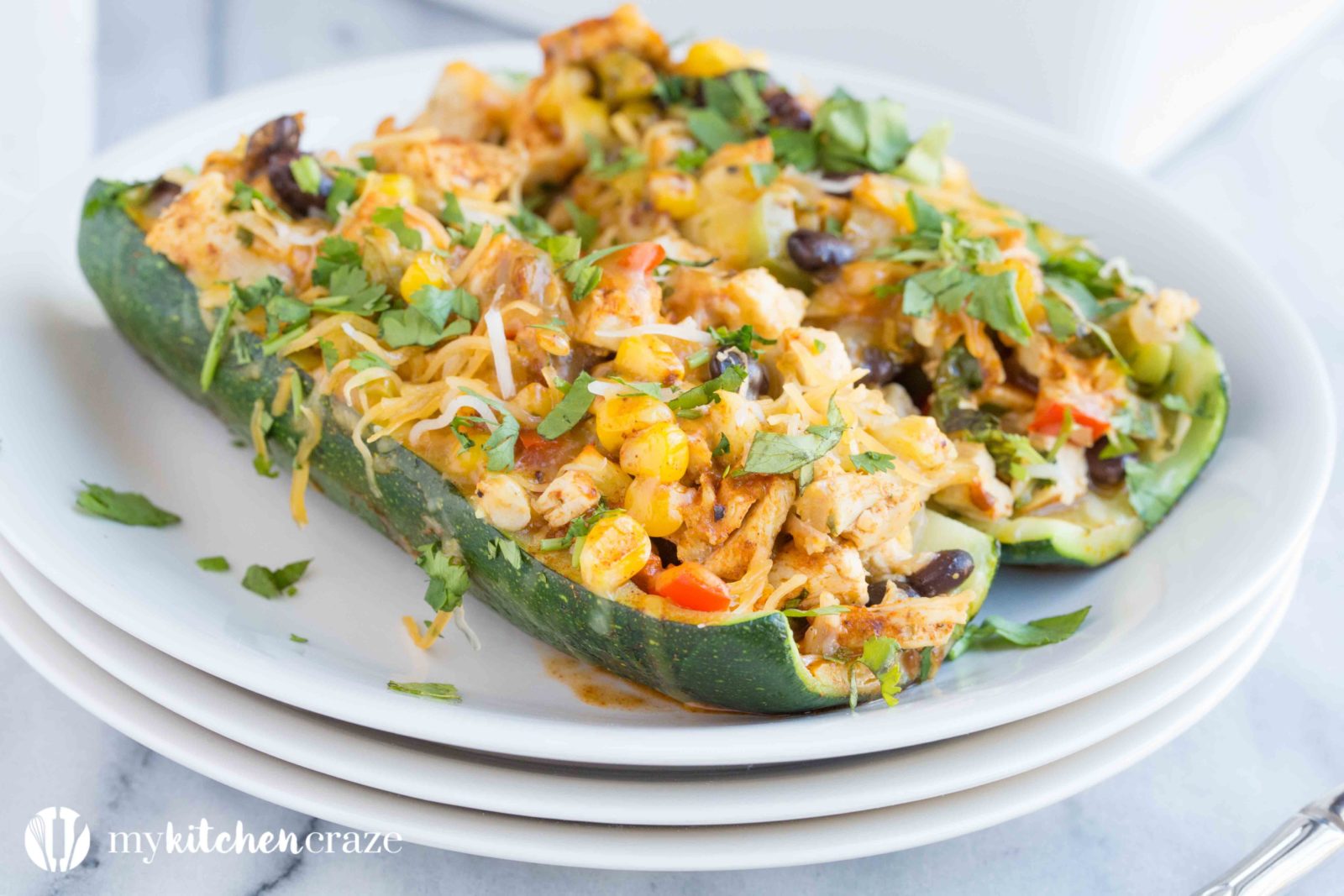 Hope you enjoyed learning a little bit about me today. Give these enchiladas a try soon. You're going to love this healthy version! Enjoy!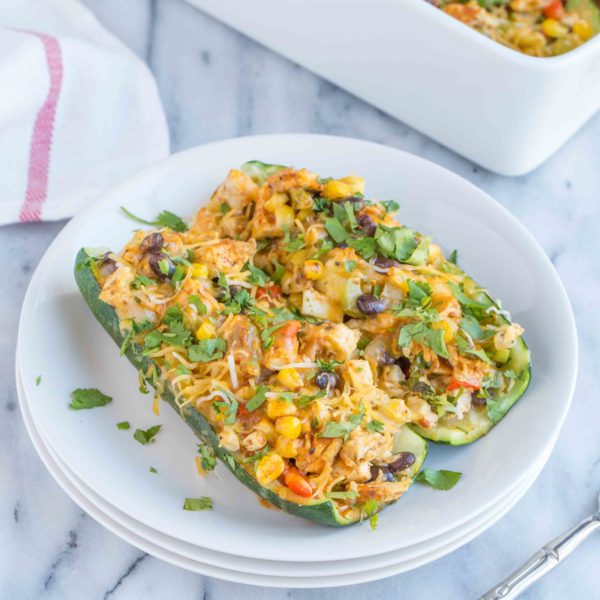 Get the Recipe:
Chicken Enchilada Zucchini Boats
Ingredients
4

zucchini

1

teaspoon

olive oil

1/2

cup

onions

,

chopped

1/4

cup

green onions

,

chopped

5

cloves

garlic

,

minced

1/2

cup

green and red bell pepper

,

diced

1/2

cup

black beans

1/2

cup

frozen corn

1/2

cup

cilantro

,

chopped

1

teaspoon

ground cumin

1/2

teaspoon

dried oregano

1/4

teaspoon

chili powder

8

oz

about 2 chicken breast cooked shredded chicken

1

tablespoon

taco seasoning

salt & peper

,

to taste

1 12

ounce

enchilada sauce

1

cup

cheddar cheese

garnish with cilantro

,

sour cream and more cheese
Instructions
Preheat oven to 375° and spray a 9x13 baking pan with non-stick cooking spray; set aside.

Bring a large pot of water to a roiling boil. Cut the zucchini in half length wise and scoop out flesh. Make sure to leave about 1/4" thick. Take extra zucchini and chop into small pieces. Set aside. Place zucchini in the pot of boiling water and cook for 1 minute. Remove from water and set on a paper towel.

In a large pan, heat oil and add onions. After 2 minutes, add garlic and bell pepper. Cook for about 3 minutes, until onions become translucent and bell pepper soften. Add zucchini, cilantro, salt, pepper, cumin, oregano, and chili powder. Cook for 5 minutes. Stir together chicken and taco seasoning in a bowl then add to pan. Add in corn and black beans, mix until all ingredients are incorporated.

Place 1/4 cup enchilada sauce on the bottom of prepared baking dish. Place zucchini halves cut side up. Using a spoon, fill each hollowed zucchini with chicken mixture. Top enchilada boats with enchilada sauce and cheddar cheese.

Cover with foil and bake for 30 minutes or until cheese in melted and zucchini is cooked through. Let sit 5 minutes, then top with cilantro and additional cheese, if desired. Garnish with sour cream. Serve & enjoy!