Caramel Apple Crumb Bars
Loaded with crispy apples, smothered with a homemade caramel sauce and topped with a delicious crumb topping. These Caramel Apple Crumb Bars are perfect for dessert.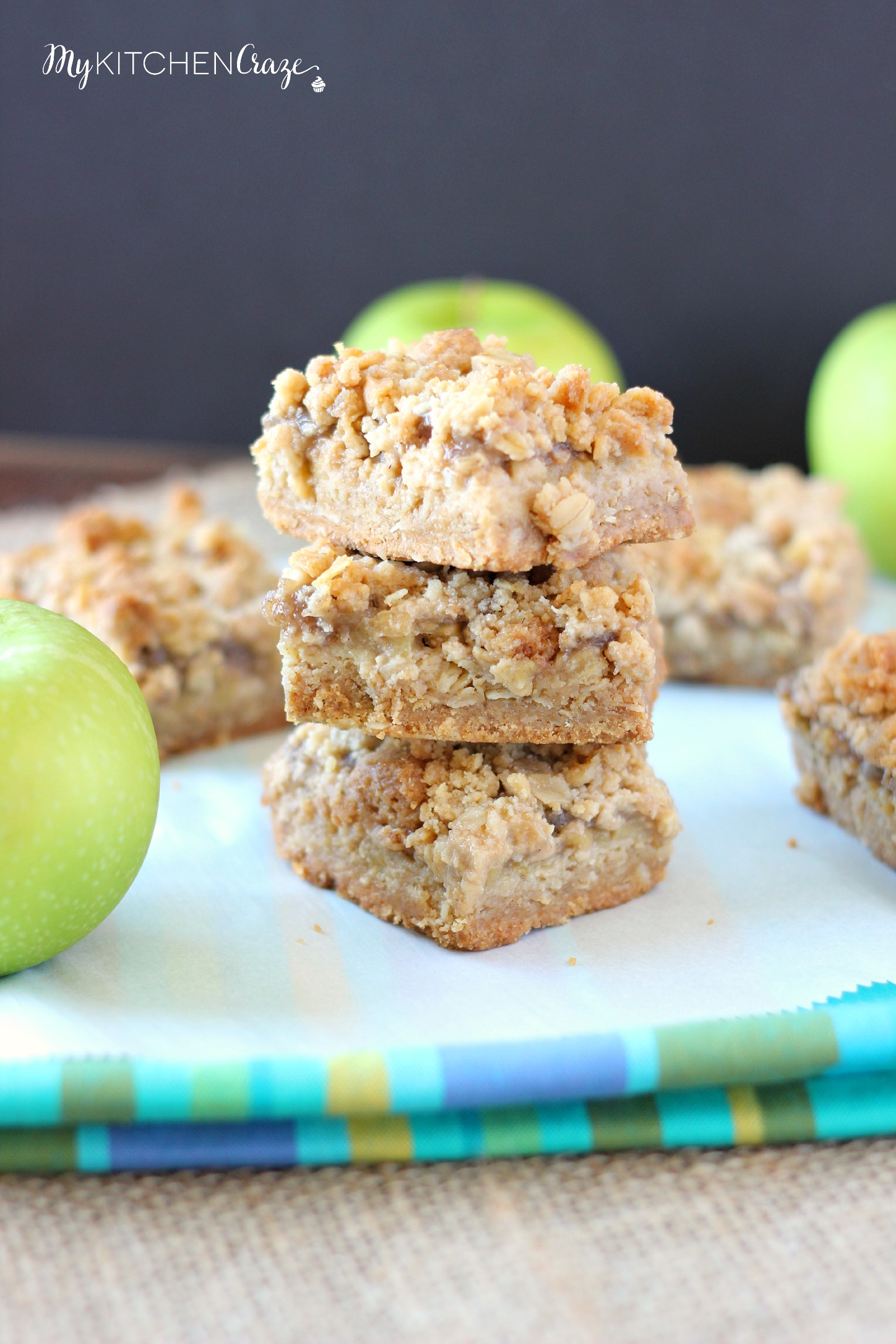 I'm obsessed you guys. Seriously obsessed. These bars are so good. I could eat 2 all by myself.
Loaded with crispy apple pieces, smothered in a homemade caramel sauce and topped with a crumb topping. These bars are out of this world delicious! You won't be able to eat just one. Top these babies with a big scoop of vanilla ice cream and you'll be in heaven.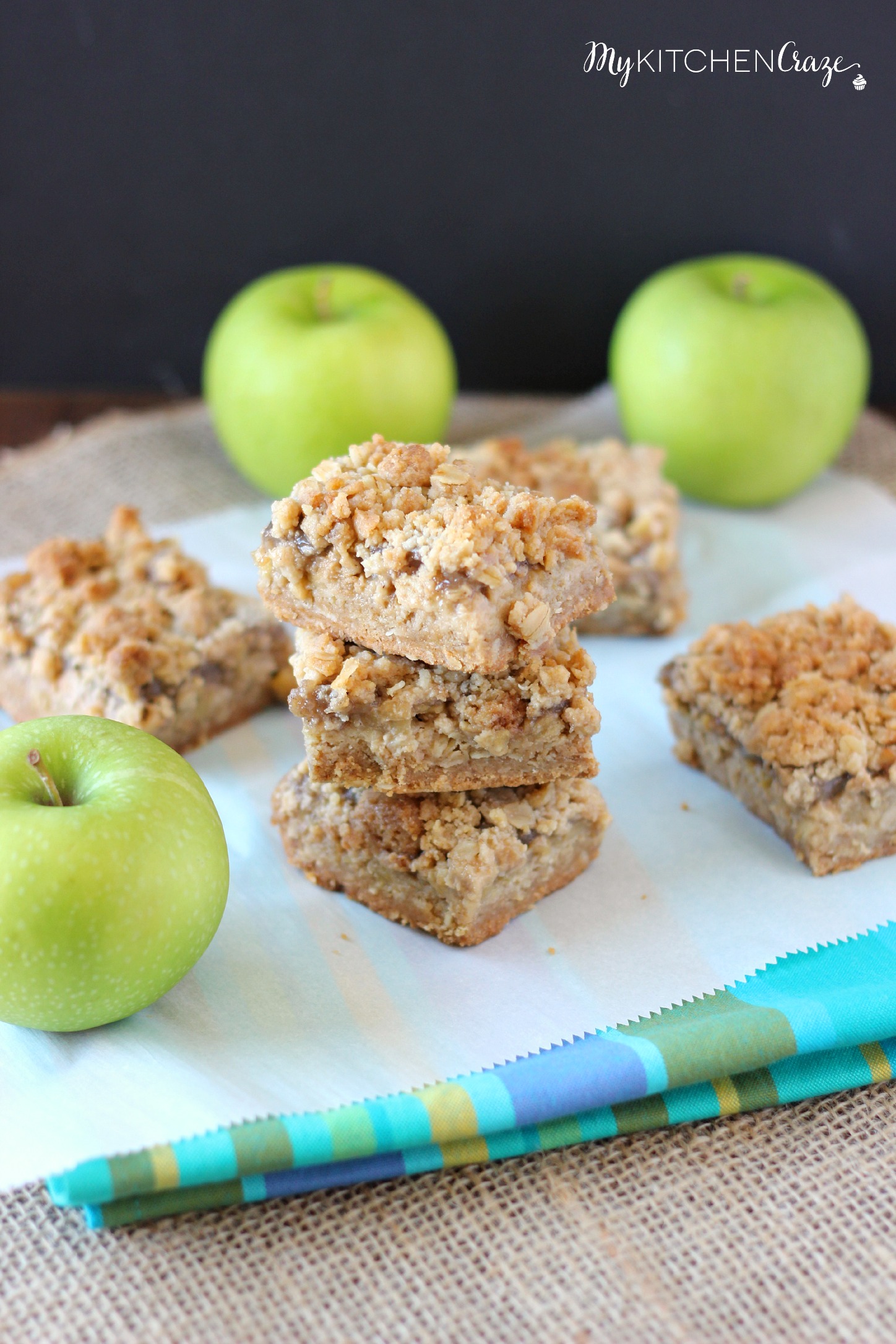 I love coming up with recipes that use apples. Apples are so easy to bake with and always taste great. As you've probably seen, I'm a little obsessed with bar recipes. Some people are cake people, but not me.
I'm a bar girl 100%! I have other bar recipes here, if you'd like to check'em out. Ever since I started baking, brownies and bars have always been my winners. When ever I make them, they always taste delicious. They also come together quickly and most of the time require very few ingredients. They transport easily and store even better. It's a win, win in Cyndi's recipe book.
I made these bars when we had some friends over for dinner and everyone feel in love with them. Some of our friends ate them with ice cream and some did not. I personally like them without, but you can eat them however your heart desires.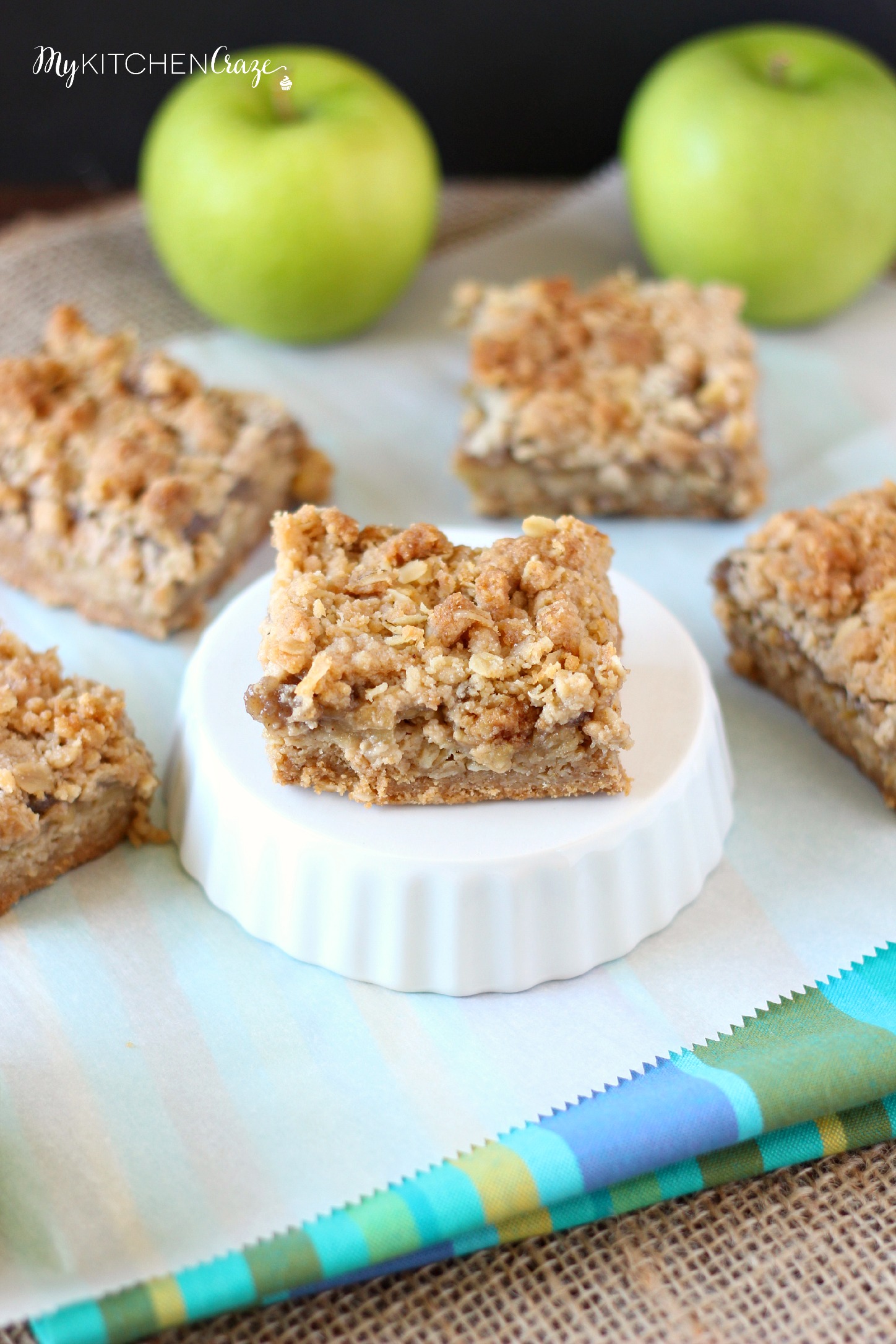 When your making these, I would suggest making sure you have all your ingredients on the counter. Once you cut the apples into pieces you'll need to either move quickly or sprinkle some lemon juice over them. You don't want them turning brown and getting yuckie. 🙂
These bars are amazing and taste delicious not just the first day, but also the second and third day. Great for a party or just because. Give these bars a try next time you need a yummy dessert!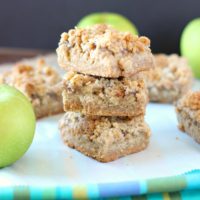 Get the Recipe:
Caramel Apple Crumb Bars
Ingredients
Bar and Crumb Topping:

3

cups

all-purpose flour

1 1/2

cups

old fashioned oats

1 1/2

cups

brown sugar

,

packed

3/4

teaspoon

baking soda

1/2

teaspoon

salt

1 1/4

cups

cold butter

,

cubed & divided

4-5

5 cups granny smith green apples, peeled and diced
Caramel Sauce:
3/4

cups

brown sugar

,

heaping & packed

3

tablespoons

cornstarch

1

cup

cold water

1

teaspoon

vanilla extract

1/2

teaspoon

ground cinnamon

pinch

of ground nutmeg
Instructions
Preheat oven to 350 degrees. Line a 9x13 baking dish with parchment paper and lightly spay with non-stick cooking spray; set aside.

In a large bowl add the flour, old fashioned oats, brown sugar, baking soda and salt. Whisk together to combine. Add 1 cup plus 2 tablespoons cold cubed butter and mix with a fork or a pastry blender, until mixture resembles coarse crumbs. Scoop out 2 cups and place in a medium bowl; set aside for the topping later.

Press remaining flour mixture into the prepared baking dish. Spread diced apples evenly over the top of the flour mixture.

In a small saucepan, add brown sugar, cornstarch, water, vanilla extract, cinnamon, nutmeg and remaining 2 tablespoons butter. Mix to combine and bring to a boil. Cook and stir for 2 minutes or until mixture thickens and is bubbly. Spread over apples.

Crumb together reserved flour mixture and sprinkle over apples. Making sure to make large crumbs.

Bake for 35-45 minutes, or until top is lightly browned and set. Let bars cool until cutting into them.

Serve & Enjoy!