Caramel Apple Bread Pudding 
I participated in an Influencer Activation on behalf of Influence Central for Eagle Brand. I received product samples as well as a promotional item to thank me for my participation.
Caramel Apple Bread Pudding is a combination of small bread piece, apples, pecans then soaked in a caramel custard. Baked to a crispy perfection. Top it with some ice cream and/or whipped cream to make this one delicious dessert!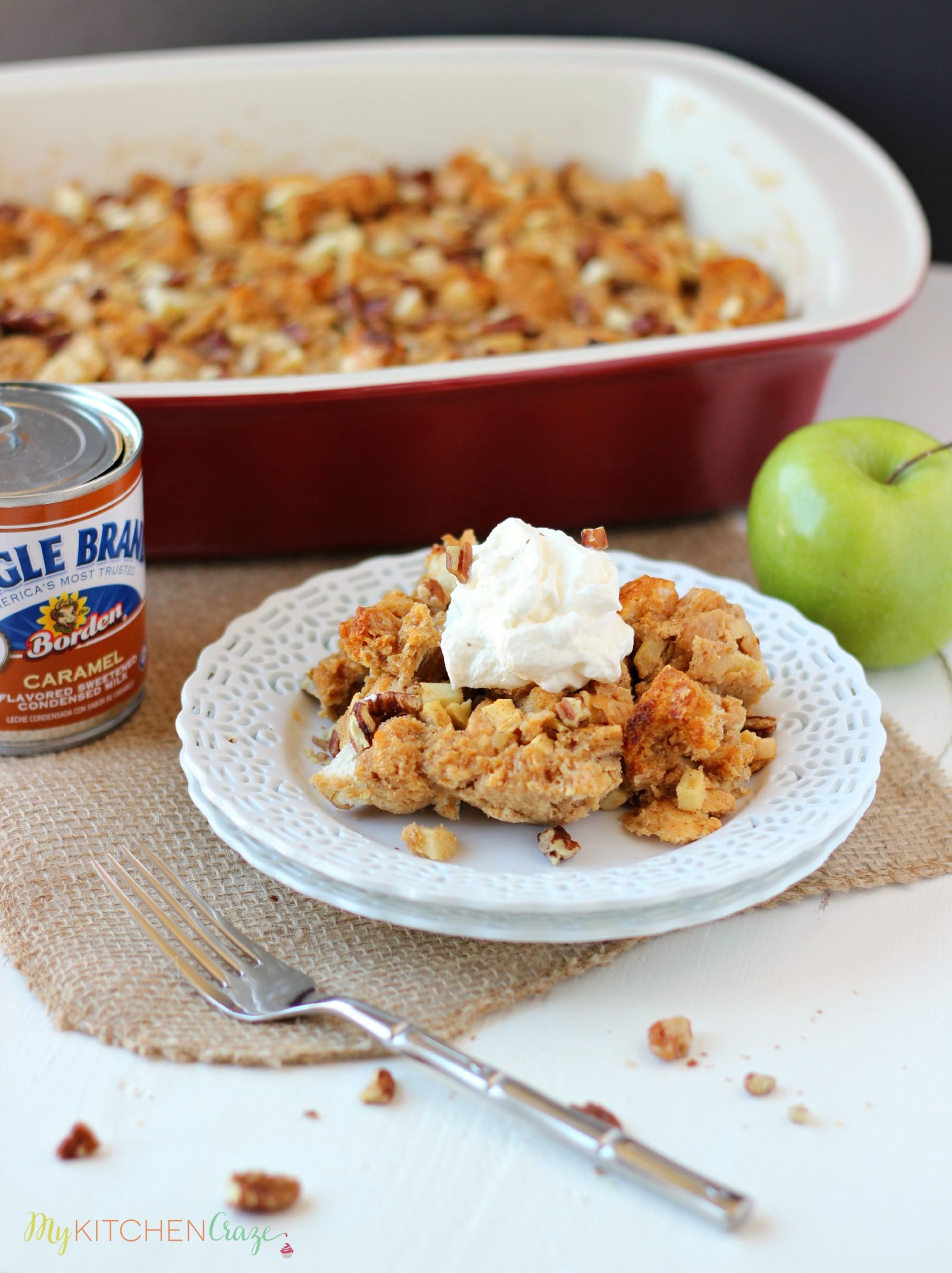 I have such an easy and delicious recipe for you all today. I've wanted to make bread pudding for a while, but I was so nervous to make it. Well it turns out that I was nervous for no reason.
This bread pudding has to be the best I've ever eaten. Now, I can tell you that I'm picky about my bread pudding. I can't have  bread pudding that's too soggy. I know that some people can, but I just can't eat soggy soggy bread. You feel me?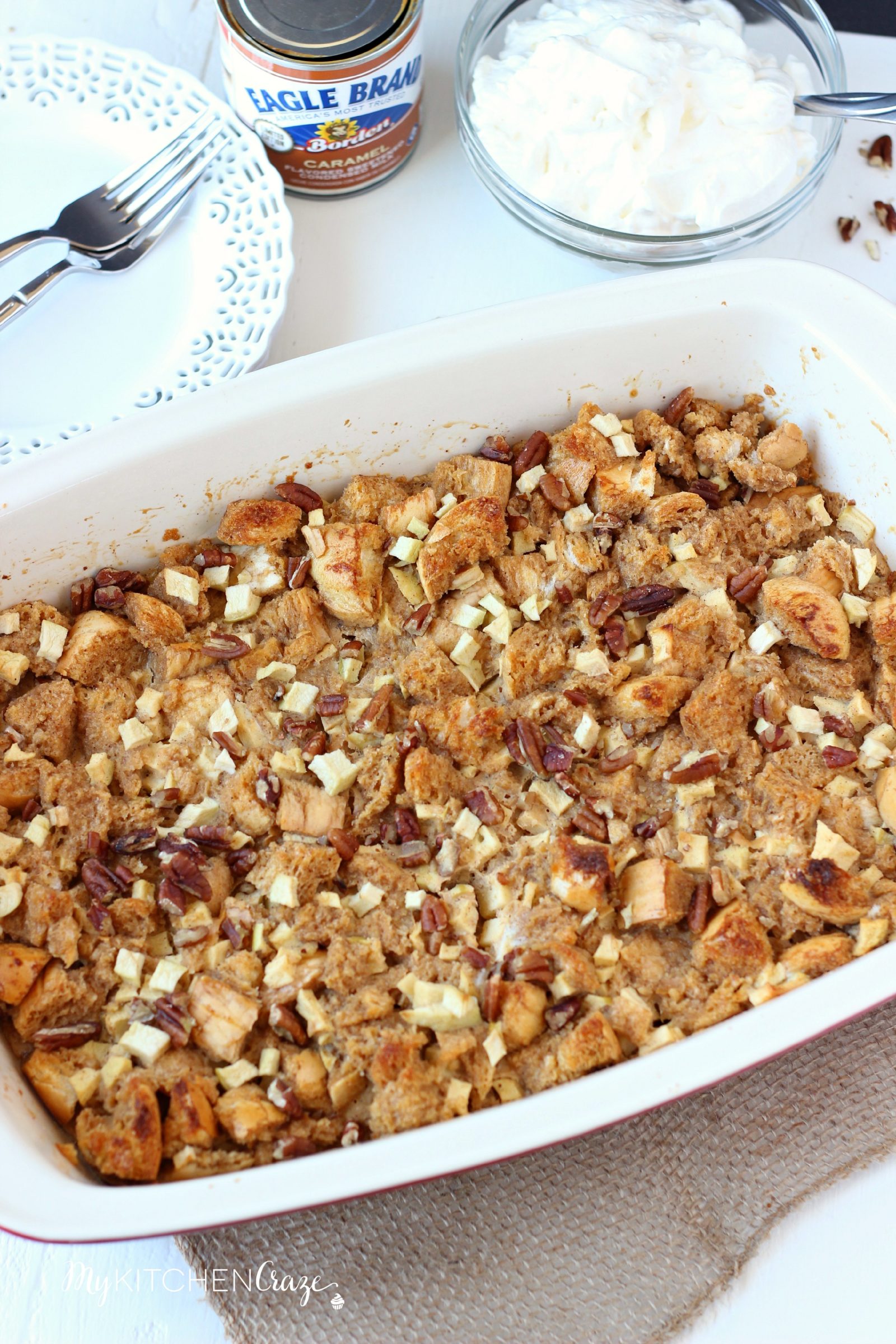 When I googled bread pudding recipes I noticed that some used heavy cream and some used condensed milk. I knew once I saw condensed milk as an ingredient that I had to go that route. I like to use Eagle Brand Condensed Milk when needed. So, I started brainstorming a recipe for this bread pudding. I knew I wanted some fun and unique.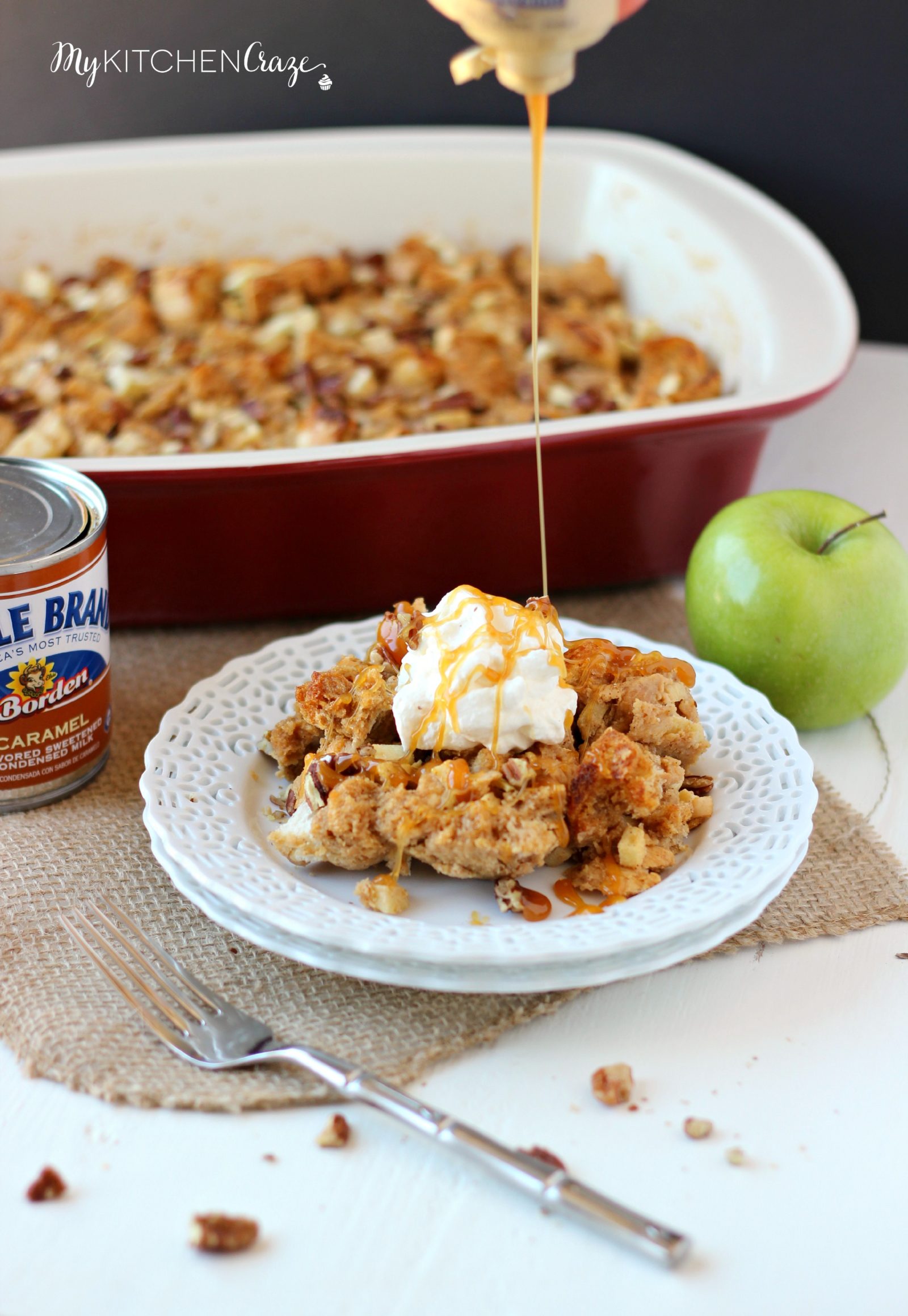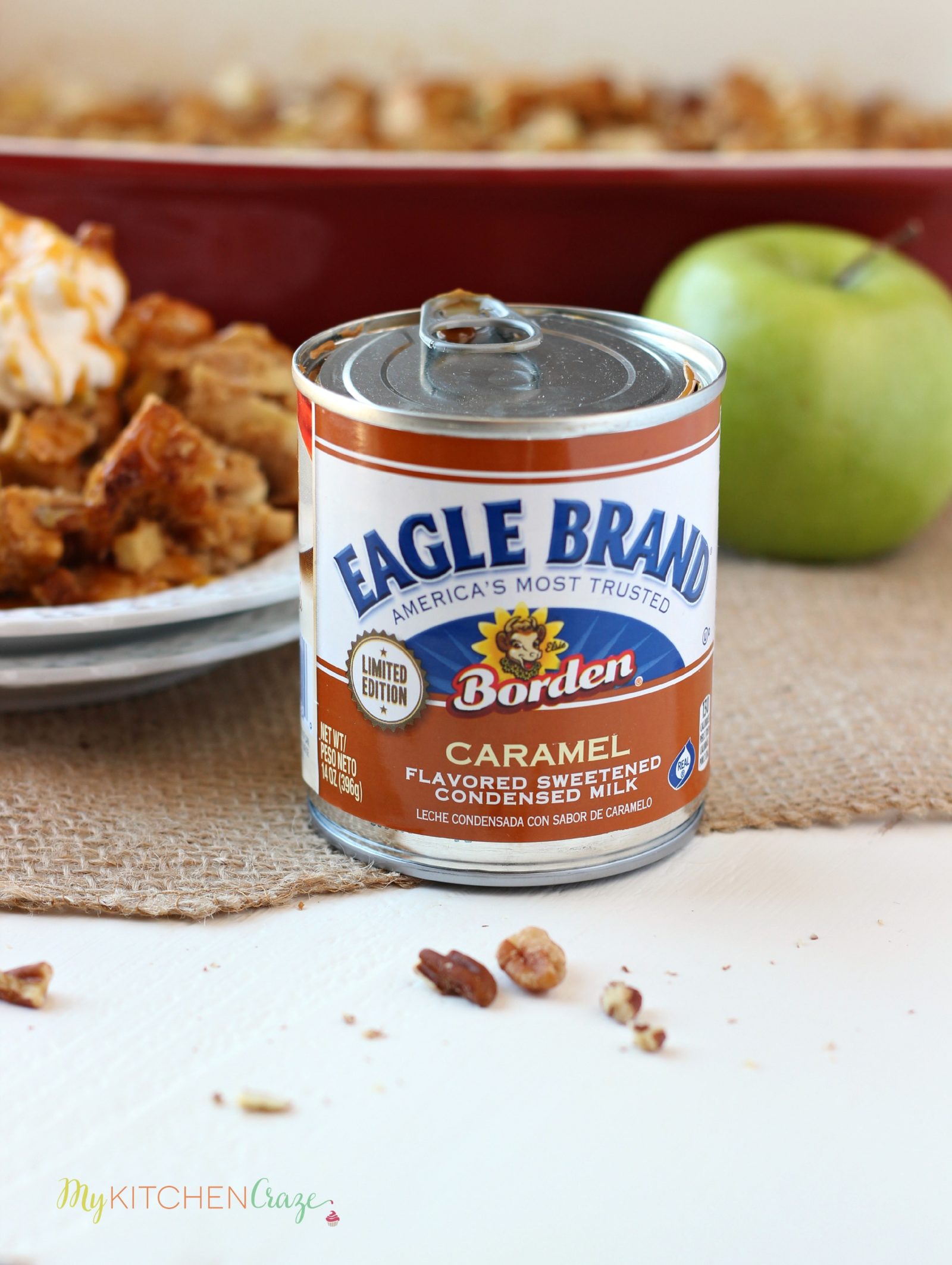 That's where this Caramel Apple Bread Pudding was born. I used fresh apples and chopped them into small pieces. Then I used Eagle Brand Caramel Condensed Milk. This condensed milk has a special blend of milk and sugar that's been dissolved using their vacuum process. The thickness is perfect and caramelizes easily and evenly. Plus the flavor is amazing. I could eat it by the spoonful.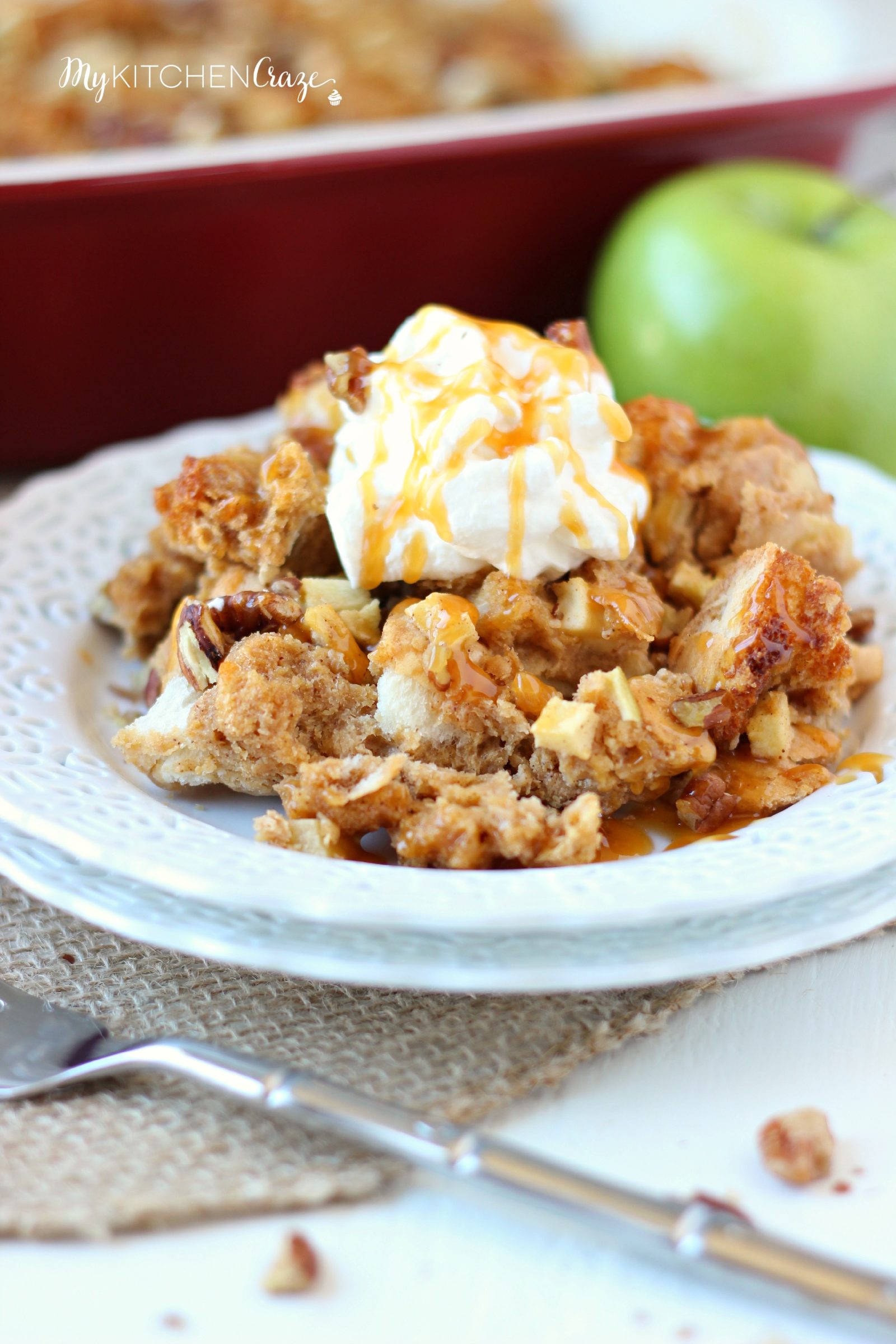 This dessert doesn't take any time at all to make either which is a plus. I would suggest you get the french bread the day before. You want the bread to dry out a little bit. It makes it that much better.
So if you need an easy, but delicious dessert then I think you need to make this. This Caramel Apple Bread Pudding makes a great dessert for family gatherings or those holiday potlucks. You can make it the day before so you're ready to go the next day. Just make sure to get a slice first because it will be gone before you know it.
Check out Eagle Brand website for more information and recipes!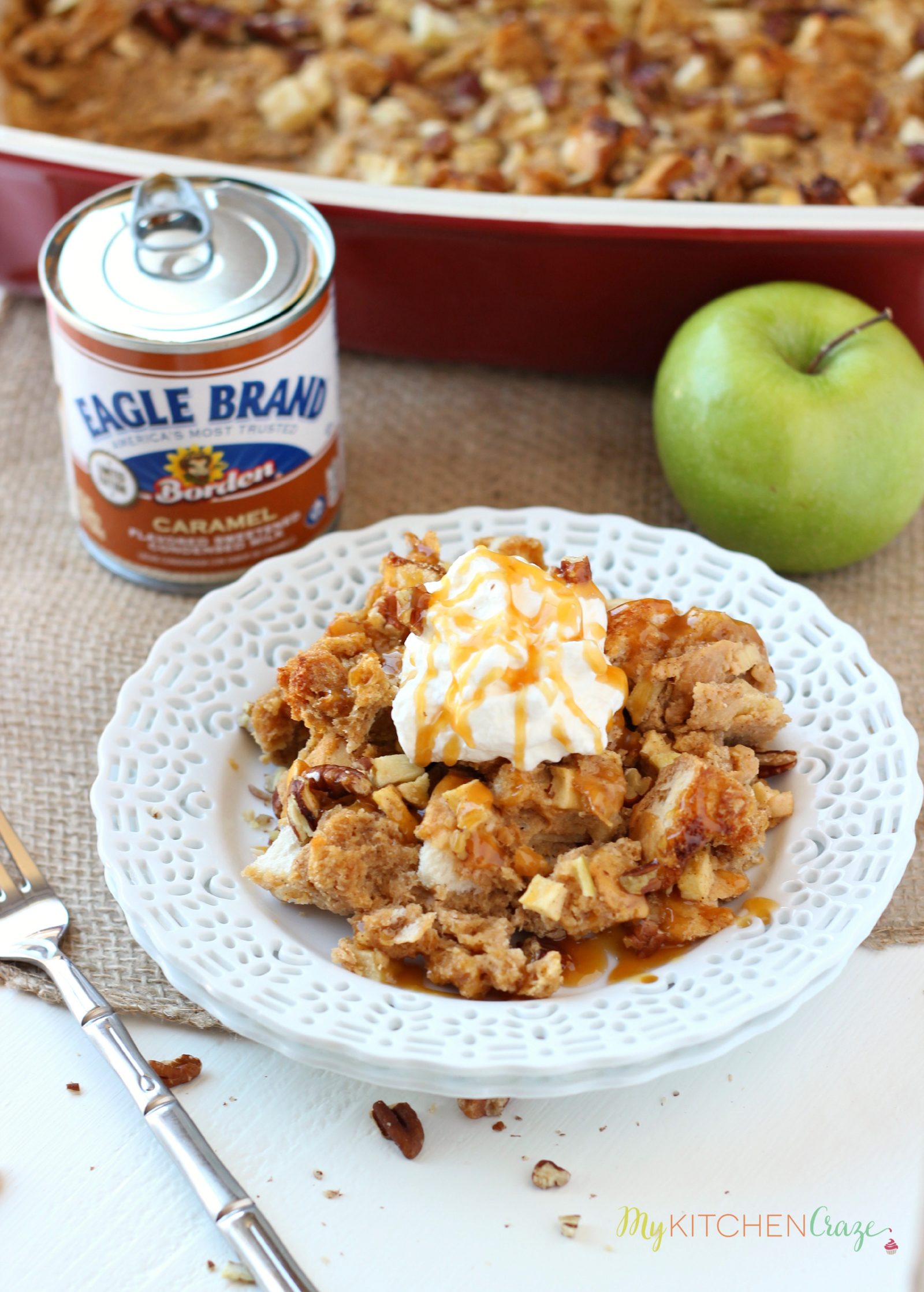 Servings: 8 -10
Caramel Apple Bread Pudding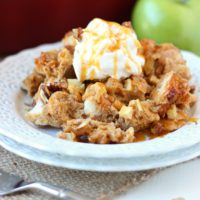 Print
Ingredients
3 small gala apples, chopped
1 can, 12 oz can evaporated milk
1 can, 14 oz Eagle Brand Caramel Condensed Milk
4 eggs
1 teaspoon vanilla extract
1 teaspoon apple pie seasoning
1/2 teaspoon ground cinnamon
8 cups white french bread, cut into 1 inch cubes
1/4 cup chopped pecans
garnish: whipped cream and/or ice cream, caramel sauce
Instructions
Preheat oven to 350 degrees F. Spray a 9x13 baking dish with non-stick cooking spray; set aside.

In a large mixing bowl, whisk together the evaporated milk, condensed milk, eggs, vanilla extract, apple pie seasoning and cinnamon.

Add the cubed bread, apples and pecans to the prepared baking dish. Toss to combine.

Pour the custard mixture over the bread. Carefully toss to coat, making sure that the bread is submerged in the custard. Let stand to allow the bread to soak up the custard, 10 minutes.

Bake 45 minutes, or until the center has set and a toothpick inserted has come out clean.

Garnish with whipped cream, ice cream and caramel sauce.

Serve warm and enjoy!