Southwest Chicken Tortilla Bake
This shop has been compensated by Collective Bias, Inc. and its advertiser. All opinions are mine alone. #EverydayEffortless #CollectiveBias 
Need something quick, easy and on the table in no time at all? Then this Southwest Chicken Tortilla Bake is calling your name.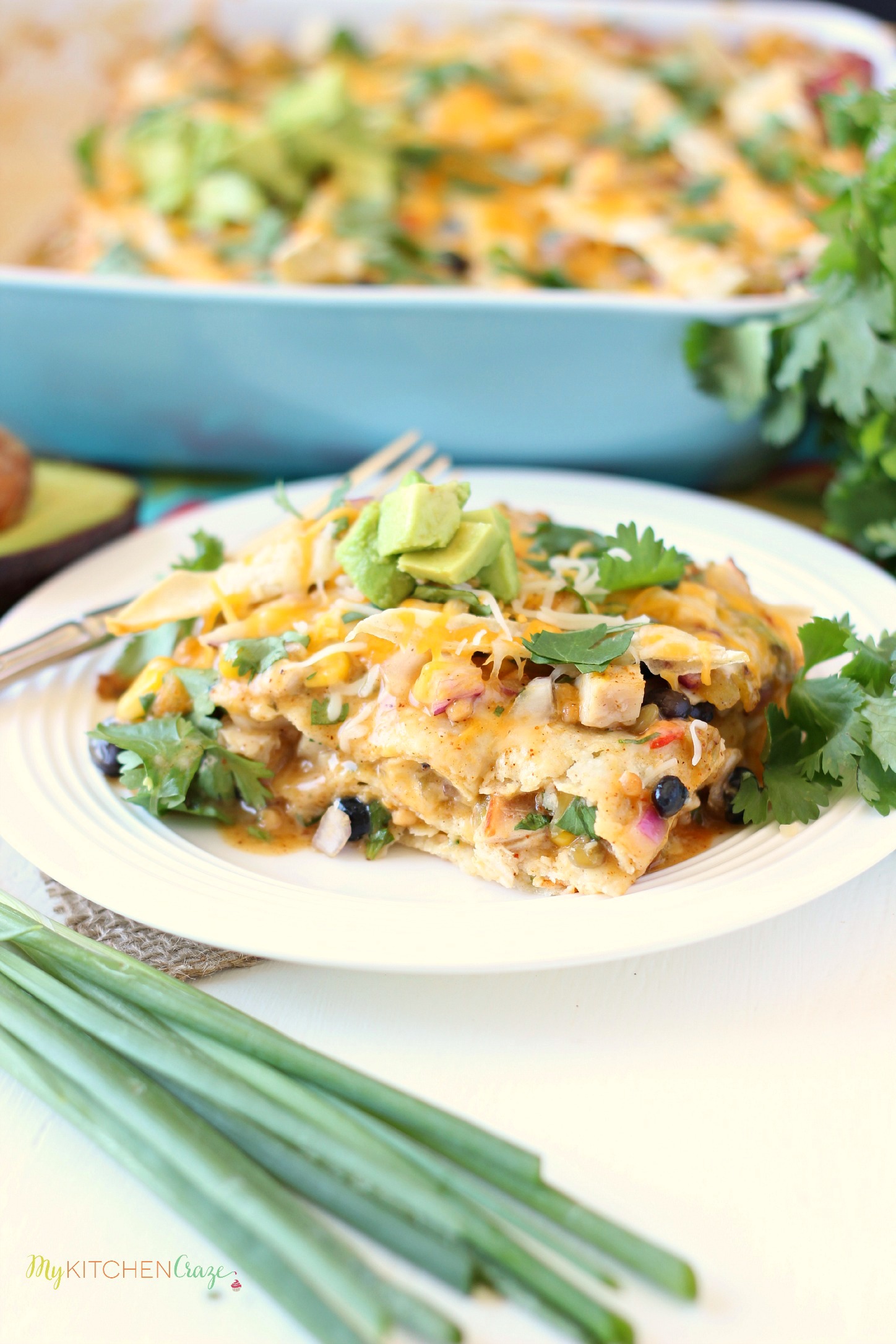 There are times that I just don't want to be in the kitchen. Especially if I've been in the kitchen all day testing out new recipes and have loads of dishes that need to be done. I can't tell you how many times the hubby comes home from work and asks whats for dinner.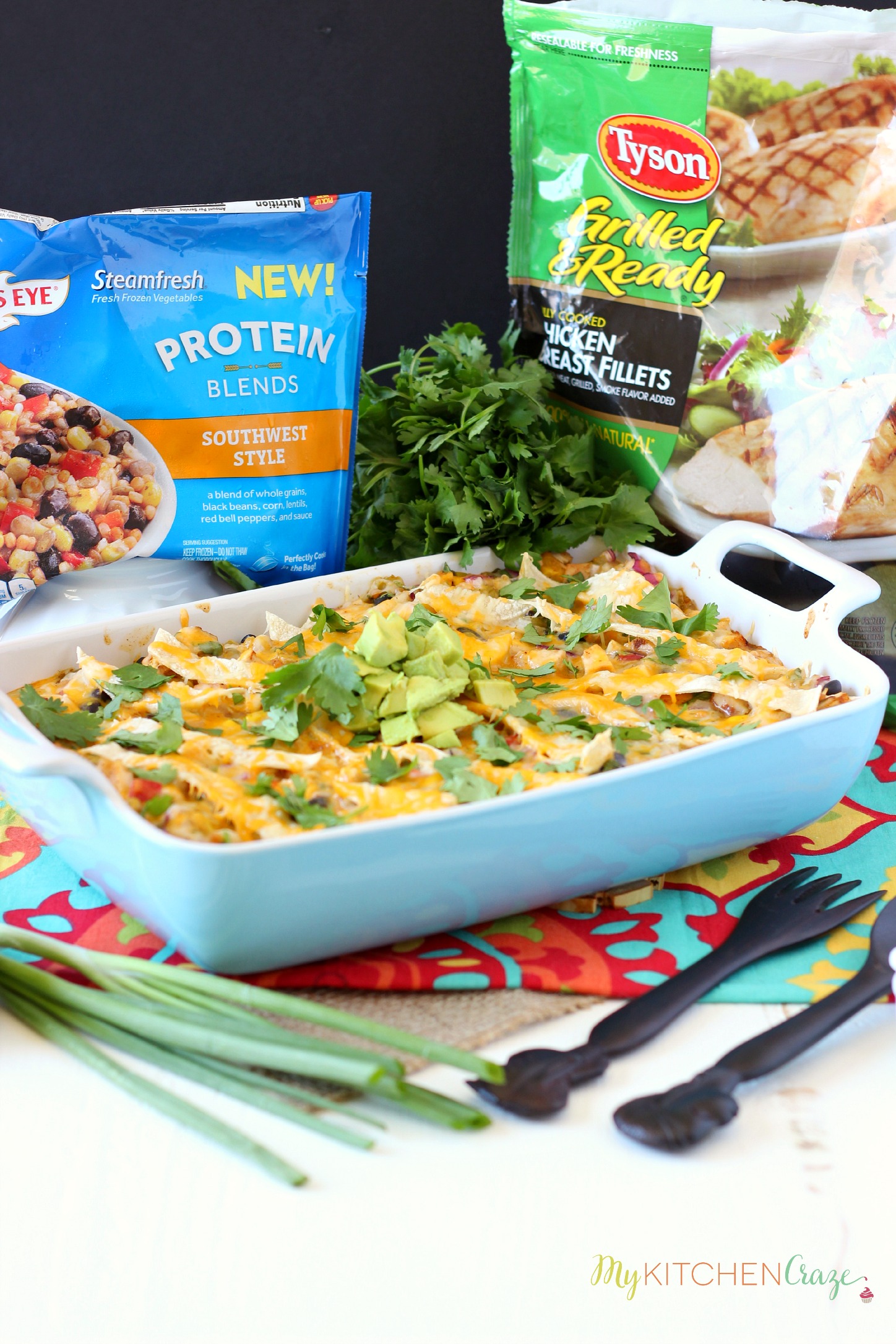 This is me: "Uhh, I forgot that I still needed to make dinner. Babe, can we go out?" He's amazing (of course, that's why I married him) and says, "Whatever you want honey. You know I'm not picky."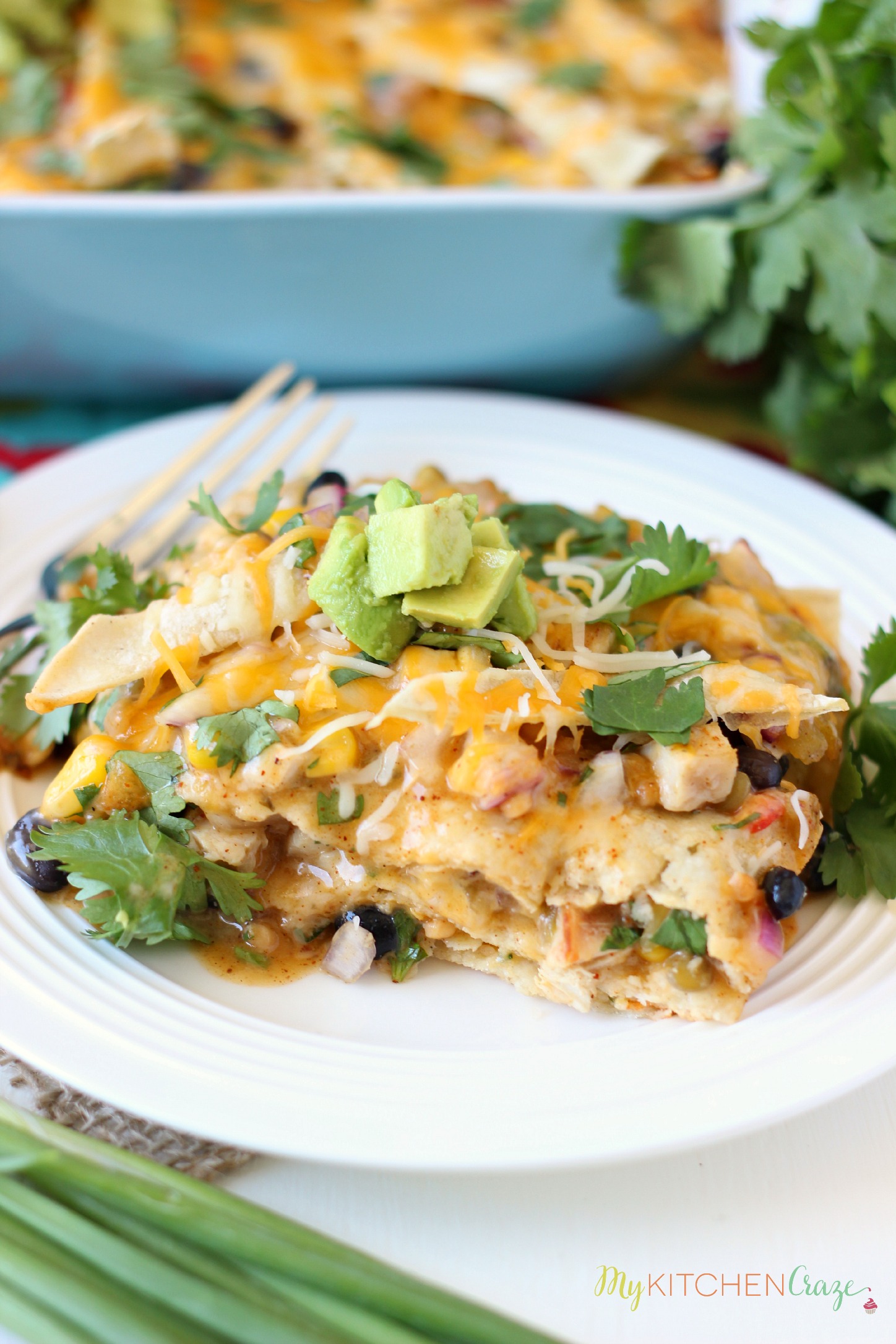 The other day I was shopping at Wal-Mart and I saw these Tyson Grilled & Ready Chicken Breast. I thought, "Yes! I can have dinner ready within minutes using these babies." These Tyson Grilled & Ready Chicken breasts are packed with great protein, fully-cooked, 98% fat free and have no preservatives. I was sold. And guess what? They taste delicious!!
Something you might not know about me, is I hate working with meats. I don't know why, I just do. I also hate boiling chicken because the flavor never comes out right for me. These ready made Tyson Grilled Chicken Breasts have amazing flavor and tastes great! Plus it's a time saver!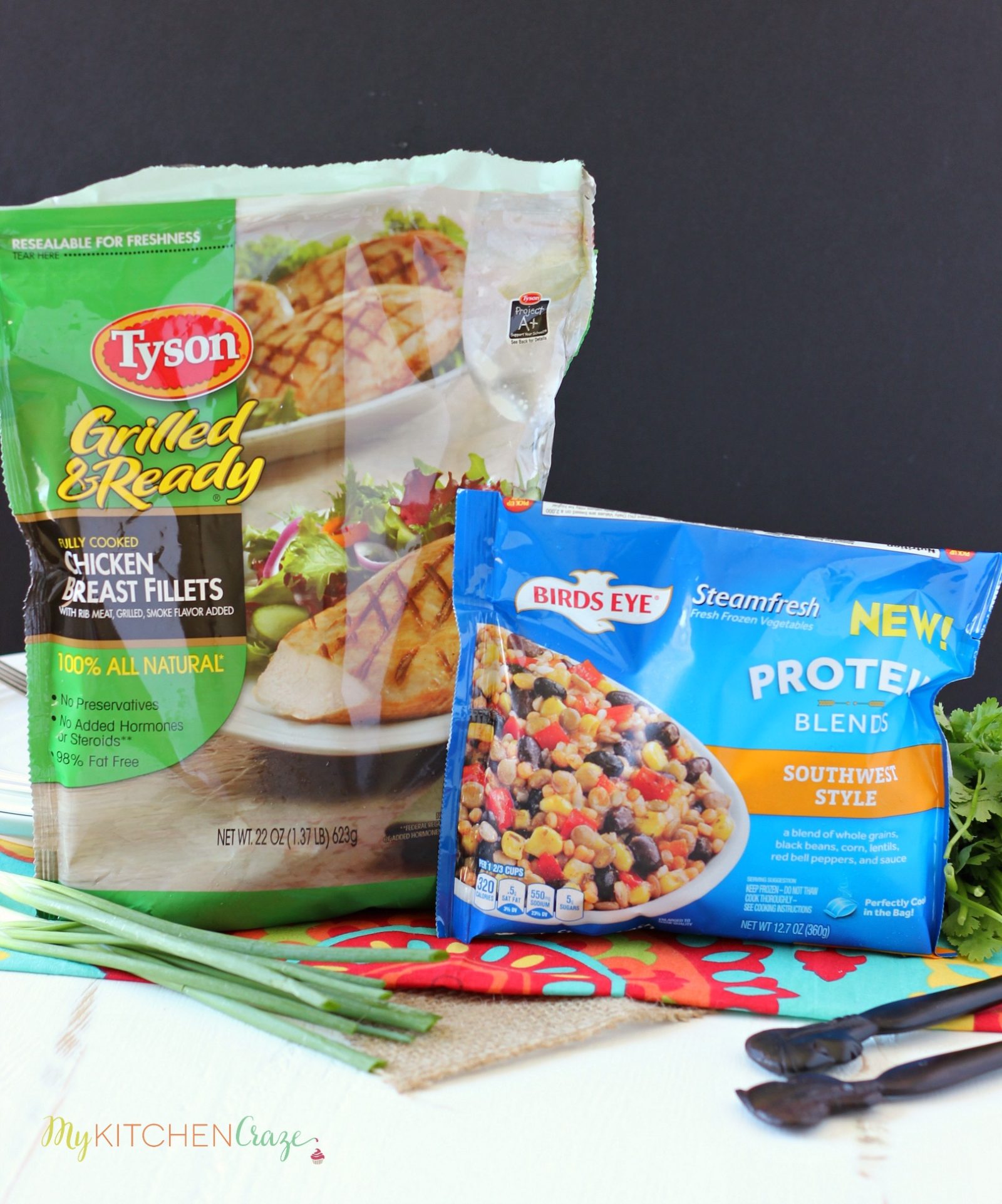 While scanning the freezer section, I also saw that Birds Eye Vegetables have a new protein line of vegetables. Packed with a delicious blend of whole grains, black beans, corn, lentils, red bell peppers, and sauce.
My head was spinning in all sort of directions on how I could use both of these together in a quick, easy and of course delicious meal. I love the meals you can throw everything in one bowl, spread it out into a baking dish, top with shredded cheese and bake. They also always warm up really well the next day.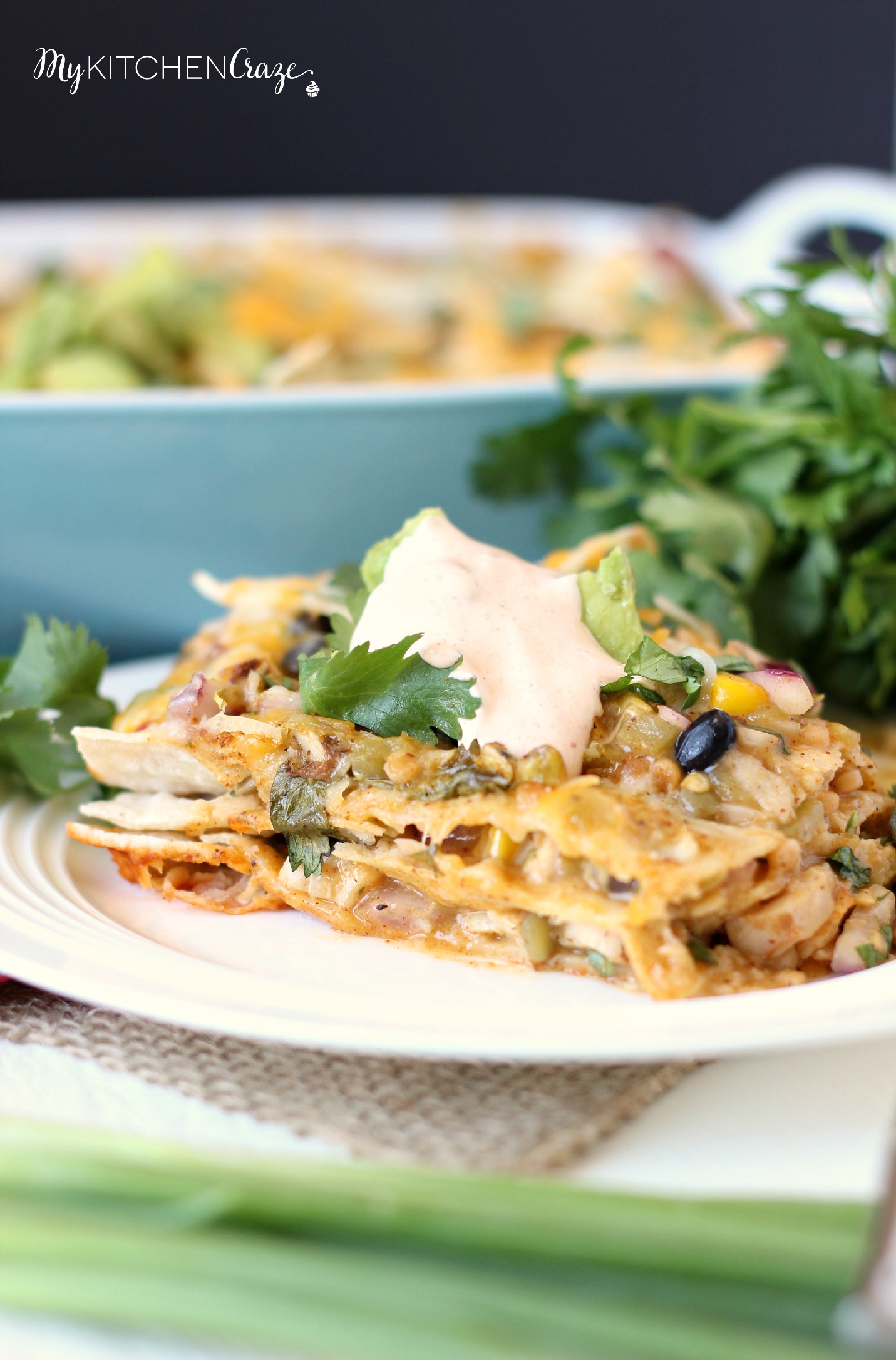 It's like an easy meal dream come true. I decided on a casserole because if you look around my site, you'll notice I have a thing for casseroles. They're just easy and the mess is always minimal. In  my opinion you can never mess up with a casserole. I feel like I'm always serving a gourmet meal.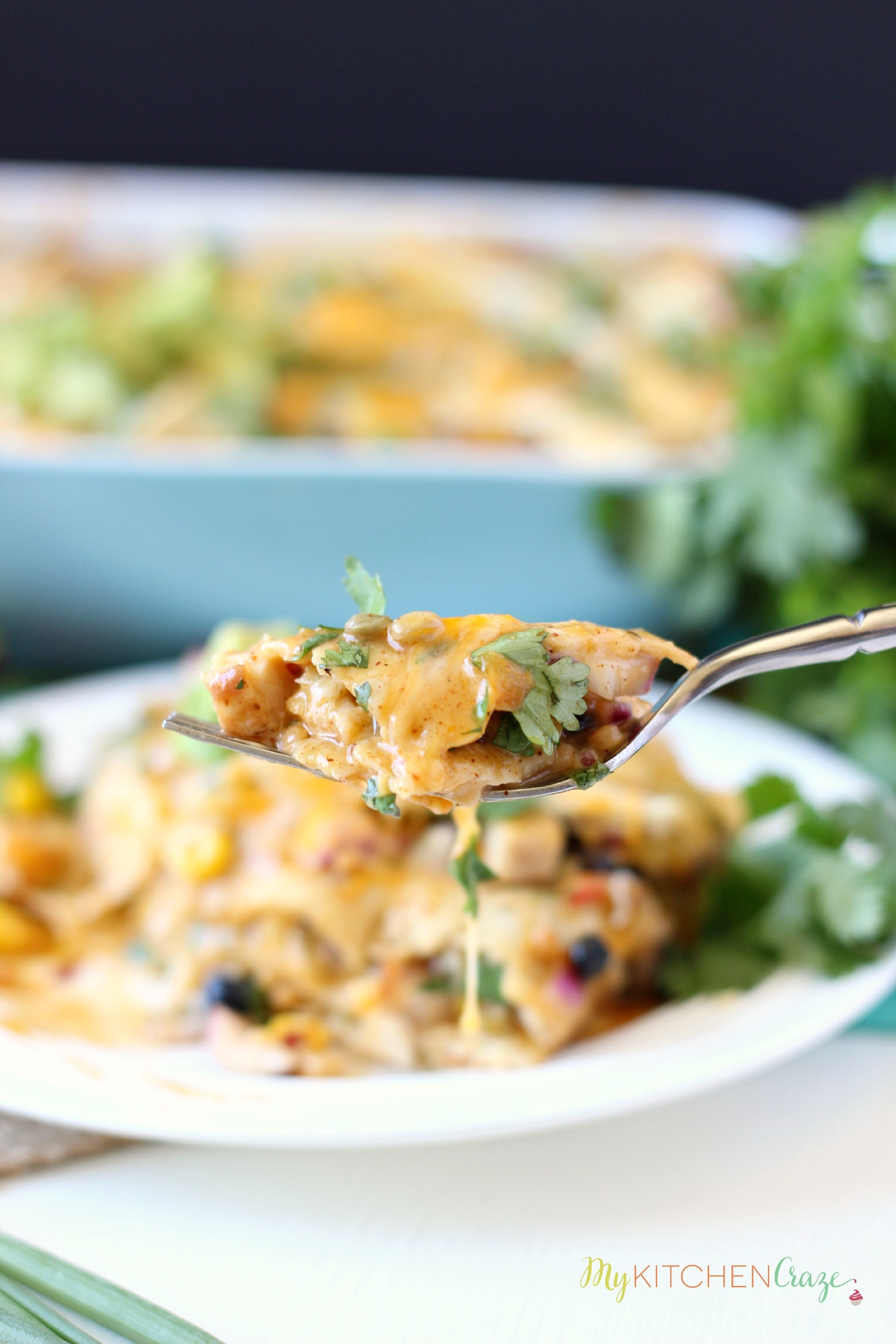 I took three of the Tyson chicken breasts and let them thaw for about 20 minutes, then diced them into pieces. I might have popped a few pieces into my mouth while chopping. They were that good. I threw the chicken, the vegetables, some diced chiles and a few other ingredients into a large bowl.


Then threw some tortillas into a baking dish and started laying the chicken mixture with the tortillas and cheese. Bake it so the cheese melts, then wha-la you got your self a Southwest Chicken Tortilla Bake. Quick, simple, easy and delicious! Warms up really well for leftovers too. What more could you ask for?
If you'd like to find these products, you can visit this link here to find the closest Wal-Mart in your area. Also, be sure to check out more delicious recipes at Tyson.com. I'd love to hear your favorite!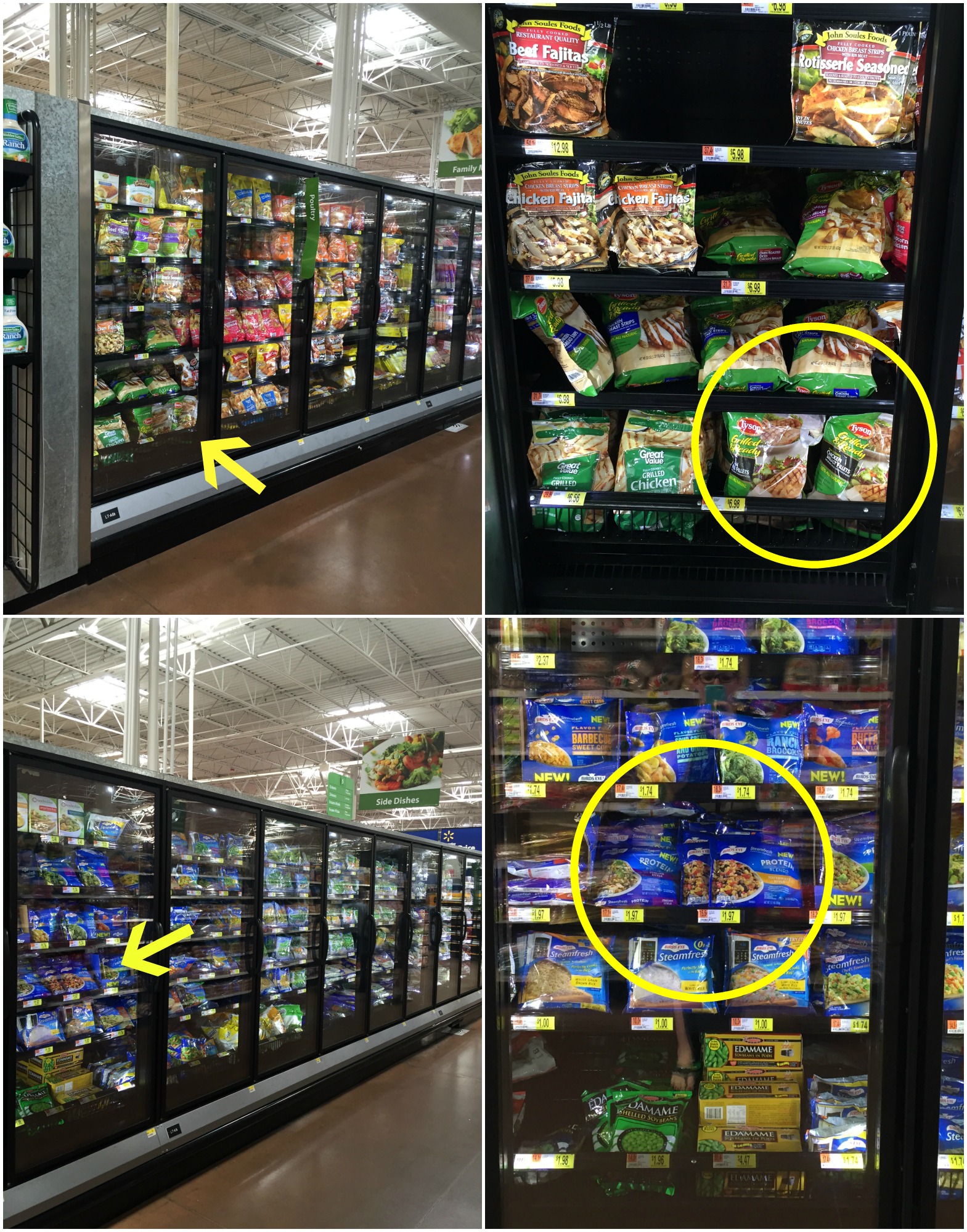 Southwest Chicken Tortilla Bake
Author:
Prep time:
Cook time:
Total time:
Don't have time to be in the kitchen all night. This Southwest Chicken Tortilla Bake will have you in and out of the kitchen in no time. Plus this bake tastes amazing.
Ingredients
3 cups Tyson Grilled & Ready Chicken Breasts, thawed & cubed
1 1/2 cups Birds Eye Southwest Protein Vegetables
1/2 tablespoon ground cumin
1/2 tablespoon chili powder
2 cans (4 ounces each) chopped green chilies
1 cup chicken broth
1 can (10-3/4 ounces) condensed cream of chicken soup
1 small red onion, chopped
1/4 cup cilantro, chopped
1/4 cup enchilada sauce, optional
21 corn tortillas, slightly toasted
2 cups shredded mexican cheddar cheese
garnish, sour cream, avocados, cilantro
Instructions
Preheat oven to 350 degrees F. While you're preparing the meal, cut all but three corn tortillas in half. Place them on a few baking sheets and bake 15 minutes. This will allow them to crisp up a little, so you don't have soggy tortillas. Place to the side and allow to cool.
In a large bowl, combine the Tyson cubed chicken , ground cumin, chili powder, Birds Eye vegetables, chilies, broth, soup, onion and cilantro. Mix well until all ingredients are combined.
Layer six (12 halves) tortillas in a greased (you can add the enchilada sauce here) 13-in. x 9-in. baking dish. Spoon 1 cup of chicken mixture, spread out evenly. Sprinkle with 1/2 cup cheese. Repeat two more layers, stopping at the chicken mixture.
Cut remaining three tortillas into strips and evenly lay them over the chicken mixture. Top with remaining shredded cheese.
Bake 17-20 minutes, or until cheese is bubbly and heated through.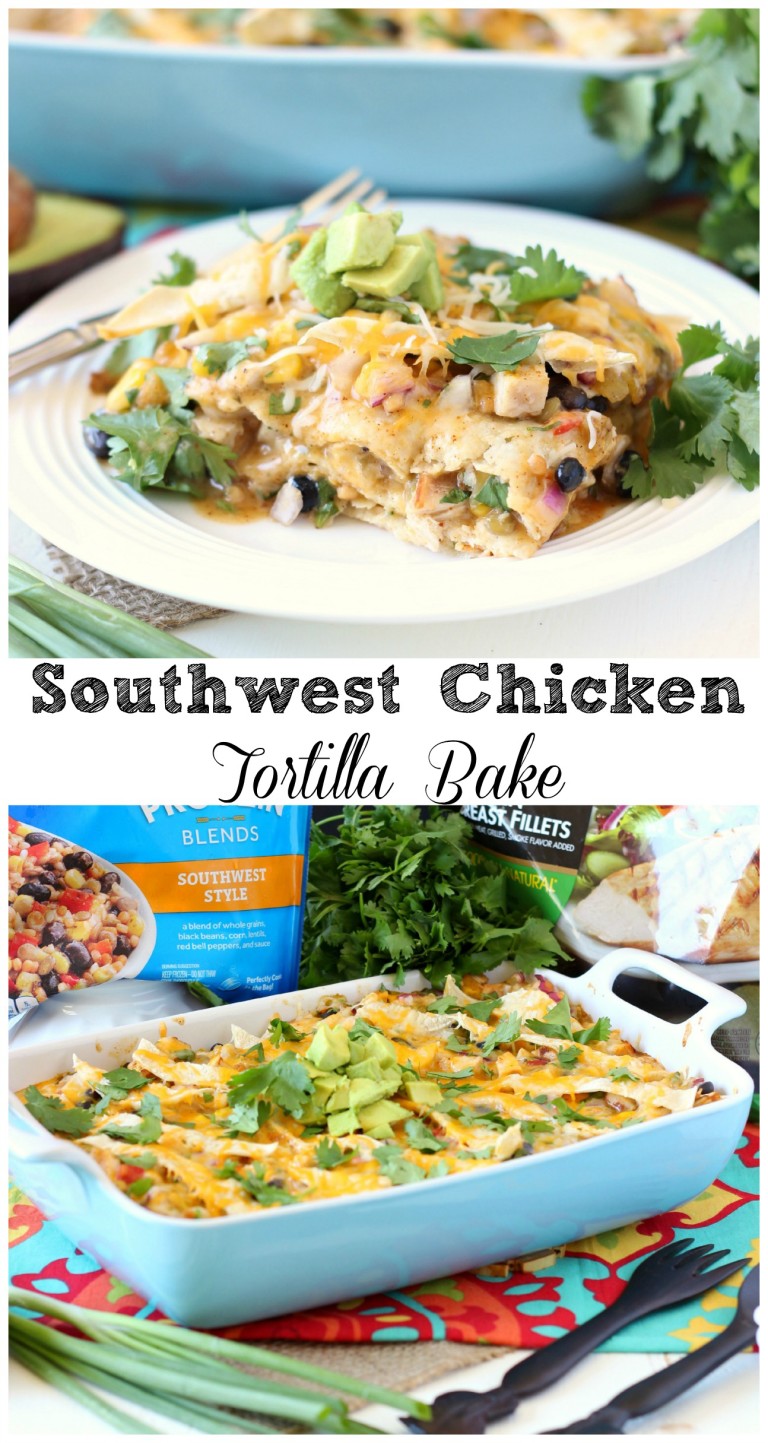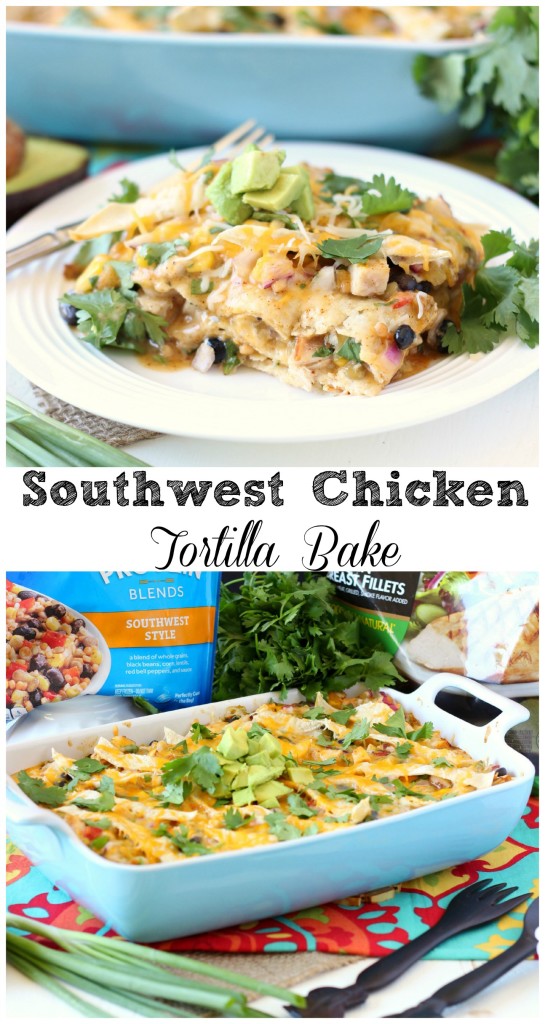 More casserole recipes: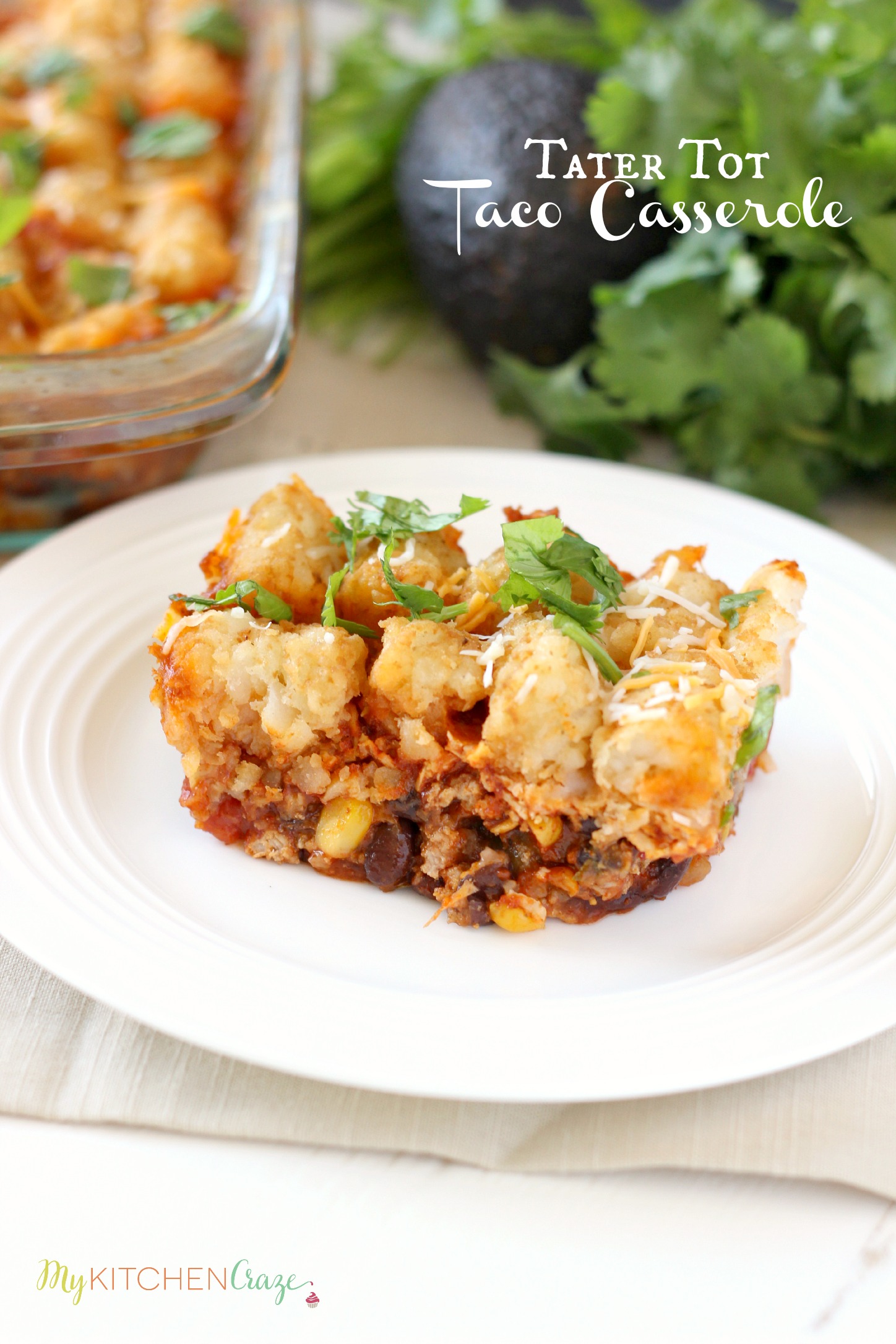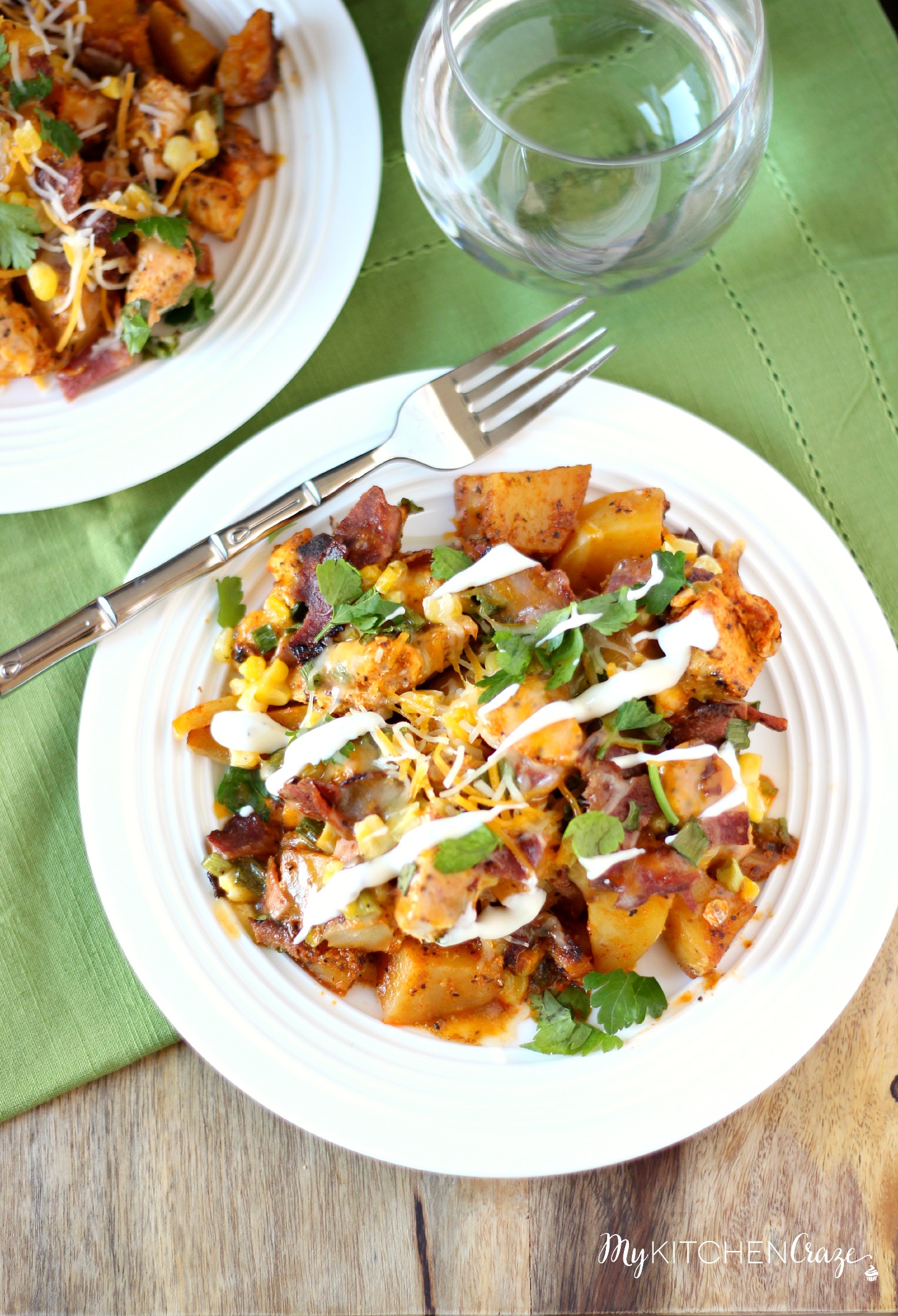 Buffalo & Chicken Potato Casserole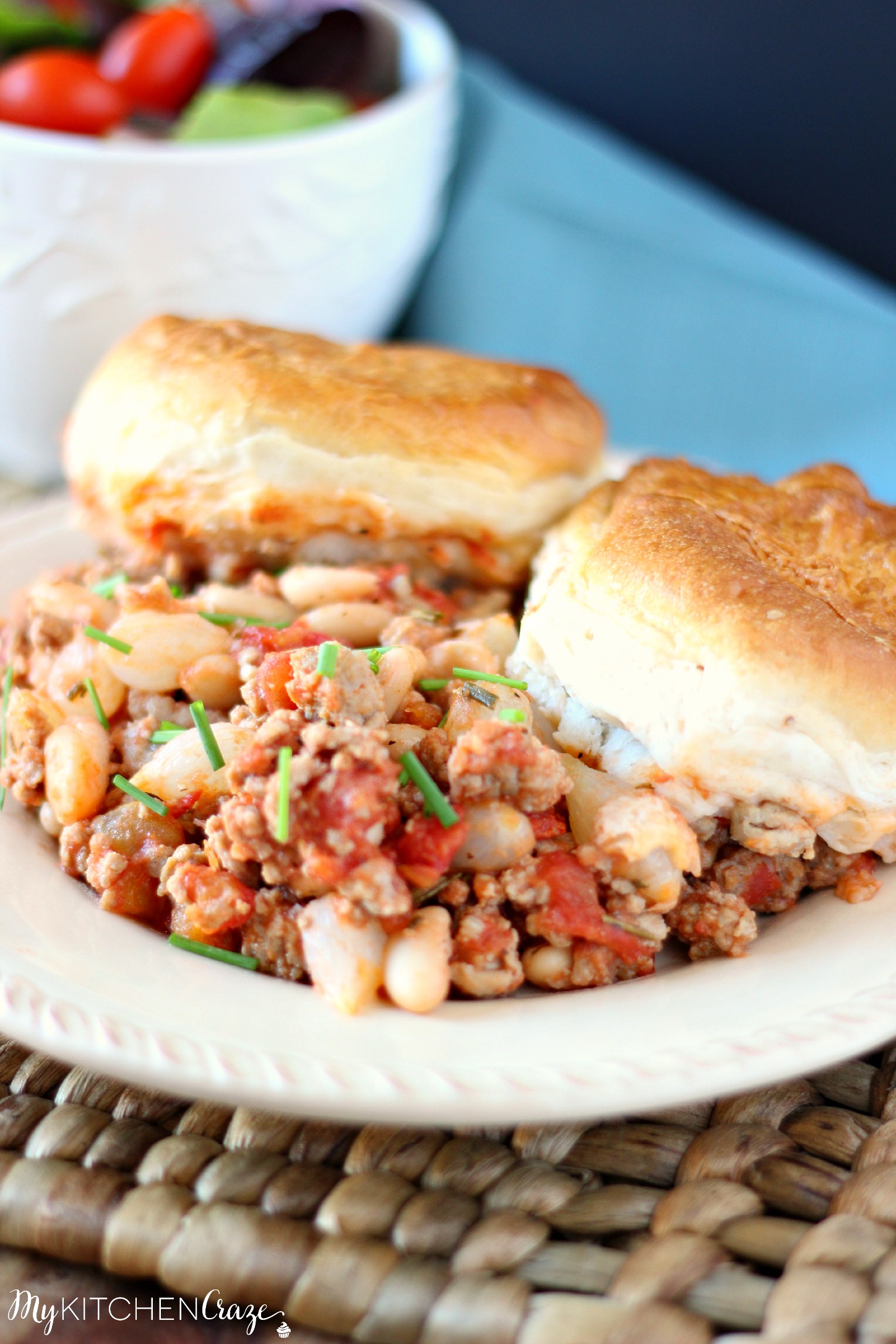 Sausage & White Bean Casserole
Here are more casserole recipes by my food blogger friend:
Perogy by The Recipe Rebel
Rotisserie Chicken Casserole by Mom on Timeout
Nacho Casserole by Buns in My Oven