Delicious Oatmeal Chocolate Chip Cookies. How much healthier & yummier could it get?   Be sure to follow me on 
Facebook!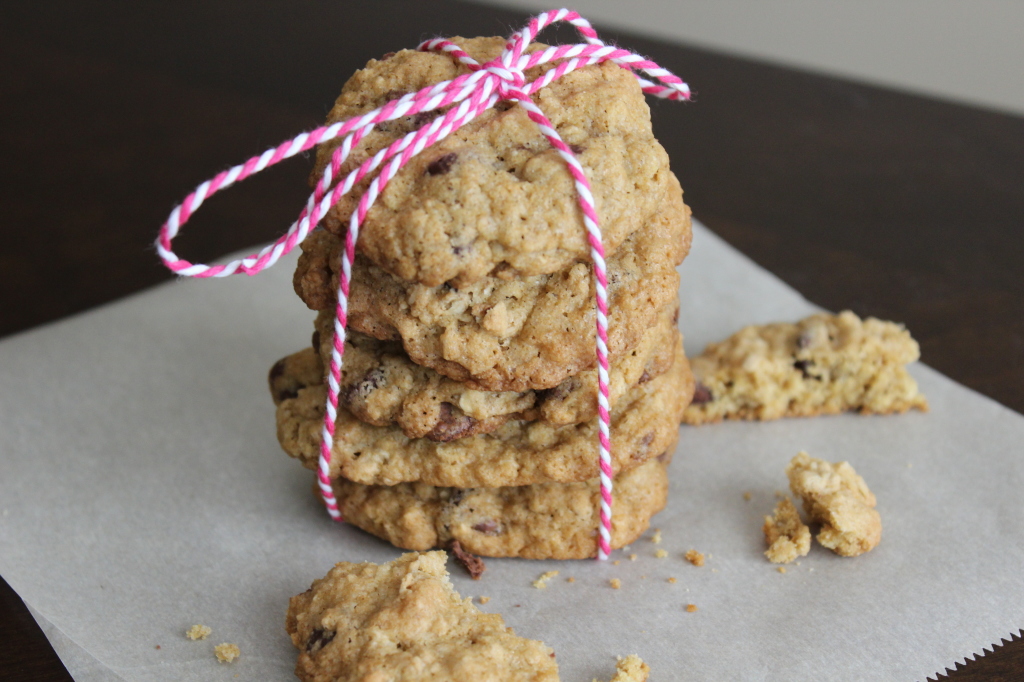 I try to be a heathy eater…Really I do, but it just doesn't work out that way most of the time.
So when I saw these cookies I thought what better way to bring a little bit of health into my life. Hehe that sentence made me giggle! Okay, okay thats a far reach, but come on go with me okay. These cookies have oatmeal in them which is a great source of fiber and half of the flour used is White Whole Wheat Flour. What great healthy decisions we are making here. Another bonus for me was that they freeze really well. So my thinking was I would whip up a batch of these, freeze half for kids lunches and then half would be eaten. Well….that didn't work out so well. My family and I ate them all in a few days. They were delicious. I'm  not a fan of anything with wheat for some reason. I'm not sure why, but I just don't care for it that much. I think it's a texture thing for me. Well with these babies you don't even realize there is wheat flour in them.
I suggest you give them a try. Honestly go to the store and  buy a small thing of White Whole Wheat Flour by King Arthur and start baking them. Now I haven't tried them without the wheat flour, but I bet they would be just as amazing with regular APF. If you try it out will you let me know please.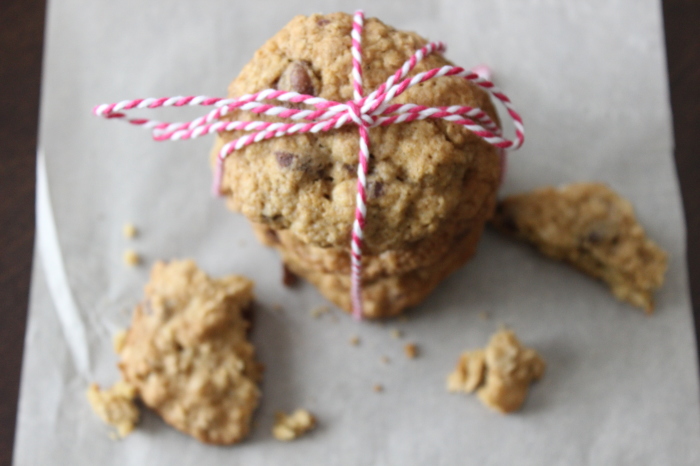 Oatmeal Chocolate Chip Cookies
Ingredients
⅓ cup all-purpose flour
⅓ cup white whole wheat flour
1½ cups old fashioned oats
1 teaspoon baking soda
½ teaspoon salt
6 tablespoons butter, melted
¾ cup packed light brown sugar
1 teaspoon vanilla extract
1 egg, slight beaten
½ cup semisweet chocolate chips
Instructions
Preheat oven to 350 degrees F
Add brown sugar to melted butter and mix.
In a large bowl add the flours, oats, baking soda, salt and whisk together. Add the butter/sugar mixture and mix using a mixer at medium speed until well blended. Add the vanilla and egg. Mix until combined. Fold in the chocolate chips.
Spoon rounded tablespoons of dough onto a baking sheet lined with silpat or parchment paper. Bake cookies for 10-12 minutes, until light browned around the edges. Remove cookies and set on a wire rack to cool.
Recipe Source: Mel's Kitchen