Browned Butter Pumpkin Cupcakes
Do you ever feel like pumpkin when it's not the holiday season? If you are like me and can have pumpkin year round, then this recipe is calling your name!
Follow me on Facebook & Pinterest to stay up to date on all my recipes!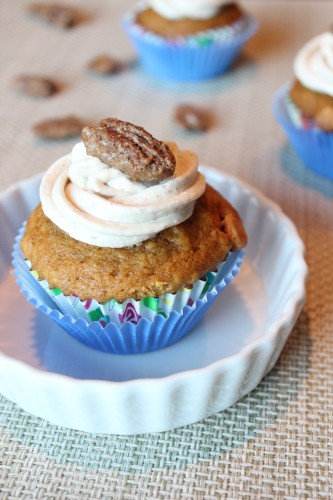 I know that during the holidays we shove as much pumpkin as possible down our throats by the time the holidays are over, we are so ready to say goodbye to  pumpkin and anything that resembles pumpkin. But…sometimes don't you just crave a little flavor of pumpkin? Maybe you don't and if that's the case then you are not normal. Okay I didn't mean that. I'm sorry. But how can you not even think about it for a little second?
Well if you don't think about it then that's ok, but if you are like me and sometimes just want a little pumpkin in your life when it's not the holidays. Then this recipe is totally for you. YEA you!! These cupcakes are to die for. I mean it. Truly truly mean it. They are so so yummy that I could probably eat 2, okay 3 at a time. I actually kinda of feel like one right now while I am typing this post to you all. See I have an issue. Back to the cupcakes. They turned out moist, not to pumpkin-y but just right. The icing was a sinch to throw together and the candied pecans made it all come together.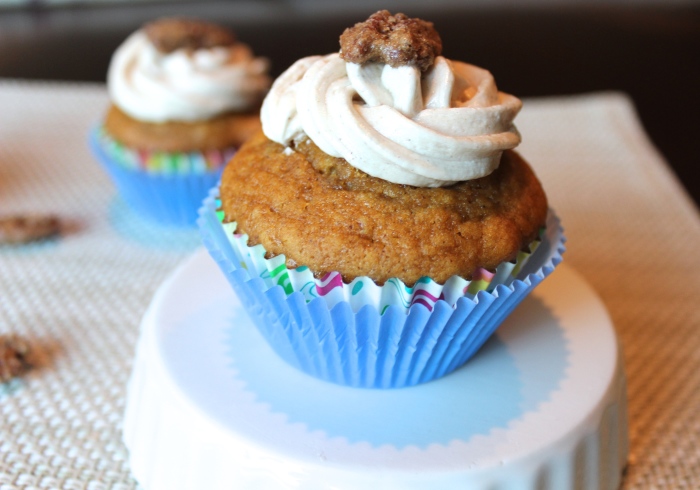 I seriously can't say enough good things about these cupcakes. I even took a batch over to Sean's work and they devoured them within 30 minutes. They were so good that his co-workers thought he actually bought them at a bakery. Everyone couldn't believe that they were homemade. If you're in the mood to impress and want something delicious, give these a try. You will not be disappointed. Promise!
Recipe Source: Cookie Monster Cooking
Browned Butter Pumpkin Cupcakes
Ingredients
Cupcakes:

2 sticks unsalted butter
2 cups all-purpose flour
1 teaspoon baking powder
1 teaspoon baking soda
1 teaspoon salt
1 teaspoon ground cinnamon
3/4 teaspoon ground ginger
1/4 teaspoon ground nutmeg
1/4 teaspoon ground all spice
1 cup light brown sugar, packed
1 cup granulated sugar
4 large eggs, lightly beaten
1 can (15 ounce) pumpkin puree
3/4 cup cinnamon chips

Frosting:

2 sticks unsalted butter, room temperature
3 cups powdered sugar
1/4 teaspoon salt
1/2 teaspoon ground cinnamon
1/2 teaspoon vanilla extract
1/4 teaspoon maple flavor
1/4 cup pure maple syrup
few tablespoons milk/heavy cream, if needed

Garnish:

sugared pecans
Directions
Cupcakes: Preheat oven to 350 degrees F. Line 2 - 12 cupcake trays with paper liners and set aside.
Cut the butter into chunks and add to a medium skillet. Let the butter melt and then continue cooking, while whisking frequently. After several minutes the butter will start to brown in color. You should see brown bits on the bottom of the pan. Once you see those brown bits, turn off the heat and continue whisking for about 30 seconds. The butter should be a golden brown. You have to be very careful not to burn the butter. Those brown bits can burn quickly if your not watching it. Pour the butter into a bowl and let cool.
In a medium bowl, whisk together the flour, baking powder, baking soda, salt, cinnamon, ginger, nutmeg, and all spice. In a large bowl, whisk together the brown sugar, granulated sugar, eggs and cooled butter. Once well combined, whisk in pureed pumpkin. Add in the dry ingredients and whisk until smooth. Fold in cinnamon chips.
Place about 2/3 cup of batter into the prepared liners. Bake for 20 minutes, or until a toothpick inserted into the middle comes out clean. Rotate the pans once during baking if needed. Let cool for 5 minutes, then remove and place on wire rack to cool completely before frosting.
For the frosting add the butter to a bowl of a stand mixer fitted with the paddle attachment. Beat on medium speed for about 2 minutes, until light and fluffy. Turn mixer to low, add the powdered sugar. Once powdered sugar is incorporated turn mixer speed to medium and beat until well combined. Add salt, cinnamon, vanilla, maple flavor and maple syrup. Mix on low until combined, then increase speed to high and beat for about 3 minutes, until fluffy. If you need to thin out the frosting you can add some milk/heavy cream. Only 1 tablespoon at a time. Also you can add more powdered sugar to thicken up your frosting. Pipe frosting onto cooled cupcakes.
Garnish each cupcake with sugared pecan and enjoy!
Copyright 2014 | My Kitchen Craze
If you all wanna be friends, you can find me here:
Facebook  ~ Pinterest ~ Instagram ~ Google+
Have a great day!
Cyndi