Want to make some tasty Cinnamon Rolls with in an hour? Give these a try. Delicious, tasty and done with in an hour. Can't beat it!
Follow me on Facebook to stay up to date.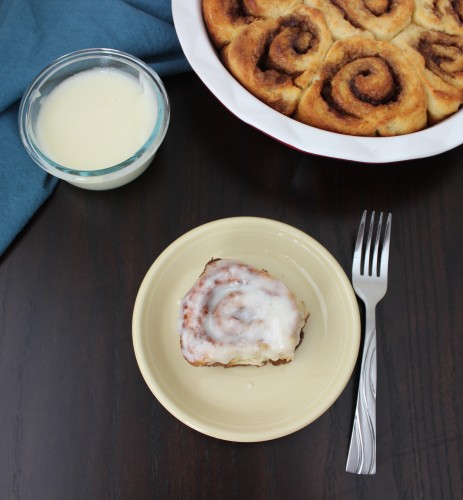 I don't know about you guys, but I love breakfast. It is my favorite meal of the day. I love waking up and having my cup of coffee, then making some eggs or some waffles. But I do get tired of the same thing day after day. Sean and I always make a big breakfast on sunday's, but sometimes you just want something quick. Well that's where these rolls come in.
I remember as a kid waking up to the aroma of cinnamon all through out the house. I would then find a platter of warm, moist cinnamon rolls. Now don't get me wrong they tasted amazing, but my mom didn't have time to make homemade cinnamon rolls. Those took hours to make and this was her weekend too.
Since I started my whole eat healthy non-processed foods, I wanted to make cinnamon rolls. I have a delicious recipe here, but those take about 2 hours start to finish because of the rising times. I needed to make something that was quick. My family didn't want to wait two hours to have breakfast and I am not one of those girls that gets up before the sun does. Nope! Not me. I like to sleep.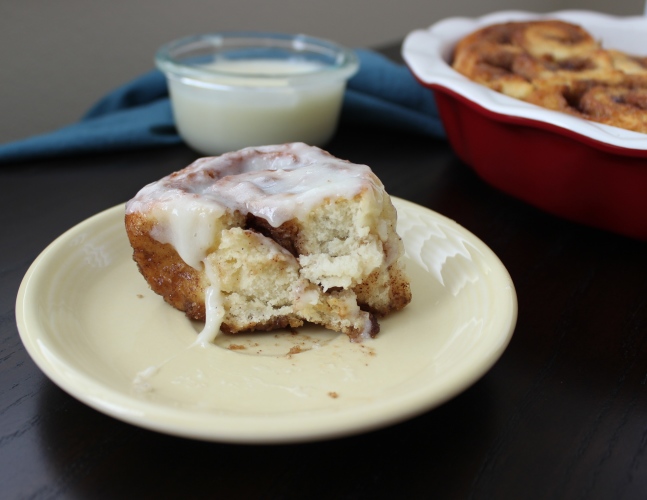 These took about 45 mins to an hour from start to finish. That's not bad, right? Making an omelet or french toast takes that long also. Also there is no fussing with yeast. That's my favorite part to be honest with you all. I'm not scared of yeast, but there are so many more problems you can come across while cooking with it. And come on people. It's morning time. If I haven't had my coffee, I can't think straight.
So if you're in a jam or just need something different, give these babies a try. They are quick, yet moist and scrumptious. Have a great day!!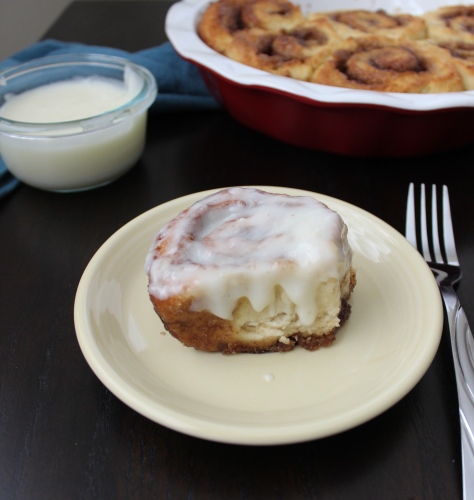 Recipe Source: Kitchen Meets Girl
Quick Cinnamon Rolls
Ingredients
Filling:
¾ cup brown sugar, packed
¼ cup sugar
2 teaspoons cinnmon
pinch of salt
pinch of ground cloves
1 tablespoon unsalted butter, melted and cooled
Dough:
2½ cups all-porpose flour
2 tablespoons sugar
1¼ teaspoons baking powder
½ teaspoon baking soda
1¼ cups buttermilk
6 tablespoons unsalted butter, melted, cooled and divided
Icing:
2 tablespoons cream cheese, softened
2 tablespoons buttermilk or heavy cream
1 cup powdered sugar
Instructions
Preheat oven to 425 degrees F. Spray a 10-inch pie pan with non-cooking spray; set aside.
Filing:
In a small bowl, combine all dry ingredients. Add the melted butter and toss with a fork until it resembles wet sand. Set aside.
Dough:
In a large bowl, whisk together brown sugar, sugar, cinnamon, salt and ground cloves. In a measuring glass add buttermilk and 2 tablespoons of melted butter. Whisk to combine. With a wooden spoon add the milk mixture to the flour mixture. Stir until the liquid is absorbed. Your dough might look shaggy, but the is ok. Transfer the dough to a lightly floured cooking board or silpat. Knead dough until it becomes smooth. Took about 12 kneads for me.
Pat the dough into a 9 x 12 rectangle, using your hands. Brush dough with 2 tablespoons of the melted butter, then sprinkle the filling mixture on top. Make sure to leave ½ inch border around the edges.
Starting with the long side of your dough, roll dough into a long log. Once you rolled it all the way your going to want to pinch the edges to seal. Cut the dough into 8 rolls, using a knife or unflavored dental floss. Place one roll in the center, then place remaining rolls around the pan. Brush the tops with remaining 2 tablespoons melted butter.
Bake rolls until the edges are a golden brown, 23 - 25 minutes. Allow to cool for 5-10 minutes before icing.
Icing:
Whisk together buttermilk/heavy cream and cream cheese. Add powdered sugar and mix until smooth. Spoon glaze over the rolls and enjoy!
If you'd like to see the craziness behind this blog take a look at my Instragam
Also, you can also find me on Pinterest for more recipe inspirations!
Cyndi